Last Updated on September 29, 2023 by The Noms
This whiskey based cocktail is perfect for Halloween celebrations! We combined cinnamon whiskey, peaty Laphroaig scotch, and some spiced rum for this tasty Halloween cocktail recipe topped with fun ghost meringues as a garnish!
Halloween isn't complete without a themed Halloween cocktail recipe, right?! This simple yet boozy cocktail is nothing short of delicious. We think it is the perfect spooky drink to serve up this Halloween! Like a Haunted Graveyard Halloween cocktail, Zombie cocktail, Halloween Old Fashioned, Bourbon Butterbeer, or Poisoned Apple.
This post contains affiliate links for products that we think you as readers might find useful, and we make commission off of these! For more details about our affiliates, click our Disclosure and Contacts Page.
A cinnamon whiskey, spiced rum and scotch drink is the perfect Halloween Cocktail Recipe for your Halloween Party! Easy to make as a big batch or serve with ghost meringues on top!
It's another year, and of course we had to have a Halloween list of inspired cocktails, if you have been around here long enough you know we loved a good holiday themed cocktail! We think this one will please whiskey lovers and rum lovers alike. So keep reading! Try other Halloween drinks like our Blood Halloween Punch, Cynar Negroni, Margarita Float, Specimen Cocktails, or Eye Candy!
Nightmare on Whisky Street Cocktail
We have made it extra spooky by making some ghost meringues as the garnish. These are optional, as the cocktail would be great all fall or winter long, all by itself, but who doesn't want a yummy snack floating on top of your perfect Halloween cocktail?
Also optional – if you want a fun garnish, but don't want to make the ghost meringues we suggest some dry ice! The dry ice smog would make it spooky and fun! Or just in the background of your party!
NOTE: drinking dry ice is not safe! If you add it to a drink, make sure it is completely dissolved before drinking the cocktail. This may mean waiting several minutes for it to do so. It is a safer option to use a larger chunk of dry ice in a bowl with warm water to give the effect of the dry ice in the area you are serving. Use caution and always use gloves and tongs when handling dry ice. Just skip it altogether if safety precautions can't be followed.
This whole cocktail stemmed from me seeing some Ghost Meringues online and they were on a cake. And I said, well, those are adorable and I wonder if I can put them in a cocktail. And after making some, we learned that they float (yay when plans work out!) and of course we knew we needed to put them on a Halloween cocktail recipe!
How to Make the Whiskey Halloween Cocktail
To make the cocktail, combine all the ingredients in a cocktail shaker with ice. This is not a mixing glass cocktail because of the fruit juices. Shake and strain into a cocktail coupe. Top with the ghost meringues if you are using them.
Mixing cinnamon whiskey with spiced rum, plus a dash of scotch, this is a delicious adult beverage to serve at your Halloween party! It's easy to make, so cheers witches!
As far as Halloween cocktail recipes go, the best part of this drink besides the fun name, is the fun garnishes. Imagine your Halloween party with a bunch of little ghosties floating on top of cocktails.
Ghost Meringues
Again, these are optional, but they are oh so fun! We have seen them with candy eyes put on them, and that is certainly an easy option to make your ghosts comical looking. But, I just used some black food coloring and a toothpick and painted on eyes and mouths for their funny expressions.
They are simply egg whites and superfine sugar, they are light and tasty (and they float!) and a great snack with your cocktail. And the sight of them bobbing in the cocktail just made us smile, and hope it does to you too! We got the recipe from Something Sweet Something Savoury!
Ingredients Needed for the Whiskey Halloween Cocktail
Of course I had to pick a scary name for this drink, and while we could have gone for something ghosty, we picked a twist on a classic scary movie. For this Halloween cocktail recipe start with an ounce of cinnamon whiskey from your favorite distillery, add an ounce of spiced rum, and a dash (.25 ounce) Laphroaig whisky 10 year.
We specifically say Laphroaig because of the smoky and peaty flavor. You can use any scotch you like, but we tried it with different brands and loved the flavor combo the Laphroaig gave it.
If you want to learn more about Scottish Whisky, make sure to read our Scotch Regions guide! Scotch isn't just for a Scotch sour or classic drink.
Cinnamon Whiskey – a popular ingredient. And goes well with the other flavors in the cocktail.
Spiced Rum – This gives some great fall flavors to the cocktail. Plays well with the smoke from the Scotch, too.
Scotch – we used Laphroaig 10 year as we liked the flavor that it gave the cocktail from the peat.
Apple Cider – different from apple juice, fresh apple cider has a sweetness level that varies. Some can be sweeter, some more sour. If it isn't sweet enough, you can feel free to add some homemade simple syrup, or cinnamon simple syrup.
Lemon Juice – just a barspoon is required for this cocktail, not even a quarter ounce lemon juice. But, again, fresh lemon juice is the best!
Ghost Meringues – we used this fun idea as a garnish! Completely optional.
Remember that Halloween is also about having fun, but also upping your spirits game! I am so punny!
Snacks for Your Halloween Party!
Tips & Tricks
Sweetness Level – feel free to put brown sugar on the rim of the glass, so you get a bit of sweet when you sip. Or, add a dash of homemade simple syrup when shaking.
Garnish – if you don't want to make or use the ghost meringues, we have some other suggestions. We have used dry ice in the past, but this is not a super safe thing to do, you would need to be careful and just use a super small piece and wait for it to dissolve. Other options could be a lemon peel, orange peel or orange slices, apple slices on a cocktail pick. Some other ideas could be a rosemary sprig, maraschino cherries or a cinnamon/brown sugar rim. Just dip the coupe before pouring in the cocktail. Another suggestion for the rim is to color some sugar black. Use that as a black sugar rim for an extra crowd-pleasing cocktail.
Glassware – we definitely encourage a large cocktail coupe for this drink. It is served up, no ice, and this highlights the flavors and color of the Halloween cocktail. Plus, makes the ghosts float all cute in it.
For a Crowd – this recipe could be easily multiplied into a big batch and served out of a large pitcher or punch bowl. If you want to add ice to keep it cool, you can, it will just water down a little. Maybe make some apple cider and lemon juice ice cubes to keep it from getting too diluted.
Sparkling – You can feel free to add some bubbles to this cocktail to lighten it up if you would like. We wouldn't add more than an ounce or 2 of ginger ale, club soda, spicy ginger beer or hard cider.
Other Flavors – this themed cocktail is perfect with a scary movie. But, there are some other flavors you can add if you want to. If you want this delicious drink to be made even better, you can add some bubbles like we say above. Or, you can add a dash of orange bitters, chocolate bitters or Angostura bitters. Some other flavors you can add a dash of are apple brandy, sweet vermouth, coffee liqueur, orange liqueur, cranberry juice, apple liqueur, fresh orange juice, grapefruit juice, aged rum, dark rum or lime juice. Don't add more than .25 ounce of any of these though or it will mess up the balance of the festive cocktail.
Cheers!
Also, don't forget to follow us on Instagram and tag #gastronomcocktails so we can see all the wonderful recipes YOU recreate from this site!
You can also subscribe to our newsletter so you never miss a delicious recipe again!
Like this recipe? Try these below, too!
Zombie Blood Cocktail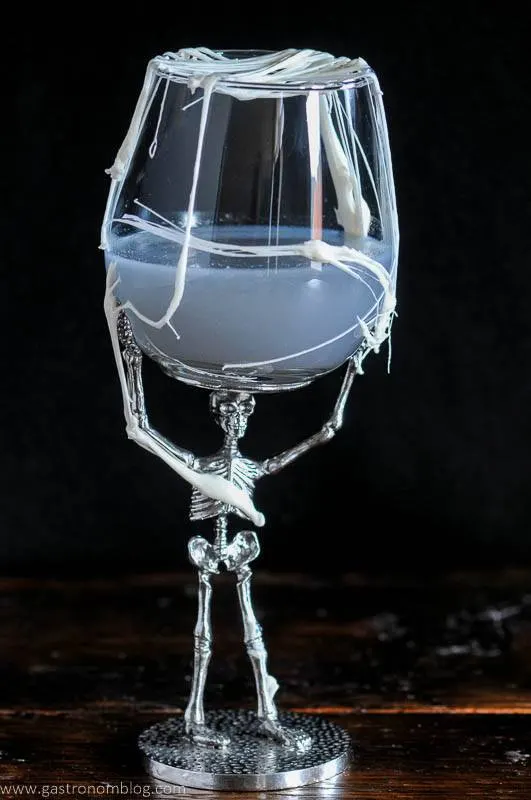 Unicorn Blood Cocktail
Other Halloween Cocktails
Yield:

1
Nightmare on Whisky Street Halloween Cocktail Recipe
This cinnamon whiskey cocktail recipe is made even more tasty with some Scotch, spiced rum, and topped with ghost meringues for Halloween accents!
Ingredients
1 ounce cinnamon whiskey
1 ounce spiced rum
.25 ounce Laphroaig Scotch whisky
1.50 ounces apple cider
barspoon of lemon juice
Instructions
Combine all ingredients in a shaker with ice.
Shake and strain into coupe.
Top with Ghost Meringues if you have made them.
Cheers!
Recommended Products
As an Amazon Associate and member of other affiliate programs, I earn from qualifying purchases.
Nutrition Information:
Yield:
1
Serving Size:
1
Amount Per Serving:
Calories:

175
Total Fat:

.1g
Saturated Fat:

.1g
Sodium:

3mg
Carbohydrates:

5.1g
Fiber:

.1g
Sugar:

4.8g
Protein:

.1g
Interested in stocking your own home bar? Make sure to see our favorites at our Amazon Store!
If you liked this post, don't forget to subscribe for new (and of course free) recipes by entering your email address on the side bar (and get all the recipes delivered to your inbox when we post), so you don't miss out on a thing. You can find us on Facebook, Instagram, and Pinterest!
Gastronomblog is a participant in the Amazon Services LLC Associates Program, an affiliate advertising program designed to provide a means for sites to earn advertising fees by advertising and linking to amazon.com