Last Updated on October 23, 2022 by The Noms
This Halloween Aviation cocktail is made a beautiful purple color with a butterfly pea flower gin, Empress 1908. We combined it with creme de violette and maraschino liqueur with lemon like an aviation, but the purple of the Empress gin made it so brilliant. Perfect as a Sanderson Sisters Potion!
When we think of Sarah Sanderson from the movie Hocus Pocus, we think: flirt! She charms and mesmerizes a lot of men in the movie. While Winifred's potion is all about youth, this Sanderson Sisters potion would be of enchantment and entrapment, right?! Her siren song enraptures all who hear it!
This post contains affiliate links for products that we think you as readers might find useful, and we make commission off of these! For more details about our affiliates, click our Disclosure and Contacts Page.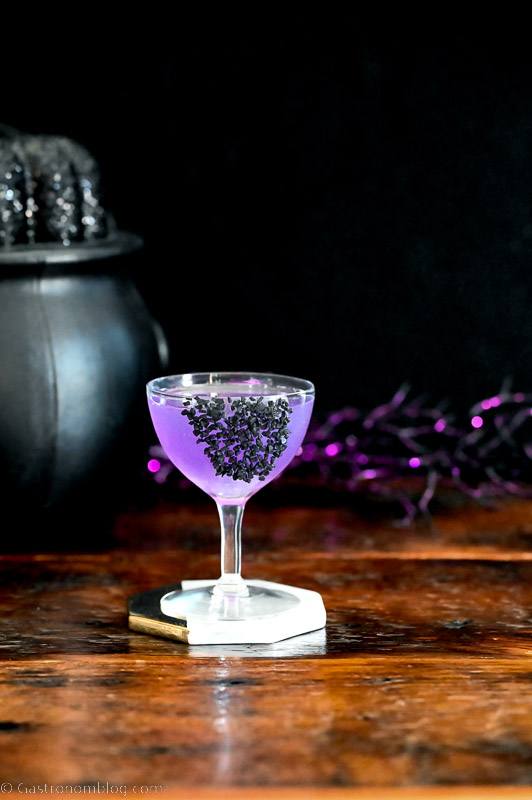 We feel this same way about this bewitching bouquet of floral flavors in this Halloween Aviation cocktail. Using inspiration from Winifred's Garden of Magic Hocus Pocus drink, we knew we had to make a floral but bright cocktail! This Sarah Sanderson cocktail is perfect for bewitching your Halloween Party guests!
And before you go running around saying "Amuck! Amuck! Amuck!" like Sarah, we think our Sanderson Sisters Potions are the perfect addition to everyone's favorite Hocus Pocus party. Winifred's Hocus Pocus drink and Mary's Hocus Pocus Cocktail will be brilliant, too!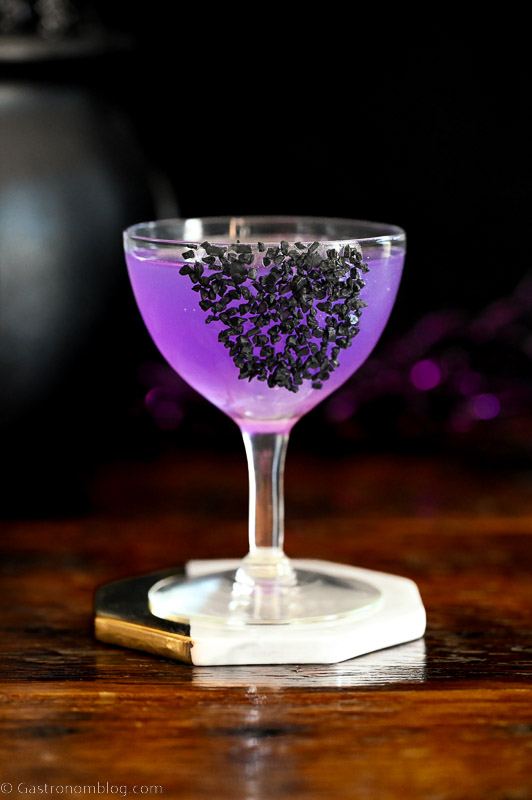 Hocus Pocus Movie
If you are a fan of Hocus Pocus, you know that after almost 30 years (wait, what?), the Sanderson Sisters are coming back.Sarah Jessica Parker, Kathy Najimy and Bette Midler are together again in Hocus Pocus 2 on Disney+ September 30th! It's the perfect time to enjoy our Hocus Pocus cocktails while enjoying the movie.
The perfect pairing of cocktail and movie for sure! As well as for Halloween!
Sanderson Sisters Potion
So channel your inner Sarah and conjure up this Sanderson Sisters Potion! We took inspiration from the Aviation cocktail, which is a classic cocktail and is a fun color with the mixture of gin, lemon juice, Creme de Violette and Maraschino liqueur.
But, we wanted to take the cocktail up a notch and use the purple gin, Empress 1908. It is already a stunning cocktail, but the purple gin makes for a great purple colored Halloween cocktail!
This makes for a unique floral flavored purple cocktail that makes for a great Halloween potion with added black lava salt added to the outside of the glass too, for effect. This is completely optional, but we loved the black and purple together.
Aviation Cocktail
The Aviation is a classic gin cocktail that dates back to the beginning of the 20th century. It first appeared in Hugo Ensslin's book "Recipes for Mixed Drinks" in 1916 while tending bar at New York City's Hotel Wallick. After that time it seemingly stopped showing up on cocktail menus. It is because one of the drink's primary ingredients, Creme de Violette liqueur, disappeared from the market during the 1960s.
This is the liqueur that makes the aviation cocktail so original, and since it stopped being produced, it was being made without the liqueur. Some recipes have reverted to the maraschino-only version because they believe that modern creme de violette is not flavored how it should be.
I would argue that a proper Aviation can't be made without the violet-hued liqueur. It being made without the creme de violette was likely fueled by "The Savoy Cocktail Book," in which Harry Craddock included a creme de violette-less Aviation. It's tasty, but we think you need the purple liqueur.
Creme de Violette
Creme de Violette can be an elusive liqueur. Creme de Violette was brought back with a 2007 release by Rothman & Winter (imported by Haus Alpenz). Versions are made using actual violets and have a lightly floral and sweet taste. Today, a few other companies (The Bitter Truth and Giffard) produce it, too, but it can be harder to find than other ingredients.
In 2007, Minneapolis importer Haus Alpenz the crème de violette from Austria. The newfound availability led to the Aviation reappearing on bar menus across the United States, as bartenders rediscovered this classic cocktail recipe.
But, too much creme de violette, and your cocktail will taste like potpourri. Use sparingly.
Regardless of which brand you choose, let's hope that at least one of these brands stick around!
Empress 1908 Gin
Empress 1908 is a lovely blue gin that changes to purple with the addition of citrus or other ingredients. It lends to the bright purple color of this Halloween cocktail, and makes for a fun, naturally colored drink!
Empress is blue because of butterfly pea flowers and if you don't have access to Empress 1908 gin, then feel free to infuse some London Dry Gin with some butterfly pea flowers and make your own!
Tips and Tricks
Gin – London Dry Gin is the choice for a classic Aviation, but we used Empress 1908. The Empress lends itself to the lovely purple hue in this Sanderson Sisters Potion!
Edible Glitter – If you want another spellbinding touch added to this drink we recommend some silver or white lustre dust. This is the perfect way to add a little shine and fun to your Hocus Pocus party, or Halloween Party. The lustre dust is is shaken up with the drink to create the magical effect! Just add it in when you are shaking the drink in the cocktail shaker.
Dry Ice – If you want a spooky effect add in some pea sized pieces of dry ice! (Make sure to never injest the dry ice, and make sure it's dissolved before drinking your cocktail). Enact that Bubble, Bubble, Toil and Trouble!
Cheers!
Also, don't forget to follow us on Instagram and tag #gastronomcocktails so we can see all the wonderful recipes YOU recreate from this site!
You can also subscribe to our newsletter so you never miss a delicious recipe again!
Like this recipe? Try these below, too!
What Lies Beneath Cocktail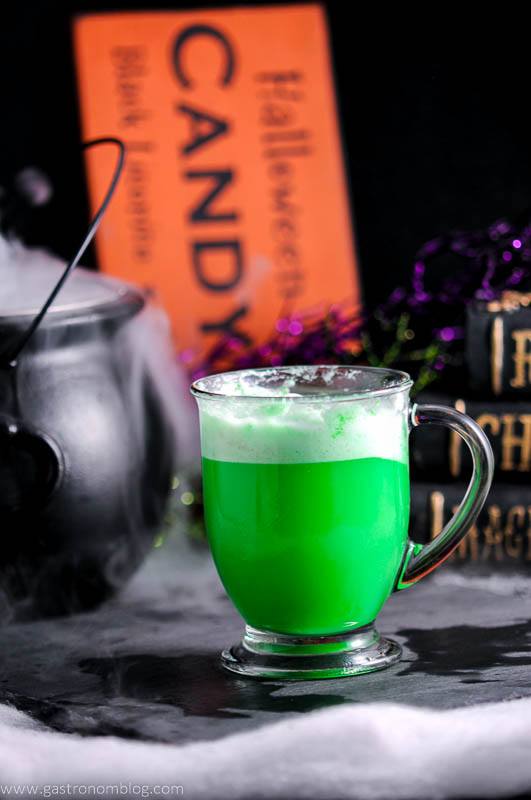 Polyjuice Potion Cocktail/Mocktail
Looking for other Halloween Recipes? Check these out!
Yield:

1
Sanderson Sisters Potion - Halloween Aviation Cocktail
This Halloween Aviation cocktail makes for the best Sanderson Sisters potion you can get for Halloween or a Hocus Pocus party!
Ingredients
1.75 ounces Empress 1908 gin
.50 ounce Creme de Violette liqueur
.50 ounce Maraschino liqueur
.50 ounce lemon juice
Instructions
Combine all 4 ingredients in a shaker with ice.
Shake and strain into glass.
Cheers!
Notes
If you want to rim the glass (or on the side) with black lava salt, then use something a little thicker, like an icing or cream of coconut painted on or rimming the glass. It doesn't seem to stick as well with citrus juice or water.
Recommended Products
As an Amazon Associate and member of other affiliate programs, I earn from qualifying purchases.
Nutrition Information:
Yield:
1
Serving Size:
3 ounces
Amount Per Serving:
Calories:

221
Total Fat:

.2g
Saturated Fat:

.1g
Sodium:

6mg
Carbohydrates:

9.4g
Fiber:

.1g
Sugar:

9.4g
Protein:

.1g
PIN THIS SANDERSON SISTERS POTION RECIPE FOR LATER!
Interested in stocking your own home bar? Make sure to see our favorites at our Amazon Store!
If you liked this post, don't forget to subscribe for new (and of course free) recipes by entering your email address on the side bar (and get all the recipes delivered to your inbox when we post), so you don't miss out on a thing. You can find us on Facebook, Instagram, Pinterest and Twitter!
Gastronomblog is a participant in the Amazon Services LLC Associates Program, an affiliate advertising program designed to provide a means for sites to earn advertising fees by advertising and linking to amazon.com