Last Updated on September 29, 2023 by Leah Hall
A Halloween Negroni cocktail is perfect to celebrate with. This Cynar Negroni is flavorful and made perfect for spooky Halloween parties!
Being cocktail enthusiasts, we love the Halloween season! Not only does it mean fall has arrived with all its fun flavors, but it also is a great excuse to make fun cocktails for Halloween parties with all kinds of crazy names and play with ingredients! For this Negroni, we took a traditional cocktail and put a little twist on it and then finished it with a little Halloween flair!
This post contains affiliate links for products that we think you as readers might find useful, and we make commission off of these! For more details about our affiliates, click our Disclosure and Contacts Page.
We love to use the Negroni as a base classic cocktail to riff off of, because the recipe lends itself to simple variations! Because of the basic formula of equal parts gin, Campari and vermouth, it's easy to switch up. A simple tweak of one of those ingredients and you have an entirely new cocktail! It still has the satisfyingly bitter characteristic of the Negroni, but with an entirely new flavor!
We love a good Negroni, and all the Negroni variations we can make. Like a Blush Sbagliato, Grilled Tangerine Frozen Negroni, Strawberry Negroni, White Negroni, Cranberry Negroni, Concord Negroni Flip and our Breakfast Negroni. So many!
The Negroni is said to have originated in Florence, Italy in the aftermath of World War I when Fosco Scarselli added "a little something extra" to Count Camillo Negroni's Americano cocktail. By replacing the soda with gin, he created a legendary cocktail.
We started out making the Cynar Negroni by mixing up our ingredients. We swapped out the typical London Dry gin, opting instead for St. George Distilling's Dry Rye Reposado Gin. The Dry Rye Reposado Gin is aged in barrels and brings the spicy warmth of a rye whiskey with the crisp herbal notes of a gin. The gin gives the strong foundation needed for the other bold flavors we are using.
What Ingredients are Needed for the Cynar Negroni?
You need just 3 main ingredients. Plan ahead for the infused Campari, though! We hope you enjoy the complex flavor of this perfect drink!
Dry Rye Reposado Gin – this is from St. George Distilling in California. If you can't get your hands on this ingredient, use another barrel-rested gin. This means the gin is aged in a barrel. Some great suggestions could be Bols Barrel Aged Genever, Barr Hill Tom Cat Gin, Bluecoat Barrel Reserve, or Dampfwerk Barreled Gin.
Cynar – A bittersweet, vegetal amaro that is sometimes described as an artichoke liqueur. This adds sweetness as well as bitter, because it is replacing the sweet vermouth from the original recipe. Cynar brings a sweet earthiness to the cocktail, while also adding a hint of midnight color to the cocktail.
Campari – for this Cynar Negroni, we wanted to change up the color a little, and we love adding strawberries to Campari, and we knew it would darken the Campari a little. So, it was perfect for this Negroni!
How to Make a Cynar Negroni
Stir – Add the Cynar, gin and Campari to a mixing glass with ice and stir for at least 30 seconds. This chills the cocktail and dilutes it. Since there is just alcohol in this cocktail, there doesn't need to be shaking, it just needs to be stirred.
Strain – Strain into a coupe (served up/no ice) or Old Fashioned glass with a large ice cube.
Garnish – we garnished with a rosemary sprig that we set on fire to give some great aromatics to the drink. We also did some dry ice – there are some notes about this below, and you should always use caution if you use dry ice in a cocktail for Halloween.
What is Cynar?
Cynar is a bittersweet, vegetal amaro that can be described as an artichoke liqueur. The most obvious way to use Cynar is as a bitter ingredient in the place of Campari. But, we switched it up and used Cynar like a sweetener, using it in place of the sweet vermouth. We think a bottle of Cynar is an essential part of your bitter liqueurs collection!
Amaro is a category of herbal Italian liqueurs that are bitter (amaro means bitter in Italian). Amari are a wide range of spirits – from Campari as super bitter to Aperol as sweet on the other end of the spectrum. Cynar lies somewhere in the middle. All are unique flavors.
Cynar is made with 13 herbs and spices, which includes artichoke leaves and has a subtle sweetness. The name comes from the scientific name for artichoke (cynara). Cynar was invented in 1952 in Venice, Italy.
Taste – The flavor highlights notes of caramel, toffee and cinnamon, with an herbal bitter finish.
Other Cocktails – some other unique Cynar cocktails can be a Cynar Mezcal Negroni, Cynar Flip or Cynar Spritz. We think you will love the mellow flavor this unique liqueur brings as a base ingredient.
Halloween Cocktail
We garnished the Cynar Negroni with a smoking sprig of rosemary. The smoking sprig brings a nice toasty herbal note to the drink, plus it looks cool!
For the photo and video we did use some dry ice in the cocktail. Making a cocktail roll with fog or "smoke" is really easy with a little dry ice! Just drop a small chip into the glass just before serving and the drink will bubble and produce a nice white fog! But, please read our notes below, as it is not safe to drink dry ice. So use caution.
NOTE: drinking dry ice is not safe! If you add it to a drink, make sure it is completely dissolved before drinking the cocktail. This may mean waiting several minutes for it to do so. It is a safer option to use a larger chunk of dry ice in a bowl with warm water to give the effect of the dry ice in the area you are serving. Use caution and always use gloves and tongs when handling dry ice. Just skip it altogether if safety precautions can't be followed.
We love Halloween cocktails so much! Try our Eye Candy, Unicorn Blood, Blue Curacao Halloween cocktail, Cinnamon Whisky Halloween cocktail, and Blood Punch!
Tips & Tricks
Campari – when making this cocktail, plan ahead to make your Strawberry Infused Campari. You need just a few days, but don't forget to do the infusion! Try some other cocktails with Campari like Boulevardier or Nene Bird.
Gin – we gave some subs above for barrel aged gin, but if our suggestions aren't available for you, try to find a local barrel-aged gin. It will work well in this recipe!
Bitters – if you feel the cocktail is too sweet, from the Cynar, Campari and barrel aged gin, feel free to add a dash of orange bitters. One or more dashes of orange bitters will take down any sweetness in the drink. Same goes for sweetness – if it isn't sweet enough, feel free to add a dash of simple syrup.
Garnish – if you don't have a fresh sprig of rosemary to garnish with, we have some other suggestions. An orange twist garnish is great, as it is a classic Negroni cocktail garnish.
If You Are Looking for More Halloween Recipes, Try These!
Give this Cynar Negroni a try for your next Halloween party, you might just find it super spooky! Pair it with our Halloween Charcuterie for a whole party event! Or, just make this Cynar Negroni and all the different variations of Negroni that we have linked above!
Cheers!
Also, don't forget to follow us on Instagram and tag #gastronomcocktails so we can see all the wonderful recipes YOU recreate from this site!
You can also subscribe to our newsletter so you never miss a delicious recipe again!
Like this Recipe? Try these below, too!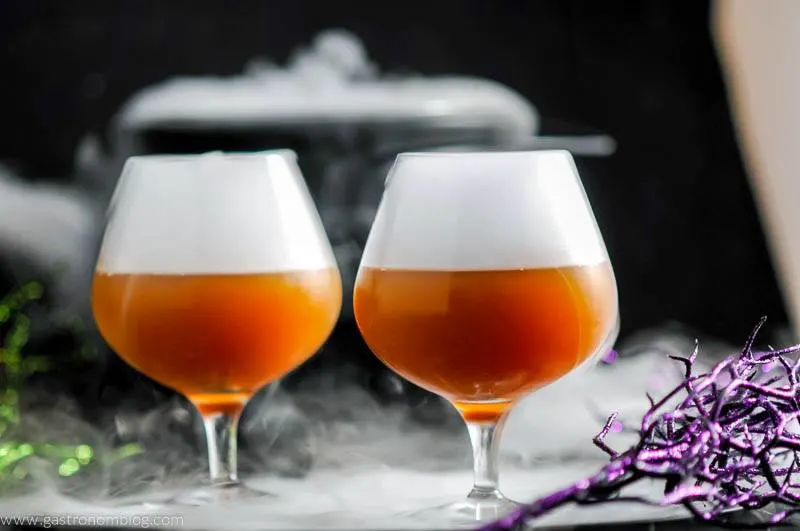 10 Spooky Cocktail to get your Party Started
Other Negroni Recipes
Yield:

1
Vampire Cynar Negroni
A Cynar based version of the classic Negroni. This Halloween cocktail is also a great Cynar Negroni, served up!
Ingredients
1 ounce Cynar
1 ounce Dry Rye Reposado Gin
Rosemary for garnish (optional)
Instructions
Combine liquors in a mixing glass, and stir to combine.
Can also be shaken if preferred.
Strain into coupe glass.
Garnish with rosemary sprig and dry ice (optional, notes below).
Notes
Using dry ice in a cocktail, always make sure you use the smallest amount needed to get the fog going and let the drinker know that the drink should not be consumed until the dry ice has completely evaporated (and the drink stops bubbling!)
NOTE: drinking dry ice is not safe! If you add it to a drink, make sure it is completely dissolved before drinking the cocktail. This may mean waiting several minutes for it to do so. It is a safer option to use a larger chunk of dry ice in a bowl with warm water to give the effect of the dry ice in the area you are serving. Use caution and always use gloves and tongs when handling dry ice. Just skip it altogether if safety precautions can't be followed.
Recommended Products
As an Amazon Associate and member of other affiliate programs, I earn from qualifying purchases.
Nutrition Information:
Yield:
1
Serving Size:
1
Amount Per Serving:
Calories:

268
Total Fat:

.1g
Sodium:

3mg
Carbohydrates:

24.3g
Sugar:

16.2g
Interested in stocking your own home bar? Make sure to see our favorites at our Amazon Store!
If you liked this post, don't forget to subscribe for new (and of course free) recipes by entering your email address on the side bar (and get all the recipes delivered to your inbox when we post), so you don't miss out on a thing. You can find us on Facebook, Instagram, and Pinterest!
Gastronomblog is a participant in the Amazon Services LLC Associates Program, an affiliate advertising program designed to provide a means for sites to earn advertising fees by advertising and linking to amazon.com