Last Updated on June 8, 2023 by Leah Hall
This Strawberry Negroni is a great cocktail for Negroni Week. We included strawberry infused gin for a summer twist.
This recipe is a great spin off of the classic Negroni cocktail! We are using strawberry infused Campari, strawberry infused gin and sweet vermouth to add a summery berry flavor to the Negroni!
This post contains affiliate links for products that we think you as readers might find useful, and we make commission off of these! For more details about our affiliates, click our Disclosure and Contacts Page.
Every year, bartenders around the world all turn their attention to one classic cocktail, the Negroni! This is to celebrate Negroni Week! Started by Imbibe Magazine in 2013, Negroni Week has spread all over the globe as a way to celebrate the Negroni and give back to charities all while enjoying drinking for a cause!
Negroni Week
We have celebrated Negroni week for the last few years by not only spreading the word about Negroni Week, but also making our own special versions of the Negroni! This year we decided to make a new spin on the classic Negroni by infusing the components with fresh summer strawberries to make a Strawberry Negroni!
Classic Negroni
The basic Negroni is a simple recipe made with just three spirits, gin, vermouth and Campari. These are all mixed together in even parts. The Negroni is a cocktail with a long history dating back to the early 1900's. It's first mentioned in Florence, Italy. A gentlemen by the name of Count Camillo Negroni asked a bartender to liven up his favorite cocktail. It was the Americano, and he asked him to add gin instead of soda. The resulting cocktail became known as the Negroni.
Now that we know the history, how do we make the Negroni? The basic recipe to make a Negroni is to add one part gin, one part sweet vermouth, and one part Campari. With all the ingredients containing spirits, this can be one strong cocktail! But, with all the parts in balance, it can also be a delightful combination of sweet and bitter, with a crisp hint of botanicals from the gin and Campari.
Campari Recipes
The simple ratio also lends itself to being a great base to riff off of. Some of these riffs are classics like the Boulevardier or the Old Pal, or even one of our favorites, the Vampire Negroni! Simple tweaks of the ingredients or the ratio can make all new drinks, all based off of this classic drink!
Strawberry Infused Campari
For our Negroni Week cocktail, we decided that we would embrace the sweetheart of spring, the strawberry. We wanted to keep the super clean look that using all spirits gives a negroni cocktail. So, rather than doing the typical adding fruit to the shaker and muddling, we decided to infuse some gin. We sliced some strawberries, put them in a jar, poured gin over and let it soak for a few days. Then, we did the same with the Campari.
What Ingredients are Needed for the Strawberry Negroni?
After a couple of days of soaking (hint, you will know its ready when the strawberries start to turn white as the gin leaches out all the color). So then we strained out the strawberries, leaving us with a beautiful red hued gin full of strawberry flavor. When used, the strawberry infused gin adds a fruity edge to the Negroni, which is a nice addition to the standard!
The, we did the same with Campari, and we just let it infuse for the same amount of time as the gin.
Campari Negroni
If you are looking for a fresh new take on the classic Negroni, give the Strawberry Negroni a try! It's a bright spring or summer Negroni, perfect for Negroni Week!
Cheers!
Also, don't forget to follow us on Instagram and tag #gastronomcocktails so we can see all the wonderful recipes YOU recreate from this site!
You can also subscribe to our newsletter so you never miss a delicious recipe again!
Like this recipe? Try these below, too!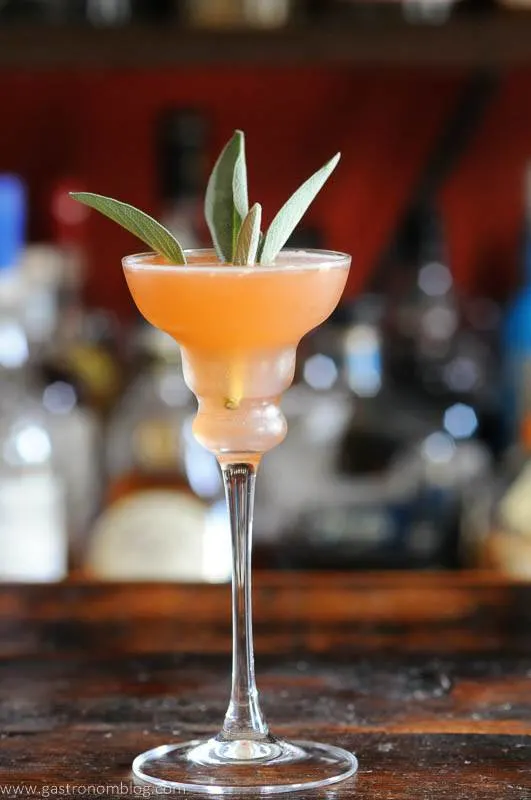 Strawberry Sage Tequila Smash
Strawberry Cocktail
Other Strawberry Cocktails
Other Infused Gin Cocktails
Yield:

2
Strawberry Negroni - Campari Recipes with Strawberry Infused Gin
Total Time:
2 days
3 minutes
A Strawberry infused take on the classic Negroni cocktail. This Campari Negroni is a tasty one for Negroni week.
Ingredients
2 ounce Strawberry Infused Gin
2 ounce Sweet Vermouth
2 Strawberries for garnish
Instructions
Combine all ingredients in a mixing glass with ice.
Stir to cool, strain into glass.
Garnish with a strawberry.
Cheers!
Notes
To infuse the gin and Campari add 2 cut up strawberries to 1/4 cup of gin and 1/4 cup of Campari in 2 different jars for easy infusion. Let sit for at least 48 hours, 72 is better. Then strain out strawberry pieces.
Recommended Products
As an Amazon Associate and member of other affiliate programs, I earn from qualifying purchases.
Nutrition Information:
Yield:
2
Serving Size:
1
Amount Per Serving:
Calories:

185
Sodium:

1mg
Carbohydrates:

8.9g
Interested in stocking your own home bar? Make sure to see our favorites at our Amazon Store!
If you liked this post, don't forget to subscribe for new (and of course free) recipes by entering your email address on the side bar (and get all the recipes delivered to your inbox when we post), so you don't miss out on a thing. You can find us on Facebook, Instagram, and Pinterest!
Gastronomblog is a participant in the Amazon Services LLC Associates Program, an affiliate advertising program designed to provide a means for sites to earn advertising fees by advertising and linking to amazon.com