Last Updated on June 8, 2023 by Leah Hall
A decadent and alcoholic milkshake, combing chocolate, strawberries and rum is perfect for the summer!
Want a decadent treat that will cool you off, but still have a little booze in it? Well we have the just the the thing for you! With summer on the way, what better treat than an alcoholic milkshake to help beat the heat?
This post contains sponsored content brought to you by Marussia Beverages. We received compensation to create this post. But, all opinions and views presented here are 100% our own. This post contains affiliate links for products that we think you as readers might find useful, and we make commission off of these! For more details about our affiliates, click our Disclosure and Contacts Page.
Strawberry Alcoholic Milkshake
When making an alcoholic milkshake, one of the first steps you take is selecting what kind of spirit you are going to use to make the boozy milkshake! With spring in full swing and summer just around the corner, we turned to the fruit of the season, strawberry! Rather than turn to a strawberry syrup, we turned to the Mozart White Chocolate Cream Strawberry Liqueur!
Starting out an alcoholic milkshake with a liqueur that combines white chocolate and strawberry in a single spirit makes for a great start to a sweet treat. The Mozart White Chocolate Cream Strawberry Liqueur has a flavor of strawberries and cream, but also avoids being cloyingly sweet like some flavored liqueurs. Combined with the white chocolate cream, the strawberry flavor set the stage for a great milkshake.
Stopping with just one spirit seemed a little too easy, and since we love layering flavors in our creations, we added a nice aged Demarara rum to add a rich deep flavor. The rum added a little caramel flavor which is a perfect addition to a milkshake! A splash of amaretto adds a nice hint of sweet almond flavor that reminded us of the toasted crust from a good strawberry cheesecake!
Mozart Chocolate Liqueurs
Check out our other Mozart liqueur cocktails, the Funny Bunnies and the Chocolate Cream Cold Brew!
Now that the booze part of the alcoholic milkshake is done, its time to get down to the dessert part of the milkshake! Since we had this great combo of strawberry, rum and amaretto that reminded us of a strawberry cheesecake, we decided to embrace part of what makes a cheesecake so great, cream cheese! The cream cheese adds a creamy tang to this alcoholic milkshake which really pulls out the strawberry flavor.
What Ingredients are Needed for the Strawberry Milkshake?
Mozart White Chocolate Cream Strawberry Liqueur
Demarara Rum
Amaretto
Cream Cheese
Strawberries
Graham Crackers
Milk
Cookies N Cream Ice Cream
A strawberry cheesecake flavored shake wouldn't be complete with out a good crust, so we definitely needed to add a bit of crust to this milkshake. However this is where we ran into a bit of a disagreement between the two of us, as Jay loves an Oreo crust while Leah loves the classic graham cracker crust.
Rather than argue, we just decided that a little and graham cracker wouldn't hurt! We needed a little ice cream to add the right thickness, so rather than using just plain vanilla, we blended in a little Cookie and Cream ice cream. With the Oreo crust part taken care of, we added some graham crackers and more strawberries for color and flavor!
Boozy Milkshake
This was one great cool treat, and one we definitely hope you will give it a try (if only to try out the super yummy Mozart White Chocolate Cream Strawberry Liqueur!) on your next summer evening where you need a real sweet dessert!
Cheers!
Also, don't forget to follow us on Instagram and tag #gastronomcocktails so we can see all the wonderful recipes YOU recreate from this site!
You can also subscribe to our newsletter so you never miss a delicious recipe again!
Like this recipe? Try these below, too!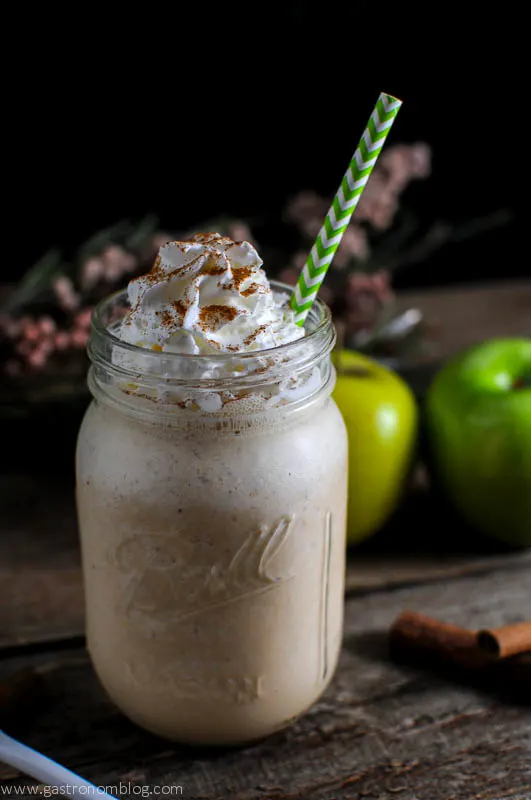 Drunken Apple Pie Milkshake
Adult Purple Cow
Other Alcoholic Milkshakes
Yield:

2
Strawberry White Chocolate Cream Pie Alcoholic Milkshake
These Strawberry alcoholic milkshakes are sure to please anyone! Using Mozart Strawberry White Chocolate, we mixed it with some rum, amaretto and ice cream!
Ingredients
2 ounces Mozart Strawberry White Chocolate Liqueur
1.50 ounce demarara rum
1 ounce Amaretto
3 ounces cream cheese
1 Tablespoon of milk
3 strawberries, extra for garnish
1 graham cracker sheet
2 scoops of Cookies N Cream ice cream
Instructions
Combine all ingredients in a blender. Blend until the right consistency.
Add in more milk or ice cream to thicken or thin, whatever you prefer!
Cheers!
Recommended Products
As an Amazon Associate and member of other affiliate programs, I earn from qualifying purchases.
Nutrition Information:
Yield:
2
Serving Size:
1
Amount Per Serving:
Calories:

465
Total Fat:

22.8g
Saturated Fat:

14g
Trans Fat:

76g
Sodium:

225mg
Carbohydrates:

24.3g
Fiber:

1.1g
Sugar:

17.5g
Protein:

6.4g
Interested in stocking your own home bar? Make sure to see our favorites at our Amazon Store!
If you liked this post, don't forget to subscribe for new (and of course free) recipes by entering your email address on the side bar (and get all the recipes delivered to your inbox when we post), so you don't miss out on a thing. You can find us on Facebook, Instagram, and Pinterest!
Gastronomblog is a participant in the Amazon Services LLC Associates Program, an affiliate advertising program designed to provide a means for sites to earn advertising fees by advertising and linking to amazon.com