Last Updated on October 13, 2022 by The Noms
This White Negroni cocktail recipe is a great modern classic cocktail. It's full of flavor from London Dry gin, Suze and Lillet Blanc. A great 3 ingredient drink!
Like all good stories should, the one about the Negroni involves a rakish Italian noble. Most tales of this credit the recipe to one Count Negroni, a man who apparently spent time as a rodeo cowboy in the US! So then legend has it, at a bar in Italy in 1919, he asked for a something like an Americano, but boozier. Swapping gin for soda water, and the Negroni was born.
This post contains affiliate links for products that we think you as readers might find useful, and we make commission off of these! For more details about our affiliates, click our Disclosure and Contacts Page.
This version, the
White Negroni
, does a complete 180 substituting floral
Lillet Blanc
for the sweet vermouth and gentian flavored Suze for the bitter of Campari.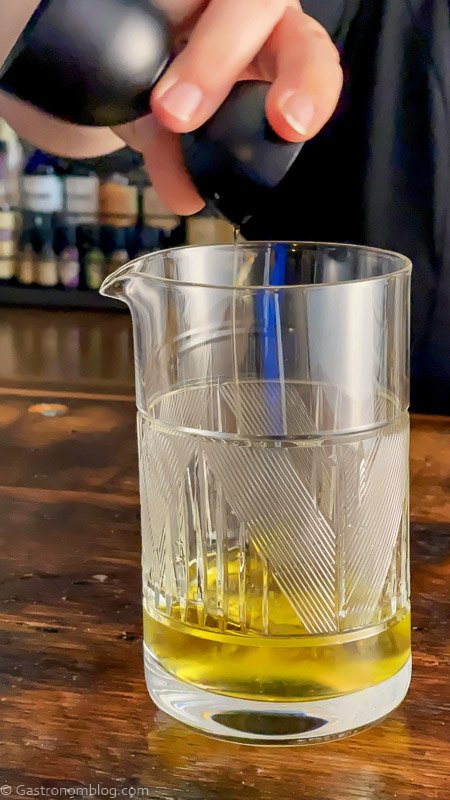 What does a white Negroni taste like?
The gin comes on first, like a regular Negroni. But we think by the second sip, it's can be more delicate on your tongue, with an herbal flavo
r and a slightly bitter finish.
Suze, an earthy French liquor made with gentian root (and is neon yellow!) plays well with a London Dry Gin, and the floral Lillet Blanc provides a hint of sweetness. This makes a perfectly balanced drink.
Is a
Negroni
still a Negroni if it doesn't have
Campari
? Yes. Even when you take out that red liqueur, this cocktail is still like a classic
Negroni
. This resulting cocktail is a little less in your face than the classic Negroni.
What's a White Negroni?
As we have stated, the White Negroni is a spin on the classic Negroni, but instead of red, it's a bright yellow and is lighter.
The White Negroni was invented in 2001 by a British bartender in France, Wayne Collins, went to make a Negroni. Seems he couldn't find Campari or sweet vermouth so he reached for Suze and Lillet Blanc instead. Whether this tale is true or not, you end up with this fun bright yellow version.
All about Suze
You might be wondering: what is Suze? Suze is a French bitter aperitif made with gentian root, a plant that grows in Switzerland and France. It was first put into production in 1889. Pablo Picasso made a collage that included a Suze bottle!
The flavor of Suze is a little bitter and a little sweet, with citrus undertones. You can even have it on its' own on the rocks with a lemon peel, or with soda water and a squeeze of lemon.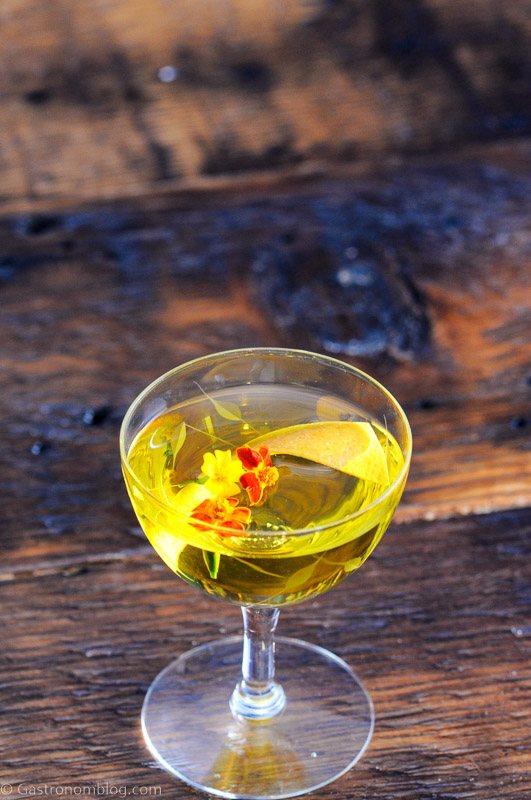 All about Lillet Blanc
Lillet Blanc is a staple in our liquor cabinet (or technically our cocktail fridge, as this does need to be kept refrigerated if it is open) and we think it's a must for you to have. If you want to know how to procounce it, it's "Lil-Lay". Lillet is a French aperitif, a fortified wine flavored with herbs and citrus. There are several types of Lillet: Lillet Blanc, Lillet Rosé and Lillet Rouge. The flavor of Lillet Blanc is light, with subtle floral and herbal notes. It's like a dry white vermouth, with more of an herbal flavor.
You can keep a bottle of Lillet in your fridge for about 3 months. Use it to mix up our Shipwreck or a Vesper Martini.
Blanc Vermouth
There can be another option in the White Negroni instead of Lillet Blanc, if you don't have it or feel like buying it, blanc vermouth! When it comes to vermouth, most people know there are 2: sweet vermouth and dry white. But did you know there is a third type?
Blanc vermouth is a semi sweet white, it is a little dry and sweet like a great white wine. The flavor is usually floral with hints of vanilla or citrus, and a little bitter on the finish. Then you can make a Cuban classic, El Presidente).
Cheers!
Also, don't forget to follow us on Instagram and tag #gastronomcocktails so we can see all the wonderful recipes YOU recreate from this site!
You can also subscribe to our newsletter so you never miss a delicious recipe again!
Like this recipe? Try these below, too!
Shipwreck Cocktail
Strawberry Negroni
Other Suze Cocktails
Yield:

1
White Negroni Cocktail Recipe
This White Negroni has become a classic cocktail as a lighter version of the classic Negroni.
Ingredients
1 ounce London Dry Gin
1 ounce Suze
1 ounce Lillet Blanc
grapefruit twist, for garnish, if desired
Instructions
Combine all liquors in a mixing glass with ice.
Stir for 30 seconds, strain into a coupe.
Garnish with a grapefruit peel, if desired.
Cheers!
Recommended Products
As an Amazon Associate and member of other affiliate programs, I earn from qualifying purchases.
Nutrition Information:
Yield:
1
Serving Size:
1
Amount Per Serving:
Calories:

198
Total Fat:

.1g
Sodium:

3mg
Carbohydrates:

14.1g
Sugar:

13.2g
PIN THIS WHITE NEGRONI COCKTAIL RECIPE FOR LATER!
Interested in stocking your own home bar? Make sure to see our favorites at our Amazon Store!
If you liked this post, don't forget to subscribe for new (and of course free) recipes by entering your email address on the side bar (and get all the recipes delivered to your inbox when we post), so you don't miss out on a thing. You can find us on Facebook, Instagram, Pinterest and Twitter!
Gastronomblog is a participant in the Amazon Services LLC Associates Program, an affiliate advertising program designed to provide a means for sites to earn advertising fees by advertising and linking to amazon.com