Last Updated on June 12, 2023 by Leah Hall
Make this Vesper Martini recipe to evoke times gone by of James Bond and the 1950s and 60s. A boozy sip, this one is as beautiful as it is strong.
The classic Vesper martini is a cool, crisp and herbal drink. A twist on a classic martini in that that it is shaken, not stirred! Invented by James Bond, it's become a true classic in the cocktail world.
This post contains affiliate links for products that we think you as readers might find useful, and we make commission off of these! For more details about our affiliates, click our Disclosure and Contacts Page.
What does a Vesper martini taste like?
The Vesper, with Lillet has a bit of sweetness that offsets the bitter bite of the dry gin. Adding vodka to the mix gives an extra flavor that can only be described as "boozy" and is unique and tasty in a gin based martini.
As I said, the Vesper is a martini twist but made with gin, vodka, and an aromatized wine (Lillet). This classic cocktail is very unique because it was invented by author Ian Fleming in his James Bond novel Casino Royale, not by a bartender, as most classic cocktails are.
The Vesper is definitely not for the faint of heart, because it contains 4 ounces of liquor, plus a splash of Lillet Blanc. It's boozy.
History of the Vesper Martini
The Vesper first appears in the 1953 book Casino Royale. James Bond asks a bartender for a dry martini, and then offers instructions for making it his way. Bond requests 3 measures of Gordon's gin, 1 measure of vodka, and a half measure of Kina Lillet, with a lemon peel for garnish.
He also specifies that the drink be shaken until cold. This is important, because typically cocktails made with only spirits are stirred. We will cover more on the 'shaken vs stirred' debate later.
At this point for James Bond, the drink was just a gin and vodka martini. Later, Bond meets a woman named Vesper Lynd and decides to name that cocktail after her. The passage in the book goes as follows:
'A dry martini,' he said. 'One. In a deep champagne goblet.'

'Oui, monsieur.'

'Just a moment. Three measures of Gordon's, one of vodka, half a measure of Kina Lillet. Shake it very well until it's ice-cold, then add a large thin slice of lemon peel. Got it?'

'Certainly monsieur.' The barman seemed pleased with the idea.

'Gosh, that's certainly a drink,' said Leiter.

Bond laughed. 'When I'm … er … concentrating,' he explained, 'I never have more than one drink before dinner. But I do like that one to be large and very strong and very cold, and very well-made. I hate small portions of anything, particularly when they taste bad. This drink's my own invention. I'm going to patent it when I think of a good name.'

— Casino Royale, Chapter 7
Lillet Blanc, Kina Lillet
Lillet Blanc, which is available to most poeple now is a lightly sweet, vaguely floral fortified win.
Kina Lillet was discontinued in 1986 and Gordon's Gin cut the proof of their product in 1992, unfortunately, we cannot follow the exact recipe as it was stated. We can however use substitutes that can get close:
Lillet Blanc is available, but Kina Lillet included quinine (hence its name). Cocchi Americano can be used as a substitute because has a more bitter finish than if you use Lillet Blanc.
For a more traditional flavor, 100 proof vodka should be used to bring the alcohol content of the cocktail back to 1953 levels.
Beefeater, Bombay Sapphire, or Broker's gins provides the traditional flavor of 94 proof gin. Because Gordon's Gin has been cut to 75 proof. Some higher proofs are exported, but you have to look for them.
Vesper Martini
Esquire printed the following update of the recipe in 2006:
Shake (if you must) with plenty of cracked ice. 3 oz Tanqueray gin, 1 oz 100-proof Stolichnaya vodka, 1⁄2 oz Lillet Blanc, 1⁄8 teaspoon (or less) quinine powder or, in desperation, 2 dashes of bitters. Strain into a chilled cocktail glass and twist a large swatch of thin-cut lemon peel over the top.
The recipe concluded, "Shoot somebody evil."
Ha!
Gin and Vodka Martini
The most important consideration is the quality of the liquors that you chose. If you choose to use low quality spirits, there is nothing to cover up those flavors, as there are no juices or sweeteners, except for the Lillet Blanc.
Classic juniper gins are a great choice for the Vesper Martini. Again, as we stated above, the original recipe calls for a stout vodka, and there are many choices out there. The gin as we named above would be great, or if you don't have or can't get those, Sipsmith VJOP, Tanqueray, or Junipero are also great choices.
Chocchi Americano
It is rumored that Cocchi Americano can make for a better substitute to the Kina Lillet because Cocchi is bitter, like Kina. Lillet Blanc can be easier to find for most people, but Cocchi apparently will make for a more authentic Vesper. I think, go with what you have or want to use. We personally used Lillet Blanc. (Although of course we have Cocchi, too!).
To Shake or Stir
If you have hung around here for a while you have probably seen that cocktails made with only spirits, liqueurs, and syrups should be stirred, not shaken. Drinks that have cream or milk, juice, or eggs are shaken.
Stirring your ingredients with drinks like a martini is that shaking lends itself to a more diluted (watered down) drink. Shaking also adds air and tiny ice chips to the cocktail, which cools it down in a different way.
Air is wonderful in a cocktail with juice like a Tom Collins or a Bee's Knees. But, that air not desired in an all spirits drink like the Vesper, Old Pal, or the White Negroni. Stirring instead chills the drink, but makes for a great mouthfeel without potential ice chips.
Should the Vesper be stirred or shaken? Completely up to you! You can shake it. The added dilution from shaking may make it more palatable to you. If you are not used to spirit forward strong cocktails, it's a better choice than stirring. But, you will want to want to strain the cocktail so you don't get any ice in the drink.
You can try it Bond's way or the stirred way and see what you think either way. We did it stirred, but gave it an extra long stir, so it's colder.
How To Make A Perfectly Stirred Vesper
While we use mixing glasses to make stirred cocktails you can even stir in a cocktail shaker or any tall glass you may have. You just need a Hawthorne or Julep strainer to strain your cocktail out of the glass or shaker.
First, measure the gin, then vodka, and Lillet Blanc or Cocchi Americano (again, your choice). Add the liquors to the glass first, then fill your mixing glass about ¾ with ice. You want this coooold.
You want to use a long handled spoon to stir the cocktail. (This is why bar spoons are used). Place your long spoon between mixing glass and ice, keeping cubes in the middle of the glass so they move together (like a clump of ice) in a stir inside your mixing glass. This will let you stir smoothly and easily.
Stir for days. Just kidding 25-30 stirs or more (about 30 seconds) to chill and dilute your Vesper Martini. You want the dilution of the ice so your drink doesn't kick you in the butt, and you want it cold. Warm booze is icky.
If you want it to stay cold, you can chill your glass before straining. You can do this one of 2 ways. First, chill your glass in the freezer beforehand, so it's frosted over before straining. Or, secondly, you can fill your glass with ice while you are prepping your cocktail and then dump the ice before straining.
Shaken Vesper Martini
If you decide to shake your Vesper Martini (like Bond wanted), add your liquor to the shaker first, then fill it about ¾ with ice, like in the mixing glass.
Shake for about 15 seconds, or until your shaker is frosty. Double strain the Vesper Martini using a fine mesh strainer along with your Hawthorne or Julep strainer to avoid ice chips in your drink.
Lemon Peel Garnish
The garnish for a Vesper Martini Recipe is a lemon peel. If you express the citrus oils over the surface of the drink makes for the finishing touch. Expressing adds a lot to the flavor and aroma of the cocktail. Please don't skip this step!
Expressing means:
First, squeeze the lemon peel over the surface of the drink to release the oils.
Then, run the peel around the edge of the whole glass. Gives a great aroma and flavor especially at that first sip.
If you want another Martini, may we suggest our Lemon Drop?
Cheers!
Also, don't forget to follow us on Instagram and tag #gastronomcocktails so we can see all the wonderful recipes YOU recreate from this site!
You can also subscribe to our newsletter so you never miss a delicious recipe again!
Like this recipe? Try these below, too!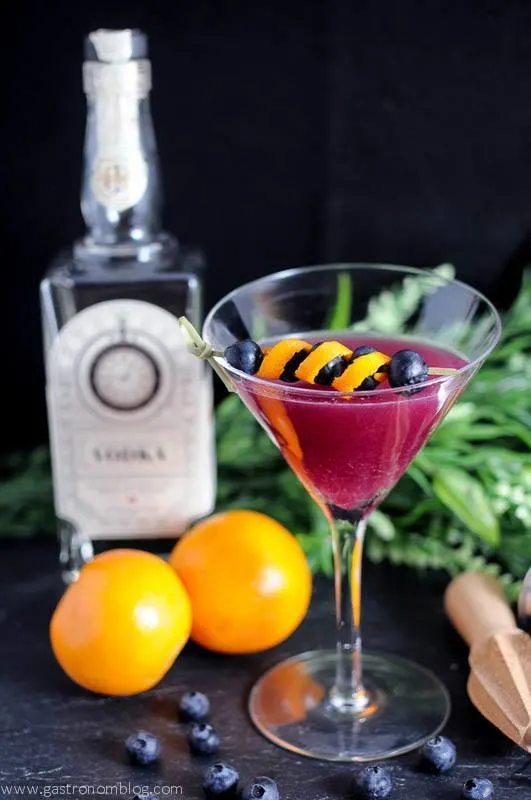 Garnet Martini
Shipwreck
Spirit Forward Classic Cocktails
Yield:

1
Vesper Martini Recipe
The Vesper Martini Recipe is a classic cocktail immortalized by James Bond. Gin, Vodka, LIllet Blanc and a simple lemon peel combine for this boozy sip!
Ingredients
3 ounces Gin
1 ounce Vodka
.50 ounce Lillet Blanc
Lemon Twist
Instructions
Instructions for either stirring or shaken is above in the blog post, so we will give instructions for stirring here.
Combine all liquors in a mixing glass. Gin, Vodka and Lillet Blanc. Add ice until mixing glass is 3/4 full.
Stir cocktail for a while - at least 30 seconds. You want your drink to be cold!
Strain cocktail into coupe.
Express lemon peel over the top of your cocktail, and run around rim of coupe. Drop in your drink.
Cheers!
Notes
We explained above how to shake this cocktail if you prefer.
Make sure to pick high quality ingredients for this cocktail, as there is nothing to hide lower quality liquors.
You can use Cocchi Americano in place of the Lillet Blanc if you would like.
Recommended Products
As an Amazon Associate and member of other affiliate programs, I earn from qualifying purchases.
Nutrition Information:
Yield:
1
Serving Size:
1
Amount Per Serving:
Calories:

299
Sodium:

2mg
Carbohydrates:

0.2g
Interested in stocking your own home bar? Make sure to see our favorites at our Amazon Store!
If you liked this post, don't forget to subscribe for new (and of course free) recipes by entering your email address on the side bar (and get all the recipes delivered to your inbox when we post), so you don't miss out on a thing. You can find us on Facebook, Instagram, and Pinterest!
Gastronomblog is a participant in the Amazon Services LLC Associates Program, an affiliate advertising program designed to provide a means for sites to earn advertising fees by advertising and linking to amazon.com