Last Updated on October 6, 2022 by The Noms
A great rum and Lillet cocktail that is tiki-ish and so tasty! Check it out!
This summer we have totally fallen in love with rum cocktails thanks to some of the great rums that we have found, plus the opening of a really great Tiki bar in town. Rum is a spirit that evokes a lot of feelings of warm tropical locations, so what better way to keep the feeling of summer going?
Plus National Rum Day is coming up, so we thought maybe we should roll out one of those great rum cocktails to celebrate!
This post contains sponsored content brought to you by Drizly. This post contains affiliate links for products that we think you as readers might find useful, and we make commission off of these! For more details about our affiliates, click our Disclosure and Contacts Page.
Rum and Lillet
We were reading through some cocktail recipe collections (what can we say, we are cocktail nerds!) Then we ran across a cocktail called the Roosevelt which combined rum and vermouth. This combination piqued our interest, but as we were currently out of dry vermouth, we had to branch out on our own.
The result is a drink we call The Shipwreck, a great combo of aged rum and Lillet Blanc and fresh lime.
Of course a good cocktail starts with a good spirit and since we were looking to make a drink that had a nice tropical feel. If course we had to find a rum that would bring lots of warm tropical flavors. Since we had lots of rums that are light, but not any aged ones in our house, we pulled up Drizly and looked up a rum that we have been enjoying in some drinks at our local tiki bar, Pyrat Xo Reserve Rum.
Since Drizly offers in home delivery of all kinds of great spirits, it was really easy to order up this bottle! In just about an hour we had a brand spanking new bottle of Pyrat in our hands!
Coupe (ours is vintage) / Wood Ice Tea Spoon / Flamingo Napkins (like these, not the same)
Which Rum to Use?
Pyrat Xo Reserve is a blend of barrel aged demerara rums, some of which are aged up to 15 years in french oak barrels to really smooth out the flavors. Demerara rums tend to be dark, rich rums full of burnt sugar cane and molasses. This brings lots big flavors that work really well for a Lillet cocktail.
Pyrat brings all those sweet dark flavors, plus there is a nice undercurrent of sweet tangerine and orange that really brings out the tropical feeling.
What Ingredients are Needed for the Shipwreck Cocktail?
With Pyrat as our base spirit, we wanted something that would bring in a little herbal complexity and round out the sweetness of the rum. When we were looking back at the recipe for the Roosevelt, it called for the use of a dry vermouth. This would bring a herbal character to a drink. We were thinking about what would go well with a rum, and remembered another aperitif spirit, Lillet Blanc.
Lillet Blanc is a nice fruity liqueur that is made from Semillon and Sauvignon Blanc wines mixed with brandy and orange peels, all of which plays really well with the rum.
If You Are Looking for More Grapefruit Cocktails, Try These!
What Citrus to Add
We wanted this Lillet cocktail to have a real tropical feel, so we turned to a couple of flavors that are often associated with tropical drinks, grapefruit and lime. Fresh squeezed lime works really well with just about any rum! British sailors were called limeys for a reason, they got a ration of rum and a lime to chase away scurvy!
If You Are Looking for More Tiki Cocktails, Try These!
The lime brings a tart citrus brightness to the drink and a sour edge that helped add another layer of flavor to the cocktail.
What other Flavors To Add?
We had a grapefruit simple syrup in house we had used for homemade soda for our kids. The grapefruit syrup wasn't overly sweet (hey its grapefruit) but it had a nice sweet tart grapefruit-iness about it. It really felt tropical and fresh. The citrus notes of the lime and grapefruit syrup add layers of sweet and tart and tied the whole drink together!
The Shipwreck is a really nice drink for an evening by the pool, at the beach or in your own tiki bar! Its one heck of a drink to celebrate National Rum Day! Hey we had one just to celebrate hitting 10000 followers on Instagram! If you aren't following us on Instagram why aren't you!?
Cheers!
Also, check out other National Rum Day recipes – from our food blogger friends at Nomageddon with a Dark & Stormy.
Also, don't forget to follow us on Instagram and tag #gastronomcocktails so we can see all the wonderful recipes YOU recreate from this site!
You can also subscribe to our newsletter so you never miss a delicious recipe again!
Like this recipe? Try these below, too!
Tropical Rum Punch
Pimm's Cup Cocktail
Other Tiki Cocktails
Other Lillet Cocktails
Yield:

1
The Shipwreck - A Rum and Lillet Cocktail
A rum and lillet cocktail, tiki and tropical themed with grapefruit and lime.
Ingredients
Shipwreck Cocktail
1.75 ounces dark rum
.50 ounce Lillet Blanc
1 ounce grapefruit simple syrup
.50 ounce freshly squeezed lime juice
Grapefruit Simple Syrup
1 cup water
1 grapefruit, cut up, peel and all
1 cup sugar
Instructions
For the Cocktail
Combine all ingredients in a shaker.
Shake with ice until chilled.
Strain into a coupe.
Cheers!
For the Grapefruit Simple Syrup
Combine grapefruit pieces, sugar and water in a small saucepan.
Bring to a boil, let simmer for 5 minutes.
Take off of heat and let steep for 5 minutes.
Strain out grapefruit pieces.
Store in an airtight container for up to one week in the fridge.
Recommended Products
As an Amazon Associate and member of other affiliate programs, I earn from qualifying purchases.
Nutrition Information:
Yield:
1
Serving Size:
1
Amount Per Serving:
Calories:

262
Total Fat:

0.1g
Saturated Fat:

0g
Trans Fat:

0g
Unsaturated Fat:

0g
Cholesterol:

0mg
Sodium:

22mg
Carbohydrates:

30.6g
Fiber:

0.1g
Sugar:

5.8g
Protein:

0g
PIN THIS SHIPWRECK COCKTAIL RECIPE FOR LATER!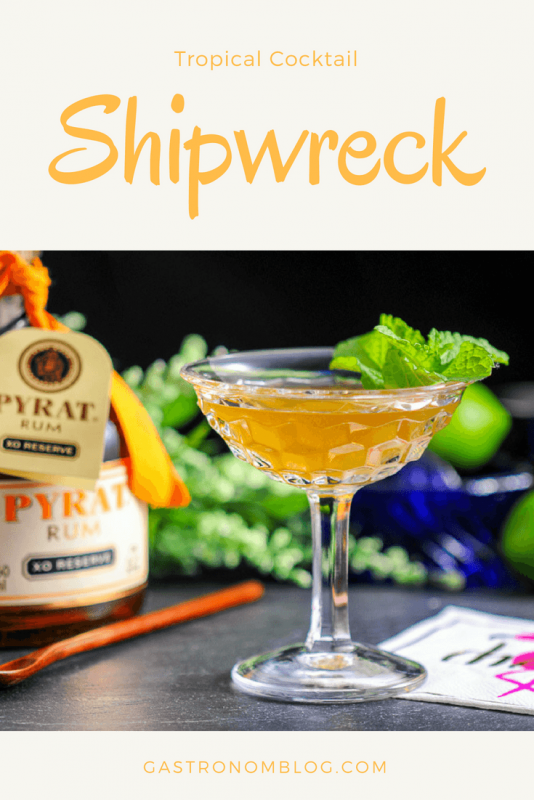 Interested in stocking your own home bar? Make sure to see our favorites at our Amazon Store!
If you liked this recipe, don't forget to subscribe for new (and of course free) recipes by entering your email address on the side bar (and get all the recipes delivered to your inbox when we post), so you don't miss out on a thing. You can find us on Facebook, Instagram, Pinterest and Twitter!
Gastronomblog is a participant in the Amazon Services LLC Associates Program, an affiliate advertising program designed to provide a means for sites to earn advertising fees by advertising and linking to amazon.com