Last Updated on October 7, 2022 by The Noms
We made a trip to Elk Horn, Iowa to go to the Danish Table, and got to try some aquavit cocktails, then made our own!
Since this was posted, the Danish Table has closed permanently.
Elk Horn, Iowa is one of the most Danish places in America. There are Danish festivals celebrating Danish food and culture, and the Museum of Danish America, which we toured! We were invited to come to The Danish Table by Mari, the owner, and decided to spend a day in Iowa with the boys with us! Plus, we were promised aquavit cocktails, so win-win!
This post contains affiliate links for products that we think you as readers might find useful, and we make commission off of these! For more details about our affiliates, click our Disclosure and Contacts Page.
There are also places to get a taste of Danish food: The Danish Table: Hygge Kitchen. The Danish Table is a lovely restaurant right next to the Danish Windmill in Elk Horn! Upon entering you are transported to Denmark and Scandinavia, with the feeling of Hygge all around.
What is a Hygge lifestyle?
Hygge (pronounced hoo-ga), this Danish idea cannot be translated to one single word but is a feeling of cozy contentment and well being by enjoying the simple things in life. In doing my research about hygge I noticed that it tends to focus on wintertime.
The cold and dark days of winter are the perfect time to get cozy with candles, throw blankets, hot chocolate, layers of clothing, a good book or binge watching that Netflix show. Lots of hygge foods: pancakes and soup, are alllll winter!
But, it seems that there is also hygge in the summer. Warm weather hygge is outdoor: picnics, cookouts, bonfires. Summertime hygge is about friends and being outdoors while you can! I don't know about you, but I am down with all of these things, especially right now as I am staring at 6 inches of snow on the ground!
We definitely felt the hygge in The Danish Table because of the following:
The Decor

You will recognize The Danish Table's aesthetic as Scandinavian: natural wood, white walls, slight minimalism, but modern, eclectic and rustic touches with colorful throw pillows, check napkins and pops of color. The host stand is even a repurposed bicycle, for the love of biking in Denmark!
We loved the bright and light interior on a snowy winter Sunday we were there, and felt the hygge!
Danish Food
There's a Danish kitchen portion of the menu that includes entrees such as frikadeller, which are Danish meatballs, and I had them, and they were delish. Also, stegt flaesk, fried pork belly, which Jay had, and was also delicious topped with carrot and pea gravy. They serve these dishes with a side of warm red cabbage and cucumber salad, made in house.
There are touches of Denmark in all parts of the menu. But, there is the American Kitchen page for those who don't want to get to scary! These include all kinds of sandwiches: chicken, burgers, pork tenderloin and a French dip.
For those who want to be braver, there are starters with herring, a Danish meat and cheese board, and a Smorgasbord with open-faced sandwiches. For those going for breakfast or brunch, there are the typical American flavors with pancakes and biscuits and gravy. But, again, for those who want to cross over you can get the medisterpolse and aebleskiver.
The medisterpolse are Danish sausages with boiled potatoes and gravy, and then Danish pancakes, the aebleskiver. Oh, the aebleskiver.
We had the aebleskiver (like a pancake and a doughnut hole all in one) for dessert. The aebleskiver are served with powdered sugar, plus sugar, jam, and butter on the side. Yeah. Little bits of heaven. Needless to say, the boys gobbled them up!
Aquavit or Akavit

A neutral spirit distilled from grain or potato, aquavit is commonly flavored with caraway as the main flavor. Styles of aquavit vary and can other spices too, such as dill, fennel, coriander, citrus and anise. The Danish Table isn't making true aquavit, but they do produce a pretty tasty approximation by infusing vodka with their own blend of spices.
A shot of aquavit pairs particularly well with any of the Danish food. They also use aquavit in some of their house cocktails, a Danish Mule, Bloody Dane, and the New Norre.
We got to sit down with Mari Nielsen Harries, the owner, and talk about their opening last year, as well as their developing recipes that are Danish in nature, but appealing to Iowans. Mari also owns another restaurant in Minnesota, and felt called to open The Danish Table in Elkhorn in 2019.
We talked about the cocktails and sipped their regular and dill aquavit, and how they developed their flavor profile for their own kit, which they sell at their restaurant. Mari and her staff were so welcoming and warm, and we thoroughly enjoyed our visit.
Elk Horn, Iowa
Elk Horn, Iowa is a short drive from Omaha, and door to door from Elk Horn to our house, was 70 minutes. And, that was even in a snow storm on the way home. So, very doable for a day date, or a great winter evening to go feel the hygge that encompasses The Danish Table.
Aquavit Cocktail
Of course, the lovely Mari gave us a make our own aquavit kit, (and an aquavit candle!) so we had to of course make an aquavit cocktail. I mean, that's what we do, duh! And in playing with the flavors, we ended up pairing the caraway and anise flavors in their DIY kit with some pear brandy and Lillet Blanc.
The wine based apertifs stood up really well to the flavorful aquavit. The gave a slight sweetness, but added lightness and freshness too.
As the aquavit stood up to those flavors so well, and it was like late winter/early spring in a glass. Almost like when the snow is melting. We added in some grapefruit Oleo Saccharum, and a few drops of sassafras bitters. Regular aromatic bitters would work too!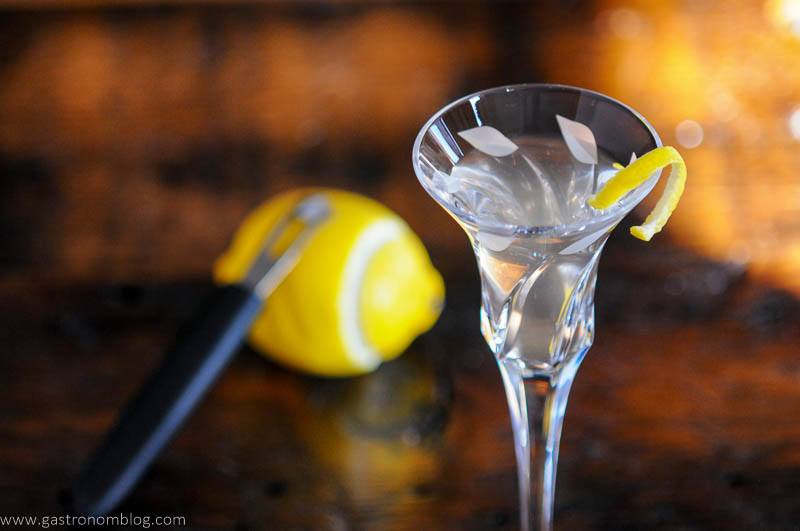 We hope you try this cocktail, as well as make a trip to Elk Horn, Iowa and The Danish Table, you won't regret it!
Plus, it's sooooo Instagrammable, you will be posting all over the place – check these pictures!
Cheers!
Also, don't forget to follow us on Instagram and tag #gastronomcocktails so we can see all the wonderful recipes YOU recreate from this site!
You can also subscribe to our newsletter so you never miss a delicious recipe again!
Like this recipe? Try these below, too!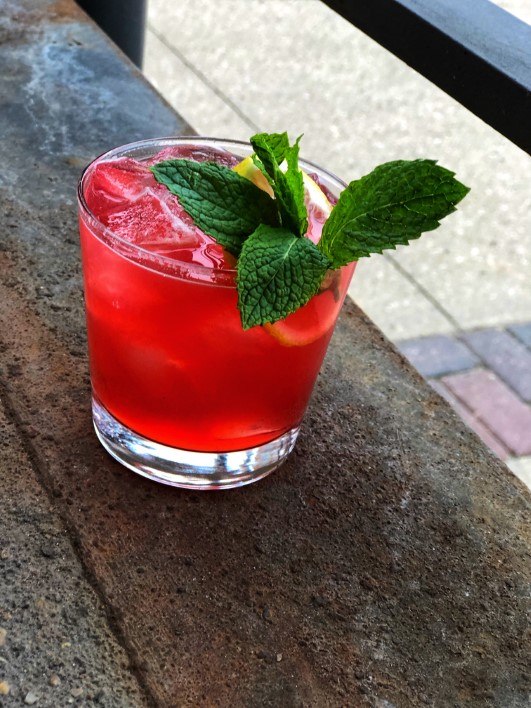 Travel to Dubuque, Iowa
Shipwreck Cocktail
Other Wine Based Cocktails
Yield:

1
Aquavit Cocktails
These aquavit cocktails are so full of flavor wtih aquavit, pear brandy, lillet and oleo saccharum. Topped with sassafras bitters, this is a great tasty one.
Ingredients
1.50 ounces aquavit
.50 ounce pear brandy
1 ounce Lillet
.25 ounce Oleo Saccharum
2 drops sassafras bitters
Instructions
Combine all ingredients in a mixing glass with ice.
Stir to chill.
Strain into glass.
Garnish with lemon peel.
Cheers!
Recommended Products
As an Amazon Associate and member of other affiliate programs, I earn from qualifying purchases.
Nutrition Information:
Yield:
1
Serving Size:
1
Amount Per Serving:
Calories:

167
Total Fat:

0g
Saturated Fat:

0g
Trans Fat:

0g
Unsaturated Fat:

0g
Cholesterol:

0mg
Sodium:

5mg
Carbohydrates:

6.4g
Fiber:

0g
Sugar:

0g
Protein:

0g
PIN THIS AQUAVIT RECIPE FOR LATER!
Interested in stocking your own home bar? Make sure to see our favorites at our Amazon Store!
If you liked this post, don't forget to subscribe for new (and of course free) recipes by entering your email address on the side bar (and get all the recipes delivered to your inbox when we post), so you don't miss out on a thing. You can find us on Facebook, Instagram, Pinterest and Twitter!
Gastronomblog is a participant in the Amazon Services LLC Associates Program, an affiliate advertising program designed to provide a means for sites to earn advertising fees by advertising and linking to amazon.com