Last Updated on May 9, 2023 by The Noms
A weekend trip to Dubuque, Iowa, in the heart of beautiful eastern Iowa and a top town to visit for food, fun and adventure!
We had a chance to break away for a long weekend in
Dubuque, Iowa
, to do what we do best, eat, drink and explore what makes this historic river town a special destination! It's an October weekend, just as the leaves were starting to change colors. I think we definitely want to return sometime in the future when the autumn leaves at their peak colors, as we can only imagine how spectacular the trees on the rolling hills and bluffs surrounding this Mississippi River town would be!
This post contains sponsored content brought to you by Travel Iowa. We received compensation to create this post. But, all opinions and views presented here are 100% our own. This post contains affiliate links for products that we think you as readers might find useful, and we make commission off of these! For more details about our affiliates, click our Disclosure and Contacts Page.
Dubuque is a perfect weekend getaway for a those of us that live in the Midwest. With us planning on taking a long weekend, we ventured out way east from Omaha after we dropped the kids at school! We took our time, checking out some of the scenery in Madison County, Iowa, stopping for lunch in Des Moines and then worked our way to Dubuque. We arrived late in the afternoon and checked in at the Hotel Julien.
Hotel Julien Dubuque
The Hotel Julien is a landmark hotel located right in the heart of downtown Dubuque, and walking distance from lots of local bars, restaurants and shops. Originally founded in 1839 as the Waples House, Hotel Julien was the first building that travelers to Dubuque saw when they crossed the Mississippi River from Illinois. In 1854, the hotel was renamed Hotel Julian after Julien Dubuque, the founder of Dubuque, and has been welcoming guests to Iowa ever since!
We entered our suite (be sure to check out the video of the room!) to find a welcoming space. It was a Premier Suite, with room for us both to spread out, relax and enjoy some of the spectacular views of the Mississippi River and Dubuque's Old Main District. It was also appreciated having a separate bedroom and living area as it allowed us to spread out and not bother the one who wanted to sleep just a few more minutes!
The room has space to also get some work done too, with comfortable seating and work surfaces at both a desk and the kitchenette bar! We love that there was a kitchen with full size refrigerator and could easily see ourselves making an easy meal there when we go back again!
Brazen Open Kitchen
After settling in, we ventured out for dinner, and ended up at Brazen Open Kitchen! Located in the Historic Millworks District, this restaurant and bar is in the middle of a hopping entertainment and shopping district that is housed in the original factories that made Dubuque a powerhouse in American manufacturing. Headed up by Chef Kevin Scharpf, Brazen Open Kitchen is the flagship restaurant in Dubuque.
If you haven't heard of Kevin and his cuisine, you need to get yourself acquainted with him! He prides himself on creating an authentic, progressive, yet approachable menu highlighting the amazing seasonal, fresh ingredients available in the Midwest!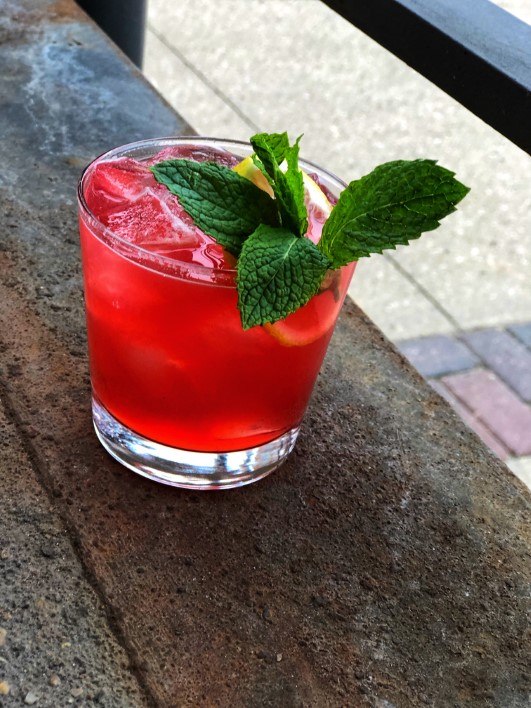 Kevin's unique plates are relevant anywhere in the culinary world, but his history is in the Dubuque, Iowa area, being from just across the Mississippi in Galena, Illinois. In 2016 Kevin was named one of FSR Magazines "40 under 40" Risings Stars. He also competed in season 16 of Bravo's 'Top Chef."
Brazen is located in the Millwork District, which formerly was home to old furniture and wood working mills, so everything is in historic brick buildings with wide wooden floors, making the ambiance lovely and historic. Combine the ambiance with the refined farm to table cuisine and you have a recipe for success!
Dinner in Dubuque, Iowa
To start out our dinner we of course ordered cocktails (I know, you are shocked!) Jay got the Chapman (named for the bartender's great great grandpa John Chapman who family legend says is Jonny Appleseed!) which was spiced rum, hard apple cider, cinnamon, lime and walnut bitters. I got the Cafe de Canela, with reposado tequila, cold brew, cinnamon and an egg white. They were both perfect for the chilly fall evening, and definitely a sign of a talented bar staff! We enjoyed every cocktail we had at Brazen very much!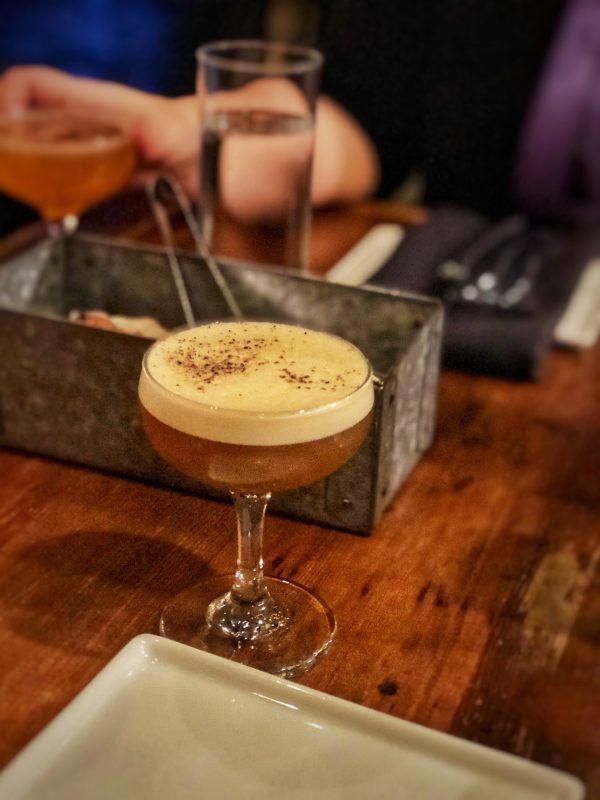 We then ordered for our meal and got the Squash "onion" Rings to start. This was my favorite dish of the night, and I cannot stop raving about them! (We even got to meet Kevin, and I told him so!) The rings were accompanied by a slightly spicy sauce that paired well with mildly tempura battered squash. Jay also got the squash soup, and it was divine on a chilly October evening in eastern Iowa.
For our main courses, I got the Parsnip Ravioli, and all pasta is made fresh in house, which was very apparent as it was cooked to a delightful al dente. Jay got the Beef Shoulder, which was cooked perfectly with root veggies, sweet potato pave, kale, and mushroom demi glace! Even though we were stuffed, Jay ordered the Bourbon Caramel cheesecake, which we couldn't finish and had as a snack before breakfast the next morning!
Saturday morning we started our day with going to the Farmer's Market. We had a great time walking around and seeing the fresh baked goods, seasonal veggies and the delicious smells from eastern Iowa businesses. The various food trucks and stands had some amazing smelling items! We wanted a quick brunch before we headed to lunch, so we went to Convivium Urban Farmstand. It is a coffeehouse and restaurant, serving breakfast and lunch, as well as growing their own vegetables, and having community events and classes.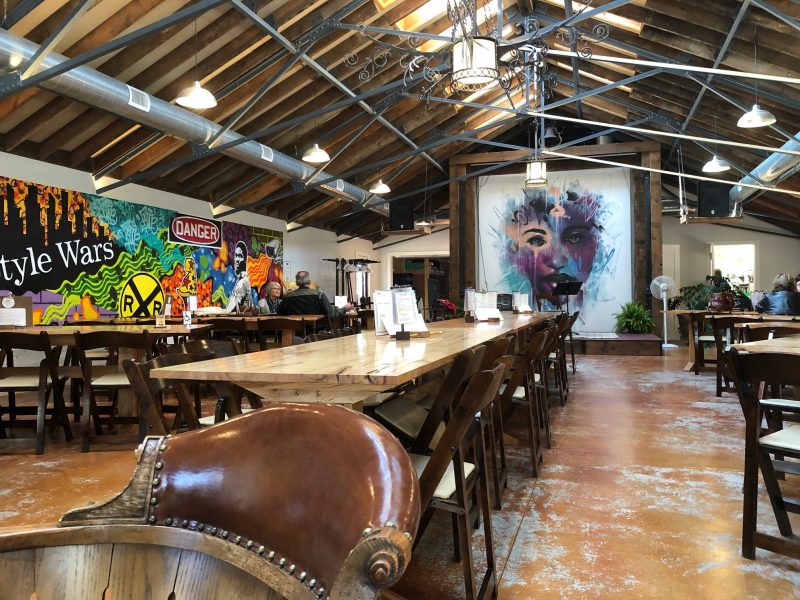 Convivium Urban Farmstand
Convivium is an open, welcoming space, featuring communal tables and great, fresh items to eat and drink. They even make boozy coffee! We got a breakfast sandwich to share and some great French Press coffee, which we both needed! After our nosh, we decided to go to the Fenelon Place Elevator. The elevator is the world's shortest steepest elevator / incline railway, and it gives you a quick ride up to the top of the bluffs that eastern Iowa is known for.
We rode up and hung out at the top for about 20 minutes despite a pretty chilly wind (because the view was that spectacular from up on the bluff!) before coming back down. You can really see the river and downtown and get a real perspective of how Dubuque hugs the river. It's really a fun way to see most of the eastern Iowa city, and we really enjoyed the trip up and down, too! At the bottom of the bluff, there are a few shops to visit if you are into that, I really enjoyed the Midwest Girl store, and bought a few things that appealed to this Midwest Girl!
We went to Pete's Thai for lunch, and really enjoyed the spring rolls and the delicious peanut dipping sauce was just the right touch to make the rolls pop. We decided to share our orders of Pineapple fried rice and Beef spicy noodles. Everything was on point and very flavorful. The atmosphere is great, lots of purple and bright colors perfect for a great lunch or dinner. Located in a neighborhood with a lot of houses, it was easy to park and get to.
Jubeck New World Brewing
After lunch we headed to Jubeck New World Brewing. Jubeck started in Dubuque with community support with a Kickstarter campaign in eastern Iowa and beyond. They ended up making the money in 3 months with 175 backers. With support from the community they have grown and now have a great tasting room where they do flights of beer! Housed in another one of the picturesque brick buildings that give Dubuque its unique charm!.
Jubeck has no TV's, and vintage records on the record player, making it's a great atmosphere to spend an afternoon! Jay got the flight and said his favorite of the day was the Apricot IPA which had a crisp piney finish. I had the Jacked Cider, which was made with local apple cider and prickly pear cactus, it was tasty and a beautiful color!
Stone Cliff Winery
After the brewery we headed over to the Stone Cliff Winery tasting room. It's in an amazing building right on the river as it was the old Star Brewing Company building. They have a little museum all about the brewery and the restoration process of the whole location. It's a great cheap afternoon if you are interested in sweeter wines. $5 for 5 tastings is a great deal!
The wines did go on the sweet side, there was a Chardonnay and a Pinot Noir that were drier. Most of the wines were fruit based or sweet grape. There was even one that tasted like a boozy Welch's Grape Juice (that did come home with us, as I have plans for a cocktail syrup!). But, they have small bites and desserts, so you can get some snacks and have a great time day drinking while there!
L May Eatery
Saturday night we headed to L May Eatery for dinner. Their cocktail, beer and wine lists were fairly extensive, and we were very happy with our choices for dinner. Jay had the Honey Old Fashioned, and I had a great glass of Alexander Valley Cabernet. We ordered the cheese plate, which had some great local cheeses and honey, so it was a great way to taste the local flavors of eastern Iowa.
All entrees come with salad and some soft bread with bourbon maple butter that was so delish, and we asked for more. Our entrees were the pesto gnocchi and the pork shanks.
Also, don't forget to follow us on Instagram and tag #gastronomcocktails so we can see all the wonderful recipes YOU recreate from this site!
You can also subscribe to our newsletter so you never miss a delicious recipe again!
We ended the evening early on Saturday, because we knew we had to drive back Sunday, plus we wanted to make sure to have brunch before leaving town! Speaking of brunch, we went to Brazen again for that Sunday morning meal! They have a small but tasty brunch menu, which we thoroughly enjoyed before getting back in the car to head back to reality.
Brunch at Brazen
We had the blueberry pop tarts, where at Brazen the standard order is 2 pastries, score! Jay got the special of the day, Salmon Benedict, and I got the quiche topped with their house made tomato jam. We made sure to bring home a jar of that, yum!
A great weekend was had in Dubuque, and if you have 48 hours, we encourage you to visit this great city. Enjoy the beauty of the area of eastern Iowa, with many hiking trails, parks and scenic vistas.
If you are coming to Omaha, we recommend renting a VRBO Rental Location to stay at! Make sure to check out Grinnell, Iowa as well as The Highlander Hotel in Iowa City, Iowa!
Other Spirited Travel Locations
Like this post? Try these below, too!
Kohana Rum Distillery Tour
Russian River Valley California
PIN THIS DUBUQUE, IOWA FOR POST FOR LATER!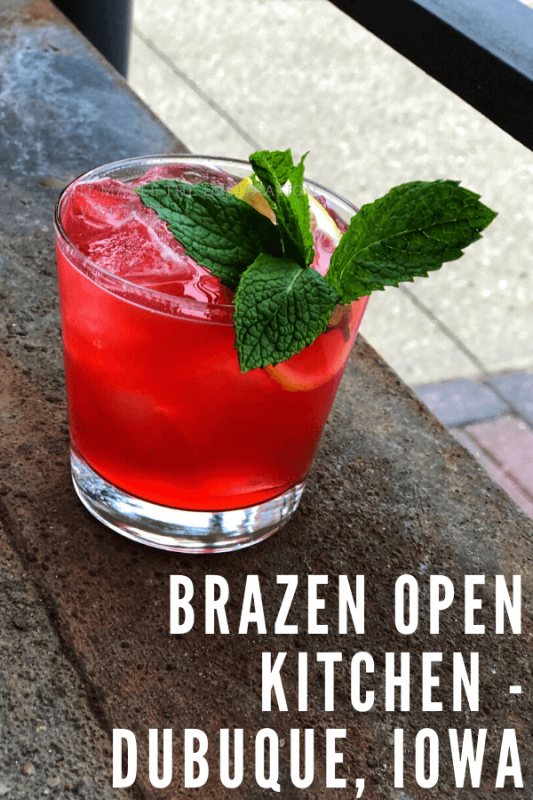 Interested in stocking your own home bar? Make sure to see our favorites at our Amazon Store!
If you liked this post, don't forget to subscribe for new (and of course free) recipes by entering your email address on the side bar (and get all the recipes delivered to your inbox when we post), so you don't miss out on a thing. You can find us on Facebook, Instagram, Pinterest and Twitter!
Gastronomblog is a participant in the Amazon Services LLC Associates Program, an affiliate advertising program designed to provide a means for sites to earn advertising fees by advertising and linking to amazon.com