Last Updated on May 9, 2023 by The Noms
Check out our trip to an amazing Sonoma Valley distillery! We also used their Nocino to make a fabulous walnut rum old fashioned cocktail!

When most people think about visiting Sonoma, they envision rolling hills covered in grapevines and beautiful tasting rooms! But, there is a whole other side of Sonoma that has a truly spirited side lead by the fine folks at Prohibition Spirits! Home to some incredibly fine artisanal distilled spirits, Prohibition Spirits is proof that there is more to Sonoma than just great wine, there are great Sonoma distilleries too!
As fans of all things artisanal spirits, we were super excited to get to see the spirited side of Sonoma on our latest visit to Sonoma Valley!
This post contains sponsored content brought to you by Prohibition Spirits. and Experience Sonoma Valley. We were provided a complimentary tasting experiences in exchange for coverage on social media and this blog, but all opinions and views presented here are 100% our own. This post contains affiliate links for products that we think you as readers might find useful, and we make commission off of these! For further information, or if you are interested in working with us please see our Disclaimer page.
We had a chance to visit the Prohibition Spirits tasting room recently when we were out in the Bay Area for a conference. We decided to take a side trip up to Sonoma for a quick 24 hours in Sonoma Valley! Jay and I were lucky enough to get to stop in and have a chance to experience all that Prohibition Spirits has to offer.
Got to meet with the the owners, Fred and Amy Groth, who fell in love with Sonoma while vacationing (we can totally relate!) and found that being surrounded by amazing vineyards, restaurants and gardens reminded them of another of their favorite vacation destinations, Italy.
What Ingredients are Needed for the Walnut Rum Old Fashioned?
Brown Sugar
Nocino Liqueur
Dark Aged Rum
Orange Bitters
For those of you that have traveled in Italy, one thing you will find is that almost every little town has their own recipe for a special spirit. Be it an amaro, herbal liqueurs or limoncello that they are extremely proud of and excited to share with visitors! The Groths loved traveling through Italy and with both of them being adventurous foodies and drinkers, they loved getting to try each local specialty and that idea of sharing a local specialty (especially limoncello!) made quite the impression on them.
When they found themselves vacationing in Sonoma in 2008, Fred and Amy were struck by the similarities to Italy. They found themselves soon thinking that Sonoma was the place they wanted to realize their dream of starting their own business and bringing their own take on limoncello to Sonoma!
Limoncello
It wasn't long before Fred and Amy found themselves making their dreams a reality, opening the first distillery in Sonoma since Prohibition! Then in 2009, they released their first bottles of a California limoncello called Hellocello Limoncello di Sonoma. IT was soon embraced as a local favorite by the people of Sonoma!
Releasing their first limoncello wasn't the end of the journey for Fred and Amy. They soon found themselves embraced by one of Sonoma's most well known restaurants, The Girl & the Fig. The Girl & the Fig wanted them to make Figcello di Sonoma. Which is a figcello made with Black Mission Figs harvested from trees all over Sonoma, making this one truly local spirit!
Now featured in a couple of cocktails at the Girl & the Fig (which by the way we had the chance to try the night before!) Prohibition Spirits' Figcello di Sonoma is a showcase to Fred's skill at taking a local California ingredient and transforming it into something special! Oh, and we can say that a bottle of Figcello di Sonoma definitely has found a place on our bar cart!
Prohibition Spirits Grows
Fred and Amy weren't content with Prohibition Spirits just being a 'cello house, especially when they are surrounded by the source of some of the world's finest grapes. Also, farms that are committed to growing incredible product and fruits for Sonoma Valley's renowned culinary scene and it's famous farmer's market. With all kinds of fun ingredients at their finger tips, it was only natural Prohibition Spirits would branch out into all kinds of other spirits, especially one of the most famous of grape and fruit based spirits, brandy!
Brandy
Prohibition Spirits launched their line of Chauvet Brandies that use locally sourced grapes and aged in a variety of barrels. (Some barrels from neighboring vineyards and some of their own bourbon barrels!) This gave Prohibition Spirits a wide range of brandies that are perfect for mixing in cocktails or sipping neat!
Named after legendary Sonoma Valley entrepreneur and distiller Joshua Chauvet who set up the first brandy distillery in the Bay Area. He did it to serve his fellow gold rush miners. Prohibition Spirits' brandies embrace the traditional styles and techniques, but still being a bit adventurous by experimenting with new ingredients and aging styles to make some fantastic spirits!
Whiskey
Oh and since we mentioned barrel aging, we probably should mention that Prohibition Spirits also makes some really delicious small batch Hooker's House whiskeys! They offer a definite Sonoma spin, with some of their whiskeys aged in wine barrels from neighboring Sonoma wineries! Aging the whiskey in wine barrels imparts some of the unique characteristics of the wine to the whiskey, making for a very nuanced, flavorful whiskey.
Bourbon
Prohibition Spirits also has a traditional bourbon that is aged in a solera system with bourbon ranging from 7 to 21 years of age. This allows for a finely mixed aged bourbon! Oh and before you claim that this isn't a bourbon, did you know you can legally make bourbon outside of Kentucky?
Its true, you just have to follow the rules for proper aging (new charred oak barrels!) the right mash bill (51% corn!) and made in the US! These whiskeys were outstanding, and if you want something truly unique in your whiskey, check out the whiskey's that Fred and Prohibition Spirits are turning out!
Prohibition Spirits opened their brand new tasting room in the beautiful Sunset Gardens at Cornerstone Sonoma. They are surrounded by various specialty gardens like a farm garden, an orchard garden, a gathering space and most importantly a cocktail garden! The Tasting Room opens up into the cocktail garden. It features all the herbs and botanicals that one might find useful in the distillation of one of the most famous of herbal spirits, gin!
Gin
Speaking of gin, Prohibition Spirits also makes some really fantastic gin all that are made with locally sourced herbs and produce. They create a range of gins from the traditional London Dry all the way to their fantastic Jack's # 3 Gin: Melon and Mint which is a unique gin that uses fresh melon and mint to flavor their gin (it would make one mean summer gin and tonic!) and our personal favorite, Jack's #4 Gin.
It's a bourbon barrel aged London Dry gin that is reminiscent of a cross between a crisp gin and a rye whiskey! Oh and by the way, you can taste all these gins out in Prohibition Spirits' Gin Garden while enjoying the view of the surrounding mountains!
Gardens
Oh and those gardens also offer visitors to Prohibition Spirits' Tasting Room the chance to experience some incredible special group tasting events, mixology classes or even just enjoying a sample in hand while touring these beautiful gardens! Be sure to stop in and see Fred and Amy and their tasting room manager Jackie, experience some incredible spirits and hospitality and let them know that Jay and Leah from The Gastronom sent you!
Looking for more distilleries? Try KoHana Rum, in Hawaii!
If You Are Looking for More Rum Cocktails, Try These!
Rum Old Fashioned
Oh and we couldn't let you read about Prohibition Spirits with out a cocktail to sip on while you book your next visit! Since Fred is into rum right now, and we really liked Prohibition Spirits' Nocino Block Walnut Liqueur… So we made a Nutty Rum Old Fashioned. It features dark rum (may I suggest Prohibition Spirit's Sugar Daddy Dark Rum) and Prohibition Spirits Nocino Black Walnut Liqueur and just a bit of brown sugar to make a wonderful spin on an Old Fashioned!
Also, check out our wine tastings at Sonoma County Wineries! And our staycation recommendations in Omaha! If you are looking for a place to stay in Sonoma, can we recommend the Gaige House in Glen Ellen, it's a boutique hotel. And then head over to Napa Valley for wine tastings, too! Or, if you are headed to Northern California, may we suggest Humboldt Bay Social Club!
Cheers!
Also, don't forget to follow us on Instagram and tag #gastronomcocktails so we can see all the wonderful recipes YOU recreate from this site!
You can also subscribe to our newsletter so you never miss a delicious recipe again!
Other Distilleries
Like this post? Try these below, too!
Napa is Open and Needs You!
Visiting the Russian River Valley
OTHER OLD FASHIONED COCKTAIL RECIPES
If you are going to wine country, we recommend renting a VRBO Rental Location to stay at, or some great Healdsburg, California Hotel options! We also encourage you to go eat at The Matheson Healdsburg, too! Or, if you are headed north, stop at Humboldt Distillery.
Cheers!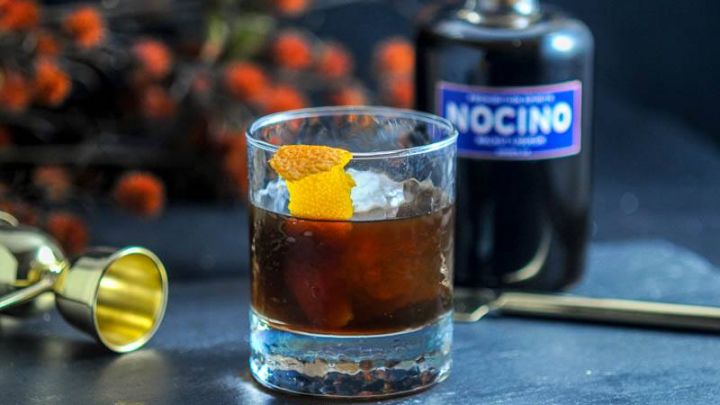 Yield:

1
Black Walnut Old Fashioned
A walnut Old Fashioned made with Nocino, a black walnut liqueur, from Prohibition Spirits in Sonoma, California. Check out our lovely tour.
Ingredients
Rum Old Fashioned
1.50 ounces dark aged rum
.75 ounce Nocino (black walnut liqueur) Prohibition Spirits
1 teaspoon brown sugar
orange bitters
orange peel for garnish
Instructions
Muddle brown sugar with bitters in bottom of a rocks glass.
Add in ice.
Add in rum and Nocino. Stir, garnish with orange peel.
Cheers!
Recommended Products
As an Amazon Associate and member of other affiliate programs, I earn from qualifying purchases.
Nutrition Information:
Yield:
1
Serving Size:
1
Amount Per Serving:
Calories:

155
Total Fat:

0g
Saturated Fat:

0g
Trans Fat:

0g
Unsaturated Fat:

0g
Cholesterol:

0mg
Sodium:

1mg
Carbohydrates:

2.9g
Fiber:

0g
Sugar:

2.9g
Protein:

0g
PIN THIS BLACK WALNUT OLD FASHIONED RECIPE FOR LATER!
Interested in stocking your own home bar? Make sure to see our favorites at our Amazon Store!
If you liked this recipe, don't forget to subscribe for new (and of course free) recipes by entering your email address on the side bar (and get all the recipes delivered to your inbox when we post), so you don't miss out on a thing. You can find us on Facebook, Instagram, Pinterest and Twitter!
Gastronomblog is a participant in the Amazon Services LLC Associates Program, an affiliate advertising program designed to provide a means for sites to earn advertising fees by advertising and linking to amazon.com