Last Updated on June 8, 2023 by The Noms
This post is all about our stay on the a vineyard in wine country as well as some adventures along the way including a wine safari!
Last fall, we had the chance to travel out to wine country with some of our closest friends for a fun getaway and to restock our wine cellars! All of us are big wine fans, so getting to take a trip to California's Sonoma Valley is like traveling to a wine lover's paradise! This year we had a special treat, staying on the Thomas George Estates Vineyard in one of the historic guest houses on the property!
This post contains affiliate links for products that we think you as readers might find useful, and we make commission off of these! For more details about our affiliates, click our Disclosure and Contacts Page.
Sonoma Valley
In 2017, we had taken our friends along with us on a trip out to visit the Russian River Valley, where we had a day of wine tasting and exploring the great variety of wines that are found in the Sonoma Valley. The highlight of our day was discovering Thomas George Estates, where we had the chance to sample their wines, especially their amazing Pinot Noirs! Between the great wines and the fantastic service, we all found a wine club that we wanted to be a part of!
One of the big perks (besides the wine arriving at your doorstep) of joining the wine club that caught our attention was getting to use the Winery houses. Our group of friends loves to take a trip together once a year, and having a destination where we had the chance to stay on an amazing property and experience life on the vineyard! We hadn't even left the airport on our way home before we had the house booked for our return trip!
Thomas George Estates
They have 3 guest houses for wine club members, and we took full advantage of that opportunity. We stayed in the Pinot Noir House, which has 3 bedrooms, 3 bathrooms, it's own pool and a hot tub all nestled into the trees and greenery just below the tasting room and the chicken coops! The chicken coop is one of the perks of staying in the winery houses, because they provide farm (or in this case vineyard) fresh eggs for breakfast!
Staying on a Vineyard
One of the coolest things about staying on property is the times where the tasting room and vineyard are technically closed to business! The grounds are immaculately groomed and full of lush vegetation, which makes for an idyllic setting for enjoying a quite morning sipping coffee on the patio watching the fog roll in off the Russian River, or sitting in the hot tub under the brilliant night skies! We even had the chance to take part in a friendly game of bocce in the morning!
Arriving at Thomas George Estates, we were checked into our house, then we gathered up in the member's tasting room. Thomas George's tasting room is in an 8000 square foot cave built into the side of the ridge that overlooks the winery. Having a wine tasting inside this cave is quite the treat, surrounded by barrels of aging wine, luxurious couches and tables all lit in a romantic dim light!
We did a wide scope of wines, starting with crisp whites and finishing with some of the delightful reds. After the tasting, we only had to stroll just a short little walk down the hill to our house and to dinner!
Thomas George Wines
The real stars of Thomas George is their Pinot Noirs, which are produced in small lots or single block batches, all of which reflect the special characteristics of the fields and ridges where the grapes are grown. We are big fans of the Baker Ridge PInot Noir, the Brothers and Sisters Block Pinot Noir, and the Baker's Ridge Backbone Pinor Noir, all of which are exceptional examples of Russian River Pinot Noirs.
We also really liked the Son's and Daughter's Ranch Zinfandel, 1885 Block which really shined as a delicious lighter red that worked wonderfully with many of our dinners that we prepared in our house!
On our last full day there, we went on their exclusive Wine Safari. If you want to do this, run, don't walk to Thomas George to experience this! Most of our group thought this was definitely a top 10 experience of our whole lives (we were celebrating Jay's 40th birthday and what a way to celebrate!!) Starting out a $175 dollars for visitors (or $140 for wine club members) the wine safari experience will get you a gourmet meal, incredible views and lots of top notch wines!
Wine Safari
We started our safari with a taste of bubbles in the winery tasting room, then we piled into the Pinzgauer, and started making our way up the mountain! The Pinzgauer is an old retired Austrian army truck that has been retrofitted to carry visitors up the steep winery roads in comfort and style! We stopped off for a couple of lovely views, as well as getting to taste some fresh figs from the vineyard (where we met one of the wine makers who was checking on the vines and harvesting some of the fresh figs growing in the vineyard!)
Dining in the Vineyard
After a couple of stops at scenic overviews, we rolled on up to the picnic spot, which was beautifully set up on a carpet under an oak tree! What a setting for a picnic, it really looked like something out of a Hollywood movie! We settled down with our wine (with this, you get a bottle of wine per person!).
We just took in the view and drank some before we settled down to eat! With a huge chunk of the vineyard to ourselves, we wandered through the vines and had a whole bunch of laughter! To see some of our antics (hey if you know us this shouldn't surprise anyone that we had fun!) and get a taste of this wine safari, be sure to check out our IGTV!
After relaxing and taking in the view for a bit, it was time to eat! Micheal, Thomas George's Estate Chef and Concierge, happens to be a very talented chef who custom prepares a seasonal picnic lunch that is absolutely delicious. Served in cute Tiffin boxes perfect for picnics, each section of the box contained a course that was sure to delight! We had a rainbow beet salad with goat cheese, prawns and avocados, and a smoked salmon on lettuce. It was an amazing spread and we were more than full and happy on our food and wine.
Afternoon in the Vineyard
Michael is an absolutely amazing host, and went above and beyond in service. After setting us up for the picnic, he handed us a walkie talkie so that we could call them when we were finished (or if we needed more wine, and then left us alone in the vines! After spending most of the afternoon up in vines laughing, exploring and enjoying the sights, we gave Micheal and the Pinzgauer a call and he picked us up to make our way back down the mountain.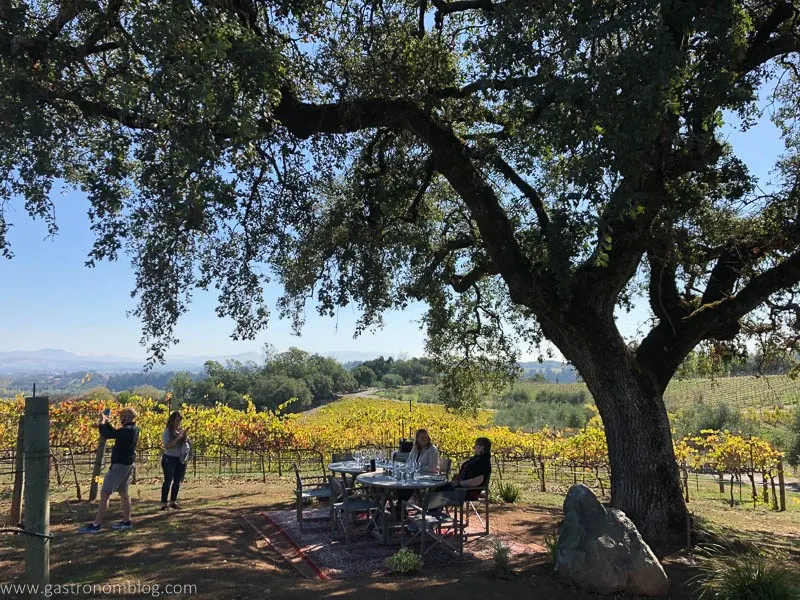 We ended our day with another tasting of wine, this time a dessert wine in the Wine Cave. It was the 2016 Fortified Grenache Noir "10" Sons & Daughters Ranch Estate, a delightful example of a sweet dessert wine and the perfect ending to a great day!
We can't say thank you enough to the staff at Thomas George for the fantastic experiences!
Looking to stay in Wine Country? Try out VRBO if you want your own property, or a great Healdsburg, California Hotel! Located nearby Thomas George, make sure to eat at The Matheson Healdsburg, too! And then head over to Napa Valley for wine tastings there, too! Or, if you are headed north, stop at Humboldt Bay Social Club or Humboldt Distillery.
Also, don't forget to follow us on Instagram and tag #gastronomcocktails so we can see all the wonderful recipes YOU recreate from this site!
You can also subscribe to our newsletter so you never miss a delicious recipe again!
Like this post? Try these below, too!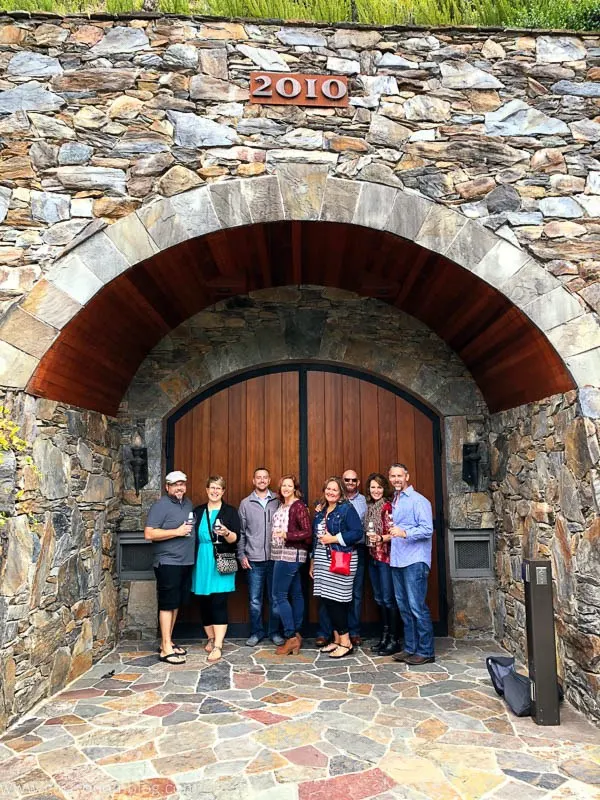 Russian River Valley Wine Tour
Napa Valley Wine Tour
Interested in stocking your own home bar? Make sure to see our favorites at our Amazon Store!
If you liked this post, don't forget to subscribe for new (and of course free) recipes by entering your email address on the side bar (and get all the recipes delivered to your inbox when we post), so you don't miss out on a thing. You can find us on Facebook, Instagram, and Pinterest!
Gastronomblog is a participant in the Amazon Services LLC Associates Program, an affiliate advertising program designed to provide a means for sites to earn advertising fees by advertising and linking to amazon.com