Last Updated on May 24, 2023 by The Noms
A weekend guide to visiting vineyards in and around Sonoma Valley! You can also find out some places to eat and other things to do in Sonoma County!
This guide is all about our weekend in Sonoma Valley in December 2021. We hope to share some new Sonoma vineyards with you, as well as tips for a great trip to wine country anytime of the year!
This post contains affiliate links for products that we think you as readers might find useful, and we make commission off of these! For more details about our affiliates, click our Disclosure and Contacts Page.
To avoid confusion remember that Sonoma may be short for "Sonoma County" if you live outside of California, but when you visit, "Sonoma" means the town of Sonoma. Sonoma Valley is an area and wine appellation only in the southeast corner of Sonoma County. It can be confusing. There are various appellations in Sonoma County – (some we have covered before) Russian River Valley, Dry Creek Valley, Alexander Valley, Knights Valley, Chalk Hill, Sonoma Coast, Petaluma Gap, Carneros, and more.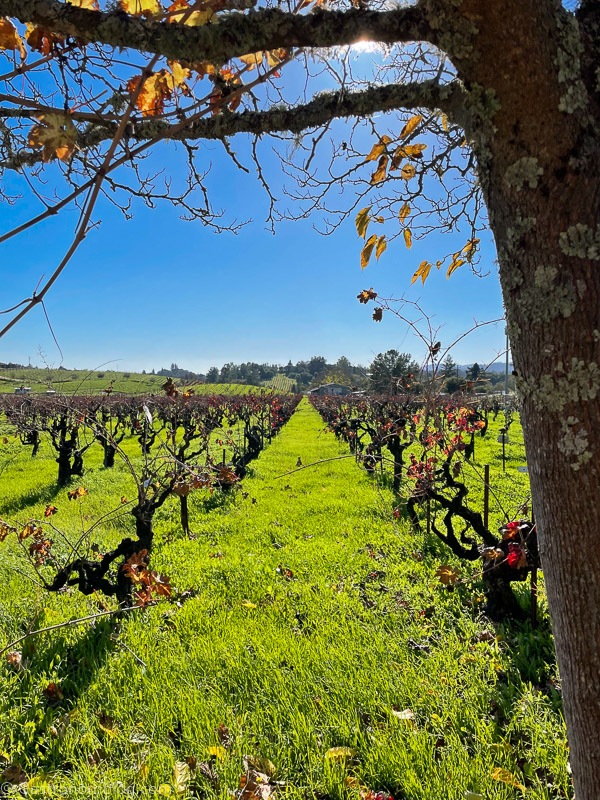 We are personally huge fans of the Russian River Valley, Dry Creek Valley and Alexander Valley! As such, we usually we pick vineyards in these areas, because we know we will love the wines. But, when you visit, make sure to try different AVA's and that way you can figure out what you like. Plus, knowing this also helps in picking wine for sipping at home, knowing what AVA you like!
We have had a lot of luck picking out wines at the store even if we have never tasted it at the vineyard, because of knowing what we like when we tasted at various Sonoma Vineyards!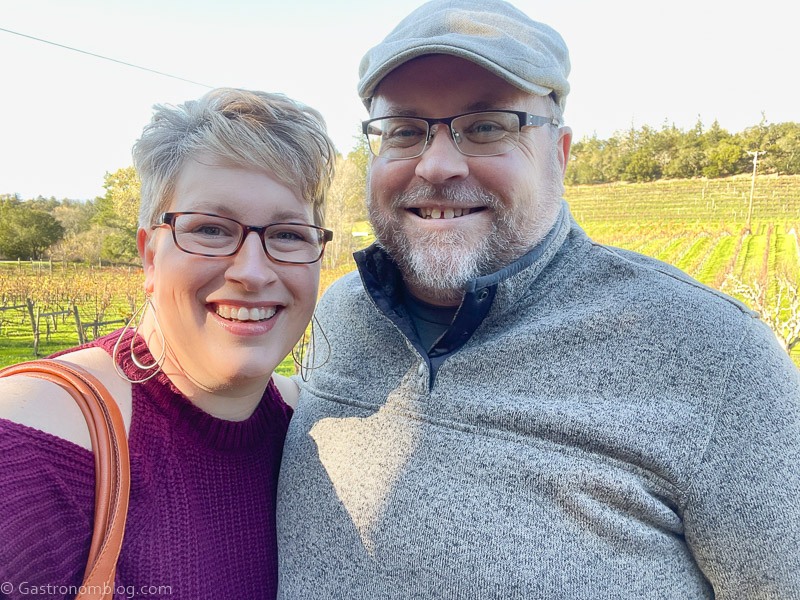 4 Stunning Sonoma Wineries To Visit
So, that brings us to our Sonoma Wineries list! Not only did we have great wines at these wineries, we had great experiences and joined a couple wine clubs, too!
If you are new to a day of wine tasting, make sure to protein load in the morning. Also drink plenty of water (and bring some along) and plan a lunch along the way! When we visit wine country we usually stay in an Airbnb so we can cook our own meals and have a leisurely morning before a wine tasting day.
Or, there are great hotels in Healdsburg, as well as wineries with guest houses in Sonoma county!
We recommend Oakville Grocery for lunch in Napa Valley, or in Healdsburg. They can pack lunches for you to pick up and take with you, as well.
Note: reservations are almost always required now at all wineries in Sonoma and Napa Valleys. Make sure to plan ahead and follow all rules and reservation advisement's in place for the wineries you would like to visit. (A lot have online reservations, or you need to email!)
Feel free to spread out your tastings over the days you are visiting. We go balls to the wall and do 3-4 a day, but more than that is not a good idea. 2-3 fits most peoples' schedules and tolerances. But, plan what you would like to get done so you don't miss any that are important to you! Here was our itinerary:
Emmitt Scorsone
We started here as our first stop of the day. A rustic farm setting, Emmitt Scorsone is a lovely small producer of various wines made using old world methods. The tasting was outside, and done by one of the owners himself, Palmer Emmitt. Palmer was a lovely host, furnishing blankets for us ladies to stay warm on a chilly morning in the shade, and walked us through the tastings on their patio.
We absolutely fell in love with their reds, and their whites. They source their grapes from various vineyards in AVA's such as Dry Creek, Sonoma Coast, and the Russian River Valley. The Judge Palmer line of wines are named after Palmer's grandfather who was a judge in California.
This line has the highest quality Cabernet Sauvignon from the most prestigious vineyards in Napa Valley, as well as the undiscovered vineyard sites in Sonoma County. The portfolio also includes California white grapes Chardonnay and Sauvignon Blanc, plus other Bordeaux reds such as Cabernet Franc and Malbec.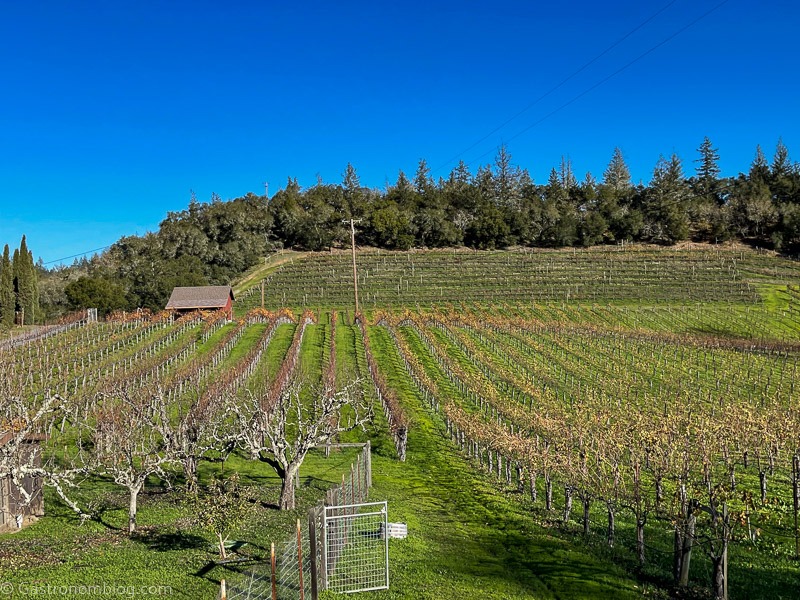 They also have a Domenica Amato line with old world techniques, named after co-founder Michael Scorsone's grandmother. This encompasses Rhône varieties like Grenache and Grenache Blanc, as well as blends featuring those grapes.
Just know this isn't a fancy sit down tasting experience. This is more of a farm vineyard experience, their bathroom is in the barn across the road and is fairly primitive. But, don't let this deter you, the wines are killer and we cannot wait to drink the ones we bought at home with a lovely meal!
Ridge Vineyards
Ridge Vineyards are a staple in northern Sonoma county. Lytton Springs vineyard, around since 1991 is just one location of Ridge, who started at Monte Bello Vineyards near San Jose in 1962.
Ridge is the largest grower of organically certified grapes in Sonoma County and in their Santa Cruz appellation. They believe that modern additives and industrial processing limit true quality. The vineyard Lytton Springs was part of the land once owned by Captain William Litton, who developed the springs and built a hotel just east of the vineyard for people who arrived by train to "take the waters."
Paul Draper first saw the vineyard in 1972 and, based on its age (then already 80 years old), purchased grapes and produced Ridge's first Lytton Springs bottling in 1972. In 1991, on the 20th anniversary of our first vintage, Ridge purchased the Lytton Springs winery and the old vines surrounding it, making it a true estate vineyard. This is where we did our tasting.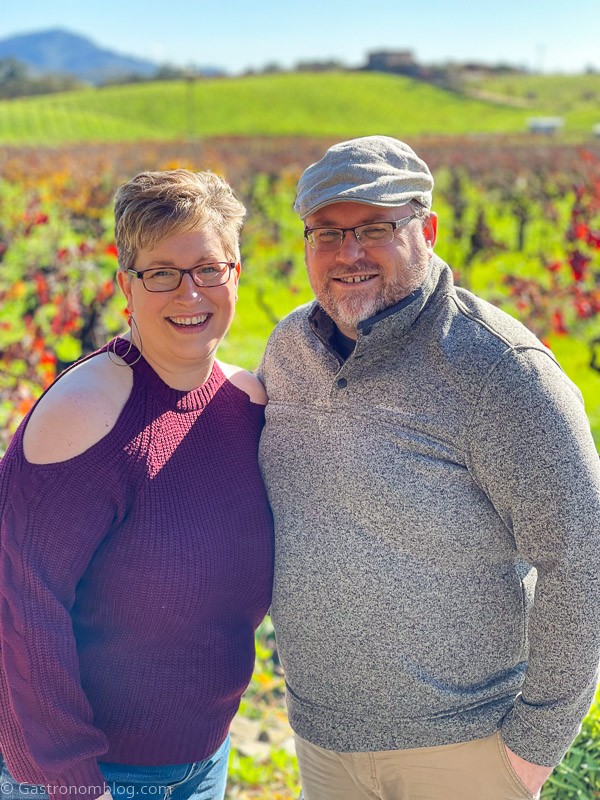 Located just north of Healdsburg in gently rolling hills separating Dry Creek from Alexander Valley, Lytton Springs is an ideal site for zinfandel. Foggy mornings are followed by warm, sunny afternoons and breezy late evenings. This setting also makes for spectacular views of the rolling valley floor and surrounding mountains!
Lytton Springs is known for Dry Creek zinfandel. It has flavors of boysenberry and blackberry, but earthiness with blending varietals of petite sirah and carignane. Lytton Springs is home to 100 plus year old zinfandel vines planted in the same vineyard with petite sirah, carignane, a small amount of mataro (mourvèdre), and grenache.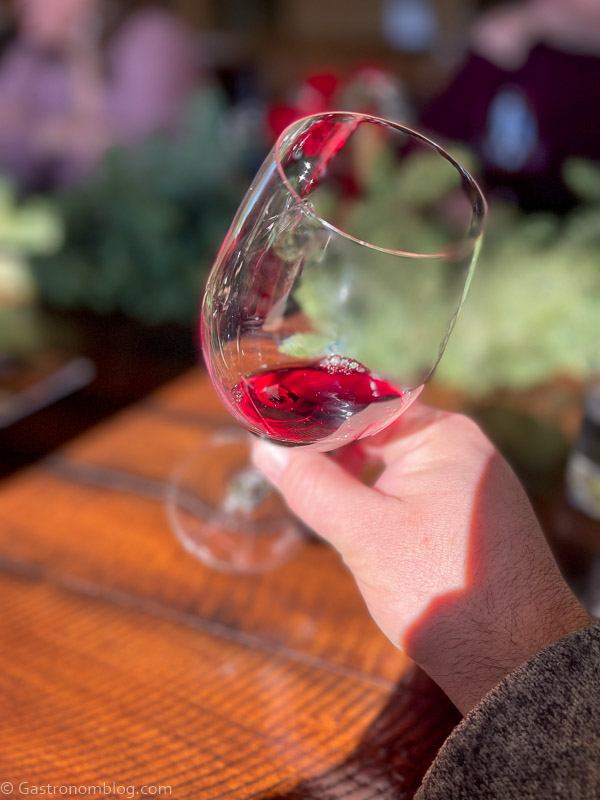 A lovely tasting room, or a great tasting on the patio overlooking the vineyards, Ridge is a great stop near Healdsburg, especially if you are staying in that area of Sonoma County.
Zialena
Zialena is in Geyserville in the Alexander Valley AVA. It is a 120 acre property that has been in the Mazzoni family for nearly 100 years. The winery opened in 2017 and includes 10 open top concrete tanks for fermentation, a first for Alexander Valley. A barrel room, wine laboratory, and winemaker's blending office surround the concrete tanks and complete the winery. It's a modern and lovely facility. We had a tasting and charcuterie lunch outside on the patio.
Known for their Chardonnay, Cabernet Sauvignon and blend of Zinfandel along with a blend Rosé, the tasting was lovely and went really well with the meats and cheeses we tasted in the platter. The view was amazing as well, looking across the vineyards at the beautiful hills, but we could still see some fire scars from previous fire seasons.
Robert Young Winery
To finish out our day of tasting, we ended up at Robert Young. The setting was the perfect way to end the day, and we got some great sunset pictures to end our first wine tasting day!
We got a private tasting room for our group, but the public indoor and outdoor seating areas for tastings is lovely. They built the Scion House for tastings to feel like a home, but still created open spaces that feel intimate for tastings. The back wall of the Scion House can be opened up to their expansive lawn overlooking their spectacular vineyards and perfect for seeing a Sonoma sunset! You can also see others across the road, which is where we took pictures at the end of our day with a tasting of a delicious Bob's Burn Pile Cabernet Sauvignon, which was a perfect pairing to wrap up our day.
Bob's Burn Pile is a special featured wine of Robert Young. The actual burn pile was near a large tree in the middle of the vineyard, which we got to see while tasting. Their wines are lovely, full bodied, and rich, and we enjoyed every single tasting! We couldn't decide which was our favorite. (It was Bob's Burn Pile, every couple bought a bottle!)
We joined their wine club, and cannot wait to go back to their winery! Robert Young is a lovely setting, perfect for pictures, and the building is lovely and well appointed as well. So if you are looking for a great Instagram picture spot, this is it! They even have a large white barn down the hill, too!
Started in 1997 in Alexander Valley, Robert Young Winery has perfect examples of top notch Cabernet Sauvignon!
Other Things to do In Sonoma County
Sonoma Coast: It's about a 1 hour drive to the coast from most anywhere near the 101 in Sonoma County. The coast is beautiful, and we recommend Goat Rock State Beach (Goonies filmed there) and just driving the coast! Make your way down to Bodega Bay and have some fabulous seafood! Whale watching in the winter, too!
Geyserville Sculpture Trail – tour and see sculptures at the north part of Sonoma County.
Shopping in Healdsburg, Santa Rosa and Sonoma
Spas: there are a number of spa locations including at some 5 star hotels in Sonoma County. Perfect way to spend a relaxing day.
Where to Eat in Sonoma County
Some of our favorites, but there are price points for all tastes!
How Do You get Around to Sonoma Wineries?
The best way to get around Sonoma is by car. To fully enjoy days spent tasting at different wineries, it's best to drive, and to have a designated driver. We definitely recommend a driver, our favorite is Simply Driven, as Grady and his team are amazing! Grady has driven us our last 2 trips and we have thoroughly enjoyed his stories in the car, as well as his expertise in arranging our tastings and making sure we have snacks and lunch!

He or their drivers can drive your rental car for you. This makes sure that you stay safe while wine tasting, as well as making sure you can thoroughly enjoy the lovely flavors of Sonoma Wineries.
What is the best time to visit Sonoma Valley?
Anytime. There are things that are different all year long. In the winter prices are usually lower at vacation rentals or hotels, and there are less visitors, so the roads are less busy, as well as at the wineries, so it feels more intimate and VIP. The spring has mustard plants between the vineyard rows, which makes the vineyards just beautiful. The summers are warmer and a busy time of year to visit.
The "best" time for a lot of people to visit is usually the fall during the grape harvest in September and October. It's fun to see the harvesting and the production facilities in use, along with the processes.

Can you walk between wineries in Sonoma?
In Sonoma itself at the plaza, yes. There are a number of tasting rooms in downtown. Same goes for Healdsburg Plaza. But outside of that, it's pretty impossible to walk between wineries. A car or driver is the best choice.

Plan your Tasting Times
This is what wine tasting in Sonoma County is all about. The pandemic has changed some things in Sonoma Valley (and Napa Valley), which includes making sure that you have reservations at the winery you want to taste at. Make sure you time your tastings and drive times (Grady can help you with that) to fit in all you want to fit in that day.
If you're going on a Winery tour or sitting down for a chef made food and wine pairing, you might only be able to plan for two or three wineries in one day. Make sure to budget time for this. We did one whole day at Thomas George Estates, doing a wine safari and lunch!
Tastings can cost anything from $0 (some are free) -200+ per person, so make sure to budget that in! Plus, you have to buy some bottles of wine to take home, or to get shipped to you!
Hope this itinerary helps and that you enjoy your own time in wine country getting the most out of Sonoma Wineries! Also, make sure to check out Hilda and Jesse San Francisco if you are on your way to SFO to catch a flight – great for brunch! Or, if you are headed to Northern California, stop in at Humboldt Bay Social Club or Humboldt Distillery!
If you are looking for places to stay, we recommend vacation rentals if you want privacy, and hotels if you want more amenities!
Cheers!
Also, don't forget to follow us on Instagram and tag #gastronomcocktails so we can see all the wonderful recipes YOU recreate from this site!
You can also subscribe to our newsletter so you never miss a delicious recipe again!
Like this post? Check these out below, too!
Napa Valley Wine Tasting
PIN THIS SONOMA VINEYARDS POST FOR LATER!
Interested in stocking your own home bar? Make sure to see our favorites at our Amazon Store!
If you liked this post, don't forget to subscribe for new (and of course free) recipes by entering your email address on the side bar (and get all the recipes delivered to your inbox when we post), so you don't miss out on a thing. You can find us on Facebook, Instagram, and Pinterest!
Gastronomblog is a participant in the Amazon Services LLC Associates Program. An affiliate advertising program designed to provide a means for sites to earn advertising fees by advertising and linking to amazon.com