Last Updated on May 24, 2023 by The Noms
Humboldt Bay Social Club is located in Samoa, California. This unique experience is a combo of cocktail bar, hotel suites, bathhouse, vacation rental and restaurant in Humboldt County. Join us as we explore this unique must stop location!
On our recent trip to Northern California, we got to visit Humboldt Bay Social Club. Humboldt Bay Social Club is located just west of Eureka, California in Samoa. It is located on Samoa Field Airport, next to the Samoa Drag Strip, at the end of the Samoa Peninsula. The Samoa Field Airport was an historic World War II airfield and blimp base.
This post contains affiliate links for products that we think you as readers might find useful, and we make commission off of these! For more details about our affiliates, click our Disclosure and Contacts Page.
The Humboldt Bay Social Club offers unique and cozy hotel rooms and rental homes at Oyster Beach and Samoa Field, as well as a fun Lobby Bar. The bar is open to the public every day after 4 p.m. They sell Humboldt Bay raw oysters by the bucket, picnic meals, grilling supplies, charcoal, and beer and wine by the bucket, all to enjoy on the patio.
Guests are welcome to use the picnic area to grill their own oysters, play cornhole, or just relax while sipping and enjoying the view of the dunes and drag strip. The Lobby Bar also serves some cocktails, along with some other food offerings.
Humboldt Bay Social Club History
Started by Amy Cirincione O'Connor and her husband Jon O'Connor, they have created a unique location. Opened in May 2017, this event space gives a great option for visitors and locals to have great food, drink and a fun place to relax and play.
Being a Social Club, they love when guests interact with locals to get recommendations for places to visit or go to, or just hanging out with dogs and kids.
Humboldt Bay Social Club has unique lodging, dining and event spaces that show off Humboldt county's most unique resources: redwoods, beaches and cannabis farms.
The Clubs' Oyster Beach is one of the most dog-friendly beaches in Northern California. As is the Social Club. The hanger (where we had our drinks) is a delightful indoor and outdoor bar and event space. This was a great place on the chilly but sunny day sitting by the fire inside away from the wind.
The O'Connors have said their vision was to be "Like your backyard but better," and "a super chill place where you can hang out with your friends, with somebody else making the drinks and cleaning up for you afterward."
Lobby Bar at Humboldt Bay Social Club
The Lobby Bar sells Humboldt Bay oysters by the bucket, as well as picnic meals, charcoal and grilling supplies. They also offer beer, wine, cider and cocktails. As we said above, guests are welcome to use the outdoor picnic area to grill their own oysters, play cornhole, or relax in Adirondack chairs around the fire pits. The Lobby Bar has simple cocktails made with local spirits, and aren't fancy, but they are tasty, and some are even warm.
I saw it described on another site about Humboldt Bay Social Club that entering the guest hangout feels like stepping into a Wes Anderson movie—whimsical, elegant and fun. This is super accurate.
The stylish Lobby Bar is in the same building as 4 comfortable suites. Guests can order cocktails made with seasonal ingredients and spirits from nearby distilleries like Humboldt Distillery. There are also craft beers and ciders available on tap or in a can, as well as wine by the glass or bottle. There are also non alcoholic sips like juices, sodas and kombucha. As well as hot drinks like coffee, hot chocolate, cider and tea.
A corner of the Lobby Bar has souvenirs and supplies for guests or visitors. Jay got a great t-shirt there with their plane logo.
Lobby Bar Menu
The menu is a do-it-yourself adventure: briny Bucksport oysters pulled fresh from the bay that guests can shuck and grill outside, as well as local charcuterie, cured salmon, hamburgers or hotdogs and a s'mores kit with skewers.
If you aren't brave enough to shuck your oysters yourself, they owners also have Humboldt Bay Provisions located in Old Town Eureka, and they will shuck them for you. Then, you can can eat them raw or broiled, and they come with a choice of sauces that includes a BBQ, Garlic Butter or salsa. The expansive outdoor area has multiple fire pits and barbecue grills, as well as picnic tables and chairs. 25 fresh oysters are $25, quite a bargain, we will have to make sure we try this out next trip!
The picnic baskets and grill kits come with combos of things like the salmon basket with a smoked salmon filet, cheese, crackers and house made pickles. Or, the burger grill kit with beef or veggie burgers, brioche buns, cheese, lettuce, pickles, onions, tomato and house sauces. These come in options to feed 4, 6, or 8.
They also sell oyster knives, cheese knives, charcoal, wine openers and more sides to boost your picnic experience.
The Lobby bar is open Monday-Thursday 4-9, Friday 4-10, and Saturday/Sunday 2-10 p.m. They ask that you keep your group to less than 8 if gathered inside the Lobby Bar, Hangar or Clubhouse. Groups larger than 8 can enjoy the bigger outdoor picnic tables and fire pits. No outside food is allowed.
Jetty at Humboldt Bay Social Club
Inside the Clubhouse at the Social Club, is Jetty. Jetty offers a take on food truck food without the truck. The coastal comfort food menu consists of paninis, bowls, and salads. They also offer local wine, beer and spirits.
A trailer sits in one corner, which has been converted into a pour over coffee bar. A canoe chandelier hangs upside down from a rafter. Guests can relax on the midcentury modern inspired furniture, and if needed, warm up under the plaid blankets.
The Lobby Bar and Jetty restaurant are dog friendly and kid friendly. Jetty is open Monday-Friday 4-8 and Saturday/Sunday 2-8 p.m.
Cabins at Humboldt Bay Social Club
There are five cabins on the 22 acre Oyster Beach surrounded by fragrant eucalyptus trees, and they are former ranch buildings. The main house, fishing shack, servant quarters, goat shed and more have been renovated with a dash of industrial seafaring whimsy. This includes using salvaged redwood, stainless steel, rope, canvas, hide rugs, and nautical design elements.
The owners tried to use all parts of the land to incorporate privacy as stand alone cabins are scattered through the property. The cabins are simple and well thought out, stocked with blankets, cooler and beach chairs.
Feel free to soak in the outdoor bathhouse, where two romantic clawfoot tubs sit side by side under eucalyptus trees and mosquito nets. The tubs are open to all guests, and are inside four wine barrel walls with wooden doors. This is located in a former carriage house.
Oyster Beach cabin rates start at $195.
Suites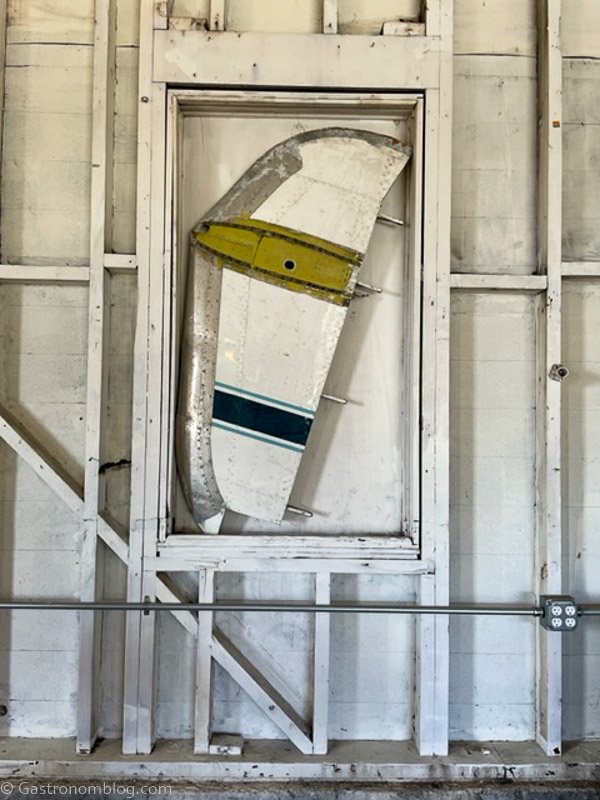 Each suite offers a complimentary selection of local chocolates, caramels, nougat and beer, with some vodka and whiskey: a few ounces in reusable bottles. These suites are in the building that are restored officers' quarters. Every room and bathroom layout is different.
This rustic-chic boutique hotel is decorated with antiques, vintage pieces and mid century modern touches, all with bright pops of color and decor. The hotel suites are designed to be welcoming low key retreats from everyday life. The grounds, bathhouse and beach are open to overnight guests throughout their stay.
It is family friendly, as well as dog friendly, so let your doggo roam the 22 acres of dunes. The sit is also cannabis friendly. There is also a shed/spa space where full body massages are available.
Samoa Field rates start at $150.
Event Space
After a day of adventure on the North Coast, Humboldt Bay Social Club was the perfect spot, where we settled in by the fire pit, sipping drinks. I can just imagine roasting marshmallows under the stars here. Next time for sure!
The O'Connors also own Papa Barkley Social, Pig & Leaf, Scotia Lodge, and Our Social Nature.
Humboldt Bay Social Club is located at 900 New Navy Base Road, Samoa, CA. The Oyster Beach Cabins are across the road. If you would like to stay – check out the rates and rooms!
Cheers!
Also, don't forget to follow us on Instagram and tag #gastronomcocktails so we can see all the wonderful recipes YOU recreate from this site!
You can also subscribe to our newsletter so you never miss a delicious recipe again!
Other Places to Visit
Like this post? Check these out below, too!
Humboldt Distillery
Matheson Restaurant – Healdsburg, California
PIN THIS HUMBOLDT BAY SOCIAL CLUB PIN FOR LATER!
Interested in stocking your own home bar? Make sure to see our favorites at our Amazon Store!
If you liked this post, don't forget to subscribe for new (and of course free) recipes by entering your email address on the side bar (and get all the recipes delivered to your inbox when we post), so you don't miss out on a thing. You can find us on Facebook, Instagram, Pinterest and Twitter!
Gastronomblog is a participant in the Amazon Services LLC Associates Program. This affiliate advertising program is designed to provide a means for sites to earn advertising fees by advertising and linking to amazon.com