Last Updated on September 17, 2023 by The Noms
Greeted with a cocktail on arrival, the Pinch Charleston is a must visit luxury boutique hotel in Charleston. They combine modern amenities in Victorian style buildings with indoor and outdoor areas in beautifully decorated suites.
The Pinch, a luxury boutique hotel, has opened in two Victorian style buildings and one new building in Charleston, South Carolina. On our recent trip we stayed at this amazing property and cannot wait to share with you our experience!
This post contains affiliate links for products that we think you as readers might find useful, and we make commission off of these! For more details about our affiliates, click our Disclosure and Contacts Page.
Located in downtown Charleston, in the Ansonborough neighborhood, the new concept was made to convey a timeless-yet-contemporary style. There is inspiration from English traditions of craftsmanship and architecture that played a large role in many of the homes and structures that give Charleston its charm. This carries through inside and out of this boutique hotel.
The Pinch Charleston
Located at the crossroads of King & George Street, The Pinch is located near clothing shops, wine bars, restaurants and the decorative facades of homes and buildings in Charleston. The hotel has a understated marquee on the corner of King and George, but the private entrance alleyway is tucked discretely nearby. If you follow the flickering lanterns to the cobblestone courtyard, the valet will greet you. At least this was our experience.
Located in two original Victorian-style buildings dating back to 1843, along with a new building, The Pinch has 22 luxury rooms and suites. They also have three fully furnished residences perfect for stays of 30 days or more.
The hotel has a lobby right off the courtyard, along with a patio and fireplace. There also is a single room spa on the main floor that offers massages and facials. There will be an Oyster house. restaurant and cocktail bar coming yet this year.
The Quinte will be off of the lobby with an ambiance of a turn-of-the-century oyster house with a marble bar. Then, a French concept restaurant will debut inside the Lequeux-Williams House. The eatery will have several dining rooms, intimate bar, and a private dining room in a former carriage house with a wood-burning fireplace, original pine floors, and copper bar.
Both restaurants will have beverage programs with quality craft cocktails as well as a curated list of local beer. There will also be an extensive wine selection with a focus on French and European wines.
The lobby features modern touches and vintage fixtures on wide plank floors. French doors and large windows invite natural light in, highlighting the space and artwork. The Pinch's interiors have a timeless appeal, a vintage contemporary look, where each spaces combine the heritage of the buildings using materials like clay, stone, and original wood.
History of the Property
The buildings are part of the National Register of Historic Places, and The Pinch Charleston draws inspiration from the building's past and city's preservation efforts. They have established a place that elevates hospitality through design that has a deep respect for heritage. The Bob Ellis buildings were built in 1869, which house the hotel, spa, and coming oyster & cocktail bar. This still features the original facade on King Street.
Locals still associate this corner with the Bob Ellis shoe shop (the go-to for Manolo Blahniks, Jimmy Choos and Louboutins). But, a century ago it was a place to play billiards, the Quinte. Men enlisted for WWI would play here while they waited to deploy.
The Lequeux-Williams House, a private residence dating back to 1843, is being repurposed into a full service restaurant and bar. It also has a large third floor penthouse residence with original detailing, kitchen, and working fireplace.
The Pinch Charleston's entrance is located at the rear of the main building off of Ellis Alley, a gas lantern lit cobblestone alley. This alley connects the lobby entrance to the Lequeux-Williams House and George Street. Upon arrival to the lobby, guests are greeted with the eccentric decor as well as a cocktail! We had a fresh Aperol Spritz made for us while we checked in. And on a hot, muggy day, it was perfection.
The Pinch Charleston was started as a passion project for hospitality visionary Randall Cook from Method Co. He is from Philadelphia and fell in love with Charleston. He purchased the buildings and they restored the exterior facades while combining insides to work as a hotel.
Ansonborough Neighborhood
The Ansonborough neighborhood is in the heart of Charleston. Quaint neighborhoods are to the west, as is the quad of the Collage of Charleston. A block north is Marion Square. Caviar and Bananas, a gourmet market that has yummy coffee (we had some) and local Charleston treats. Close to shopping, tons of stores on King Street. Many top restaurants are also close by.
Charleston has such a rich history, and is one of America's most beautifully preserved architectural and historical treasures. The area is welcoming, has romantic neighborhoods, preserved architecture, award winning restaurants and a resurgence of a thriving cultural and art scene. The Pinch Charleston is in the heart of it.
The Pinch Charleston Decor
Busy patterned wallpaper is a backdrop to mid-century sofas, modern furniture and bamboo drinks trolleys. The historic touches inside the buildings the hotel has renovated lends a sense of grandeur to the interiors. Bespoke finishings are in the minimally designed rooms.
This comprises of handmade ceramic lamps, etchings and paintings by Lucas Reiner, Lithographs by David Salle and Kelsey Brookes, as well as paintings by Fausto Rossi. There are also various photos and other artwork around the hotel. Armchairs, velvet sofas, and custom furniture pieces abound. It's an eclectic mixture of class and contemporary pieces with vintage and antique. Found objects and living plants (they had the Bearded Florist come one day we were there) and colorful books are everywhere.
The lobby features an outdoor terrace off of the lobby and courtyard that has a wood burning fireplace, and gorgeous outdoor furniture.
Each of the rooms are slightly different from each other, but they all have the same homey feel.
Rooms and Suites
Choose from any of their 25 rooms, lofts, suites, and a few longer term residences. The top floor 1 and 2 bedroom suites are designed for families or groups of friends traveling together who want a living room space and kitchen, including a craft cocktail recipe book for the bar!
Even the smallest rooms boast handcrafted furniture, artistic lighting, equipped kitchens, hand painted wallpaper, real plants, and antique woven rugs. There are brass cocktail kits in every room with minibar liquors to choose from to make your own cocktails. This is on top of the one you are greeted with in the lobby when checking in.
There are sustainably sourced Aesop bath products and logoed refillable water carafes in the fridge. There is a focus on sustainability. The buildings (except the new one) are "recycled" preservation wins!
Handpainted Moroccan black and white floor tiles in the bathrooms, brass trim, beveled glass shower doors, and a washer and dryer in every room. King sized beds and kitchens are standard in all guest rooms.
Private balconies and terraces make rooms feel bigger, and all rooms have at least a kitchenette.
This kitchenette has marble or black walnut counters, a farmhouse sink, brass fixtures and gorgeous cabinetry.
The kitchenettes are also well appointed, with every kitchen tool that you can think of needing for a short stay. Perfect for a long weekend and cooking a few quick meals yourself on the 2 burners, using the small fridge, and they make sure to have separate trash and recycling bins, too.
The Lequeux-Williams penthouse features an open floorplan that has a separate king bedroom, spacious living and dining area, working fireplace, and a private veranda overlooking Ellis Alley.
The Pinch Charleston Food and Drink Offerings
As we said before, The Quinte will be opening this year. It will be a turn-of-the-century oyster house & bar connected to the lobby in the main building. The Pinch Restaurant is located in the other neoclassical gabled structure, across Ellis Alley.
The Quinte will have the traditions of British oyster bars and cocktail bars, with a marble bar, featuring a changing daily menu of the freshest seafood. The Pinch Restaurant will be a mashup based on French fundamentals and soulful cuisine of Charleston, inspired by seasonal and local ingredients. It will have several separate dining areas: an intimate bar and dining area in the former carriage house with a wood-burning fireplace, original pine floors, and a copper bar.
The main dining area will consist of two rooms on each floor, both with their own restored original fireplace, while the second floor includes an intimate six-seat bar. Behind the carriage house in the rear yard will be the courtyard garden, with an outdoor bar as well as forty outdoor terrace seats. This will provide a great environment for drinks and food while enjoying the outdoors. Both restaurants will have beverage programs with quality craft cocktails, local beer and wine selection with a focus on French and European producers.
A grab and go breakfast is also available to hotel guests in the lobby each morning. Help yourself to coffee, breakfast pastries, fruit and yogurt just as you get off the elevator.
Does The Pinch Charleston Have any Great Views?
There is some city view, but more so the alley and neighboring buildings.
The Pinch Charleston Amenities
Stocked Rooms: The hotel can stock your fridge to order or arrange grocery delivery (from Whole Foods, Trader Joe's, or Harris Teeter).
Front Desk: someone is at the desk 24 hours a day
Air Conditioning: necessary in South Carolina
Parking: off street parking is available, but valet is also available in their fun car carousel behind the hotel (see picture below!)
Outdoor Spaces: Terrace with fireplace off main lobby, some rooms with terraces or balconies
Bikes: available for guest use to bike to close-by coffee shops, restaurants and sightseeing.
Hotel Accessibility
There is one ADA accessible King bedroom in the hotel, it has ample doorways, grab bars, and a roomy desk. This is a brand new hotel, built to code, hallways and elevators are wide and the lobby and courtyard are all on one level with access to the elevator.
Tips & Tricks
We hope you will try out The Pinch Charleston, as they will continue their mission of combining high design, boutique hotel experience, the extended stay model, and thoughtful culinary concepts, to bring a new level of service to Charleston's hospitality scene. A must visit!
Rates for the Pinch Charleston start around $400 for a King Room, and $450 for a One Bedroom Suite.
Where to Eat
Things To Do

Coffee Shops
Craft Cocktail Locations
36 George St
Charleston, SC
Also, don't forget to follow us on Instagram and tag #gastronomcocktails so we can see all the wonderful recipes YOU recreate from this site!
You can also subscribe to our newsletter so you never miss a delicious recipe or post again!
Here are some great items to make travel even easier! Carry On Luggage, Weekender Bag and Sanitizing Wipes!
Other Places to Visit
Like this post? Check these out below, too!
Grinnell, Iowa – Hotel Grinnell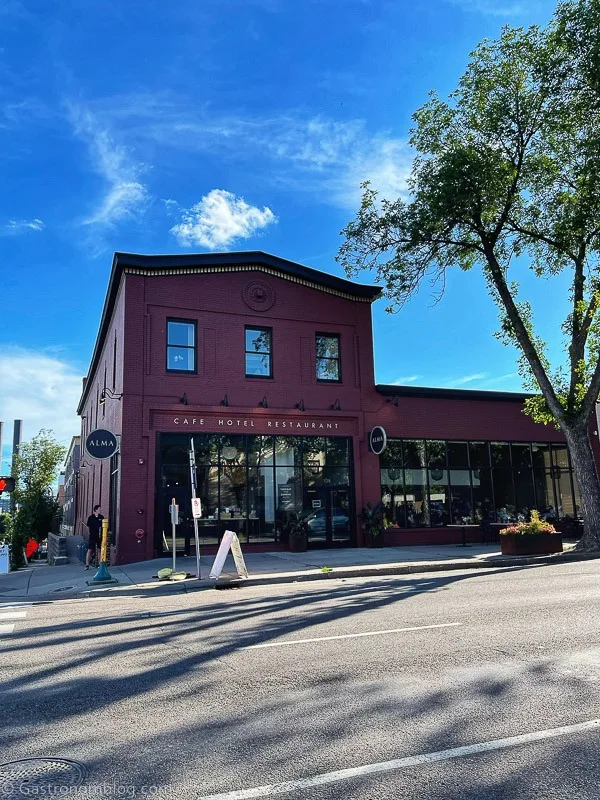 Hotel Alma – Minneapolis, Minnesota
Interested in stocking your own home bar? Make sure to see our favorites at our Amazon Store!
If you liked this post, don't forget to subscribe for new (and of course free) recipes by entering your email address on the side bar (and get all the recipes delivered to your inbox when we post), so you don't miss out on a thing. You can find us on Facebook, Instagram, and Pinterest!
Gastronomblog is a participant in the Amazon Services LLC Associates Program, an affiliate advertising program designed to provide a means for sites to earn advertising fees by advertising and linking to amazon.com