Last Updated on September 29, 2023 by The Noms
Next to Target Field, the Hewing Hotel Minneapolis is in the heart of the warehouse district in downtown Minneapolis, Minnesota. They offer a rooftop pool and lounge, Tullibee restaurant and more.
The Hewing Hotel Minneapolis has a blend of Scandinavian and rustic urban design. They have a great functionality with a hip vibe in their downtown Minneapolis location. We spent a recent night there, and enjoyed their Tullibee restaurant for drinks and snacks as well as breakfast. Their rooftop lounge was a great location for drinks and views! Read more for all about our stay!
This post contains affiliate links for products that we think you as readers might find useful, and we make commission off of these! For more details about our affiliates, click our Disclosure and Contacts Page.
Hewing Hotel is in Minneapolis' trendy North Loop, with boutique stores, bars, restaurants and craft breweries. A short walk gets you to the Mill City Museum, or the park along the Mississippi River.
The Hewing Hotel has easy access to all interstates as well as the Metro Transit Blue Line and Northstar Commuter Rail. The Hewing occupies the historic Andrews Building, built in 1897. Additionally, the Hewing Hotel has 124 rooms with 14 suites.
What Did the Hewing Hotel Used to Be?
Hewing Hotel was built in 1897 and originally known as the Andrews Building. Until the 1920s, the building was used as a warehouse for timber traveling the Mississippi River and a showroom for farm equipment, including plows, seed planters, and tractors.
The first building tenants were Dean and Company, Milwaukee Harvester and Van Brunt. The high ceilings on the ground floor allowed companies to display threshers, manure spreaders and harvesters in the showrooms with picture windows along Washington Avenue.
It was one of the first warehouses in this area that had tracks leading into the basement level, for loading and unloading of freight cars. When motorized vehicles started gaining popularity, a farm implement dealer experimented with selling them, too.
P. J. Downes sold cars, engines and farm implements here until opening a new dealership in 1926.
Another company that used this warehouse was The Rumford Company, which made baking powder.
In 2016, the remodeled building became The Hewing Hotel. It was named Best Hotel in the Midwest by Conde Nast readers in 2018, and one the Most Instagrammable Hotels in the U.S. by National Geographic.
Who Owns the Hewing Hotel Minneapolis?
Hewing is one of the boutique hotels curated by Aparium, a national hotel group that specializes in converting historic spaces into premium spaces. The Hewing combines their rustic Minneapolis history with modern amenities for an amazing stay in the Twin Cities.
Hewing Hotel Minneapolis
Opened in late 2016, the Hewing Hotel houses traces of the past that can still be seen in what is a contemporary Minnesotan hotel. Curated in room amenities include cozy Faribault Woolen Mills throws, a minibar with local products and cocktails featuring ingredients from Tattersall Distilling and Far North Spirits.
Tullibee restaurant is a big draw, serving tasty Nordic inspired food from its own on-site butcher using their wood fired grill and oven. The sixth floor has a rooftop cocktail lounge with great views, and a small pool that turns in to a hot tub in winter.

Hewing Hotel Decor
Wood, wood everywhere. The
Hewing Hotel Minneapolis
features high ceilings and open ground floor with a lounge area and front desk. These high ceilings continue through the bar area to Tullibee restaurant. In the middle area is a library with a fireplace and an collection of objects that scream Minnesota: fun suitcases, vintage Thermos flasks, and canoe.
In the central atrium hang giant shiny 'raindrops'; mainly silver, but there are a few purple ones in tribute to Prince, who hails from Minnesota. You can see these through the middle atrium from the elevator lobby on each floor, too.
Tullibee Restaurant
Tullibee restaurant, named after a fish from Minnesota's lakes, celebrates the state's Scandinavian heritage. They do this by using foraged ingredients, local products and fermentation. Meat is butchered in house; as well as sausages and smoked meats. Wood fired ovens are used to cook most items.
We ate some small plates in the lounge area near the front door as well as some cocktails in the afternoon to tide us over for dinner. But the Scandinavian touches were definitely featured in the food. We had a great salad with fresh veggies and shaved asparagus on top, which was the star of our snacking.
Some other flavors highlighted were potatoes in rolls and sides, bison steaks, salmon and duck. A dessert was lingonberry mousse.
For breakfast and brunch, the Nordic accents continue. Eggs and porridge abound, as well as in the baked goods flavors like almond and cardamom knot buns. The bar serves local craft beers, house-made sodas, cocktails and wine. For brunch a Bloody Mary with aquavit is available.
To finish of the dining space, a large deer head is over the bar, and is made from wood, of course!

The Rooftop
The rooftop has a great panorama view of the Minneapolis skyline. The Rooftop is six floors above Washington Avenue, and is a lovely place to hang out and grab an adult beverage. The hotel took inspiration from Nordic traditions and placed a pool and large sauna on the same floor.
Hewing Hotel Amenities
Many options are available on the property, and they are listed below:
Is the Hewing Hotel Minneapolis Family-Friendly?
Is Hewing Hotel Dog Friendly?
Yes! They let pets stay. Dogs are allowed in all areas of the hotel except for the Rooftop. They even provide BarkBox memory foam beds for dogs, treats and bowls, and a list of dog parks nearby for some local fun. They also will let you know of dog-friendly outdoor dining and local attractions. A $75 non-refundable Pet Fee deposit applies per stay

Other Restaurants near Hewing Hotel Minneapolis
If you can't get reservations at Tullibee, there are dozens of nearby restaurants for takeout and dining in.
Things to do in the Area
Tips & Tricks
View – don't miss out on the view from the rooftop! Make sure to visit the rooftop during the day, too, not just at night. It's a great space!
Hewing Hotel
300 Washington Ave N.
Minneapolis, Minnesota 55401
Phone: (651) 468-0400 Reserve your room!
Also, don't forget to follow us on Instagram and tag #gastronomcocktails so we can see all the wonderful recipes YOU recreate from this site!
You can also subscribe to our newsletter so you never miss a delicious recipe again!
Here are some great items to make travel even easier! Carry On Luggage, Weekender Bag and Sanitizing Wipes!
Other Places to Visit
Like this post? Check these out below, too!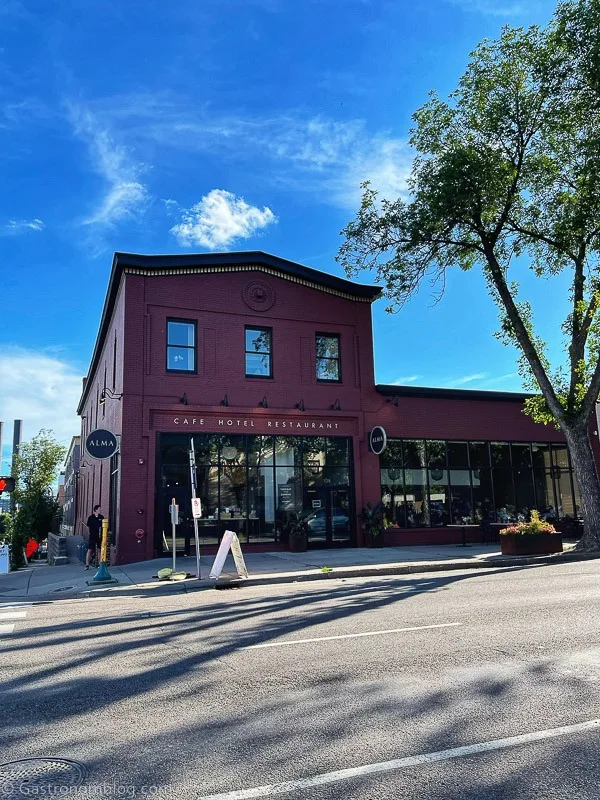 Hotel Alma – Minneapolis, Minnesota
Dampfwerk Distillery – Minneapolis, Minnesota
Interested in stocking your own home bar? Make sure to see our favorites at our Amazon Store!
If you liked this post, don't forget to subscribe for new (and of course free) recipes by entering your email address on the side bar (and get all the recipes delivered to your inbox when we post), so you don't miss out on a thing. You can find us on Facebook, Instagram, and Pinterest!
Gastronomblog is a participant in the Amazon Services LLC Associates Program, an affiliate advertising program designed to provide a means for sites to earn advertising fees by advertising and linking to amazon.com