Last Updated on June 5, 2023 by The Noms
Kitchen Table Omaha – a downtown restaurant perfect for lunch or a casual dinner!
We absolutely love Kitchen Table, which has been one of our Omaha favorites since they opened in 2013. Owned by Colin and Jessica Duggan, Kitchen Table is a farm to table restaurant in the heart of downtown Omaha. A true labor of love, they opened Kitchen Table in 2013 after moving back to Omaha from San Francisco to work together and share their passion for good fresh local food.
This post contains affiliate links for products that we think you as readers might find useful, and we make commission off of these! For more details about our affiliates, click our Disclosure and Contacts Page.
Kitchen Table Uses Local Ingredients
Featuring fresh house made bread and produce from local farms and suppliers, the food at Kitchen Table is the kind of food you always hear about but rarely find, that comfort food made the right way, with love and passion that pours out of every bite.
Honestly, we have never had a bad meal, and while we have our favorites, we almost always try to order something new every time we go. We have never been disappointed in their food offerings.
This post contains affiliate links for products that we think you as readers might find useful, and we make commission off of these! For more details about our affiliates, click our Disclosure and Contacts Page.
What Do We Order at Kitchen Table?
The Whole Bird is a favorite sandwich of mine. This sandwich is chicken breast, chicken leg confit salad, crispy chicken skin, fried egg and greens on toasted levain (sourdough) bread. It comes with a side of freshly popped popcorn, and is so flavorful.
The chicken was moist and flavorful, but the leg confit made the sandwich for me. It was juicy and tasty, matching the chicken breast in every way. The fried egg and chicken skin added much to the flavors. The greens and the toasted bread added great crunch.
What Other Omaha Restaurants Do We Suggest?
Other favorites are their salads, soups, any of their homemade breads, or their weekend brunches. Again, like we said, you can't go wrong!
Kitchen Table Omaha
The restaurant is very casual, with brick and wood paneled walls, with a wall of greenery with the wood. Very inviting and cozy, with most of the tables lining up with a long wooden bench along one wall. You order at the counter, no table servers, but your food is brought out quickly (slow food fast!). Kitchen Table is open T-Th 11-5, 11-6 on Fridays and 9-5 Saturdays and Sundays.
They offer a limited bar, wine and beer on tap and a number of specialty soft drinks. Service was very friendly and quick, greeting regulars and even chatting with newcomers. They have daily specials and an ever changing menu, which you can find at their website. Kitchen Table feels like one of those cool little small town restaurants, just lucky for us in Omaha, located right downtown!
To-Go Food Offerings
Colin and Jessica have had to pivot a lot this year, like a lot of restaurants. They started doing family sized meals to go – frozen or freshly heated to eat. We have done quite a few of these over the last year, especially their lasagna, (it freezes perfectly and is great for pulling out when you need an easy meal) and their Aksarbens. Their Brioche English Muffins are also a MUST order for us, I don't think a to-go order has passed us by in the last year without us ordering more. They are perfect for breakfast, and topped with honey or jam are a favorite around here!
Make sure to check out Kitchen Table for it's tasty food and warm atmosphere! They are opening dine in eating soon, but you can always order to-go and they will make your meal at home just perfection!
Looking for more Omaha local places? Try Over Easy or Anna's Place!
If you are in Utah, Boulder Mountain Guest Ranch is a great place to stay and eat!
Also, don't forget to follow us on Instagram and tag #gastronomcocktails so we can see all the wonderful recipes YOU recreate from this site!
You can also subscribe to our newsletter so you never miss a delicious recipe again!
Like this Post? Check these out below, too!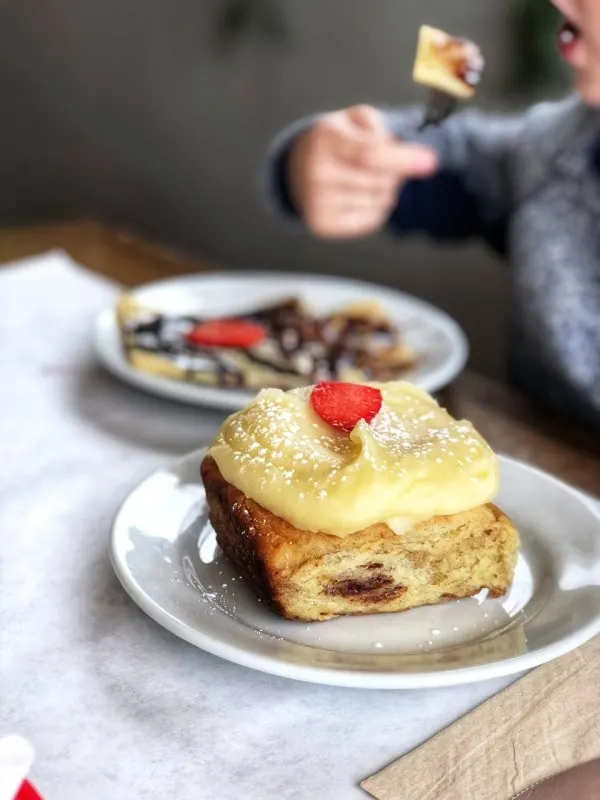 Overeasy Omaha
If you are coming to Omaha, there are some great hotels in downtown Omaha!
Interested in stocking your own home bar? Make sure to see our favorites at our Amazon Store!
If you liked this post, don't forget to subscribe for new (and of course free) recipes by entering your email address on the side bar (and get all the recipes delivered to your inbox when we post), so you don't miss out on a thing. You can find us on Facebook, Instagram, and Pinterest!
Gastronomblog is a participant in the Amazon Services LLC Associates Program, an affiliate advertising program designed to provide a means for sites to earn advertising fees by advertising and linking to amazon.com