Last Updated on October 23, 2022 by The Noms
This Mary Sanderson Cocktail is a great drink for Halloween. What we call a Bloody Bramble, we made a fresh berry syrup for this great Hocus Pocus cocktail for spooky season!
Looking for the perfect drink for a Hocus Pocus Halloween viewing party? Look no further than this fun and easy to make Hocus Pocus Cocktail Recipe! This is the perfect sip as well as the other 2 drinks Winifred Sanderson's Hocus Pocus Drink and Sarah Sanderson's Sanderson Sisters Potion. Make all 3 for a trio of tasty sips that your guests will love!
This post contains affiliate links for products that we think you as readers might find useful, and we make commission off of these! For more details about our affiliates, click our Disclosure and Contacts Page.
Hocus Pocus 2 and Halloween are almost here! Leah's favorite Halloween movie to watch is Hocus Pocus and since the second movie is coming out we decided to make three themed cocktails to sip on as we watch both this year.
Bloody Bramble
We based this cocktail on a Blackberry Bramble cocktail, which is a new classic drink. Usually made with Creme de Mure, this blackberry cocktail gets a twist for honoring Mary Sanderson and her vacuum.
We think the addition of the dark berry syrup over crushed ice makes for some bloody drips in the glass, and makes it spooky. Especially with the skeleton glass it's even more fun for Halloween or anything Hocus Pocus themed – any spooky glass will do.
This Bloody Bramble makes a Hocus Pocus cocktail recipe that tastes fruity and just a little sweet. Plus that gorgeous dark red added in is a spooky and witchy touch.
Blackberry Bramble Cocktail
A Blackberry Bramble is a classic cocktail made with lemon juice, gin and blackberry liqueur, Crème de Mûre. Our version of this cocktail contains some of the same ingredients, but we prepared it differently to give the drink a bloody look that is perfectly spooky for Halloween.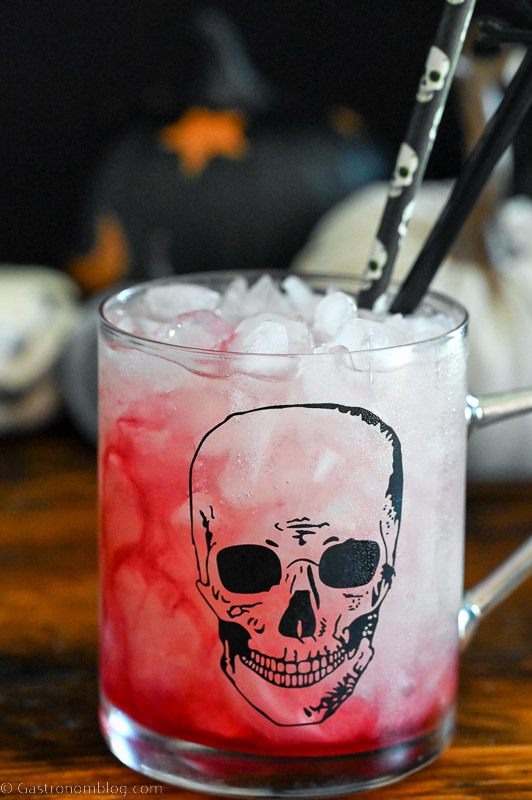 A bramble is a refreshing gin based drink based on simplicity, and just 4 ingredients in this. While it is usually a a springtime cocktail, this refreshing combo of fresh berries, lemon and crushed ice lends itself well to fall sipping.
Dick Bradsell, then the manager of Fred's Club, created this cocktail in 1984. The club in London's Soho catered to famous clientele, including Boy George, Siouxsie Sioux and The Banshees.
He was inspired to make the bramble after sampling some creme de mure. The flavor brought back a childhood memory from the Isle of Wight, going through a prickly blackberry bush to get at the berries that others had missed. The blackberry bush is otherwise called a bramble.
Fred's Club shared a kitchen with a restaurant that had a crushed ice machine; it would use crushed ice for seafood and oysters. So Dick incorporated crushed ice into the drink.
Ingredients for the Hocus Pocus Cocktail
Gin – we used a London Dry, but a citrus gin is great too.
Freshly Squeezed Lemon Juice – fresh is best!
Berry Simple Syrup – we combined strawberries, blueberries and blackberries for this rich colored syrup and the flavor is divine!
Raspberry Liqueur – We didn't have any creme de mure on hand, so we used Chambord, which is a raspberry liqueur instead. But, Creme de Mure would be lovely in this, so either will do!
Crushed ice – necessary, so make sure to break up your ice. Especially if you want the "bloody" effect.

What is Creme de Mure?
Creme de Mure is a dark purple liqueur made from blackberries. French artisans have been crafting creme de mure since the 1800s.
It is a velvety, rich, and almost jam-like liqueur with natural fruit sweetness and a little hint of subtle bitter tartness. It's an aromatic liqueur that lingers. It can be a great companion to juniper, and as such, you will often find it paired with gin in cocktails.
Popular brands of Creme de Mure available are Gabriel Boudier Crème de Mûre Sauvages, Bols and Giffard. Echte Kroatzbeere is also a great one, but harder to find. It's tasty though!
Tips and Tricks
Creme de Mure – as we said above, it can be hard to find. Chambord can work in it's place, or you can also use creme de cassis instead. Creme de cassis is made with blackcurrants. The flavor will be different with each – but the berry syrup is the star here really, so you just want something to bring out the great flavors of both.
Berry Syrup – make sure to not shake the syrup with the rest of the cocktail. You want to drizzle it on top of the cocktail and crushed ice to filter through and create the bleeding effect.
Gin – we used a London Dry Gin, but citrus would also be tasty.
Vodka – if you aren't a gin drinker, you can sub vodka for the gin, but then technically it's a vodka bramble. But still bloody!
Cheers!
Also, don't forget to follow us on Instagram and tag #gastronomcocktails so we can see all the wonderful recipes YOU recreate from this site!
You can also subscribe to our newsletter so you never miss a delicious recipe again!
Like this recipe? Try these below, too!
Eye Candy Cocktail
Key Lime Colada Halloween Cocktail
Other Halloween Recipes
Yield:

1
Hocus Pocus Cocktail - Mary Sanderson
This Bloody Bramble cocktail is the perfect Hocus Pocus cocktail! This one represents Mary Sanderson and her vacuum! Make this for Halloween or a Hocus Pocus watch party!
Ingredients
2 ounces London Dry Gin
.50 ounce Chambord or berry liqueur
1 ounce lemon juice
.50 ounce berry simple syrup
Berry Simple Syrup
2 strawberries, sliced
6 blueberries
2 blackberries
1/2 cup sugar
1/2 cup water
Instructions
Add gin, lemon juice, and Chambord into a cocktail shaker with ice.
Shake and strain into a glass filled with crushed ice.
Since adding the liquid will cause some of the ice to melt, top up the glass with more crushed ice to have it slightly heaping.
Pour the berry syrup over the top of the cocktail.
Garnish with more berries or Halloween related garnishes.
Cheers!
Berry Simple Syrup
1. Bring all ingredients to a simmer over medium high heat. Once it starts simmering, crush the berries in the syrup.
2. Take off heat and let infuse for 5 minutes.
3. Strain out berries and seeds, let syrup cool slightly.
4. Store remaining syrup in airtight container in fridge for up to 2 weeks.
Recommended Products
As an Amazon Associate and member of other affiliate programs, I earn from qualifying purchases.
Nutrition Information:
Yield:
1
Serving Size:
4 ounces
Amount Per Serving:
Calories:

246
Total Fat:

.2g
Saturated Fat:

.2g
Sodium:

27mg
Carbohydrates:

24.4g
Fiber:

.1g
Sugar:

.6g
Protein:

.2g
PIN THIS HOCUS POCUS COCKTAIL RECIPE FOR LATER!
Interested in stocking your own home bar? Make sure to see our favorites at our Amazon Store!
If you liked this post, don't forget to subscribe for new (and of course free) recipes by entering your email address on the side bar (and get all the recipes delivered to your inbox when we post), so you don't miss out on a thing. You can find us on Facebook, Instagram, Pinterest and Twitter!
Gastronomblog is a participant in the Amazon Services LLC Associates Program, an affiliate advertising program designed to provide a means for sites to earn advertising fees by advertising and linking to amazon.com
Follow my blog with Bloglovin