Last Updated on June 13, 2023 by The Noms
Come along with us on a Napa Valley wine tasting! We love wine country so much, and had fun making this weekend travel guide to Napa Valley!
So, as we talked about in our Sonoma wine tasting post, it's common for travelers to confuse towns and areas with Sonoma valley itself. Napa County is the same way with Napa as a city or Napa as a viticultural area, and the valley itself is just referred to as Napa. But, Napa can refer to any of these things.
This post contains affiliate links for products that we think you as readers might find useful, and we make commission off of these! For more details about our affiliates, click our Disclosure and Contacts Page.
Napa Valley
The Napa Valley growing region known as the Napa Valley American Viticultural Area (AVA) is made up of 16 sub regions, these are often seen on a wine label. Check the Sonoma post for the Sonoma regions, too! The Napa AVAs are some like Oakville, Rutherford, St Helena and Howell Mountain.
At its southwestern most point, the Napa AVA begins in Los Carneros, then continues north, ending in Calistoga.
Calistoga is also the name of a town. Other towns that share AVA names are Yountville and St Helena. So if you see "St Helena" on a bottle of wine, it means the grapes are from the St Helena AVA. Make sense?
Other towns that are in the Napa Valley from south to north are: Napa, Yountville, Oakville and Rutherford (both very small, but more homes around these areas), St Helena, and Calistoga is at the northernmost point of the Valley. These are all on Highway 29.
On the eastern side of the valley the Silverado Trail runs parallel to Highway 29. There are many wineries along this route and a busy road to drive. Between 29 and the Silverado Trail, many small roads cross and connect the two parallel highways, there are also many vineyards on the floor of the valley between the 2 and on either side.
Napa Valley Wine Tasting
Knowing this info, and having been to Napa Valley many times, we also know it takes time to get from one end of the valley to the other. Make sure you plan driving time, especially on busy days to get between vineyards for your tastings.
If you are spending multiple days in Napa Valley doing wine tastings, it would probably be easier to to do the northern part of the valley one day, and the southern the next, just to make sure you aren't spending all your time driving and not enjoying your Napa Valley wine tastings!
Since we were staying outside of Healdsburg, (in Sonoma County) just northwest of Calistoga, we spent one day in Sonoma and then one day in Napa Valley. This divides up the days better, less drive time and more wine time! We had our favorite driver, Grady from Simply Driven take us to our Napa Valley wine tastings, as he did the day before in Sonoma. He is fabulous, and will help plan your day of wine tastings, too! Make sure to schedule him or one of his drivers and you will not be disappointed!
More info on how this works in our post about Sonoma Vineyards!
We spent the day in the middle section of Napa Valley, between Oakville and St Helena. We started out the day at Flora Springs Tasting Room. The tasting room is right off of the Highway, and we have worked with Flora Springs a few times for some Instagram wine promotions.
Flora Springs Winery
Flora Springs was started in 1978. It was named for Flora Komes, the matriarch of the family. They started with vines already planted in the 1800s and the first crush was in 1978. In 1979 and 1980 their Chardonnay won gold at the Los Angeles county fair. They had 400 cases of Chardonnay and 400 cases of Cabernet that year.
The Komes had bought a property with ghost wineries and buildings on the property. A Ghost Winery is a term used to describe a winery that was built between 1860 and 1900 and stopped being produced in the early 20th century due to the triple threat of the vine disease phylloxera, the Great Depression, and Prohibition. Many wineries of the time have disappeared forever; others were in ruins that people took over again and restored to their former glory.
Their flagship wine, Trilogy, was first produced in 1984. And this is still their flagship and winning red wine. We had a great tasting starting with whites in our own private room, and I got to meet up with another online friend, Ashley, who lives in Sacramento.
We tasted through their portfolio, and we all ended up taking wines home with us, mostly reds. Jay and I brought some that we never tried before, and fell in love with! Flora Springs has a gorgeous tasting room with separate tasting areas, a wine tasting bar and spaces outside. There is patio seating, as well as a balcony overlooking vineyards to the west! Make sure to add Flora Springs to your tasting list!
Prager Port Works
After Flora Springs, we made an unscheduled stop at Prager Port Works. Just off the highway behind Sutter Home Winery, Prager is a fantastic port maker in the valley. We have stopped here before, which is why we stopped here again, as we had a few minutes.
We did a quick tasting of their portfolio of ports, 3 of them, and ended up buying a couple of bottles! A lot of places aren't taking walk-ins, but they gave us an exception, and of course, we made a purchase, which helps, too!
We tried a tawny port, white port and red port. A lovely sip of each, and worth stopping at, especially if you like sweet dessert or after dinner sips!
Oakville Grocery
For lunch, we stopped at Oakville Grocery! We love it there so much, we even have a separate post all about it! It's a great lunch stop, with a deli counter, brick oven for pizzas, coffee bar and desserts galore. A great place for wine country staples, as well as more wine at lunch!
This is a must stop for us, but if you don't have time to stop for lunch, they also can do prepackaged picnics for you to take to a wine tasting!
Sequoia Grove Winery
Our next stop of the day was Sequoia Grove Winery. Sequoia Grove's present day winery and 24 acre vineyard was part of the original Rancho Caymus land grant given in 1836 to George Yount, the area's first European American pioneer. It was then purchased in 1978 by James and Barbara Allen. The following year, they opened a winery in a 100 year old barn beneath a grove of Sequoia trees, and Sequoia Grove Winery was born.
The 24 acre Sequoia Grove Estate Vineyard and 50 acre Tonella Estate Vineyard are both located in the Rutherford AVA. Sequoia Grove Winery is also a Certified Napa Green Winery. They observe sustainable farming practices, with minimal intervention in the vineyard and gentle winemaking in the cellar.
We tried whites and reds, and ended up joining the wine club for access to some lovely Cabernets! We can't wait!
Onesta Wine
To finish out the day, we had a tasting of Onesta wines. Jillian DeLeon is the winemaker, and this was our second time tasting her wines. The tasting took places at Tres Sabores winery, which was a lovely setting to the slight west of Napa Valley, but still in the area we stayed in for the day.
We had a cheese plate with our wine tasting, and they complimented the white, rose and reds to perfection. We all went away with buying some wine to have shipped home, and enjoyed them all very much. Plus, the setting and small gas fireplace near us kept us warm and toasty!
Then, it was a dark drive back to our Airbnb and saying goodbye to Grady for our time in wine country. Make sure to keep reading for more tips and tricks of wine country!
When to Visit Wine Country

We don't think there is a bad time. The high season is between late spring through late fall (increase in prices at hotels and vacation rentals), but things really hit their peak late summer, when the grape harvest starts. Winter is considered the quiet season, it is easier to make reservations and you can really feel like a local, we really enjoyed visiting in December. It wasn't busy and while we had to make reservations at the wineries and of course restaurants, it was never busy where we went. We felt like VIPs all over, so keep that in mind.
But, that being said, each season has something wonderful to offer with a Napa Valley Wine Tasting. In the spring, you can see buds pop on the vines, and fresh green shoots. The temperature is cool at night, and warmer during the day.
In early summer, you can see clusters of grapes forming on the vines and have sunny days; late summer is hot days and pool time at your hotel after day drinking. Harvest time in September and October, the leaves on the vines are changing color and the valley is pops of orange, yellow, and red!
In winter, the weather can be rainy and cold, but a great excuse to sit in a hot tub with a glass of wine late at night. When we were there in early December, it was about 57 each day, but in the 30s at night, so make sure to wear layers as you warm up during the day.
How to Get Around Napa Valley

Our first trip we rented a car in Napa, but one of us always had to be the Designated Driver if we went wine tasting. Having a driver like we have gotten the last few times, or going on a group tour is your best bet! There are a lot of tour companies that can take you on a group tour, or get a driver to take you around, too, no matter what size your group.
What we prefer is a driver for the day. We like having a rental car to get around, from the airport, to dinners and to the coast! But, Simply Driven, which is our favorite, will drive YOUR rental car, so all you are paying for is the driver. It's a great deal!
Where to Eat in Napa Valley

Napa is a food lovers dream. Every price point, from food trucks all the way to Michelin star restaurants, the Napa Valley offers them all, and it's an exciting area to visit for food, wine and even cocktails! The Napa Valley restaurant scene is primarily rooted in farm to table culture. This makes everything fresh and tasty.
Here are some Napa Valley Food Recommendations
This will cover suggestions of restaurants, bars and places for snacks!
Napa
Yountville
Oakville/Rutherford
St Helena
Calistoga
Other Boozy Things to do in Napa Valley
Where to Stay in Napa Valley
There are many choices and many price points, so we will give you some great picks below. Between hotels, vacation rentals and bed & breakfasts.
Napa Valley Tasting Fees
On average the Napa Valley Wine Tasting fees are $58 per person. This is average, but the fees increase if you elevate your experience to include a tour, lunch, special tasting or special experience. Depending on the winery and activity, those fees can go quite a bit higher. Some wineries waive tasting fees when purchasing bottles of wine, but we find this more in Sonoma than in Napa Valley.
How Do You do A Napa Valley Wine Tasting?
Many tastings are seated, you will sip and taste through a portfolio of wines seated at a table or in a seated form. Some wineries still use tasting bars, but they are rare. There are a lot of wineries that have elevated tastings with food and snacks, or a tour of the wine facility, as well as special tastings. Just make sure you have reservations to do tastings, a lot of wineries will NOT take walk ins since Covid, and I don't see that changing.

We hope this post was helpful, and make sure to check out our other Napa Valley post, when we visited after the fires of 2017. It has some great wineries on there, too, if you need inspiration!

Cheers!
Also, don't forget to follow us on Instagram and tag #gastronomcocktails so we can see all the wonderful recipes YOU recreate from this site!
You can also subscribe to our newsletter so you never miss a delicious recipe again!
Like this post? Check these out below, too!
Napa Valley Wineries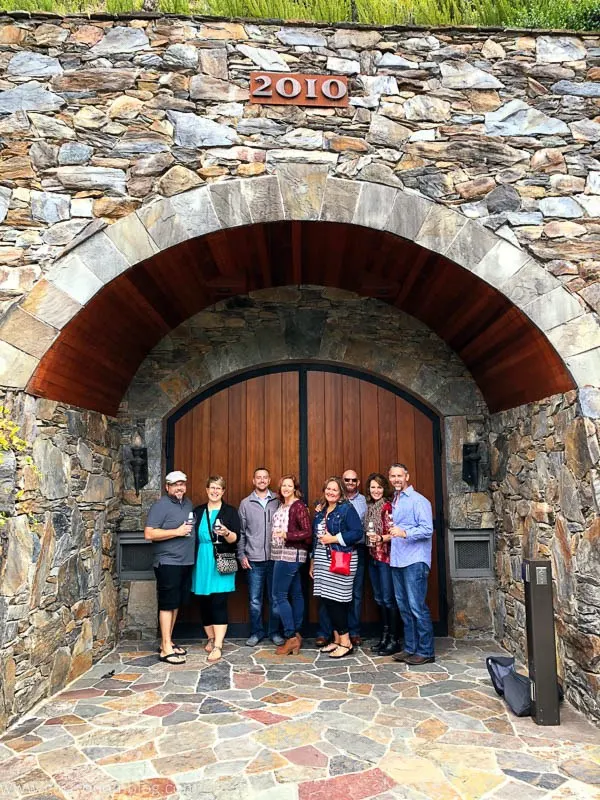 Russian River Valley Wineries
Interested in stocking your own home bar? Make sure to see our favorites at our Amazon Store!
If you liked this post, don't forget to subscribe for new (and of course free) recipes by entering your email address on the side bar (and get all the recipes delivered to your inbox when we post), so you don't miss out on a thing. You can find us on Facebook, Instagram, and Pinterest!
Gastronomblog is a participant in the Amazon Services LLC Associates Program, an affiliate advertising program designed to provide a means for sites to earn advertising fees by advertising and linking to amazon.com