Last Updated on June 12, 2023 by The Noms
A perfect cocktail for St. Patrick's Day, this Irish whiskey cocktail is sure to please everyone not drinking green beer!
This Irish whiskey cocktail is the perfect fit for a St Patrick's Day party! Rather than drinking green beer, let's celebrate with some Irish whiskey!
This post contains affiliate links for products that we think you as readers might find useful, and we make commission off of these! For more details about our affiliates, click our Disclosure and Contacts Page.
Irish Whiskey Cocktail
Feel free to use any Irish Whiskey in this, but we preferred Bushmills or Jameson in it. We added in some rich flavors from Port Wine, a whole egg, simple syrup and maple syrup for sweetness, and Angostura bitters. Then, added to the top of the drink to finish it, some creme de menthe or mint bitters.
The mint creme de menthe is a great addition to to the rich flavors and gives a freshness to the drink! This is a rich and decadent flip cocktail as an Irish Whiskey Cocktail!
Irish Whiskey vs Scottish Whisky
The main difference between Scotch whisky and Irish whiskey is the distillation process. Scotch whisky is distilled twice and Irish whiskey undergoes triple distillation. This gives Irish Whiskey a lightness, done in pot stills that are three times the size of normal copper stills.
Irish whiskey and Scotch whisky are the oldest styles of the dark distilled spirit. Another obvious difference is that Irish whiskey is always spelled with an "e"; and scotch always uses the spelling "whisky."
Both are fermented with barley, Scotch is often malted and Irish whiskey usually unmalted. Both styles include blended and single malts, though scotch has more single malts.
Scotch is more generally thought of as smoky or peaty, Irish whiskey is more "smooth." There is only one Irish whiskey that is Peated, Connemara.
What Is Irish Whiskey Made From?
Irish Whiskey is solely a product of Ireland, and the rules for the production of Irish whiskey date back to 1880. There are two major components of the Irish Whiskey Act of 1950:
Irish whiskey needs to be distilled in Ireland, made from a mash of malt and cereal grains.
Irish pot still whiskey can only be distilled in pot stills within Ireland from a mash of cereal grains that are ordinarily grown in Ireland.
So, Irish whiskey is typically distilled from unmalted barley, some may include malted barley. Closed kilns are used to dry the malt so it is only exposed to hot air. It is distilled three times in copper pot stills, some with continuous column stills.
By Irish law, all whiskeys must be aged a minimum of three years in barrels. Barrels can be new or previously used which housed sherry, bourbon, or rum. The majority are blended whiskeys that include grain whiskey after barreling. Single malt whiskeys can be found in premium whiskies.
What Does Irish Whiskey Taste Like?
Irish whiskey has a distinct flavor that can generally be described as light and fruity with cereal grain notes. The aging also gives a signature whiskey oakiness and caramel.
Types of Irish Whiskey
Blended Irish Whiskey – Blends account for 90 percent of Irish whiskey production.
Single Malt Irish Whiskey – Made from 100 percent malted barley produced by a single distillery in a pot still.
Single Pot Still Whiskey – called a "pure pot still," this whiskey is a blend of both malted and unmalted barley distilled in a pot still. Unique to Ireland.
Poitin: This is Irish moonshine, because the distilled spirit doesn't meet the age requirement to be labeled Irish whiskey. Similar to American moonshine, it's a new spirit that has seen little to no time in barrel.
So now that you have learned a little about Irish Whiskey, we hope you make this rich and flavorful Irish Whiskey Cocktail for St Patrick's Day! Try out our St Patrick's Day Vodka Drinks, Irish Coffee or Irish Cream Cocktail Recipes, too!
Cheers!
Also, don't forget to follow us on Instagram and tag #gastronomcocktails so we can see all the wonderful recipes YOU recreate from this site!
You can also subscribe to our newsletter so you never miss a delicious recipe again!
Like this recipe? Try these below, too!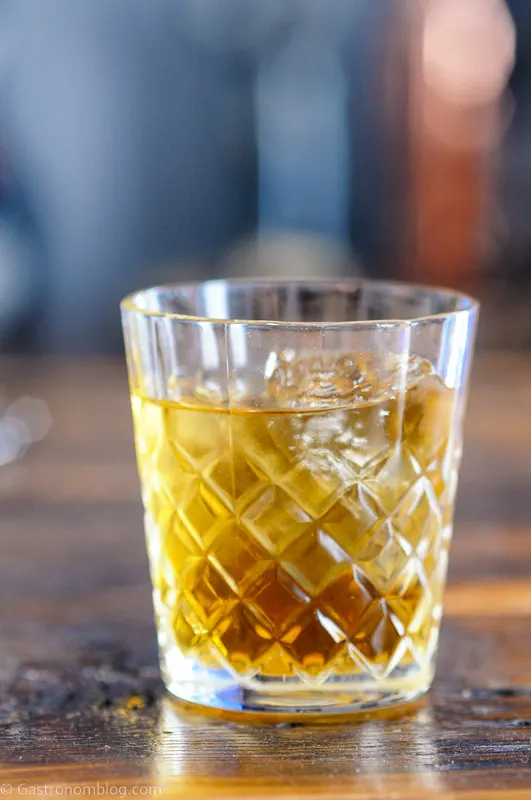 Slainte Irish Whiskey Cocktail
Toasted Cream Irish Whiskey Coffee
Other St. Patrick's Day Cocktails
Yield:

1
Irish Whiskey Cocktail for St. Patrick's Day
An Irish Whiskey cocktail alternative to green beer on St. Patrick's Day!
Ingredients
1.50 ounce Irish Whiskey
.75 ounce port wine
1 teaspoon maple syrup
1 egg
1 drop Angostura bitters
3 drops creme de menthe liqueur, or mint bitters, for garnish
Instructions
Chill a cocktail coupe by placing ice cubes in it while you are prepping the drink. Dump the ice out right before you pour the drink in.
Put the whiskey, port wine, maple syrup, simple syrup and egg into your shaker. Dry shake without ice about 30 seconds. Then, fill the shaker about 3/4 full of ice cubes.
Shake vigorously for 1 minute.
Strain into your glass and place 3 drops of the creme de menthe on top to garnish.
Cheers!
Recommended Products
As an Amazon Associate and member of other affiliate programs, I earn from qualifying purchases.
Nutrition Information:
Yield:
1
Serving Size:
1
Amount Per Serving:
Calories:

216
Total Fat:

4.4g
Saturated Fat:

1.4g
Trans Fat:

0g
Unsaturated Fat:

0g
Cholesterol:

164mg
Sodium:

68mg
Carbohydrates:

11g
Fiber:

4.5g
Sugar:

5.6g
Protein:

0g
Interested in stocking your own home bar? Make sure to see our favorites at our Amazon Store!
If you liked this post, don't forget to subscribe for new (and of course free) recipes by entering your email address on the side bar (and get all the recipes delivered to your inbox when we post), so you don't miss out on a thing. You can find us on Facebook, Instagram, and Pinterest!
Gastronomblog is a participant in the Amazon Services LLC Associates Program, an affiliate advertising program designed to provide a means for sites to earn advertising fees by advertising and linking to amazon.com