Last Updated on August 30, 2023 by The Noms
This Feuerzangenbowle recipe is a great Christmas drink from Germany. A long standing tradition during the holidays, it combines mulled wine, fire and a rum soaked sugar cone. Add in some spices, and you have everything you need for a memorable holiday party! Plus, nothing quite says "happy holidays" like mulled wine and a flaming, rum soaked sugar loaf.
Feuerzangenbowle is a traditional German alcoholic drink in which a rum soaked sugar cone is set on fire and drips into mulled wine. It is often part of a Christmas or New Year's Eve celebrations.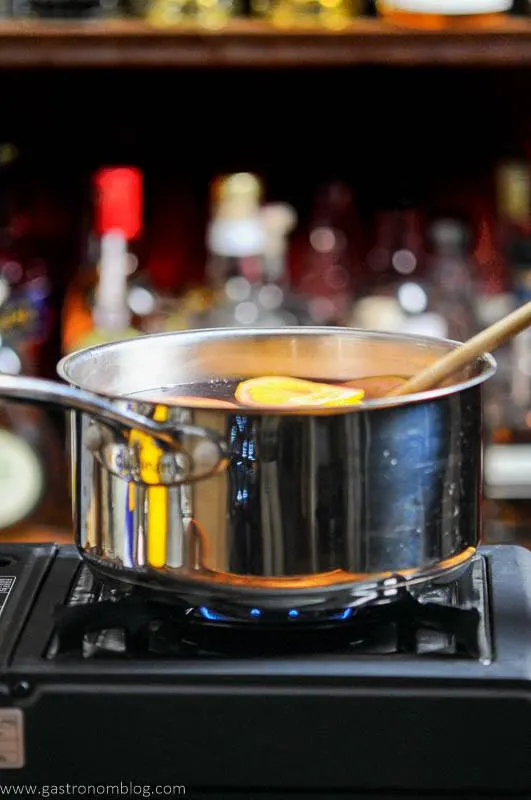 This post contains affiliate links for products that we think you as readers might find useful, and we make commission off of these! For more details about our affiliates, click our Disclosure and Contacts Page.
What Does Feuerzangenbowle mean?
Fire tongs punch.
How do you Pronounce Feuerzangenbowle?
FOY-yer-zang-en-bowl-eh. Say that 10 times fast.
How to Make Feuerzangenbowle
A Feuerzangenbowle recipe is prepared in a bowl, it's somewhat similar to a fondue set, which is over a small flame. The bowl is filled with heated dry red wine spiced with fall and winter baking spices: cinnamon sticks, cloves, star anise, allspice, citrus which is like making mulled wine.
The traditional serving of the sugar cone used a pair of tongs, but now it is a metal grate on top of the bowl to hold the Zuckerhut (sugar cone). The sugar is soaked with rum and set on fire, which in turn makes it melt and caramelize.
The rum should have at least 54% alcohol by volume, such as Austrian rum Stroh, (Bacardi 151 can also be used) and be at room temperature in order to burn best. More rum is poured on the cone all the sugar has melted and mixed with the wine.
The punch is then served in mugs while the burner (or slow cooker as we used) keeps the wine warm. For some Germans the ceremony is more important than the drink, and they celebrate the gathering of friends and family, which has Gemütlichkeit (cozy atmosphere).
How to Serve Feuerzangenbowle
While you can make this a regular pot on the stove, you need to set a rack over it to hold the sugar cone (Zuckerhut). If you really want to make it fancy, make it in the giant cauldrons like they do at the German Christmas Markets! We weren't that fancy. Or, even fancy enough to have a real Feuerzangenbowle set.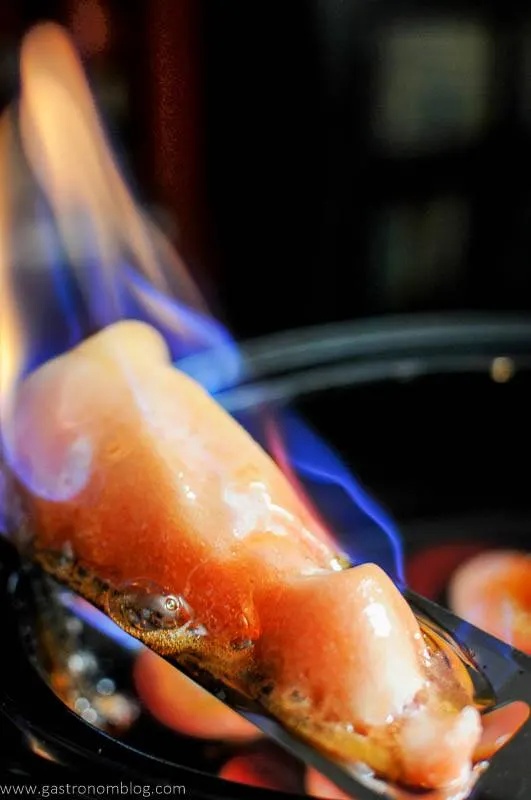 German Feuerzangenbowle Recipe
For the rum to burn with a flame, it should be a high proof, at least 54% alcohol. Traditionally, Austrian Stroh Rum is used we have the 160 here in the US (cocktails we used it in here and here). Most rum in the US is bottled at 80 to 100 proof, or 40 to 50% alcohol by volume (mean you won't get it to light). Look for rums bottled at 125 to 160 proof. (Bacardi 151 can be found easily if you can't get Stroh).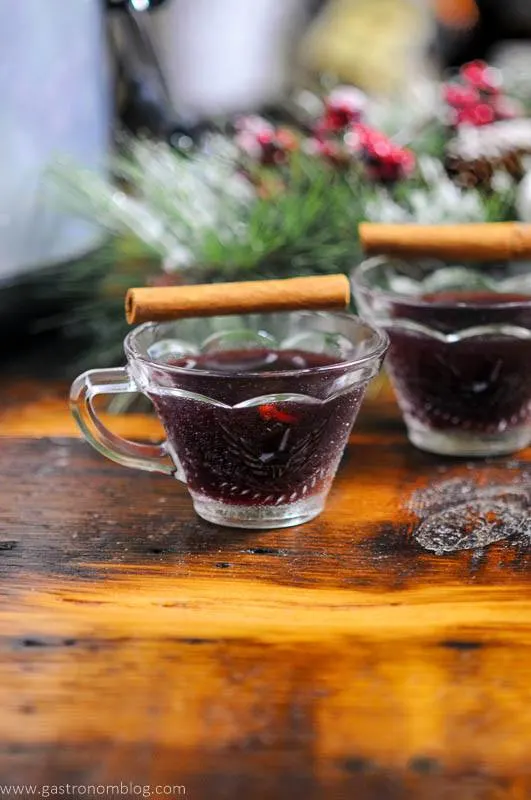 If you make a visit to a Christmas market in Germany for a feuerzangentasse (glass of fire punch), which is kind of what it sounds like: a cup of glühwein with the boozy, caramelized sugar from the feuerzangenbowle already included, it would be perfect for the season. But, since most people will not get that chance this year, plan for next year!
Christmas markets abound in Germany and usually run from late November until Christmas, and you're sure to find a feuerzangentasse there. But, in the meantime, make your own Feuerzangenbowle recipe at home! Or try our Pineapple Wine Punch, perfect for the rest of the year!
Cheers!
Also, don't forget to follow us on Instagram and tag #gastronomcocktails so we can see all the wonderful recipes YOU recreate from this site!
You can also subscribe to our newsletter so you never miss a delicious recipe again!
Other Wine Based Cocktails
Like this recipe? Try these below, too!
Recap – Port Wine Cocktail
Blush Negroni Sbagliato
Other Warm Cocktails
Yield:

8
Feuerzangenbowle - Festive German Fire Punch
This Feuezangenbowle is the perfect Christmas punch, especially when it's chilly outside! Guaranteed to warm you up!
Ingredients
1 orange, cut into thin slices
1 lemon, cut into thin slices
2 bottles dry red wine
2 cinnamon sticks
8 cloves
4 allspice berries
1 dash ground ginger
1 (1/2 pound) sugar cone
2 cups Stroh Rum (or Bacardi 151) at least 54% alcohol
Instructions
Since we didn't have an official Feuerzangenbowle set, we modified by using a slow cooker with the fire tongs that we could get our hands on! If you have the official thing, you will be all set.
Since we were using the slow cooker, we wanted to warm up the wine the quickest way possible without cooking all the alcohol out. So we added one bottle of wine into a large pot. Then we added in the slices of citrus, cinnamon sticks, cloves, allspice berries, and ginger.
Once steaming and warm, we then we added that mix to the slow cooker. We then added the other bottle of wine.
We turned the slow cooker up to high and let it warm some more. When we felt it was up to temp, we got ready to add the rum. Placing the fire tongs over the edge of the slow cooker, place the sugar cone on top and pour about half of the rum slowly over it, as to let it soak into the sugar cone.
Then we lit the sugar cone on fire and let it melt and drip down into the mulled wine.
Let it melt for at least 5 minutes so the flavors can soak in, and then start serving. We did have to light it a few times and add extra rum, again slowly to make sure it melted evenly.
Notes
This recipe requires handling alcohol and open flame. Be careful and proceed with caution in the execution of this recipe.
Also use heat proof glasses or mugs.
Recommended Products
As an Amazon Associate and member of other affiliate programs, I earn from qualifying purchases.
Nutrition Information:
Yield:
16
Serving Size:
4 oz
Amount Per Serving:
Calories:

184
Sodium:

5mg
Carbohydrates:

15.8g
Sugar:

14g
Protein:

.1g
Interested in stocking your own home bar? Make sure to see our favorites at our Amazon Store!
If you liked this post, don't forget to subscribe for new (and of course free) recipes by entering your email address on the side bar (and get all the recipes delivered to your inbox when we post), so you don't miss out on a thing. You can find us on Facebook, Instagram, and Pinterest!
Gastronomblog is a participant in the Amazon Services LLC Associates Program, an affiliate advertising program designed to provide a means for sites to earn advertising fees by advertising and linking to amazon.com