Last Updated on September 29, 2023 by Leah Hall
This easy Pineapple Wine Punch is a delicious and easy cocktail for a crowd. Just 5 ingredients go into this easy wine cocktail!
If you want a super easy cocktail for a crowd, i.e. for a party, this Pineapple Wine Punch is perfect! Especially served in a punch bowl, which makes it easy for people to serve themselves, this can be a go-to brunch cocktail or great for backyard bbqs! Try our Sangria Blanca, too!
This post contains affiliate links for products that we think you as readers might find useful, and we make commission off of these! For more details about our affiliates, click our Disclosure and Contacts Page.
This recipe is a great summer cocktail, and is reminiscent of a white wine sangria recipe, but without fresh fruit. All of the ingredients are stirred together in a punch bowl or pitcher. It also can be made ahead and chilled or served over ice. A large batch cocktail makes for a great way to not play bartender while entertaining.
How to Make a Pineapple Wine Punch
This wine cocktail is easy to make and perfect for hot summer days. First, add frozen Pineapple-Orange juice concentrate to a punch bowl, along with a bottle of chilled dry white wine.
Then, add in granulated sugar and lemon juice. The final ingredient is ginger ale, but don't add this until you are ready to serve this tasty drink.
This is to make sure the punch stays effervescent and light. Also – before serving, keep all the ingredients chilled, so it stays colder longer! Try our non-alcoholic Pineapple Orange Punch Recipe, too!
What Ingredients are Needed for the Pineapple Wine Punch
White Wine – when choosing a wine make sure it's one you would drink by itself. This is because it lends a lot of flavor to the punch. In this recipe, I used a drier white wine. Suggestions are Pinot Grigio, Sauvignon Blanc or Chardonnay.
Pineapple-Orange Juice Concentrate – keep this ingredient almost frozen. Pull it out of the freezer about 20 minutes before making this cocktail.
Lemon Juice – this is to make the punch not as sweet, and to give more citrus flavor.
Sugar – the amount of sugar can be completely up to you. It's up for interpretation, because of the sweetness level of the wine.
Ginger Ale – again, this is the last ingredient needed before serving. This gives a great added bite to the punch!
Tips & Tricks
Bubbly – If you want an even more effervescent punch, replace the still wine with Prosecco, Champagne, other sparkling wine or Cava.
Soda – If you don't want to use ginger ale, feel free to use ginger beer, lemon-lime soda, sparkling water, tonic water or club soda. Sparkling water and club soda will reduce the sweetness of the punch.
Added Liquor or Liqueur – if you want to boost up the alcohol content, try white rum, tequila, cognac/brandy or vodka. Some liqueur suggestions could be coconut rum, orange liqueur, elderflower liqueur or Licor 43. About 1/3-1/2 a cup would be perfect.
Garnish – Add sprigs of mint in the punch or as a garnish. Also feel free to garnish with orange slices, lemon wedges, pineapple chunks or a ripe pineapple wedge.
Storing the Punch – if you want to make the punch ahead of time, like we said above, you can mix everything except the ginger ale. Pour that in just before serving. If you have any left over, it will keep in the fridge for a few days in an airtight container, too.
Slushy – I think this mixture would make a great slushy drink or granita, too! You can freeze the mixture in a pan and "fluff" it with a fork every hour if you want to make a granita. If you want a slushy, just add the ingredients to the blender with some ice!
Sweetness – as we wrote in the ingredient list above, we just used regular granulated sugar to sweeten this punch. But, if this isn't what you want to use, feel free to use our homemade simple syrupfor ease of mixing. Or, use honey, brown sugar or maple syrup to sweeten. Try out our Stevia simple syrup, too!
Ice Cubes – obviously, using ice cubes in a huge punch bowl dilutes the drink. To combat this, you can just pour the punch over ice in individual punch cups. Or, make some fun flavored ice cubes to lessen the dilution of the punch. These could be white wine ice cubes, ginger ale ice cubes, or fresh pineapple juice ice cubes. You could also make ice cubes out of fruit juice like lemon juice or lime juice, or coconut water for a tropical addition.
Non-Alcoholic – to make this punch non-alcoholic, you can use a non-alcoholic white wine instead. Or, if you really want to avoid any alcohol (non-alcoholic wine can have traces of alcohol), then use a white grape juice, apple juice or more ginger ale.
Other Flavors – there are some other great frozen juice concentrate flavors if you cannot get the Pineapple-Orange one. Try just orange or pineapple, lemonade, pink lemonade or raspberry lemonade. You can also add in some vanilla pods to the drink while it is chilling, a favorite way to add flavor.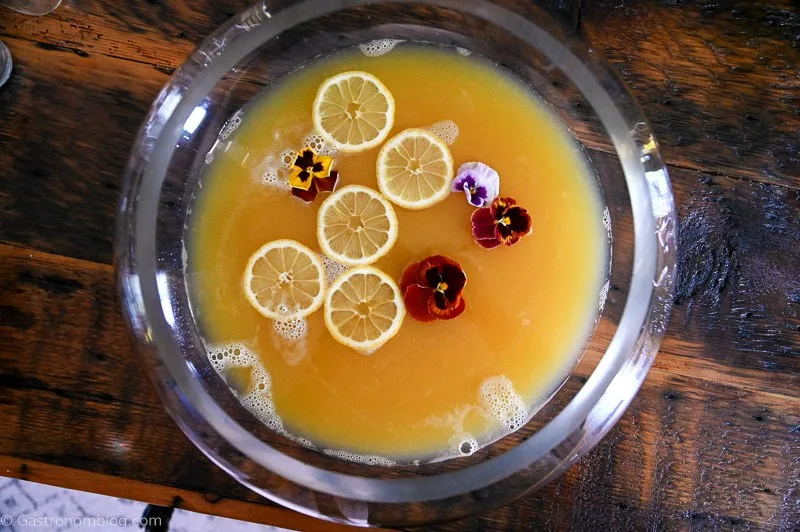 We hope you try out this Pineapple Wine Recipe, which is a tasty drink for Happy Hour!
Cheers!
Also, don't forget to follow us on Instagram and tag #gastronomcocktails so we can see all the wonderful recipes YOU recreate from this site!
You can also subscribe to our weekly newsletter so you never miss a delicious recipe again!
Like this recipe? Try these below, too!
Cognac French 75
Wine Cocktails
Other Wine Punches
Yield:

12
Pineapple Wine Punch
This Pineapple Wine Punch is a great cocktail for a crowd, perfect for parties, and is easy to make!
Ingredients
1 (6 ounce) can of frozen Pineapple-Orange Juice Concentrate
1/2 bottle of dry white wine, chilled
2 Tablespoons sugar
2 Tablespoons lemon juice
14 ounces ginger ale, chilled
Instructions
When ready to make the punch, pull the concentrate out of the freezer and let sit at room temperature for at least 15 minutes.
Combine Pineapple-Orange Juice concentrate, wine, sugar and lemon juice in a large pitcher or punch bowl.
Stir to combine, until sugar is dissolved. Chill if not serving right away.
When ready to serve, add in ginger ale and stir.
Pour over ice in punch cups and garnish with desired fruit or herb.
Cheers!
Notes
plan time to let the juice concentrate thaw slightly, about 15 minutes.
Chill all other ingredients before mixing.
Recommended Products
As an Amazon Associate and member of other affiliate programs, I earn from qualifying purchases.
Nutrition Information:
Yield:
12
Serving Size:
6 ounces
Amount Per Serving:
Calories:

55
Sodium:

5mg
Carbohydrates:

7.7g
Sugar:

6.6g
Protein:

.1g
Interested in stocking your own home bar? Make sure to see our favorites at our Amazon Store!
If you liked this post, don't forget to subscribe for new (and of course free) recipes by entering your email address on the side bar (and get all the recipes delivered to your inbox when we post), so you don't miss out on a thing. You can find us on Facebook, Instagram, and Pinterest!
Gastronomblog is a participant in the Amazon Services LLC Associates Program, an affiliate advertising program designed to provide a means for sites to earn advertising fees by advertising and linking to amazon.com