Last Updated on September 17, 2023 by The Noms
Cognac or gin, which came first in the French 75? Cognac seems to make a deeper and rounder cocktail in this Cognac French 75! Read all about it below!
The French 75 is a super well known champagne cocktail just like a Bellini or Mimosa. We have covered the French 75 before, but the classic gin version! Now, we will talk about the cognac version, and the conversation around which ingredient was actually the original: gin or cognac?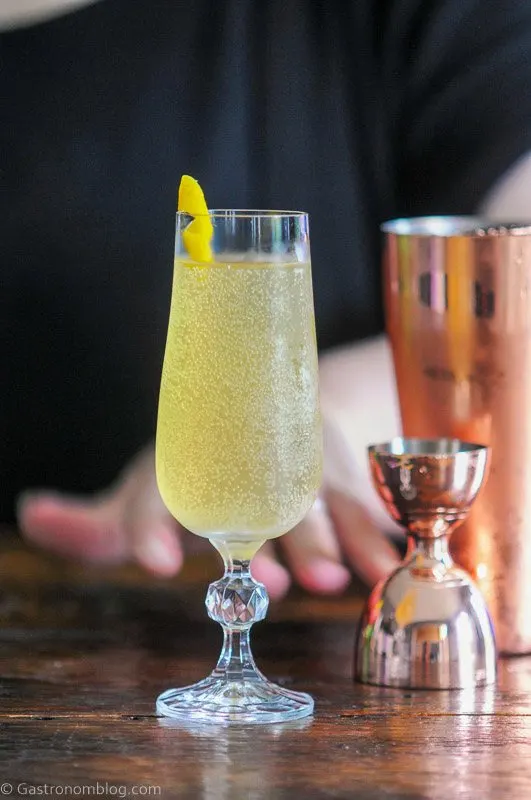 This post contains affiliate links for products that we think you as readers might find useful, and we make commission off of these! For more details about our affiliates, click our Disclosure and Contacts Page.
Arnaud's French 75 Bar in New Orleans makes their French 75 cocktail with cognac rather than gin "in honor of the cocktails' French origins."
The only other ingredients you need to make the Cognac French 75 is fresh lemon juice and simple syrup, both of which makes this an easy cocktail. Cognac provides a richness to the cocktail, sugar the sweetness, lemon adds an acidic brightness, and the Champagne lights the whole thing up with effervescence.
Cognac French 75 Cocktail
The French 75 came to be in the early twentieth century at Harry's New York Bar in Paris. A formal claim is that the drink was created by Harry MacElhone while working at Harry's Bar (before it was Harry's). Harry's French 75 cocktail recipe is in the 1922 book Harry's ABC of Mixing Cocktails. Through the years, a version made with gin became more popular in cocktail books, with London Dry being the preference. The classic recipe calls for sugar, not sugar syrup, but the sugar dissolves slowly, so the sugar syrup option is easier to make.
But, here we will talk about the cognac version, which lives on most famously in the city of New Orleans. Arnaud's French 75 Bar, where they excel in the fine art of mixing drinks by making hundreds of these!
Now you have a drink that is perfect for New Year's Eve (and all year long). The drink appeared in the 1930 Savoy Cocktail Book, with gin, but the cognac version was in recipe books after this, too.
The gin version is drier, the cognac has a larger touch of sweetness. So, whichever you prefer is fine. We look at the gin version if drinking before a meal (aperitif) or for brunch, but the cognac makes a lovely brunch sip as well as after-dinner drink.
What is Cognac?
Cognac is a distilled spirit. Grapes have been made into a low alcohol, high acid white wine, and then is double-distilled in copper pot stills. Steps can be taken to impact the flavor of the eau-de-vie: from full or partial lees removal, to if the heads or tails are re-distilled with the wine or the first distillate.
The cognac is then aged, which occurs in wood casks. Cognac houses and producers have their own cooperages, where barrels are assembled and toasted to order. Cognac is then blended. All cognacs are required to age for a minimum of two years, but most mature for much longer. Here are the classifications: V.S.: the youngest spirit in the blend is 2 years old; V.S.O.P.: the youngest spirit in the blend is 4 years old; and X.O.: the youngest spirit in the blend is 10 years old.
So basically cognac is a type of grape brandy made in a small region on the western coast of France. It has to be made in the place of Cognac for it to be called Cognac. (Like Champagne has to be made in Champagne for it to be called Champagne).
French 75 Name
It seems this classic drink is named after a French gun used in World War I, because it was said this cocktail had such a kick it felt like getting shelled with the powerful French 75mm field gun. Some historical records cite Cognac as the original base spirit, which would make sense being that it was made first in France. However, gin was the common base, and cognac became a later and welcome base spirit.
When they returned home to the United States after the war, American soldiers brought this cognac recipe back with them, The cocktails' fame continued after it became a menu item at New York City's famous Stork Club, and stayed popular even at the height of Prohibition at cocktail bars.
Like many classic cocktails, the French 75's origin has mystery and much debate surrounding it. According to drinks historian David Wondrich, the recipe first appeared in 1927 in a book called "Here's How" that was published by a New York magazine. Then, it appeared in Harry Craddock's
"The Savoy Cocktail Book."
It is also said that maybe the Cognac French 75 is also known as a French 125, but this is usually a brandy-based cocktail. But cognac is a kind of brandy. Who knows what the proper term is. We just know it's an elegant cocktail and a perfect brunch drink!
The French 76 uses vodka, a French 95 uses whiskey. There have been many different spirits used to make variations on this variation of a Tom Collins. But, whatever you make, make sure to use fresh lemon juice and homemade simple syrup. They are both lovely ways to bring out the floral notes in top champagnes and this cognac cocktail.
Ingredients Needed for the Cognac French 75
Cognac – you will want to use a good quality cognac, so we suggest a V.S. or a V.S.O.P, but not an X.O. for this cocktail. About 2 ounce cognac (or more) is perfect! Find the cognac that you like in terms of flavor and price.
Lemon Juice – fresh squeezed is best, as you should know by now! Less than an ounce of lemon juice is perfect.
Simple Syrup – homemade is best of course, you can use our homemade simple syrup recipe! (We always advise homemade simple syrup for cocktail recipes!)
Champagne – again, dry or brut Champagne is the best choice for this Cognac French 75 cocktail. But, don't use your most expensive or top quality champagne for this. You want to make sure to taste the cognac, as well as the Champagne, so a low-to-mid range champagne will be best for this drink. You can use sparkling wine, but if you want to stay true to the origins of this perfect cocktail, then use Champagne from the champagne region of France.
How to Make a Cognac French 75
Pour
cognac, simple syrup and lemon juice
into a cocktail shaker. Add ice and shake for about 15 seconds. Strain into your
champagne flute
, champagne glass or Collins glass. Then top with
Champagne
. Make sure to add a lemon peel garnish. Pinch the peel, yellow side down, to express oils on the surface of the cocktail. Then run the yellow side of the peel around the rim of the wine glass. Place peel in the cocktail.
Tips & Tricks
Bitters – bitters have shown up in French 75 recipes for a long time, so feel free to add some if you would like. For the gin version – some great additions are orange bitters, lavender bitters, or lemon bitters. For the Cognac French 75 some great additions would be chocolate bitters, cherry bitters, Peychaud's bitters or regular Angostura bitters.
Ice – ice is definitely optional in this recipe. Some people prefer ice in their glass to keep their drink cold. Others would say that is not ok. It is totally up to you, and over cracked ice, this chilly cocktail is tasty, especially on a hot day!
Glass – you can serve these cognac drinks in any glass you like honestly. If it works for champagne, it will work for this cocktail. Coupe glass, Collins glass, champagne glass, or flute all will work.
Garnish – like we talked about above, a lemon twist is the classic garnish. But, some other great options are a brandied cherry, bourbon cherry, or orange peel.
Champagne – we will not pop open a bottle of $40-$50 Veuve Cliquot for this champagne cocktail. But, there are some great mid range options that will still add a lot of flavor. But, sparkling wine will work, too. Just use what you like that won't break the bank! Some suggestions are – Domaine Chandon, Moet & Chandon, Laurent-Perrier, or Mumm.
So, we hope you will try out this wonderful brunch alternative to the mimosa or Bloody Mary! If you want to, or need to keep your champagne fresh, use a champagne saver!
Cheers!
Also, don't forget to follow us on Instagram and tag #gastronomcocktails so we can see all the wonderful recipes YOU recreate from this site!
You can also subscribe to our weekly newsletter so you never miss a delicious recipe again!
Like this recipe? Try these below, too!
French 75
Other Cognac Cocktails
Yield:

1
Cognac French 75
This Cognac 75 Cocktail is full of rich flavors from cognac, lemon juice and champagne. This effervescent recipe is a great brunch cocktail or after dinner sip.
Ingredients
2 ounces cognac
.50 ounce lemon juice
3 ounces Champagne (or sparkling wine)
Instructions
Combine cognac, simple syrup and lemon juice in cocktail shaker with ice. Shake and strain into cocktail coupe or glass, top with champagne.
Cut lemon peel and express oils over the top of the glass, drop into cocktail.
Cheers!
Recommended Products
As an Amazon Associate and member of other affiliate programs, I earn from qualifying purchases.
Nutrition Information:
Yield:
1
Serving Size:
6 ounces
Amount Per Serving:
Calories:

217
Total Fat:

.1g
Sodium:

8mg
Carbohydrates:

7.1g
Fiber:

.1g
Sugar:

.3g
Protein:

.1g
Interested in stocking your own home bar? Make sure to see our favorites at our Amazon Store!
If you liked this post, don't forget to subscribe for new (and of course free) recipes by entering your email address on the side bar (and get all the recipes delivered to your inbox when we post), so you don't miss out on a thing. You can find us on Facebook, Instagram, and Pinterest!
Gastronomblog is a participant in the Amazon Services LLC Associates Program, an affiliate advertising program designed to provide a means for sites to earn advertising fees by advertising and linking to amazon.com