Last Updated on September 17, 2023 by The Noms
This Kentucky Horsefeather drink recipe is easy to make with just 4 ingredients! Kentucky Bourbon, ginger beer, bitters and a dash of lime juice! An elevated bourbon twist on a Moscow Mule.
It's like a Moscow Mule with a whiskey twist! This Kentucky Horsefeather drink recipe is easy to make and so full of flavor, and is perfect on a hot summer day. Perfect if you don't like a Mint Julep for Derby Day!
This post contains affiliate links for products that we think you as readers might find useful, and we make commission off of these! For more details about our affiliates, click our Disclosure and Contacts Page.
The classic Horsefeather Cocktail is made with the whiskey of your choice, spicy ginger beer, fresh lime juice, and a few dashes of Angostura bitters. The bitters are what makes it different from Moscow Mules, besides the whiskey. But, there are Kentucky Mules, so basically the difference is bitters.
We wanted to use bourbon for this Kentucky inspired recipe. Perfect as a signature cocktail for a Kentucky Derby party! So, we adapted the classic Horsefeather cocktail to make it perfect for Derby Day!
Or, if you want some Juleps for Derby Day:
Now, it is off to the (horse) races with this festive Kentucky Horsefeather Cocktail recipe!
Kentucky Horsefeather Drink Recipe Ingredients
Horsefeather Cocktail History
A Horsefeather Cocktail is a whiskey based drink. It was invented in Lawrence, Kansas in the 1990s. It have remained a regional drink in the Kansas City area since. The drink is a variation of the classic Horse's Neck cocktail (brandy, bitters and ginger beer) and a great Moscow Mule (vodka, lime, ginger beer).
A Horsefeather has been traditionally an American whiskey or rye whiskey. This is then mixed with a good ginger beer, Angostura bitters, and lemon or lime juice. Served in a highball glass (or Moscow Mule mug), this simple cocktail is easy to make, because we think you most likely have all these ingredients already at home!
Given its origins, an American whiskey is the classic use in this cocktail. We recommend Rieger's Kansas City Whiskey from Kansas City, Missouri if you are making a classic Horsefeather to stay true to the area.
There appears to be evidence that the cocktail started in Lawrence, Kansas in the nightlife area on Massachusetts Street. The cocktail first appeared in "The Bartender's Bible" in 1991, but author Gary "Gaz" Regan doesn't cite its first appearance in print. Some have argued the recipe is from Kansas City. J. Rieger & Co Distillery popularized their whiskey for the Horsefeather, and they are located in Kansas City.
But, several Lawrence bars show the popularity of the recipe. Paradise Cafe (no longer open) made the drink super popular. Then, there is the fact that the Horsefeather drink recipe is still on a lot of Lawrence bar menus, each with their own version. So, who knows the true location, but it's one of the most popular cocktails around there.
Kentucky Horsefeather Drink Recipe Instructions
Serve this cocktail in a Collins or highball glass, and fill with ice. Add in the bourbon, squeeze of lime juice and bitters. Top with ginger beer. If you want some help to not have to stir the cocktail (you can totally just stir it), but use a bar spoon and pour the ginger beer down the stem of the spoon, and the ginger beer will go to the bottom of the glass, too. This helps the ginger beer not just sit at the top of the drink. But, do what works for you!
Either lemon or lime works in this cocktail, but we think lime plays with ginger beer best. This four-ingredient cocktail is spicy with a strong ginger flavor and refreshing. Easy and perfect to serve at a tailgate party, at home, or just about anywhere!
Is a Kentucky Mule a Horsefeather?
Yes? No? While looking at Kentucky Mules as well as the Horsefeather recipe, we found out that some people referred to Kentucky Mules as a Horsefeather. But, the Horsefeather cocktail that we are basing this Kentucky Horsefeather drink recipe on has the same ingredients as a Kentucky Mule, but with added bitters. We love a Kentucky Mule like our Maple Syrup Mule, or Blackberry & Sage Kentucky Mule.
There are many variations on the best Moscow Mule, such as:
Like we mentioned above, The Horse's Neck was popular during pre-Prohibition times, first appeared in print in 1895. This apparently cited a non-alcoholic Horse's Neck recipe with ginger ale and lemon. Then whiskey was added, and this turned the basic ingredients into an alcoholic drink. Perfect for hot days or horse racing days, these new classic drinks make for a great happy hour with a complex flavor profile with simple ingredients!
Tips & Tricks
We think the Horsefeather should be more popular all over the United States, because it's a tasty and simple drink. Make this Kentucky Horsefeather drink recipe for Derby Day coming up!
Check out our post all about What Drinks Are Served at the Kentucky Derby! Cheers!
Also, don't forget to follow us on Instagram and tag #gastronomcocktails so we can see all the wonderful recipes YOU recreate from this site!
You can also subscribe to our weekly newsletter so you never miss a delicious recipe again!
Like this recipe? Try these below, too!
St Pisco Smash Cocktail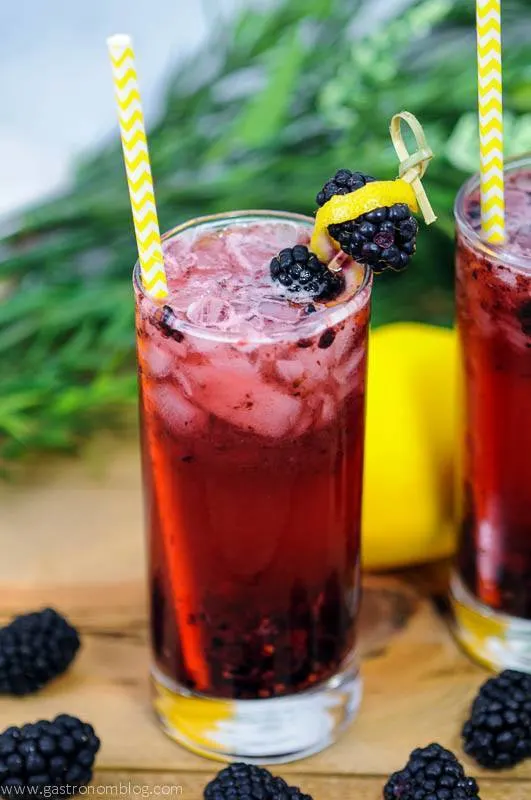 Blackberry Gin Smash Cocktail
Other Kentucky Bourbon Cocktails
Yield:

1
Kentucky Horsefeather Drink Recipe
This easy 4 ingredient cocktail is a great drink for a party or tailgate!
Ingredients
2 ounces bourbon
4 dashes Angostura Bitters
.25-.50 ounce lime juice
4 ounces ginger beer
Instructions
Add ice to a highball glass or Collins glass. Pour in whiskey and lime juice. Top with bitters.
Pour ginger beer over the mixture and stir. Or, pour ginger beer down a bar spoon so it goes to the bottom of the glass and mixes.
Garnish if desired.
Cheers!
Recommended Products
As an Amazon Associate and member of other affiliate programs, I earn from qualifying purchases.
Nutrition Information:
Yield:
1
Serving Size:
7 ounces
Amount Per Serving:
Calories:

182
Sodium:

8mg
Carbohydrates:

10.6g
Sugar:

10.1g
Interested in stocking your own home bar? Make sure to see our favorites at our Amazon Store!
If you liked this post, don't forget to subscribe for new (and of course free) recipes by entering your email address on the side bar (and get all the recipes delivered to your inbox when we post), so you don't miss out on a thing. You can find us on Facebook, Instagram, and Pinterest!
Gastronomblog is a participant in the Amazon Services LLC Associates Program, an affiliate advertising program designed to provide a means for sites to earn advertising fees by advertising and linking to amazon.com