Last Updated on September 17, 2023 by The Noms
We went on a tour of Lindores Abbey distillery in Scotland. It is the spiritual home of Scotch whisky. It is considered a pilgrimage for whisky lovers.
Lindores Abbey is a newer distillery, but historically, this distillery plays a super interesting role in the history of whisky! The first known written reference to whisky that historians have discovered was a reference to Lindores Abbey. In 1494 the King of England asked Lindores Abbey (the same location as the distillery is now) and Friar John Cor to make whisky for him. By the fact that they made a lot of it for the king, it appears that whisky production is something they did at the Abbey. Find out more about Scotch Regions!
This post contains affiliate links for products that we think you as readers might find useful, and we make commission off of these! For more details about our affiliates, click our Disclosure and Contacts Page.
In the "Exchequer Roll" from the year 1494, the Lindores Monk, Brother John Cor, was commissioned by King James IV to turn 8 bolls of malt into Aqua Vitae. 8 bolls of malt equals about 400 bottles of today's whisky. That amount was commissioned for just one party apparently! Wowza, that was a lot!
But, this means that whisky had been made at the Abbey for some time, and Lindores Abbey certainly was not the first distillery to make whisky in Scotland. But, this Exchequer Roll seems to be the earliest known written reference!
Lindores Abbey Distillery
This reference inspired writer Michael James Jackson to visit the site and say "for the whisky lover, it is a pilgrimage." Jackson wrote many books about beer and whisky, and was the one who found out about the history of Lindores Abbey in regard to this alcoholic beverage so many love. The book is Scotland and its Whiskies, published in 2001. This quote inspired the founders of the current Lindores Abbey distillery, to bring back a distillery on the location of the original abbey.
So as the title tag on the website says, "after a break of 523 years, spirit is once again flowing from the copper stills at Lindores Abbey Distillery." And many people have made the pilgrimage to this Spiritual Home of Whisky.
The distillery has been incorporated into the ruins of the Lindores Abbey, including using some of the old walls of the abbey. Plus, they are having some archeological digging done on the site, even uncovering what is believed to be an old still!
Lindores Abbey Distillery has attempted to recreate what the whiskey might have tasted like in King James IV's time, Aqua Vitae. The Aqua Vitae is a new make because aging whisky in barrels wasn't done, it was just usually taken off of the still and drank. Find out more about new make spirit at Holyrood Distillery! The Aqua Vitae is infused with spices and local herbs that would have been found in the Abbey garden. This un-aged spirit will be placed in barrels and start aging into Scotch whisky.
Lindores Abbey Distillery is a modern operation with a visitor center, shop, and bar. But, at its' heart is the whisky facility, with most production in one area: stills, washbacks and mash tun. At full capacity, they can produce over a quarter million liters of alcohol per year.
Lindores Abbey
The ruins of Lindores Abbey or "Church by the Water" is located in Newburgh in Fife, north of Edinburgh. Newburgh is a small town in the county of Fife, Scotland. The downtown has just a few pubs, pharmacy, and a café. Its population of around 2,000 has been around that amount for over a century. But, Newburgh should be of interest to any Scotch whisky lover because it is the birthplace of Scotch whisky!
The abbey ruins are about a quarter mile from the River Tay. The abbey was built in 1190. When not used anymore, the stones were used in building projects all over Newburgh. But, there are still walls and foundation of the abbey at the location. We got to walk through it before our distillery tour.
The ruins of Lindores Abbey have been opened to public access, as it's just across the road from the distillery and visitor centre. The ruins can be a lovely backdrop for weddings or events at the distillery.
When walking the site you can picture the rooms and large area of the abbey. When you take the tour of the distillery, there is a great vantage view of the abbey from above when you are near the stills, so make sure not to miss that! There is a gate across the road from the distillery, and you walk through that to enter the site. The ruins have been converted into gardens and a lovely green space.
The bigger wall remains on the site were once the south wall of the abbey church. On the east side are the remains of the chapter house, with a passage that still has a roof. There are also remains of a tower.
In 2018 a still was discovered in the ruins, along with evidence of whisky production. The remains are preserved for display in the ruins.
History of Lindores Abbey
In the early 12th century, a Tironensian monastic order was started in Picardy, France. Years later they moved to Scotland to start some abbeys. One of these was Lindores Abbey, founded by David, 1st Earl of Huntingdon in 1191. The first Abbot was Guido and he came to Lindores from Kelso Abbey. He is thought to have been the overseer of the construction of the abbey.
In 1266 Alexander III gave the monks permission to establish the town of Newburgh hosting a weekly market. The abbey thrived, as it was seemingly spared the regular bouts of destruction which happened so many Scottish abbeys that were located further south.
For over 350 years, Lindores Abbey was an influential and wealthy location. Famous visitors included King David II, King James III and King James IV, and even King Edward I of England. William Wallace, leader of the Scottish resistance during the First War of Scottish Independence, took refuge at Lindores Abbey with 300 of his men. The monks distilled rose water at Lindores as well, and in May 1540 rosewater and apples were sent to James V.
The abbey was attacked by a Protestant mob from Dundee in 1543, but in 1559, the monks were ousted when another mob inspired by John Knox's religious intolerance destroyed statues, burned books and made the monks leave off their vestments.
After the Reformation, the Abbey was in the hands of a Commendator, a loyal servant of the King who was rewarded by the gift of the ecclesiastical income and property. The monks remained for a time, but the Abbey began to be taken apart around 1584. Carved wooden panels from the Abbey from the early 16th century are in the Laing Museum, Newburgh and, reset in a 19th-century cabinet, in St. Paul's Episcopal Cathedral in Dundee.
Lindores Abbey is a truly unique spot, and has such an interesting history. The Exchequer Roll that we referenced earlier, is in effect the record of the king's financial transactions that asked for those bolls of malt. "And by payment made to Brother John Cor by precept of the comptroller, as he asserts, by the King's command, to make aqua vitae within the period of the account, 8 bolls of malt."
It was this snapshot of historical record which inspired the building of Lindores Abbey Distillery, and which lets the distillery to name itself The Spiritual Home of Scotch Whisky. And after visiting it, and the Abbey ruins, we cannot agree more!

Lindores Abbey Distillery Products
Aqua Vitae – an award-winning botanical spirit, is made on site using spices, dried fruit and on-site grown herbs from the Abbey like Douglas fir, cleavers and sweet Cicely for this first whisky. It has citrus notes and is great in a cocktail. The flavor has notes of peach and pear, combined with some ginger, clove and cinnamon. There is a little caramel sweetness and herbal notes. Great with some ginger ale and an orange twist! Perfect for summer and winter cocktails for sure!
Lindores Single Malt Scotch Whisky MCDXCIV (1494) – the name for their first single malt whisky is for the earliest written reference record in the Exchequer Roll. Released in July 2021. The nose of this single cask whiskey is soft, with vanilla and caramel notes, orchard fruits and sweet pear drops. Like toffee apples. The flavor is mellow vanilla, dried fruit, citrus and a hint of spice. A lovely sipping whiskey, but also great in a cocktail!
Casks of Lindores -these are different Lindores Abbey Distillery offerings that have been aged in different barrels. These releases are packaged in the distinctive Lindores bottle with color specific labels. These are made without chill filtration and are limited edition.

Bourbon Cask – this was the first "Casks of Lindores" bottling with exclusively bourbon barrels, and was limited to 11,000 bottles. The long wash fermentation period in Douglas fir washbacks, coupled with "Sister Spirit stills distillation" makes a spirit that matures early but will develop over time. The nose on the bourbon cask is vanilla, fruity, buttery with citrus and a hint of pepper. The palate is vanilla with green apples and peppercorns.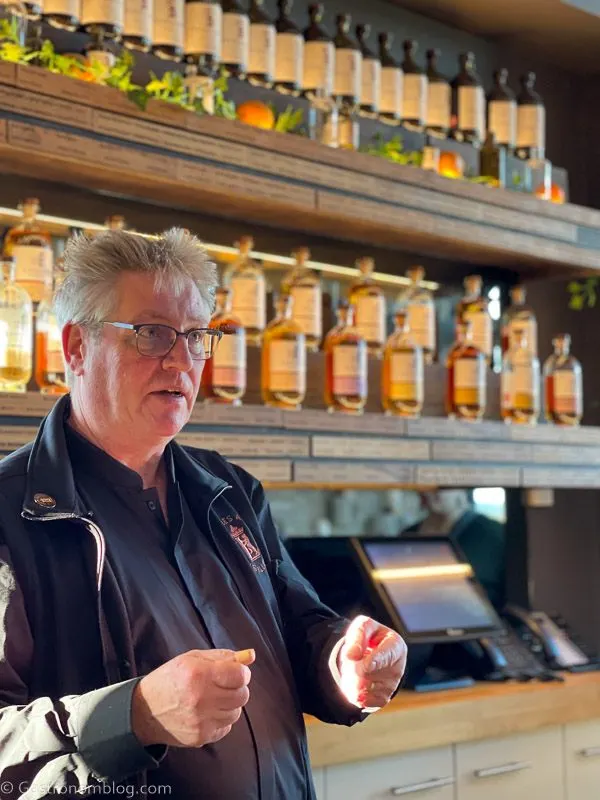 STR Wine Barrique – This "Casks of Lindores" bottling uses s

haved, toasted and re-charred Red Wine Barriques from Spain. This is a darker whisky than the bourbon bottling.

The nose has a fruity apricot jam, toffee and hint of cinnamon with butter and custard. On the palate is sweet and spices. Plum and red berries, treacle, cinnamon and woody smoky notes.

Sherry – The Sherry bottling "Casks of Lindores" completes the set of 3, and was m

atured in Oloroso Sherry Butts from Jerez de la Frontera in Spain. This auburn colored whisky has a nose of

fruity prunes, dates, molasses, vanilla and milk chocolate. The flavor has

dried fruits, molasses and dark chocolate. It also has touches of cinnamon and ginger with a bit of nuttiness like walnuts and chestnuts.
Lindores Abbey Distillery honors history with their whisky. Their tour has great education about past and present Scotch whisky making. Their informative distillery tour and Aqua Vitae both do this. Many new distilleries produce vodka or gin to tide them over until the whisky is aged to sell, Lindores Abbey Distillery has made Aqua Vitae. It is an historic forerunner to whisky by using malt spirit with spices, dried fruit and local green herbs.
They tell the history of the abbey with that expression. With this spirit, they have tried to stay traditional by using quality ingredients, long fermentation, slow distillation, rate of maturation and quality casks. Of course, Aqua Vitae is not whisky, and not what we think of as whisky now, but aqua vitae in Gaelic is "uisge beatha" or "water of life", and "uisge" became the word whisky, so it is the beginning of modern day whisky.
Whether making new make spirit for the aqua vitae or before aging, all barley used in the production is sourced locally, all within a few miles of the distillery.
Lowland Scotch Whisky
The kingdom of Fife has seen a number of new distilleries start, including Daftmill, Inchdairnie, and Kingsbarns in the last few years. But, the most historically significant distillery is Lindores Abbey Distillery. The owners, Drew McKenzie Smith and Helen McKenzie Smith started this adventure by having farm buildings next to the site of Lindores Abbey built into modern versions with traditional features. On December 13, 2017 the new distillery started its first distillation of a very modern whisky-making approach.
While Lindores Abbey Distillery is located in the Lowlands, they aren't trying for the typical floral and light style the lowlands are known for. Long fermentation of up to 114 hours have a huge impact on their flavor. The spirit they matured in their warehouses for their first release was fruit-driven, with an apple and spice background and a malty finish.
Scotch whisky must be aged a minimum of three years and 1 day, in oak barrels. Make sure to read more about Scotch whisky regions in this post!
Lindores one wash still and two spirit stills produce a lightly peated Lowland malt. Maturation is conducted on-site in the dunnage warehouse.
Who Owns Lindores Abbey Distillery?
The distillery is on the Lindores Abbey Farm, in Drew McKenzie Smith's family since 1913. The family owns the distillery and McKenzie Smith holds the title of 'Custodian of Lindores' since the family is guardian of the grounds of the Abbey. The family was shown the paragraph of "Scotland and its Whiskies" in Jackson's book. Since they were already having tourists visiting their farm to see the Abbey, an idea started.
In 2016 the construction of the distillery started. The whisky production setup was handled by the late Dr. Jim Swan, who had also been involved in setting up 14 other distilleries all over the world. Distilleries like Clydesdale Distillery in Glasgow, Kilchoman on Islay, and many others. Unfortunately, Dr. Swan passed away before the distillery started producing.
They have made a commitment to protect this important landmark for future generations. Adapting information from great Scottish distillers around them, past and present, they are bringing a modern whisky-making approach to the ancient site.
Opening Hours and Tours at Lindores Abbey Distillery
Hours – Summer: April-October 7 days 10am–4pm (Tours available at 10, 12:30 & 2:30) Winter: November-March Wednesday-Sunday 10am-4pm, (Tours available at 11 & 2)
Book in advance using the online booking system. Refreshments are available if pre-booked. They have platters and picnics available if booked early.
Private events, private tours and tastings can all be arranged by appointment on any day.
Handicapped Accessibility – very accessible with handicapped bathrooms and tasting room all on 1 level. For the tour there is an elevator available to get to the second floor and Legacy Bar. There is special flooring in the distillery for wheelchair access.
Cost – Tours are £15, with tastings included. And for those that are driving they give you some tastings to go for after you are done driving! (We loved that touch!)
The Apothecary Experience offers a chance to get 'hands on' in making your own version of Aqua Vitae. You will use herbs, spices and spirit tinctures like cleavers, lemon verbena, Douglas fir and sweet Cicely, all of which grow in the gardens, on the grounds of the Abbey. Choose flavors you like and use them to make your very own Aqua Vitae, all under the watchful eye of the Apothecary. This combines the history of distilling with the science of how to produce malt spirits, you will be taken all the way through the spirit blending process.

These sessions are two and a half hours and also include a small bottle of your own hand-labelled Aqua Vitae to take home. Each session costs £60 per person, and spaces are limited to 10 people maximum, but are arranged by appointment at a time that suits you (over 18's only).

Chocolate and Whisky Pairings – The sessions can be booked to suit you and your party. Sessions last approximately 90 minutes. Can be booked any day from 10-3. Over 18's only. Choose from:

Lindores Whisky and Chocolate Pairing – This unique experience has 4 whisky drams with 4 artisan chocolates, a cocoa bean to cleanse the palate and you also receive a mini tour of the distillery. £50 per person.
Distillery Casks and Chocolate Pairing– a Private tour, tasting and hand-made chocolates. 4 Exclusive drams, 4 artisan chocolates, and a cocoa bean to cleanse the palate. £70.00 per person.

Whisky Flights – You can also just do a tasting without a Distillery tour. Prices vary on this depending what you would like to taste.
When was Lindores Abbey built?
Lindores Abbey, or the 'Church by the Water', was founded in 1191 by David, 1st Earl of Huntingdon, on land given to him by his brother King William I.
What Scotch Region is Lindores Abbey Distillery in?
Lindores Abbey Distillery is in the Lowland area. With miles of farmland and woodlands around, and close to the bigger cities in Scotland, the Lowlands region is very accessible.

Scotch Whisky Cocktails
If you are inspired by this post and want to shake up some of your own Scotch whisky cocktails, here are some great suggestions!

Tips & Tricks
Plan ahead – make sure to book your visit ahead of time. They do take same day bookings, but cannot guarantee a time! Plus, make plans to get some food, too!
Legacy Bar – plan to have some drams or pairings in the bar upstairs if you can
Dog Friendly – Lindores Abbey Distillery is dog-friendly. Your 4 legged friend is even invited on the distillery tour! Just no whisky tastings for them, ha!
Travel – Lindores Abbey Distillery is located in a rural village – so there isn't much for public transportation. You may need a vehicle of your own or hire a taxi to get to you to and from there!
Netflix show – if you want to see some of the distillery from the comfort of your own couch, you can check out the distillery cats on their own show episode on Inside the Mind of a Cat.
Abbey Road
Newburgh, Fife, KY14 6HH
01337 842 547
Make sure to make a trip to the site of the first recorded distillation of Scotch whisky! Cheers!
Also, don't forget to follow us on Instagram and tag #gastronomcocktails so we can see all the wonderful recipes YOU recreate from this site!
You can also subscribe to our weekly newsletter so you never miss a delicious recipe again!
Like this post? Check these out below, too!
Killiecrankie House – Pitlochry, Scotland
Blood & Sand Cocktail
Interested in stocking your own home bar? Make sure to see our favorites at our Amazon Store!
If you liked this post, don't forget to subscribe for new (and of course free) recipes by entering your email address on the side bar (and get all the recipes delivered to your inbox when we post), so you don't miss out on a thing. You can find us on Facebook, Instagram, and Pinterest!
Gastronomblog is a participant in the Amazon Services LLC Associates Program, an affiliate advertising program designed to provide a means for sites to earn advertising fees by advertising and linking to amazon.com