Last Updated on September 17, 2023 by The Noms
This super simple boozy recipe is fun and colorful! We will show you how to make vodka gummy bears (or any other gummy treat) into a boozy snack perfect for parties or a sweet boozy snack!
Read more below to learn how to make
vodka gummy bears
! It is ridiculously simple, with just two ingredients and some time. This is definitely a treat for adults, combining a sugary treat with some alcohol always makes for fun! Just remember that these gummy bears can pack a serious punch! If you are looking for more boozy treats, try our
bourbon cherries
or brandied cherries,
too!
This post contains affiliate links for products that we think you as readers might find useful, and we make commission off of these! For more details about our affiliates, click our Disclosure and Contacts Page.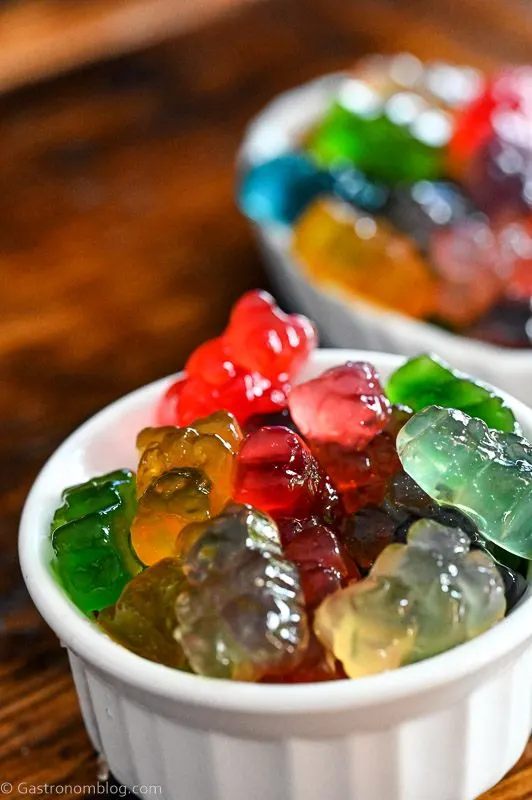 These gummy bears can be enjoyed as a snack or a cocktail garnish at an adult party! Just make sure if children are attending your party, make sure they are not mistaken for candy. These are great pool snacks, too!
Do Vodka Gummy Bears Get You Drunk?
Yes! Eat these responsibly. They are highly alcoholic because they are just booze and sugar, with some gelatin and flavor. They soak up every bit of the alcohol you use!
What are Gummy Bears?
Gummy Bears are small, fruit flavored gum candies. Being in the shape of a bear gives it the name. The gummy bear is one of many gummy candies sold in many shapes and colors.
The gummy bear originated in Germany. Hans Riegel, a Bonn confectioner, started the Haribo company in 1920. In 1922, inspired by bears performing at markets in Europe, he invented the Dancing Bear, a fruit-flavored candy for children.
The success of these gummy bears has been the inspiration for other gummy candies made in various shapes of animals and other things. These shapes can be things like worms, fruits, sharks, snakes and more. Flavors can be varying, too!
Ingredients in Vodka Gummy Bears
Hence the name obviously, vodka and gummy bears, but here is more info on both!
Gummy Bears – Use a high quality, flavorful brand of gummy bears. A big bag of gummy bears will be great for this recipe. Haribo Gold Bears or Sweet Gourmet are both great choices. These are stable enough to soak up the alcohol and not disintegrate. There are other brands that can go mushy. We experimented with some lower end gummy bears for this recipe for you, and found it to be true. They seemed to get super sticky and mushy and while they tasted good, they were hard to pick up and mushy for sure.
Vodka – Use the best quality vodka you can afford. If the bottom shelf vodka tastes horrible (and it usually does), the vodka gummy bears will taste horrible too! Flavored vodkas also work well, too. More info and ideas on this below!
Instructions on How to Make Vodka Gummy Bears
Traditional boozy gummy bears are soaked in vodka because it is a flavorless spirit. This allows the flavor of the gummy bear to be prominent.
Place gummy bears in a bowl and pour vodka over them until barely covered. Around 2 cups of makes a good amount of vodka gummy bears.
Soak the bears for the desired amount of time. This can be anywhere from 12-24 hours. Before serving at a party you may want to experiment with a few to find your desired amount of time. We let ours go for about 20 hours. Let them soak in the fridge, and ideally don't leave them at room temperature, but they will fine if you do. Stir them every few hours so they don't stick together.

The gummy bears grow in size and soften even more the longer you soak them.

You may want to rinse the bears after their soaking time to get rid of any gumminess on them, but this is completely optional. We strained ours with a find mesh strainer and then placed them in a clean bowl without rinsing. If you want them to be dry and not squishy, take them out of the bowl with a slotted spoon, and you can lay them on a cooling rack so they drain and dry, too. But, again, optional. We just left ours in a bowl!
Serving – The vodka gummy bears will be slippery so we recommend serving these with small spoons or toothpicks. In a shallow bowl is the easiest serving option, too.
How Long to Soak the Gummy Bears in Vodka?

Place gummy bears in a glass bowl. Top with vodka enough to cover the gummies. Cover and refrigerate for 12 to 24 hours. When they taste ready, drain any excess vodka, and serve with spoons or toothpicks.
Can I put Vodka Gummy Bears in the freezer?
Yes, you can put vodka gummy bears in the freezer. But, we don't recommend putting them in the freezer while they are absorbing the vodka because this will make this time take longer. Either place them in a bowl covered with plastic wrap, or in a ziploc bag.
However, putting the alcohol gummies in the freezer after they have been made boozy may help keep them for later. It can also help to dry out some of the vodka and liquid that they are a little less slimy to eat. Let us know if you try it this way!
How Long Do Vodka Gummy Bears Last?
Ideally, these fun treats are eaten as soon as they are ready but will last for about 2 days in the fridge in a covered bowl. You may need to rinse the boozy bears in water to separate them before serving, as they stick together after a while.
Tips & Tricks
Vodka – Use the best quality vodka you can. Cheap vodka is very noticeable in these sweet treats! This alcoholic gummy bears recipe is a great boozy treat, and you want them to taste their best!
Gummy Bears – High quality gummy bears are the best choice. Sweet Gourmet or Haribo Gold bears work really well. Cheaper brands seem to disintegrate like the cheaper ones we used in this recipe. The higher quality ones did much better and tasted better, too!
Flavored Vodka – Easily change up the flavor by using flavored vodka! Some great choices would be fruity flavors like citrus (orange or lemon) vodka, raspberry vodka, coconut vodka, pear vodka, watermelon vodka or strawberry vodka, but vanilla vodka or whipped cream vodka works really well, too.
Infusion Time – If you want a less boozy version, let the bears soak for half the time (8-10 hours) and drain away the remaining vodka.
If your vodka gummy bears stick together? Rinse them in water to separate them.
Different Alcohols – Since we have shown you how to make vodka gummy bears you can easily make them with any spirit of your choice! May we suggest gin, tequila blanco, white rum? (Rummy bears, LOL!) Lighter spirits will be best if you want the gummies to keep their color. Or even Everclear if you want your gummies to really pack a punch! Or, try wine: Champagne gummy bears sound divine, or ros

é

bears for sparkling options! How about limoncello or orange liqueur?
Gummies – you don't have to just use bears! There are so many gummy options and season shapes like Swedish Fish, Rings, Blue Sharks, Colored Sharks, Fruits, Dinos, Freedom Bears, Pumpkins, Gummy Worms.
If you're having a party and looking for snack ideas you may also enjoy these recipes:
So, plan on making these drunken gummy bears soon!

Cheers!
Also, don't forget to follow us on Instagram and tag #gastronomcocktails so we can see all the wonderful recipes YOU recreate from this site!
You can also subscribe to our weekly newsletter so you never miss a delicious recipe again!
Like this recipe? Try these below, too!
Halloween Charcuterie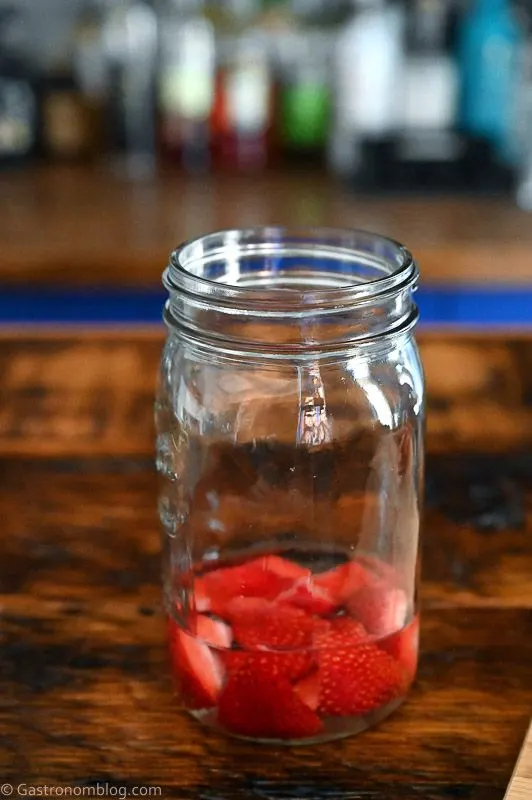 Strawberry Vodka
Other DIY Boozy Treats
Yield:

1 cup
How to Make Vodka Gummy Bears
These boozy gummy bears are super easy to make and is a fun addition to a boozy charcuterie tray, dessert array or cocktail garnishes!
Ingredients
1 cup gummy bears
1 cup vodka, plain or flavored
Instructions
Place gummy bears in glass bowl. Top with enough vodka to cover the gummies, about 1 cup. Cover and refrigerate for 12 to 20 hours. Feel free to leave out of the fridge if it isn't too warm.


When the flavor works for you, drain any excess vodka with a mesh strainer.

Place bears in a clean bowl, and then serve with spoons or toothpicks.

Cheers!
Notes
More info is above, but use high quality ingredients like better vodka and more gourmet gummy bears.
Recommended Products
As an Amazon Associate and member of other affiliate programs, I earn from qualifying purchases.
Nutrition Information:
Yield:
30
Serving Size:
1
Amount Per Serving:
Calories:

147
Sodium:

10mg
Carbohydrates:

30g
Sugar:

20.2g
Protein:

3g
Interested in stocking your own home bar? Make sure to see our favorites at our Amazon Store!
If you liked this post, don't forget to subscribe for new (and of course free) recipes by entering your email address on the side bar (and get all the recipes delivered to your inbox when we post), so you don't miss out on a thing. You can find us on Facebook, Instagram, and Pinterest!
Gastronomblog is a participant in the Amazon Services LLC Associates Program, an affiliate advertising program designed to provide a means for sites to earn advertising fees by advertising and linking to amazon.com