Last Updated on September 17, 2023 by The Noms
This Watermelon Aperol Spritz cocktail is the perfect summer drink! With a fresh watermelon infusion in the Aperol, this light sip is perfection!
We think summertime is the perfect time for a spritzer. Spritzers get their name from some carbonation added to a combination of juice, wine or alcohol. An Aperol Spritz or White Wine Spritzer are probably the most known spritzers, and are great refreshing cocktails.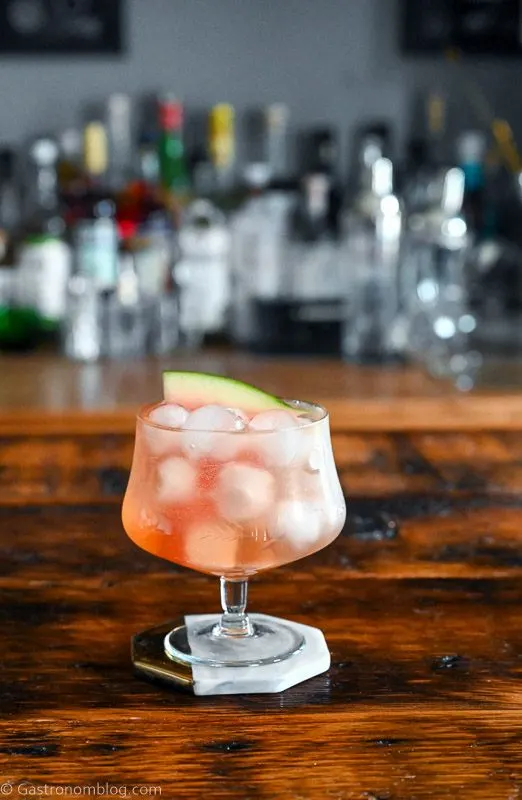 This post contains affiliate links for products that we think you as readers might find useful, and we make commission off of these! For more details about our affiliates, click our Disclosure and Contacts Page.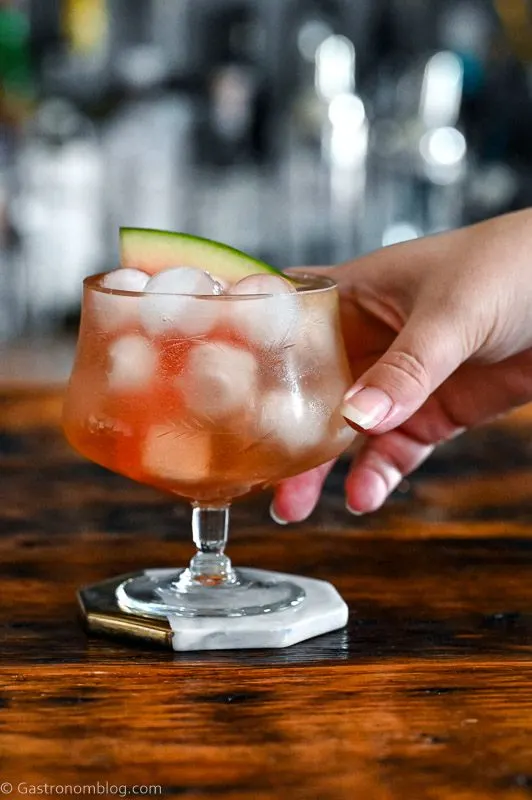 During the warmer months, it's always a good idea to use the fresh produce of summertime to create a refreshing cocktail! We think watermelon fits the bill here perfectly! With the bright mix of watermelon along with the mild astringency of the Aperol, this cocktail takes a classic Aperol Spritz to the next level!
This pink cocktail is gorgeous in color, and will make any summer party even more inviting! The watermelon is the perfect way to add a little bit more summer flair. And, like with an Aperol Spritz, this is best enjoyed any time of day, especially when it's hot outside.
This chilled daytime summer cocktail is great for warm weather and the time of year. We hope your taste buds will be pleased by the melon's sweetness in this Watermelon Aperol Spritz Cocktail. Try some other watermelon cocktails like a Watermelon Margarita, Watermelon Raspberry Frose Cocktail and our Watermelon Bourbon Cooler!
Watermelon Aperol
We thought about adding fresh watermelon juice to the spritz. But, then we thought about infusing the Aperol with the watermelon.
So, we cut up a cup of watermelon and placed them in a jar. We topped it with the Aperol. We let it infuse for 72 hours to get the flavors where we wanted them. You can try tasting it after 48 hours to see if it ts to your liking.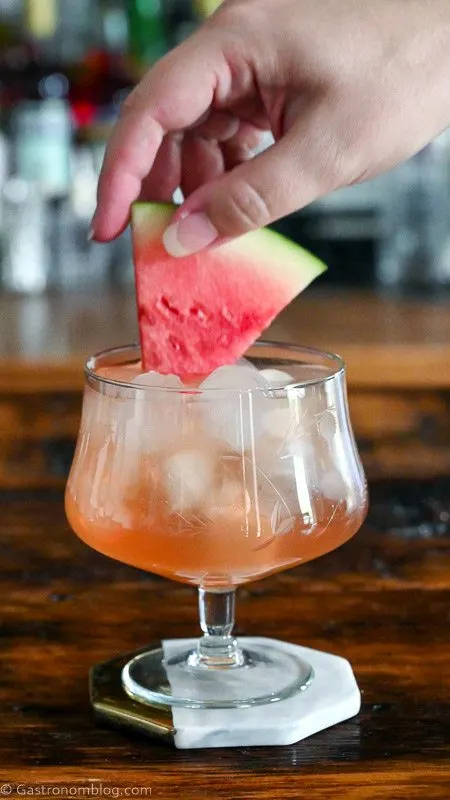 When the flavor is where you want it, then strain out the watermelon chunks with a fine-mesh sieve. Then store the infused Aperol back in a bottle or jar.
One thing to note: we did notice that the watermelon did pull a little color out of the Aperol. We were surprised because we have infused both Aperol and Campari like in our Strawberry Infused Campari and Strawberry Aperol and it made the Aperol and Campari darker. So, just an interesting side note.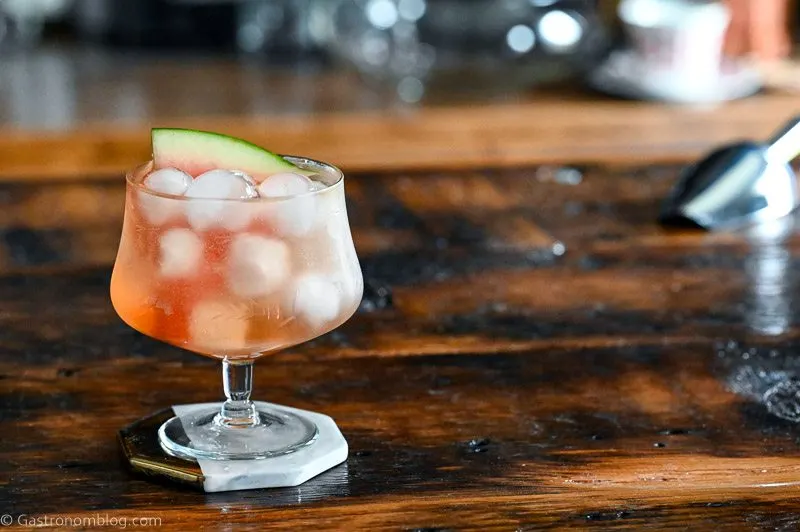 How to Make a Watermelon Aperol Spritz
First, plan ahead a few days to make your Watermelon Infused Aperol. When you are picking a watermelon at the grocery store, I have a great way and trick to pick the perfect one! If you tap on the watermelon it should make a great "thunk" sound. Like a hollow sound, and that should be a dark pink and flavorful melon, which is perfect for this drink.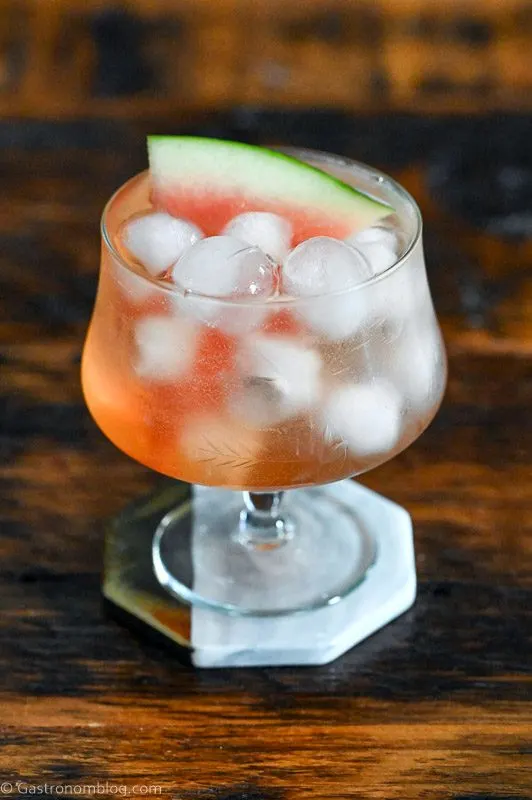 When your Aperol is ready, you can go making the Watermelon Aperol Spritz!
This is a simple 3 ingredient cocktail. No cocktail shaker required, so perfect for the beginner home bartender.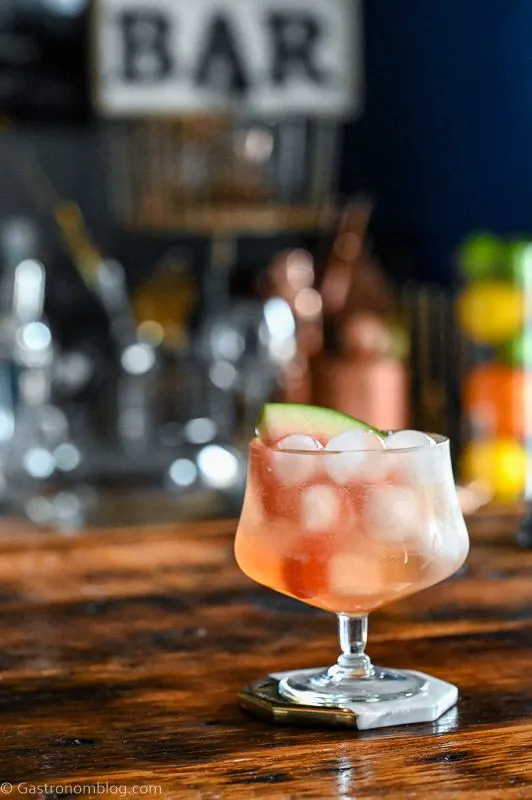 Simply add soda water to a white wine glass or tumbler with ice, pour in the watermelon infused Aperol, and then top with Prosecco. Garnish with a slice of watermelon, and you are all set!
Ingredients in a Watermelon Aperol Spritz
Watermelon Infused Aperol – we described the infusion above, but plan ahead to make the infusion a few days in advance so you can make this great Aperol Spritz! Adding the watermelon chunks to the Aperol makes for a great infused liqueur. Aperol has a great tartness, and the watermelon rounds out these flavors and adds a fruity element that pairs well with the citrus notes of the Aperol. Gives it a little more sweetness.
Club Soda – carbonated water helps make this recipe bubbly and light.
Prosecco – this sparkling wine is from Italy, specifically the Prosecco region. This recipe is a light and fresh spritz recipe, and Prosecco is a classic ingredient for a reason.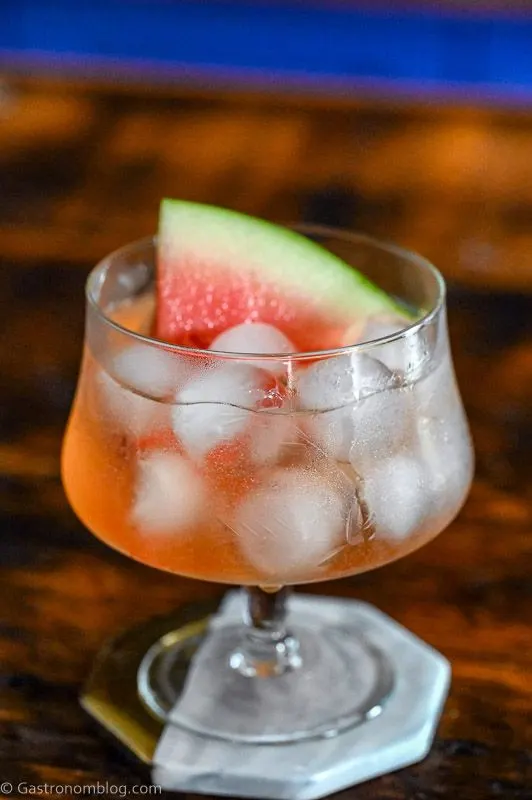 Tips & Tricks
Pitcher – Throw it all together in a pitcher and you have a fast and easy cocktail for a crowd!
Infusion – As we talked about above, make sure to plan ahead to make this cocktail. You need a few days for the infusion to happen, so make sure to plan ahead before making these for a party or just a fun night in!
Ingredients – You can switch up some ingredients for different flavors if you would like. We suggest subbing sparkling ros

é

wine for the Prosecco, or tonic water for the splash of club soda (or flavored sparkling water, like lime!) Or, add in a splash of fresh lime juice, as it goes so well with watermelon, or even lemon juice. Feel free to play around with amounts and flavors in this easy cocktail. That splash of lime can change the sweetness level of the cocktail, though, so keep that in mind. You can add a dash of simple syrup if you would like or need to. Also, feel free to play with the amount of the ounces of liqueur, like more oz Aperol, or Prosecco.
Garnish – you can use the watermelon slice like suggested above, or a sprig of mint, orange slice, lime slice or even a bunch of basil. All these flavors go great with watermelon.
Glass – a snifter or a large bowled glass like this one work great. As does a large wine glass – stemmed or not.
Cheers to this Watermelon Spritz!
Also, don't forget to follow us on Instagram and tag #gastronomcocktails so we can see all the wonderful recipes YOU recreate from this site!
You can also subscribe to our weekly newsletter so you never miss a delicious recipe again!
Like this recipe? Try these below, too!
Winter Aperol Spritz
Other Watermelon Cocktails
Yield:

1
Watermelon Aperol Spritz Cocktail Recipe
A Watermelon Aperol Spritz is perfect for summer! A summer flavor refreshing drink is a must make, and so easy to whip up!
Ingredients
1 ounce club soda
2 ounces Watermelon infused Aperol
3 ounces Prosecco
Instructions
Watermelon Infused Aperol: cut a cup of cubed watermelon and place in a jar. Pour 1 cup of Aperol over and let sit for 48 hours. Shake daily, and taste to the flavor level you like. When ready, strain with a fine-mesh strainer and store infused Aperol in a jar.
When ready to make the cocktail add ice to a wine glass. Pour in club soda, then Watermelon Infused Aperol.
Top with Prosecco and garnish with your garnish of choice.
Cheers!
Recommended Products
As an Amazon Associate and member of other affiliate programs, I earn from qualifying purchases.
Nutrition Information:
Yield:
1
Serving Size:
6 ounces
Amount Per Serving:
Calories:

208
Sodium:

6mg
Carbohydrates:

19.2g
Sugar:

3.1g
Protein:

.2g
Interested in stocking your own home bar? Make sure to see our favorites at our
Amazon Store
!
If you liked this post, don't forget to subscribe for new (and of course free) recipes by entering your email address on the side bar (and get all the recipes delivered to your inbox when we post), so you don't miss out on a thing. You can find us on Facebook, Instagram, and Pinterest!
Gastronomblog is a participant in the Amazon Services LLC Associates Program, an affiliate advertising program designed to provide a means for sites to earn advertising fees by advertising and linking to amazon.com