Last Updated on September 13, 2023 by The Noms
A sweet twist on a classic, an even more summer version on the classic Aperol Spritz, this Strawberry Aperol Spritz is full of flavor from fresh berries.
If you happen to be looking for a perfect summer cocktail full of strawberry flavor, then this is the recipe for you. Our Strawberry Aperol Spritz recipe has notes of zesty orange and fresh strawberries, so it feels like summer in a glass. Plus, this cocktail needs only four ingredients, making it so simple and easy to make on a late, warm summer afternoon!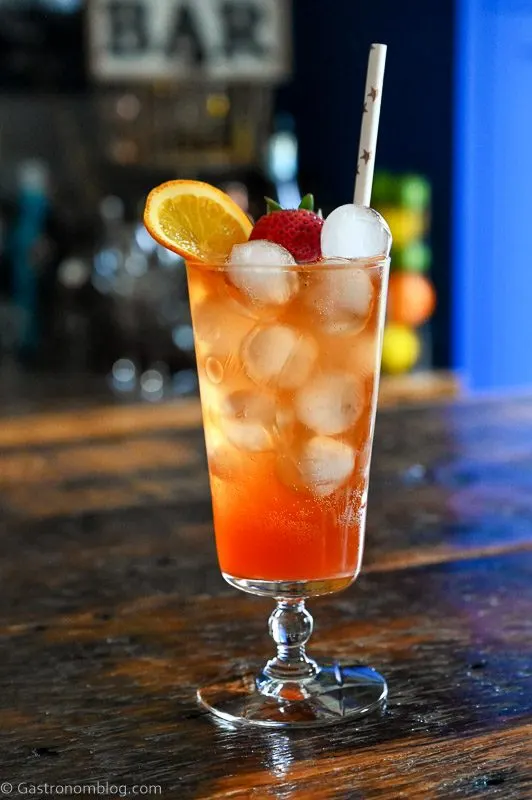 This post contains affiliate links for products that we think you as readers might find useful, and we make commission off of these! For more details about our affiliates, click our Disclosure and Contacts Page.
This recipe variation has all of the ingredients that you love in a classic Aperol Spritz, but with a strawberry twist. If you our cocktail with variations, like our Watermelon Aperol Spritz or Strawberry Mimosa, then you are going to love this recipe! Serve it with a charcuterie board on a hot summer day, and this could become one of your favorite summer cocktails.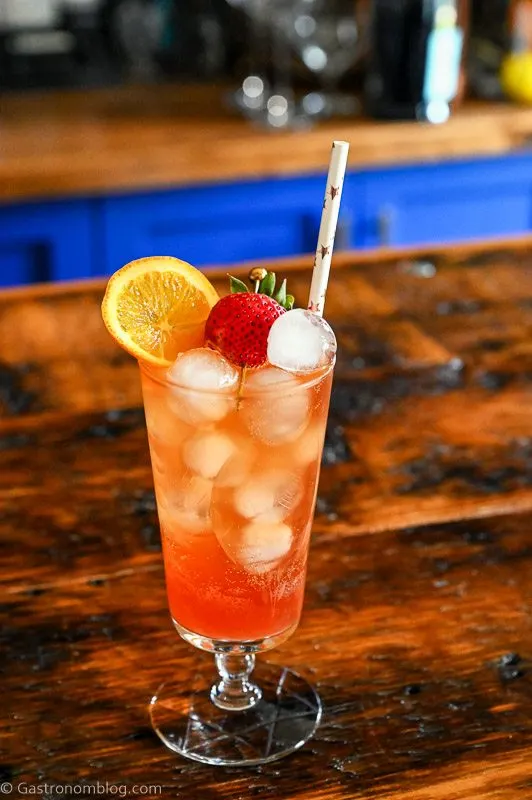 What is an Aperol Spritz?
We have talked a lot about Aperol Spritz this summer, and have made a lot of recipe twists on them! Like the above Watermelon, Pineapple Aperol Spritz, and Winter Cranberry Aperol Spritz, too! Aperol Spritz is a bubbly apéritif often served as a digestive before meals. It's said that they are meant to help stimulate your appetite, and we think all of these are great options!
Strawberry Aperol Spritz Ingredients
A classic Aperol Spritz has only three ingredients, and this fun twist uses four.
Strawberries – to give this cocktail its strawberry fruity flavor, we will be using fresh strawberries! Make sure they are ripe, so they will give the best flavor during the infusion process. Simply hull and slice them for the infusion.
Aperol – Of course, an Aperol Spritz can't be made without Aperol! Aperol has a low alcohol content (low abv), which is why it pairs well with wine. Plan time ahead of making this cocktail to do the infusion. Add the berries to a jar and pour Aperol over them. Let it sit and infuse for at least 48 hours. You can go up to 72 hours, but shake every day and taste before straining out the berries using a fine mesh strainer, so check if the flavor is where you want it.
Prosecco – A spritz is meant to be bubbly and refreshing. This comes from the Prosecco! Prosecco is an Italian sparkling wine. We recommend using a dry Prosecco, so this cocktail doesn't turn out too sweet. This is the ingredient you need most of in this fruity twist, 3 ounces prosecco.
Club Soda – club soda adds more bubbles and effervescence.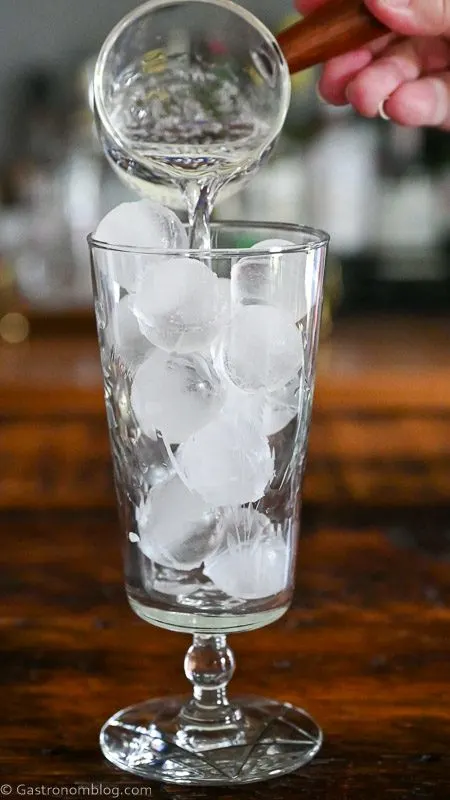 How to Make the Strawberry Aperol Spritz
As far as making cocktails go, this spritz is so simple. no cocktail shaker required! First start by hulling and slicing strawberries and place them in a jar. Next, pour Aperol over them, enough to cover, about 1 cup and let it infuse for at least 24 hours. You can infuse for up to 72 hours, just check the flavor daily to see if it is what you like. Make sure to shake the jar daily.
When the infused Aperol is ready, strain out the strawberries. Pour back into the jar and chill in the fridge if you would like.
When you are ready to make this Aperol Spritz cocktail, pour Prosecco, Aperol, and club soda in to a large wine glass. Add in ice cubes. Garnish with a whole hulled strawberry, strawberry slices, or fresh orange slice, if desired. Serve immediately!
Tips & Tricks
Chilled Ingredients – Make sure Infused Aperol, prosecco and club soda are chilled before making this cocktail. This will make sure your drink stays colder, longer.
Prosecco Substitute – If you don't have prosecco, you can also use dry white sparkling wine, dry champagne or cava.
Garnish – we used a whole strawberry. But, strawberry slices, orange slices, dried orange slice or a basil bunch are all great options.
Club Soda – if you don't have club soda, sparkling water will work. You can even do a strawberry sparkling water for more berry flavor.
Ice Cubes – any ice cubes work, but we love pretty ice cubes like these round ones! Don't use crushed ice, it will water down too quickly.
Straw – you can serve this Strawberry Aperol Spritz with a straw for easier sipping.
Aperol Substitute – if you cannot get access to Aperol, there are some other choices. You can use Luxardo Aperitivo, which is similar in flavor, but with more bitter flavors. Lillet Rouge can also be used, but isn't a close match. It is a French Aperitif but has a similar flavor, just not color. Or, you can use Campari. In the same family, but Aperol is sweeter and Campari is definitely more bitter. But, we love Strawberry Infused Campari, so it is an option, but you may have to add some homemade simple syrup or strawberry syrup to help with the bitterness level. They both have a beautiful color.
Strawberry-Infused Aperol – this strawberry Aperol will last as long as your open bottle of Aperol does. The alcohol prevents the infused liqueur from growing mold. It can change slightly in color, though.
For a Crowd – Strawberry Aperol Spritz can easily be made in a pitcher. Just follow the 3-2-1 recipe. Try 3 cups of Prosecco, 2 cups of infused Aperol and 1 cup club soda. Pour in ice and you are good to go!
Mocktail – You can made an Aperol Spritz Mocktail with some non-alcoholic ingredients. Make the strawberry infused Aperol with a non-alcoholic bitter orange spirit, club soda and then non-alcoholic Prosecco. We will have to make a blog post!
Glassware – this Strawberry Aperol Spritz can be served in a big bulb wine glass, or a tall glass, like a pilsner. Just have room for ice!
Cheers to these Strawberry Aperol Spritzes!
Also, don't forget to follow us on Instagram and tag #gastronomcocktails so we can see all the wonderful recipes YOU recreate from this site!
You can also subscribe to our weekly newsletter so you never miss a delicious recipe again!
Like this recipe? Try these below, too!
Strawberry Infused Negroni
Strawberry Vodka Spritzer
Other Aperol Spritz Recipes
Yield:

1
Strawberry Aperol Spritz
Drink Making Time:
5 minutes
Total Time:
2 days
15 minutes
A Strawberry Aperol Spritz is easy to make with a little bit of planning, and makes for some great late summer sipping!
Ingredients
Strawberry Infused Aperol
1/2 cup strawberries, hulled and Sliced
1 cup Aperol
Strawberry Aperol Spritz
2 ounces strawberry infused Aperol
1 ounce club soda
3 ounces Prosecco
Instructions
Strawberry Infused Aperol
1. Combine sliced strawberries and Aperol in a jar. Let sit, shaking daily for 48 hours. You can let it infuse for up to 72 hours.
2. When flavor is to your liking, strain out the strawberries and return the infused Aperol to the jar or a bottle. Keep in the fridge to chill.
Strawberry Aperol Spritz
1. Add Aperol, Prosecco and club soda to a wine glass. Add ice.
2. Garnish with berries.
3. Cheers!
Recommended Products
As an Amazon Associate and member of other affiliate programs, I earn from qualifying purchases.
Nutrition Information:
Yield:
1
Serving Size:
6 ounces
Amount Per Serving:
Calories:

364
Total Fat:

.2g
Sodium:

14mg
Carbohydrates:

24.5g
Sugar:

22.4g
Protein:

.1g
Interested in stocking your own home bar? Make sure to see our favorites at our
Amazon Store
!
If you liked this post, don't forget to subscribe for new (and of course free) recipes by entering your email address on the side bar (and get all the recipes delivered to your inbox when we post), so you don't miss out on a thing. You can find us on Facebook, Instagram, and Pinterest!
Gastronomblog is a participant in the Amazon Services LLC Associates Program, an affiliate advertising program designed to provide a means for sites to earn advertising fees by advertising and linking to amazon.com