Last Updated on November 2, 2023 by Leah Hall
Add a touch of creepy fun to your Halloween party with our Specimen Cocktail! Serve in lidded specimen cups for some gross Halloween humor. Click here to get the recipe and save for later.This Halloween Specimen Cocktail adds creepy fun to your next Halloween party! Serve these tropical herbal cocktails in green lidded specimen cups for some gross Halloween humor! Your guests may love (or hate) them!
We love a good creepy Halloween cocktail, as we served drinks in blood bags like our Blood Halloween Punch, and our Zombie Blood cocktails, too! So, we thought we would use another bodily fluid as a cocktail, LOL!
This post contains affiliate links for products that we think you as readers might find useful, and we make commission off of these! For more details about our affiliates, click our Disclosure and Contacts Page.
We knew we wanted a bright yellow color for this Specimen cocktail. Even though it may mean we are dehydrated. So, we looked at all the yellow ingredients we had. We knew Strega and Suze would be great in this, as they are both yellow liqueurs. But could we use them together?
Then, we used some cognac. While brown, we knew it wouldn't change the color too much. Then, we added lemon juice, pineapple juice and some bitters. This herbal drink is funny served in these Specimen Cups, but don't feel you HAVE to use them, but we did!
These medical themed cocktails can be creepy and fun, but don't feel you have to use these vessels, like the blood bags or specimen cups, you can use a real glass, because we do promise that the cocktails are tasty!
Hopefully you tell we love Halloween! We love a good Halloween cocktail, too! So next time make a Zombie Colada, Poisoned Apple, Vampire Cynar Negroni or Nightmare on Whisky Street! We also love themed Halloween cocktails like for Harry Potter – Bourbon Butterbeer, Grindelwald's Goblet, Polyjuice Potion and Unicorn Blood!
Or, Hocus Pocus themed: Sarah Sanderson, Winifred Sanderson and Mary Sanderson! Or, some Halloween Food Recipes too, like Halloween Brownies and Halloween Charcuterie!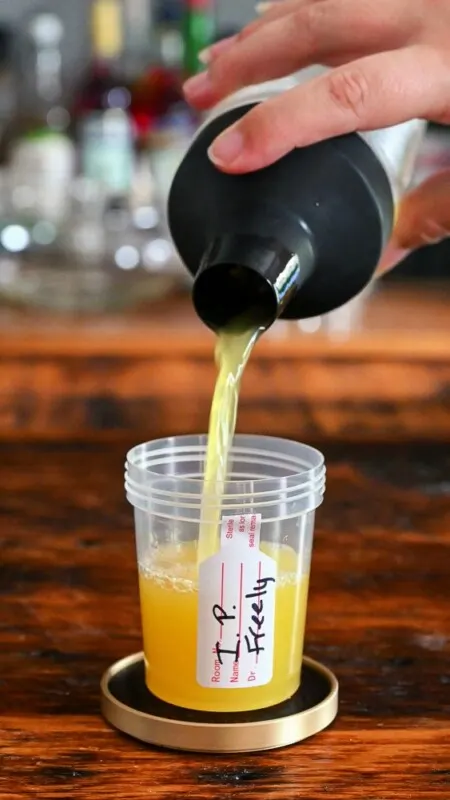 Ingredients Needed for the Specimen Cocktails
Cognac – Cognac can vary in flavors, so we want a drier and fruity Cognac for this recipe. We suggest Camus, Remy Martin 1738, H by Hine or Martell.
Strega – Strega is a super interesting liqueur. The name means "Witch." The flavors are mint and juniper with fennel/anise flavors too.
Suze – Suze is a French aperitif. It has gentian root, with the flavors of anise, tangerine, tarragon and mint. Very vegetal.
Pineapple Juice – this tropical ingredient adds a great lightness to the cocktail, while keeping it yellow! A added bit of sweet and light flavor.
Lemon Juice – as always, fresh squeezed lemon juice is best. Yes, even for this gross cocktail. 😉
Bitterman's Transatlantic Bitters – these bitters add some great and interesting flavors to the cocktail. If you can't get your hands on any, we have a tip for flavors below. These Transatlantic Bitters have flavors of gentian, clove, allspice and cinnamon, with anise. As well as aloe, chicory, chamomile and cherry bark. Wide variety of flavors and you can taste a lot of them!
Scotch – we used a Laphroaig 10 year Scotch for this. We sprayed the glass with a mist of peaty Scotch. But you can also rinse the glass with it before pouring in the cocktail.
How to Make these Specimen Cocktails
This is a shaken cocktail with a cocktail shaker. Again, you can serve them in the specimen cups, or in a tumbler over ice.
Just simply combine all the ingredients in a shaker with ice. Rinse or spray the glass with Scotch. Shake and strain the cocktail into whichever vessel you would like.
If you are serving them in the specimen cups, we made fun little labels with a Halloween twist! We put funny names on them: I.P. Freely, Peter Pantz, Ivana Tinkle, etc.
Tips & Tricks
Specimen Cups – you can order them on Amazon, so get your Specimen Jars!
Glasses – if you don't want to serve these herbal cocktails in the creepy urine sample cups, we suggest using a Tumbler or rocks glass and serve it on ice. Try our other Halloween cocktails like Eye Candy or Halloween Margarita Float!
Bitters Substitute – if you cannot get Bitterman's Transatlantic Bitters, then we have a great substitute for you! You can use 2 drops of Aromatic bitters like Angostura and 2 drops of Fernet Branca. The flavor is close to the Transatlantic bitters.
So if you want some gross Halloween party cocktails, we want you to try these! Bring the laughs and creep factor to your next event with this drug test specimen cocktail recipe!
Cheers!
Also, don't forget to follow us on Instagram and tag #gastronomcocktails so we can see all the wonderful recipes YOU recreate from this site!
You can also subscribe to our weekly newsletter so you never miss a delicious recipe again!
Like this recipe? Try these below, too!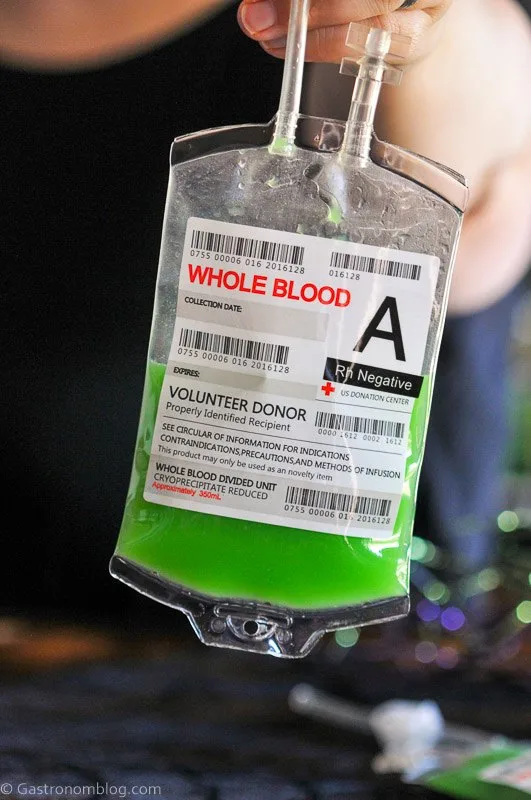 Zombie Blood Bags
Other Gross Halloween Recipes
Yield:

1
Specimen Cocktail
This Specimen cocktail can add a bit of gory and gross Halloween fun to your next party. Served in specimen cups, these yellow cocktails are herbal and funny!
Ingredients
1.50 ounces cognac
1 ounce Strega
.50 ounce Suze
.50 ounce pineapple juice
.50 ounce lemon juice
4 drops Bitterman's Transatlantic Bitters
Scotch - mist or rinse
Instructions
Combine all ingredients in a shaker with ice.
Mist the glass or rinse the glass with peated Scotch.
Shake and strain the cocktail into the glass or Specimen cup.
Serve with lids on or off.
Cheers!
Notes
If you cannot get the Transatlantic bitters, we have a tip above on how to achieve that flavor in your cocktail.
Recommended Products
As an Amazon Associate and member of other affiliate programs, I earn from qualifying purchases.
Nutrition Information:
Yield:
1
Serving Size:
4 ounces
Amount Per Serving:
Calories:

203
Total Fat:

.2g
Saturated Fat:

.1g
Sodium:

5mg
Carbohydrates:

11.5g
Fiber:

.1g
Sugar:

10.8g
Protein:

.2g
Interested in stocking your own home bar? Make sure to see our favorites at our
Amazon Store
!
If you liked this post, don't forget to subscribe for new (and of course free) recipes by entering your email address on the side bar (and get all the recipes delivered to your inbox when we post), so you don't miss out on a thing. You can find us on Facebook, Instagram, and Pinterest!
Gastronomblog is a participant in the Amazon Services LLC Associates Program, an affiliate advertising program designed to provide a means for sites to earn advertising fees by advertising and linking to amazon.com