Last Updated on June 11, 2023 by The Noms
Unicorn Blood is the name of this gray cocktail. We used an aviation cocktail, which is a classic cocktail as the basic for this Harry Potter cocktail. We garnished it with marshmallow spider webs for that creepy effect. This one is spooky for sure!
Get your portkeys, people. Even if it's a manky boot! It's a Harry Potter cocktail time! This Halloween especially, I think everyone deserves a stiff drink. Or 2.
Harry Potter Cocktail
That's right, you muggles. This year we made another Harry Potter magical cocktail. Along with our Bourbon Butterbeer, Polyjuice Potion, and the Wizarding World inspired Grindelwald's Goblet.
This post contains affiliate links for products that we think you as readers might find useful, and we make commission off of these! For more details about our affiliates, click our Disclosure and Contacts Page.
In reference to the name of this cocktail, Unicorn Blood, if you remember in the first ever Harry Potter book, Sorcerer's Stone.
"The blood of a unicorn will keep you alive, even if you are an inch from death, but at a terrible price. You have slain something pure and defenceless to save yourself, and you will have but a half-life, a cursed life, from the moment the blood touches your lips."—The slaying of a unicorn is a crime
In the first book Voldemort used unicorn blood to sustain himself and keep himself alive. Later, Peter Pettigrew used unicorn blood along with Nagini's venom to create a potion which would create a temporary body for Voldemort, until he could regain his true body.
Aviation Cocktail
For this Harry Potter cocktail we started out with an Aviation cocktail as the base, but quickly deviated! We had the basis, gin, Creme de Violette. But, then instead of the maraschino liqueur, we subbed in elderflower liqueur. And used lime instead of lemon and then added some orgeat.
This quickly gave us a gray color for the drink, which is what we wanted with the idea of the shimmer of unicorn blood. A Harry Potter cocktail has to have something whimsical, right? So the opaque quality of our homemade orgeat added to the purple of the Creme de Violette was the perfect combo.
What does Creme de Violette Taste Like?
The taste and aroma are floral and sweet. Its known production dates back to early 19th century when it was served with dry vermouth or alone like a cordial. Now, it's one of the very well known ingredients of an Aviation.

Marshmallow Spider Web Garnish
So, how did we make the marshmallow garnish? There is a great video and information here from the Food Network. But, basically you melt some marshmallows in the microwave, and then pull it apart to resemble spider webs!
We would also advise wearing gloves to do this, as it's very messy and sticky! But, gives a cool effect to the top of the glass! Do this at least 10 minutes before you are ready to serve drinks because they do need to harden up slightly. You can do it earlier if desired.
Then, just add the cocktail in with a funnel, or if you pour very carefully between the marshmallow strands.
Unicorn Blood Cocktail
So, this cocktail has a lot of flavors, and is very floral because we used both Elderflower liqueur and Creme de Violette. But, the gin balances it out, as well as the almond flavor and nose from the orgeat and adding the lime makes it pop and be really bright!
We hope you try out this gray yet sparkly cocktail, it's a fun one to drink, and to look at!
Cheers to this Harry Potter cocktail!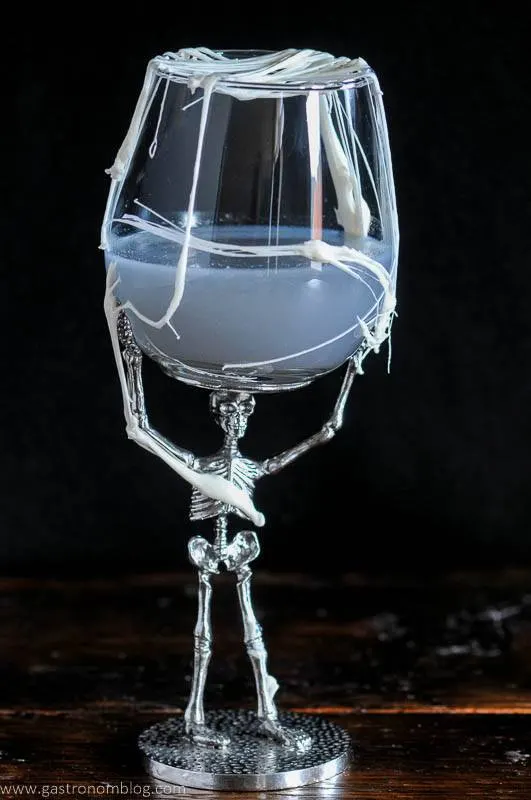 Also, don't forget to follow us on Instagram and tag #gastronomcocktails so we can see all the wonderful recipes YOU recreate from this site!
You can also subscribe to our newsletter so you never miss a delicious recipe again!
Other Halloween Cocktails
Like this recipe? Try these below, too!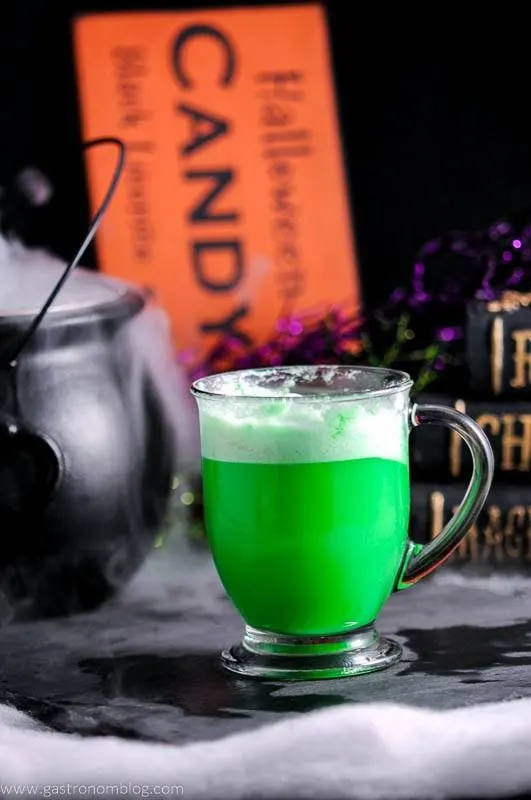 Polyjuice Potion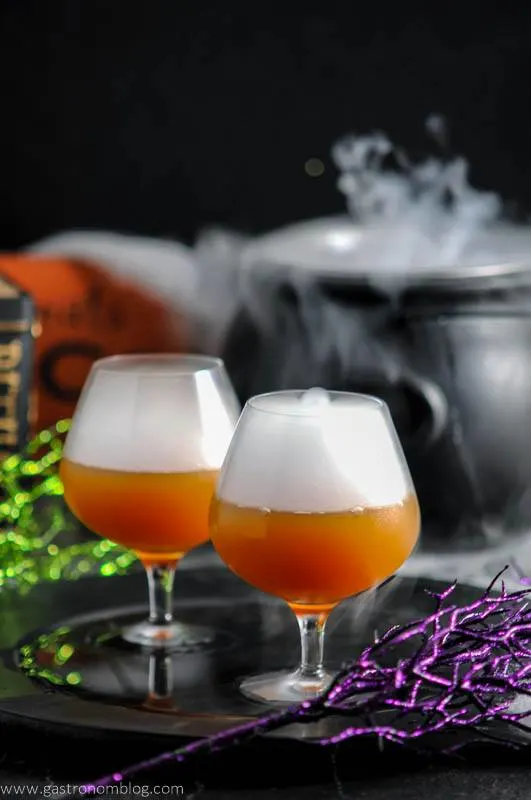 Bourbon Butterbeer
Other Harry Potter Cocktails
Yield:

1
Harry Potter Cocktail - Unicorn Blood
This Unicorn Blood cocktail is a super fun drink to make for Halloween or anytime of year! A perfect Harry Potter cocktail, this one is a fun shiny gray color, for Unicorn Blood as referenced in the books.
Ingredients
2 ounces gin (we recommend London Dry)
.75 ounce Elderflower Liqueur
.50 ounce Creme de Violette
.75 ounce lime juice
Instructions
Prep glass for cocktail if you are doing the marshmallow spider webs.
If not, add ice to glass.
Pour all ingredients into shaker with ice. Shake to combine.
Pour into glass, using a funnel or carefully if having the marshmallow spider webs.
Cheers!
Notes
If you are wanting to do the marshmallow spider webs, you need 2-3 marshmallows in the microwave for about 20 seconds. When they are bigger, pull them out and stretch them, while wearing gloves over the top of the glass. Let dry and harden for at least 10 minutes before pouring in drink.
Recommended Products
As an Amazon Associate and member of other affiliate programs, I earn from qualifying purchases.
Nutrition Information:
Yield:
246
Amount Per Serving:
Sodium:

2mg
Carbohydrates:

1.8g
Fiber:

.1g
Sugar:

.4g
Protein:

.1g
Interested in stocking your own home bar? Make sure to see our favorites at our Amazon Store!
If you liked this post, don't forget to subscribe for new (and of course free) recipes by entering your email address on the side bar (and get all the recipes delivered to your inbox when we post), so you don't miss out on a thing. You can find us on Facebook, Instagram, and Pinterest!
Gastronomblog is a participant in the Amazon Services LLC Associates Program, an affiliate advertising program designed to provide a means for sites to earn advertising fees by advertising and linking to amazon.com