Last Updated on June 10, 2023 by Leah Hall
This homemade orgeat syrup recipe is easy to make, and perfect for some fun cocktails, drinks and even coffee!
Orgeat (It's pronounced "or-zsa" kinda like Zsa Zsa Gabor, so it's or-zsa-zsa, LOL!) and is kind of like liquid marzipan. Now that we have that out of the way, let's get on with this recipe and info about orgeat!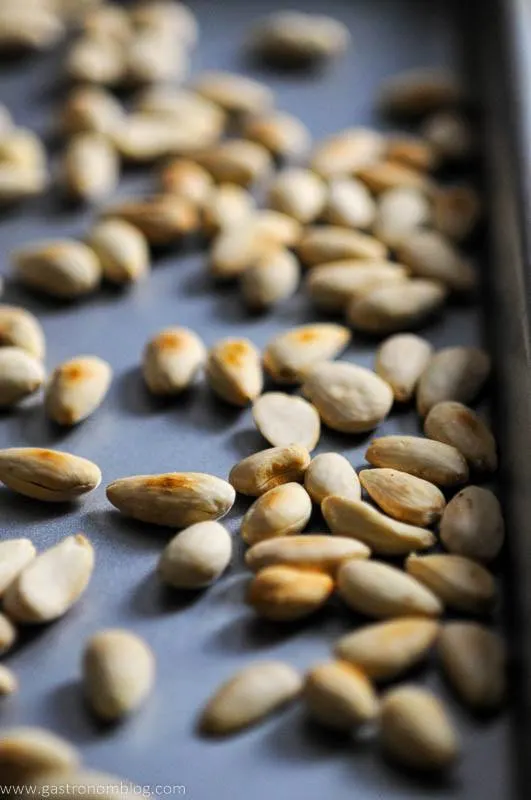 This post contains affiliate links for products that we think you as readers might find useful, and we make commission off of these! For more details about our affiliates, click our Disclosure and Contacts Page.
What is Orgeat Syrup?
Orgeat syrup is almond syrup with a decent amount of sugar and a touch of orange flower water.
Many classic cocktails, tiki drinks and coffee use orgeat syrup as an important flavor ingredient. It is most famous for contributing to the original Mai Tai, but it can be found in many other classics including the Scorpion, and the Japanese cocktail. Orgeat, is simply a sweetened almond syrup with a little orange flower water.
The origins of this syrup are interesting, and the taste and versatility in drinks are impressive. Orgeat is the French form of the word from the Italian word orzata which means barley water.
What Ingredients are Needed for the Homemade Orgeat?
Almonds
Water
Sugar
Orange Flower Water
Brandy
The Spanish word Horchata has a similar origin. This syrup is an oil and water emulsion of the oils in almonds. This makes orgeat similar to milk. Before using almonds, these were made with barley.
What we are talking about is an emulsion, so they form a cloudy liquid. Milk, butter, Hollandaise and mayonnaise are all emulsions, as well.
History of Orgeat
Before refrigeration, people could not store milk because it would spoil quickly. For the most part, milk was turned into cheese, because it could be stored for a long time. A lot of cooking wasn't done with fresh milk. The solution was to use a oil and water emulsion made from barley and eventually almonds, in cooking.
Because the oils in barley and almond are relatively stable at room temperature, and higher temps, they don't spoil quickly. This makes them perfect for a milk substitute. In the past, a person's kitchen would have barley or almonds, depending where they lived, and if a source of fat was needed, you would use these. Food production changed over the years and these water and oil emulsions were used more.
The process uses almonds crushed up in a mortar while adding water. This would extract the oils in the almonds and emulsify it in water. After, the mush sat for a while, and was filtered through cloth and the liquid was used in place of milk. Plus, it doesn't go rancid, so there was no need for refrigeration.
Orgeat in Cocktails
Orgeat Syrup is an extremely strong ingredient so make sure to use it sparingly. The intense flavor of orgeat is mellowed by putting it in a citrus based cocktail like the Mai Tai. The flavors combine perfectly, so keep that in mind if you're planning on making your own cocktails.
This is also why orgeat is relatively common in Tiki drinks and less frequently in other styles of cocktails.
What can I use in place of orgeat syrup?
Orgeat works as a sweetener so substituting amaretto for orgeat can be the way to go. This give the same flavor profile, but is more booze, so can give a bigger impact on the drink.

In the past, orgeat was almost always on the list of ingredients that a lot of bars didn't bother to have on hand. But, as more people are searching to find craft cocktails, more establishments are honing their skills with more unique ingredients, like this. This does mean it's easier to come by from your local bar.
Also, if you'd rather make it yourself, this orgeat syrup recipe is fairly easy to make from scratch, and we do think homemade is the best orgeat syrup. Homemade orgeat will only last about a month or so. This orgeat syrup recipe has some brandy in it to help extend its shelf life.
You can also find syrups from companies like Torani, which have a much longer shelf life, and are easily accessible from your local store or on Amazon.
How to Store Orgeat
Our orgeat syrup recipe can be stored sealed in the refrigerator for up to a month. It does have brandy in it to keep it longer. This syrup does seem to separate while it sits. Just shake the container before using to add into a cocktail.
We used blanched almonds for a sweeter, milky white orgeat. Since the almond skins are absent in this recipe, the bitterness is gone as well. Orange flower water can be found at some grocery stores, as well as online. We got ours on Amazon!
Cocktails with Orgeat
Mai Tai – Cookie and Kate
Fog Cutter – The Liquor Cabinet
Japanese Cocktail – Grey is the New Black
Also, don't forget to follow us on Instagram and tag #gastronomcocktails so we can see all the wonderful recipes YOU recreate from this site!
You can also subscribe to our newsletter so you never miss a delicious recipe again!
Cheers!
Like this recipe? Try these below, too!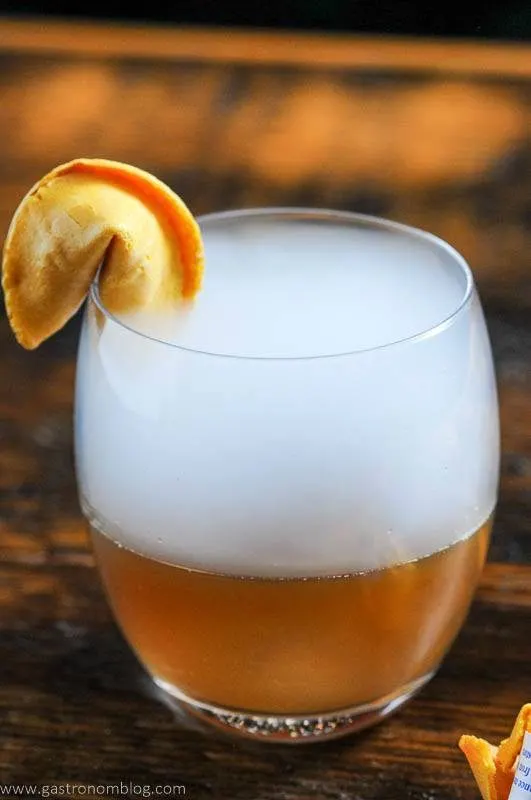 The Seer Cocktail
Rambler's Ruby
Draining Time:
20 minutes
Total Time:
8 hours
40 minutes
This orgeat syrup recipe is an easy homemade recipe to make for your home bar! Full of almond flavor, this syrup is great in tiki cocktails!
Ingredients
2 cups roasted almonds, blanched
1 1/4 cup water
1 1/2 cups sugar
1 teaspoon orange flower water
1 ounce brandy
Instructions
Toast almonds at 400 degrees Farenheit until golden brown, about 6 minutes. Shake on pan at about 3 minutes.
Cool almonds and then blend in blender or food processor.
In a large saucepan, combine sugar and water on medium high heat until sugar dissolves and starts to boil.
Add almonds and simmer on low heat, stirring frequently. When it's about to boil, remove from heat and cover. Let it sit for at least 4 hours, but no more than 12. We went with 8.
Strain this mixture through a cheesecloth into a bowl. We put cheesecloth in a colander in a bowl as well. Let sit for a bit, then squeeze the cloth.
Drain all the liquid into the bowl, and pour into a bottle or jar.
Add orange flower water and brandy. Shake to combine.
Store in fridge for up to a month.
Notes
If you use almonds that aren't blanched, make sure to peel them before roasting the almonds.
Recommended Products
As an Amazon Associate and member of other affiliate programs, I earn from qualifying purchases.
Nutrition Information:
Yield:
24
Serving Size:
.50 oz
Amount Per Serving:
Calories:

96
Total Fat:

4g
Saturated Fat:

.3g
Carbohydrates:

14.4g
Fiber:

1g
Sugar:

12.8g
Protein:

1.7g
Interested in stocking your own home bar? Make sure to see our favorites at our Amazon Store!
If you liked this post, don't forget to subscribe for new (and of course free) recipes by entering your email address on the side bar (and get all the recipes delivered to your inbox when we post), so you don't miss out on a thing. You can find us on Facebook, Instagram, and Pinterest!
Gastronomblog is a participant in the Amazon Services LLC Associates Program, an affiliate advertising program designed to provide a means for sites to earn advertising fees by advertising and linking to amazon.com