Last Updated on June 12, 2023 by The Noms
This winter twist on the classic Mai Tai brings tropical flavors with winter touches to bring warm weather thoughts to you while drinking this great sip!
Tropical drinks are refreshing, light on the palate with fresh and fruity notes. We winterized this classic tropical drink by using aged rum and white rhum for a richer flavor. This Winter Mai Tai combines great flavors like baking spices, rosemary, orange and pecan into the drink for complex sipping.
This post contains affiliate links for products that we think you as readers might find useful, and we make commission off of these! For more details about our affiliates, click our Disclosure and Contacts Page.
Nothing feels like a vacation on the beach quite like a Mai Tai cocktail. Plan to take your taste buds on an exotic trip with this winterized classic twist that is fresh and light but rich. The spices in the pecan orgeat and Polynesian Kiss bitters make it feel like winter, along with the fresh rosemary syrup make a great wintery sip.
What is a Mai Tai?
The name Mai Tai comes from the Tahitian word for "excellence or good." And it lives up to the name! This classic drink is claimed to have been made in the 1930s or 40s in Oakland, California at Trader Vic's. Who made the original recipe is up for debate. It's also up for debate whether the original recipe had orgeat or Falernum, which is a non alcoholic syrup or a liqueur. Falernum has the flavors of almond, ginger, cloves and lime.
Don the Beachcomber's Mai Tai recipe uses Falernum, Trader Vic's uses orgeat. Both use a rock candy syrup, which is a rich simple syrup. We didn't use a rich simple, we just used a rosemary simple syrup in place of that.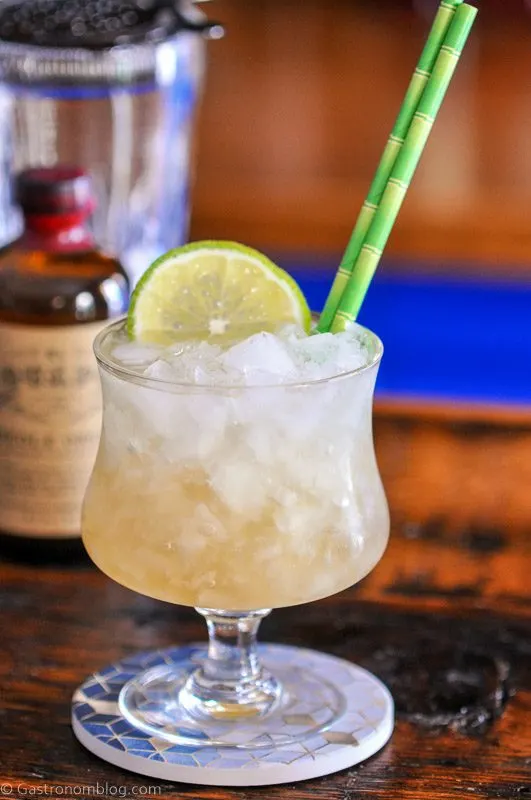 You may not always see orgeat as an ingredient in a Mai Tai now, but if you want to stay true to the original recipe then it's a must add. In this case, since we wanted to make it more winter flavored, we went with El Guapos' Creole Orgeat, which is a pecan orgeat.
What is Orgeat?
Made from almonds, sugar, rose water or orange flower water, orgeat is a syrup that has more flavors than a normal almond syrup. If you can't find orgeat, you can use any type of almond syrup. Or, you can make our homemade orgeat!
What Rum to Use for a Mai Tai?
The rums used in Mai Tai recipes are different in almost every recipe. Trader Vic's recipe uses an amber Caribbean rum and has a float of a dark Jamaican rum. Don the Beachcomber uses a gold rum and finishes with Meyer's dark rum.
We wanted the wintery touch, and shook all the ingredients together and didn't do a float of the dark rum, because we wanted a lot of the darker rum. We went with a Trois Rivieres rhum and a 16 year Zaya aged rum.
Feel free to use what you would like, but a white rhum agricole, and a richer aged rum was a great combo in this with the winter spices and flavors.
Winter Mai Tai
The Polynesian Kiss bitters combine the great flavors of passion fruit, guava, pineapple and coconut with spices, perfect for this Winter Mai Tai! We got the El Guapo Polynesian Kiss bitters (along with a whole package of stuff) and Creole Orgeat directly from El Guapo, and cannot wait to share some more tasty recipes with you using their products!
When in the chill of winter, we can imagine ourselves in warmer climes. This cocktail is perfect imagining yourself near warm water, on hot sand, with cocktail umbrellas in beautiful drinks. We hope you try this beautiful boozy tropical cocktail!
Other Tropical Cocktails
Cheers!
Also, don't forget to follow us on Instagram and tag #gastronomcocktails so we can see all the wonderful recipes YOU recreate from this site!
You can also subscribe to our newsletter so you never miss a delicious recipe again!
Like this recipe? Try these below, too!
Hawaiian Bonfire Cocktail
Blue Hawaiian Cocktail
Tropical Winter Cocktails
A winter twist on the classic Mai Tai cocktail, this tropical drink is full of flavor and wintery vibes!
Ingredients
1 ounce Agricole Rhum
1 ounce 16 year aged rum
.50 ounce orange liqueur
.50 ounce creole orgeat (pecan) (We used El Guapo)
.25 ounce lime juice
3 dashes El Guapo Polynesian Kiss bitters
Instructions
Combine all ingredients in a shaker with ice.
Shake and strain into glass with crushed ice.
Cheers!
Recommended Products
As an Amazon Associate and member of other affiliate programs, I earn from qualifying purchases.
Nutrition Information:
Yield:
1
Serving Size:
4 ounces
Amount Per Serving:
Calories:

231
Sodium:

6mg
Carbohydrates:

18.1g
Sugar:

11.6g
Interested in stocking your own home bar? Make sure to see our favorites at our Amazon Store!
If you liked this post, don't forget to subscribe for new (and of course free) recipes by entering your email address on the side bar (and get all the recipes delivered to your inbox when we post), so you don't miss out on a thing. You can find us on Facebook, Instagram, and Pinterest!
Gastronomblog is a participant in the Amazon Services LLC Associates Program, an affiliate advertising program designed to provide a means for sites to earn advertising fees by advertising and linking to amazon.com