Last Updated on August 10, 2023 by The Noms
This Pineapple Express Cocktail Recipe is a great tropical cocktail, perfect all year long. Refreshing and flavorful!
This rich, refreshing cocktail is full of tropical flavors from citrus and fresh pineapple juice!
Pineapple Express History
The Pineapple Express Punch is named after the yearly weather phenomenon that tends to occur around the holidays out on the west coast of the United States. These storms come across the Pacific from Hawaii. They bring the rainy season and cool weather to the west coast.
This post contains affiliate links for products that we think you as readers might find useful, and we make commission off of these! For more details about our affiliates, click our Disclosure and Contacts Page.
In the past, the Pineapple Express has wrecked havoc on California and the northwest with heavy rain and nearly hurricane force winds. In the spirit of the classic folks who ride out the hurricanes, we made a punch using the storm's namesake, pineapple.
We love pineapple cocktail recipes. Here are some of our favorites: Pineapple Jalapeno Margarita, Pineapple Cilantro Margarita, Pineapple Rum Granita, or the Hawaiian Creamsicle.
How to Make the Pineapple Express Cocktail
This is a sweet, boozy cocktail that has a nice tropical fruit note that helps give a warmth to the cocktail. That warmth chases away the clouds while packing a big punch. We used a barrel aged rum, and a dark rum together to add depth to the drink. Fresh pineapple drinks have a special piece of our hearts, so this one is a new favorite!
Some other tropical cocktails to try if you can't make the Pineapple Express Cocktail just yet, try our Tropical Delight, the Seer, Navy Grog, and Peach Zombie!
We then added in some coffee liqueur to make it a little darker and richer, but with the element of tiki. Three kinds of juices, lemon and lime, plus grilled pineapple juice. Please feel free to use regular old pineapple juice, we don't judge!
We added in some Angostura bitters and coconut tincture (make sure to check out our video on tinctures!) to add more tropical flavors. The combo of these juices, pineapple juice and rum is accompanied by some cherry brandy.
We used homemade infused cherry brandy, but regular cherry brandy does really well in this pineapple juice and rum cocktail. We then garnished the drink with our homemade brandied cherries and some mint.
Coconut Tincture
Speaking of Coconut Tincture, as we mention above in the ingredients. A tincture is a super easy ingredient to make, as well as a great way to add flavor to cocktails and drinks. While alcoholic, you don't need much, just a few drops to add a ton of flavor.
To make the coconut tincture, simply add fresh coconut chunks (like 2-3) (or a Tablespoon of dried coconut) and pour Everclear over them, about 1/4-1/3 a cup of Everclear. You need this high proof liquor like Everclear or Bacardi 151 to pull out the essence of the ingredient you want to highlight. It doesn't need to sit long, probably just around 24 hours, and then strain out the coconut pieces. Store this in a dropper bottle for ease of mixing and serving.
If you want more coconut flavor in a cocktail, try our Rum Punch!
Ingredients Needed for the Pineapple Express Cocktail
Dark Rum – dark rum is aged. It is dark in color, but has a light or medium body. Sometimes it has burnt caramel added to darken the color. This is the longest aged rum.
Aged Rum – the difference between dark rum and aged rum is the amount of time that the rum has spent aging in the barrel. The oak barrels allow the spirit to develop aroma, flavor and color.
Cherry Brandy – Now, cherry brandy can have 2 meanings: 1)

a liqueur made from brandy flavored with cherries and sweetened with sugar; or 2)

a brandy distilled from fermented cherry juice. In this case, we are using the first one. The second one is delicious, but we want the sugar factor as well as the color in this cocktail. Some brands that are great for this are: Gabriel Boudier Cherry Brandy Liqueur, Giffard Cherry Brandy, Bols Cherry Brandy Liqueur, or Maraska Cherry Brandy.

Coffee Liqueur – you don't need much of this liqueur in the recipe, but trust us, you need it. It gives a dark, roasted flavor to this sweet cocktail, and adds a depth to the drink, and helps slightly with the color too. We used St George Distilling NOLA Coffee Liqueur, but some other great choices are: Mr Black Cold Brew Coffee Liqueur, Kahlua, and

Don Ciccio & Figli Concerto Coffee Liqueur.

Lime Juice – of course, fresh squeezed is best!
Lemon Juice – again, fresh squeezed is best!
Grilled Pineapple Juice – or regular pineapple juice. The grilled pineapple juice makes for a richer cocktail, but regular pineapple juice is great too!
Coconut Tincture – more info on how to make this above, but just the few drops needed in this cocktail add so much tropical flavor to this boozy beverage!
Angostura Bitters – as we always say, bitters are the salt and pepper of the cocktail world, but in this case it also takes out some of the sweetness in this juice based and boozy sip.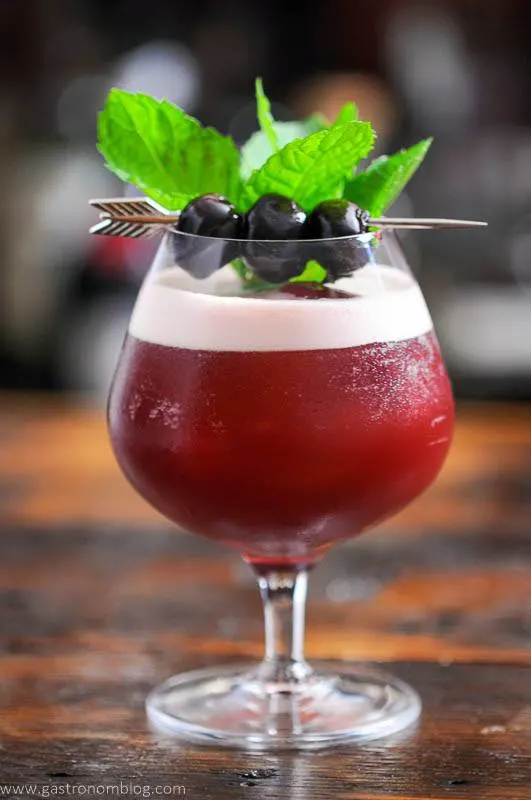 Tips & Tricks
Fruit Juices – again, we know we always harp about it, but fresh squeezed is the best in this case. Not only for the fresh lime juice, but the lemon juice and pineapple juice, too. Because this is a shaken cocktail in a cocktail shaker, it needs to be shaken well with ice to dilute and make the pineapple juice frothy on the top of the cocktail. Try fresh juice in our Blueberry Lemonade, too!
Garnish – feel free to garnish with anything you like. We of course did a bunch of mint and brandied cherries on a cocktail pick. But, a lime slice, lemon wedge, fresh pineapple chunks, a pineapple wedge or pineapple wheel would look great on the top of this tall glass.
Other flavors – feel free to sub out ingredients if you need to. We suggest you don't because we think it's delicious, but you can sub in white rum for the aged rum, or add in a dash of orange liqueur for more citrus flavor. This Pineapple Express Cocktail is a more difficult recipe for the home bartender, because of all the ingredients, but as long as you have a cocktail shaker, and not just a mixing glass, you will be great. Try our Rum Julep, Blue Hawaii or Ancient Mariner, too!
Variations – You can double strain this cocktail when you pour out of the cocktail shaker. But, this will eliminate a little bit of the pineapple juice foam. Or, you can strain the citrus juices and fresh pineapple juice before using them, too. This would eliminate any chunks there would be from pulp.
Cheers to this fabulous tropical rum tiki drink!
Also, don't forget to follow us on Instagram and tag #gastronomcocktails so we can see all the wonderful recipes YOU recreate from this site!
You can also subscribe to our newsletter so you never miss a delicious recipe again!
Other Pineapple Cocktails
Other Cherry Brandy Cocktails
Like this recipe? Try these below, too!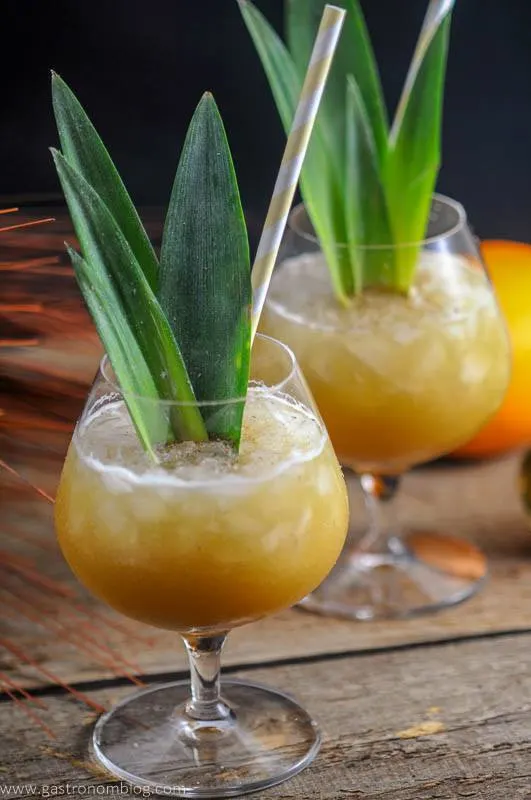 Coconut Rum Painkiller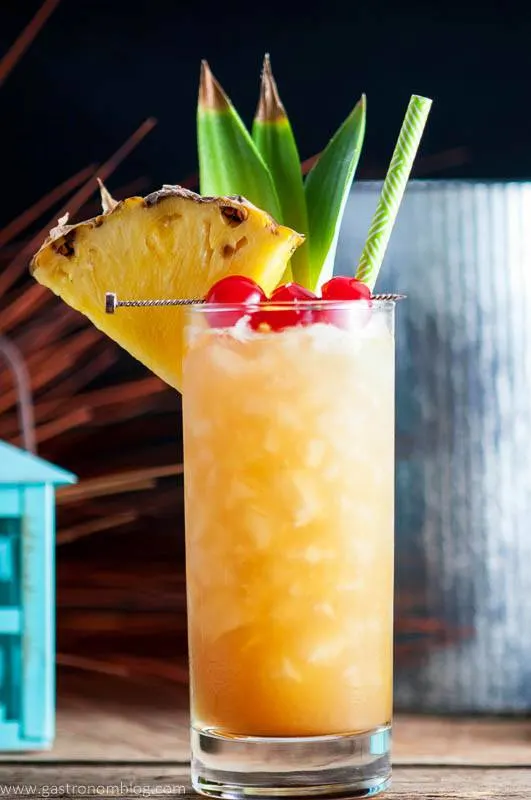 Fall in Paradise
Yield:

1
The Pineapple Express Punch
A Rum based cocktail that hints of tiki. Cherry brandy and rum combine with juice for this tropical cocktail.
Ingredients
1 ounce Dark Rum
1 ounce aged rum
1 ounce cherry brandy
.25 ounce coffee liqueur
.25 ounce lemon juice
.25 ounce lime juice
4 drops coconut tincture
3 dashes of Angostura bitters
Instructions
Fill a shaker with ice.
Combine all ingredients and shake well.
Strain into a hurricane glass or a brandy snifter.
Garnish with a brandied cherry and mint if desired.
Cheers!
Notes
Use grilled pineapple juice or regular - we won't judge you!
Recommended Products
As an Amazon Associate and member of other affiliate programs, I earn from qualifying purchases.
Nutrition Information:
Yield:
1
Serving Size:
1
Amount Per Serving:
Calories:

243
Total Fat:

.1g
Sodium:

3mg
Carbohydrates:

8.1g
Fiber:

.2g
Sugar:

5.9g
Protein:

.3g
Interested in stocking your own home bar? Make sure to see our favorites at our Amazon Store!
If you liked this post, don't forget to subscribe for new (and of course free) recipes by entering your email address on the side bar (and get all the recipes delivered to your inbox when we post), so you don't miss out on a thing. You can find us on Facebook, Instagram, and Pinterest!
Gastronomblog is a participant in the Amazon Services LLC Associates Program, an affiliate advertising program designed to provide a means for sites to earn advertising fees by advertising and linking to amazon.com