Last Updated on June 8, 2023 by Leah Hall
Check out our Smoked Cherry cocktail, using our fun smoking gun! A great combination of bourbon and brandy in this smoked cocktail!
This past Christmas, we got a new toy to add to our arsenal of kitchen tools, a smoking gun! We have been wanting to play with a smoking gun to make cocktails for a while. This was after seeing one used at our favorite bar to make a smoked cocktail. This smoked cocktail is one that we and many of our friends always order, the cocktail full of a rich smokey flavor and an awesome presentation.
Smoked Cocktail
When we got our own smoking gun at home, we couldn't wait to smoke a cocktail of our own!
This post contains affiliate links for products that we think you as readers might find useful, and we make commission off of these! For more details about our affiliates, click our Disclosure and Contacts Page.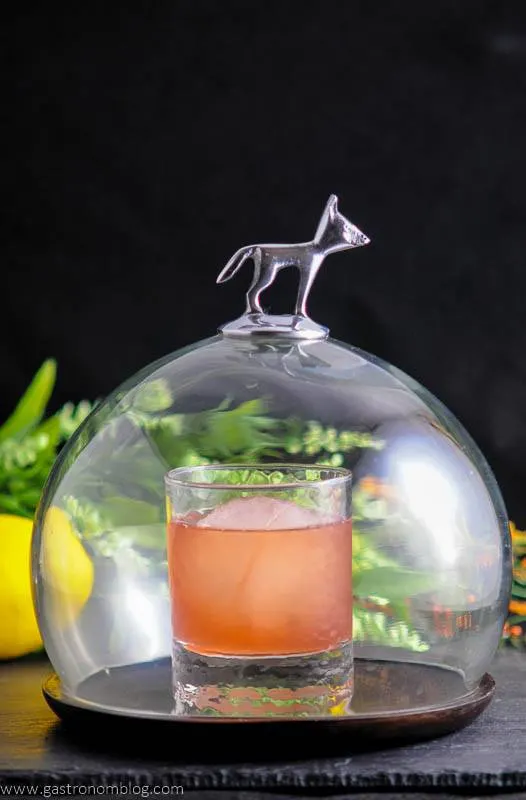 Smoking cocktails is a big trend in mixology these days! It's a great way to add a ton of savory flavor to a cocktail. Like cured meats where smoking makes the end product better, smoking a cocktail can take a drink that is good and make it a star!
We started out on the Smoked Cherry by choosing a spirit that works really well with smoke like bourbon or a rye. Either already has a hint of natural smoke from the charred barrels used to age the spirits. The warm spicy notes of the bourbon and its natural sweetness are enhanced by the smoke, plus it gives us a big boozy base for the cocktail!
What about Brandy?
Honey and smoke are two unlikely bedfellows. But then, when you think about how honey is gathered, smoke is big part of that process! We decided to add in a little honey brandy which brings some honey flavor while not adding to much sweetness. The brandy also adds a bit more strength to the drink and helps keep the drink in balance.
Normally brandy is served warmed in a brandy snifter. neat. But brandy is also great in a cocktail, as we did in this one.
Will brandy go bad?
If it is open too long the flavor and quality can go down a bit. Once you open it you may want to start drinking it regularly.
We wanted a little herbal aspect to the drink, so we mixed in some vermouth blanc. It's a sweeter vermouth made from a fortified French white wine (we recommend La Quintinye Vermouth Royal Blanc). This was great in cocktails or by itself. The addition of the vermouth adds a sweet floral hint which really works well with bourbon.
The vermouth has just enough of a tartness like you get from a white wine. This brightens up the cocktail, especially when combined with a splash of fresh squeezed lemon juice.
What Ingredients are Needed for the Smoked Cherry Cocktail?
Campari
Cherry Bitters
Bourbon
Lemon Juice
Sage Simple Syrup
Honey Brandy
Vermouth Blanco
Cherry Wood
Tasting the cocktail at this point, we felt it was a little flat. It was a little spirit forward and needed some sweet to bring it into balance. We chose one of our favorite infused syrups, sage simple syrup. We used it because has a nice hint of evergreen and herb. This really works well with the smoke flavors, the feeling reminiscent of a camp fire in an evergreen forest.
A splash of Campari adds a complex bitter citrus note that added a crisp refreshing bite and tied the drink together.
Garnish Picks / Luxardo Cherries /Mixing Glass
But what about the cherry you ask? After all we called this the Smoked Cherry! Well the first thing we added was a couple of dashes of cherry bitters which brings a tart cherry tang to the drink. But the main cherry flavor we added to this drink was in the smoke. We used some cherry wood as the source of the smoke. If you are lucky enough to have a smoking gun, this is the point to bust it out and smoke that cocktail!
If You Are Looking for More Bourbon Cocktails, Try These!
If you don't have a smoking gun, check out our Bourbon Barrel cocktail where we have a different technique for smoking a glass! We finished up by adding in one of our brandied cherries as a garnish, and to totally make the cherry pop!
Cheers!
Also, don't forget to follow us on Instagram and tag #gastronomcocktails so we can see all the wonderful recipes YOU recreate from this site!
You can also subscribe to our newsletter so you never miss a delicious recipe again!
Like this recipe? Try these below, too!
Grapefruit Smoked Salt London Mule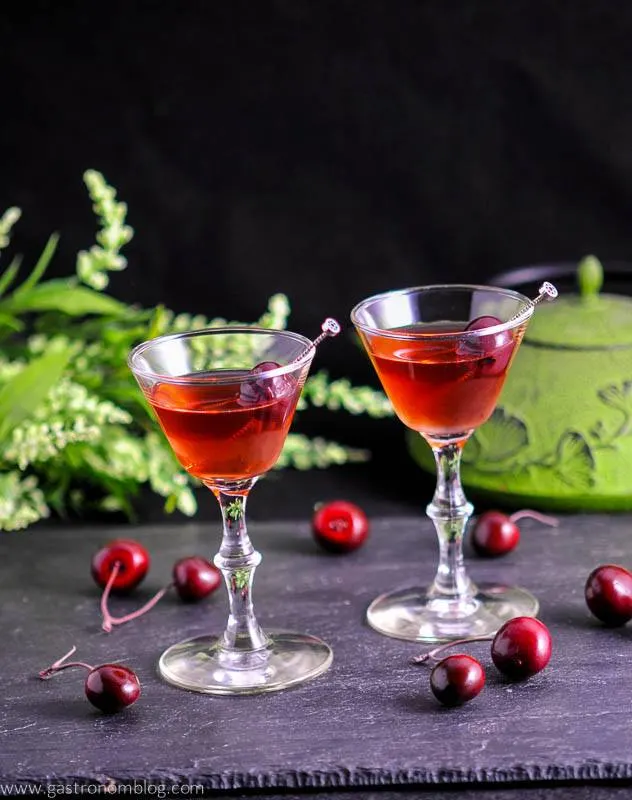 The Cherry Blossom – A Sake Cocktail
Other Cherry and Whiskey Cocktails
Other Brandy Cocktails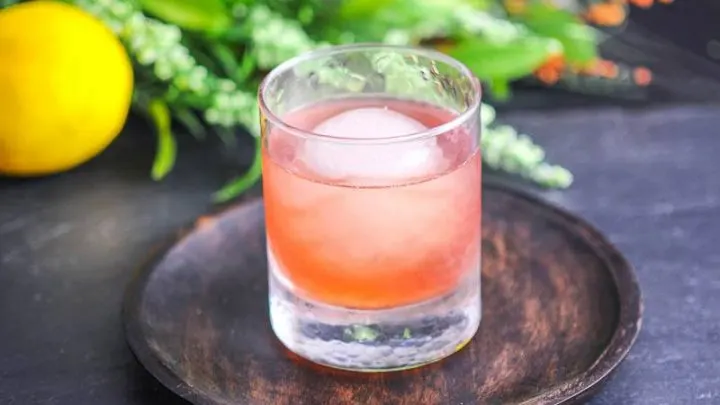 Yield:

1
The Smoked Cherry - A Bourbon and Brandy Cocktail
A sweet cherry cocktail with bourbon and honey brandy that we have smoked with cherry wood.
Ingredients
For the Cocktail
1.50 ounces bourbon
.50 ounce honey brandy
.50 ounce vermouth blanco
1 bar spoon or Tbsp Campari
.25 ounce freshly squeezed lemon juice
4 dashes cherry bitters
cherry wood for smoking
Instructions
Add all ingredients into a mixing glass with ice.
Stir until chilled.
Place a large ice cube into a rocks glass.
Strain liquids into the glass.
Place glass in a container for smoking.
Smoke the cocktail with the cherrywood.
Cheers!
Nutrition Information:
Yield:
1
Serving Size:
1
Amount Per Serving:
Calories:

200
Total Fat:

0.1g
Saturated Fat:

0.1g
Trans Fat:

0g
Unsaturated Fat:

0g
Cholesterol:

0mg
Sodium:

2mg
Carbohydrates:

9.9g
Fiber:

0g
Sugar:

7.2g
Protein:

0.1g
Interested in stocking your own home bar? Make sure to see our favorites at our Amazon Store!
If you liked this post, don't forget to subscribe for new (and of course free) recipes by entering your email address on the side bar (and get all the recipes delivered to your inbox when we post), so you don't miss out on a thing. You can find us on Facebook, Instagram, and Pinterest!
Gastronomblog is a participant in the Amazon Services LLC Associates Program, an affiliate advertising program designed to provide a means for sites to earn advertising fees by advertising and linking to amazon.com