Last Updated on September 17, 2023 by The Noms
A twist on the classic Aperol spritz cocktail recipe using a pineapple infusion. A perfect summer drink or brunch cocktail.
This tropical version of the Aperol Spritz is the perfect drink for relaxing poolside this summer. Or let's be honest, while sitting in air conditioning, because it's hot! The sweet touch of pineapple balances the bitter notes of the Aperol. The combo of simple ingredients is perfectly refreshing for a hot day.
There are many versions of Aperol Spritzes – try our Strawberry Aperol Spritz, Watermelon Aperol Spritz, or more like grapefruit juice, maraschino cherry, blood orange or cranberry juice.
This post contains affiliate links for products that we think you as readers might find useful, and we make commission off of these! For more details about our affiliates, click our Disclosure and Contacts Page.
What is Aperol?
Aperol is an Italian bitter aperitif. An aperitif is a drink served before a meal. Aperol is a liqueur made from gentian, rhubarb, and cinchona. The interesting thing about these flavors is that when served in a spritz and then with an orange the flavors bring out orange notes, which coincide with the color. Those citrus notes are "zesty orange with complex herbal scents harmonized with a touch of vanilla."
A bottle of Aperol is often in a home bar, and you may not know what to do with this bitter liqueur. There are many great drinks using Aperol that are some of the world's favorite cocktails like a Paper Plane, Jungle Bird or an Aperol Soda. So next time, make of of these or an Aperol Spritz.
Aperol is of course used in the classic cocktail, Aperol Spritz. These drinks are refreshing and not overly sweet bubbly cocktails.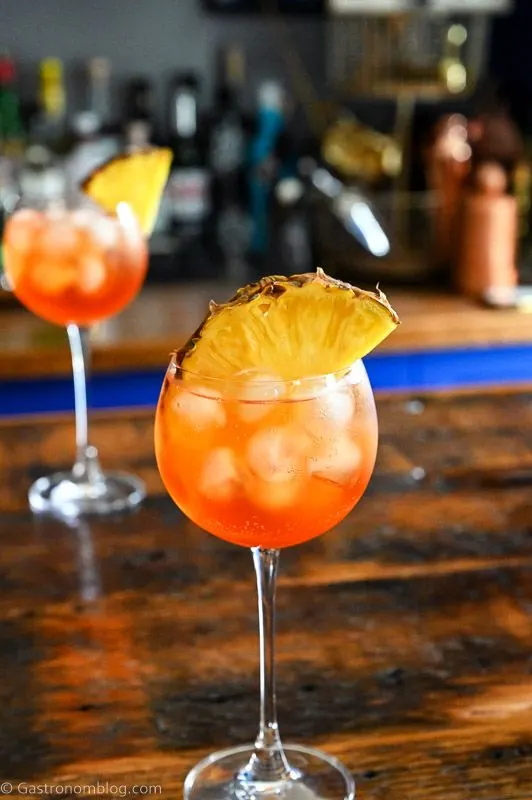 Pineapple Aperol Spritz Ingredients
This great drink, the Pineapple Aperol Spritz requires just four ingredients:
Aperol – Aperol is a bright orange colored apéritif. The flavors are described as zesty orange with complex herbal scents harmonized with a touch of vanilla." It is both sweet and bitter.
Prosecco – Prosecco is an Italian sparkling wine. We recommend using a drier Prosecco, so this cocktail doesn't turn out too sweet. The pineapple will impart some sweetness, so keep that in mind.
Club soda – carbonated water for some more bubbles!
Pineapple Slice – the classic Aperol Spritz usually has an orange slice as a garnish, but we thought a half slice of pineapple would be perfect! Completely optional.
How to Make a Pineapple Aperol Spritz
The beauty of this Pineapple Aperol Spritz is that it is unbelievably easy to make! No cocktail shaker needed. But, we do recommend a jigger to make sure that you have the measurements correct for a perfect cocktail!
Fill a wine glass with ice, then add your pineapple infused Aperol, Prosecco, soda water and the slice of pineapple for garnish!
The only thing you have to plan for with this cocktail is making sure you leave enough time to infuse the Aperol with fresh pineapple. We found this to happen over about 2 days. You can go to 3 days of infusing, but we liked it after about 48 hours!
Simply combine 1 cup cubed fresh pineapple in a jar and top with 1 cup Aperol, or until pineapple is covered up. After infusion is to your liking, strain out the pineapple chunks. (Tips for those pineapple pieces below!)
Then, prepare to make your tropical Aperol Spritzes!
Tips & Tricks
Leftover Pineapple – use those Aperol soaked pineapple cubes on top of ice cream, blend them up in an ice cream shake or just eat them! They are a boozy treat!
Ratios – play with the ratios if you want a sweeter or drier drink. Aperol can be bitter, even with the addition of pineapple, so if you have a sweet tooth use less Aperol and more Prosecco. If you want drier use less prosecco and club soda. Find what you like. If it's not sweet enough, feel free to add a dash of simple syrup!
Garnish – like we said above, we used a half slice of a slice of pineapple for a big, fun garnish. But, feel free to use a slice of orange, orange peel or small piece of pineapple on the rim.
Lower ABV – like the ratios above, play with the amount of alcohol in this if you want. Both Aperol and Prosecco are lower in ABV (10%-12% each), but if you want an even lower ABV for day drinking then use less Aperol and Prosecco and slightly more club soda.
Prosecco – you don't have to use an expensive brand, use what is cheaper and not top shelf. You want the pineapple infused Aperol to shine in this.
Club Soda – to switch it up, feel free to use flavored sparkling water instead of club soda. To keep it tropical we suggest using lime sparkling water or orange. Or, even more tropical would be a coconut sparkling water! Tonic water or ginger beer are also an interesting choice for this summer cocktail.
Pineapple – fresh pineapple is the best choice for this infusion, but in a pinch you can use canned. Make sure to drain the pineapple before using it to infuse. And save that pineapple juice for another cocktail! If you don't have time for the infusion, you can just use some fresh pineapple juice in the cocktail. Measurements could be 1.50 ounces Aperol and .50 ounce pineapple juice, or 1.25/.75.
Other Flavors – if you want to play with other flavors, like taking out some bitter flavors from the Aperol, try these: lemon juice, a dash of triple sec, orange bitters, fresh orange juice, orange zest and more.
Glass – try a large wine glass or big highball for this bubbly recipe.

Cheers!
Also, don't forget to follow us on Instagram and tag #gastronomcocktails so we can see all the wonderful recipes YOU recreate from this site!
You can also subscribe to our weekly newsletter so you never miss a delicious recipe again!
Like this recipe? Try these below, too!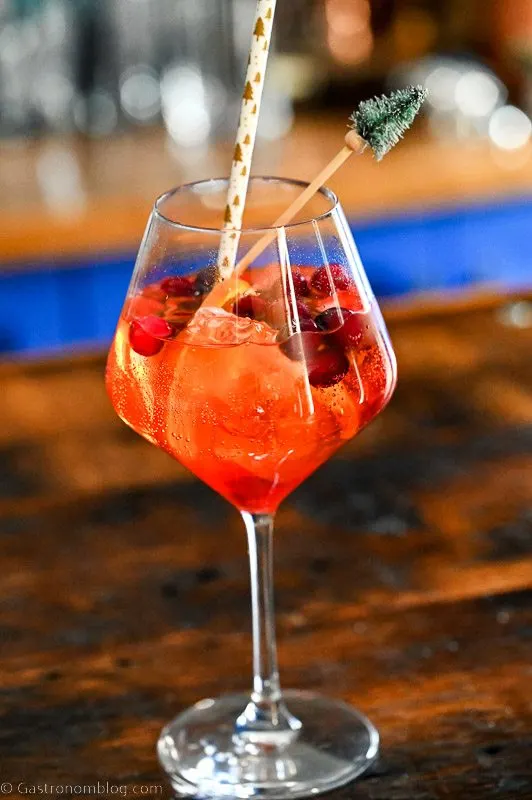 Cranberry Winter Aperol Spritz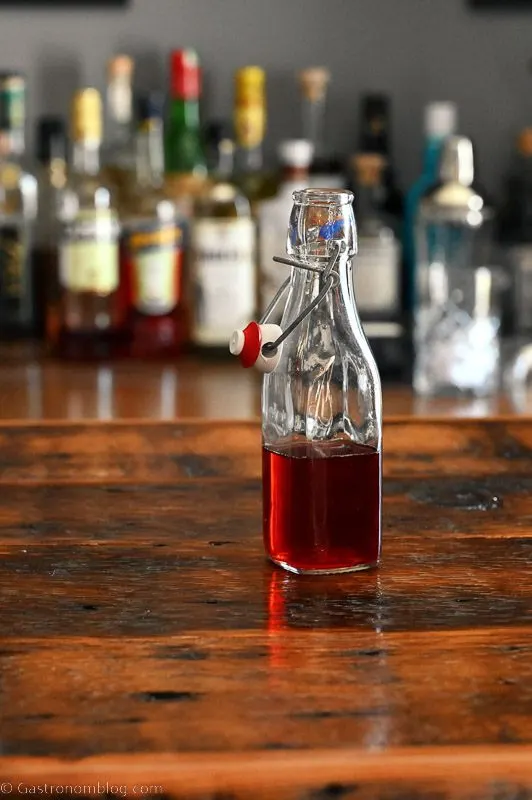 Strawberry Infused Campari
Other Flavored Aperol Spritzes
Yield:

1
Pineapple Aperol Spritz
Tropical flavors abound in these Pineapple Aperol Spritzes, perfect for summer!
Ingredients
2 ounce pineapple infused Aperol
3 ounces Prosecco
1 ounce club soda
Instructions
Pineapple Infused Aperol
Cut 1 cup pineapple into cubes and add into a jar. Add 1 cup Aperol, or more until pineapple cubes are covered. Let sit to infuse for at least 48 hours, longer if you prefer.
Strain out pineapple chunks after infusion is over and store in clean lidded container.
Pineapple Aperol Spritz
1. Fill a wine glass with ice. Add in Club Soda and Aperol. Top with Prosecco.
2. Garnish with pineapple slice.
3. Cheers!
Recommended Products
As an Amazon Associate and member of other affiliate programs, I earn from qualifying purchases.
Nutrition Information:
Yield:
1
Serving Size:
6 ounces
Amount Per Serving:
Calories:

220
Sodium:

9mg
Carbohydrates:

18.5g
Interested in stocking your own home bar? Make sure to see our favorites at our
Amazon Store
!
If you liked this post, don't forget to subscribe for new (and of course free) recipes by entering your email address on the side bar (and get all the recipes delivered to your inbox when we post), so you don't miss out on a thing. You can find us on Facebook, Instagram, and Pinterest!
Gastronomblog is a participant in the Amazon Services LLC Associates Program, an affiliate advertising program designed to provide a means for sites to earn advertising fees by advertising and linking to amazon.com