Last Updated on May 8, 2023 by The Noms
Allspice Dram is a great addition to any cocktail, but especially Tiki Cocktails!
With fall coming, it is the time for everything pumpkin spice and apple cider which means it is time to find new ways to bring delicious warm baking spices into our cocktails. Most people think about cinnamon and nutmeg when you think about warm baking spices, but the folks from the land of Tiki drinks have another spice they love to use in cocktails, allspice!
Allspice commonly finds its way into all kinds of drinks from the Caribbean by way of a special liqueur, Allspice Dram.
This post contains affiliate links for products that we think you as readers might find useful, and we make commission off of these! For more details about our affiliates, click our Disclosure and Contacts Page.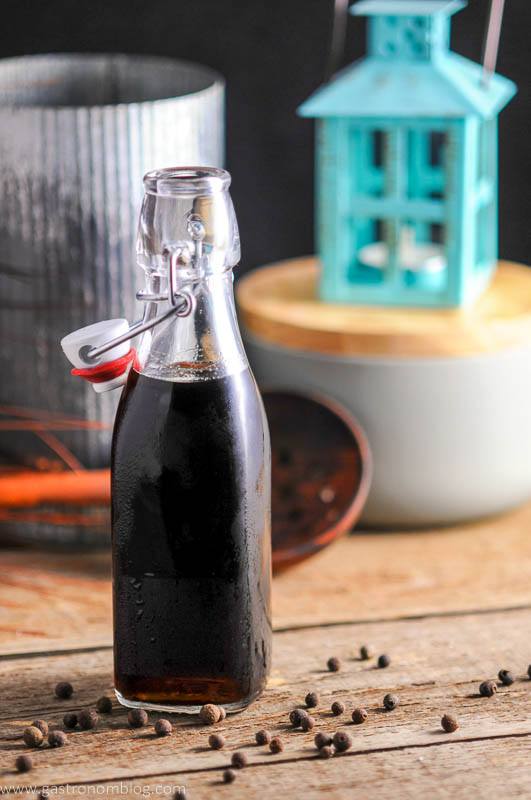 Allspice Dram is a simple, spiced liqueur flavored by the small dried berries of the pimenta tree. The pimenta tree is native to islands like Jamaica and the Greater Antilles and tropical locales around all around the Caribbean and the Gulf of Mexico.
The small dried berries of the pimenta tree are more commonly known as allspice, which is prized for its big bold spice flavor that combines hints of cinnamon, clove and nutmeg (hence its name Allspice!) Once discovered back in the 1500s by European explorers, and prized for its unique spicy berry, it started to be cultivated all over Caribbean colonial locations.
Allspice Dram
With such a great flavor of warming spices, its no wonder that all spice found has found its way all into sorts of Caribbean cuisine, serving as a spice in things from Jamaican Jerk to Mexican Moles. With allspice being so prominent in food, its no wonder it became a flavor that found its way into the cocktails of the Caribbean and the recipe books of famous Tiki icons like Don the Beachcomber in the form of Allspice Dram.
Flip Top Bottles / Cinnamon Sticks / Cheesecloth / Spice Grinder
How To Make Allspice Dram
Allspice Dram is a common ingredient found in tons of Tiki cocktails, where it is used to bring a flavor of warm baking spice and hints of bitterness to the often sweet cocktails. For years, Allspice Dram was hard to find in the United States except at the classic Tiki bars and some very well stocked liquor stores. With the recent revival of the Tiki scene, Allspice Dram has made a comeback and more recipes are calling for the spicy bitterness of Allspice Dram.
What Ingredients are Needed for the Allspice Dram?
Cinnamon Stick
Water
Brown Sugar
Allspice Berries
White Rum
While we could buy Allspice Dram, its fun to make our own blend (it is kind of our thing) and make our own homemade Allspice Dram. Making it homemade let us tweak the spice mix and bring in a bit more cinnamon flavor (or other spice flavors if you are into anise or nutmeg.) But, we wanted to make a DIY Allspice Dram!
Plus making our own let save a little bit of cash (off the shelf bottles tend to be pricey as they are rare) which we could then spend on more rum!
If You Are Looking for More Recipes with Liqueur, Try These!
This was really pretty easy to make, the hardest part probably was the waiting for the spice mix to full infuse the rum used as the base and remembering to give the bottle with the infusions a shake once a day. It is cool to see the rum change colors as the allspice gives up its essential oils, but avoid the temptation to take a taste unless you want to make yourself pucker!
Allspice by itself is very bitter (which is why it is such a unique flavor component.)
Next Steps for Allspice Dram
Until you add the sugar syrup at the end, this mixture is bitter and will completely dry your mouth out. Think about the worst case of cotton mouth you have ever had! The dram needs sweetness to help counter the dry bitterness of the raw spice mixture.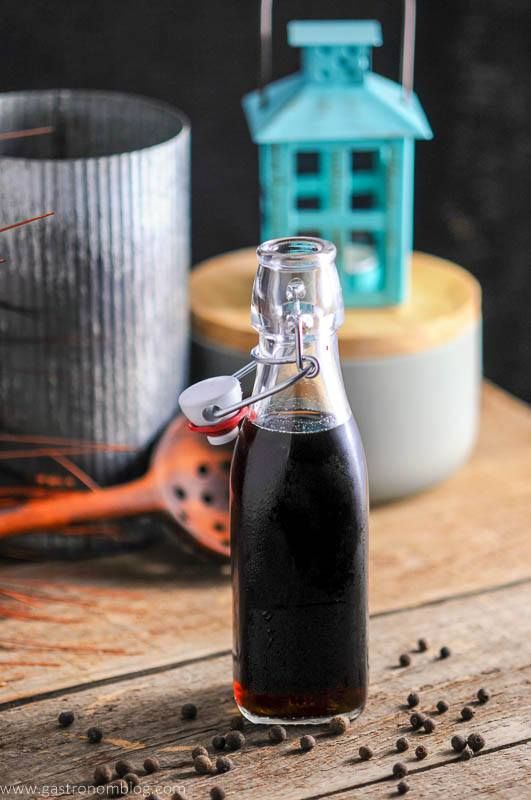 This is another place you can experiment, as different types of sugars (we used simple brown sugar, but demerara is good) can change the flavor of this as well. You can also tweak the amount of syrup to help get your desired taste. Once the brown sugar syrup is added at the end, it brings everything into balance and lets you get a great spicy flavor!
If You Are Looking for More Cocktails with Rum, Try These!
If you are a Tiki fan, you totally need to make this recipe! Be sure to have this spicy super star in your home bar! Make sure to check out our Homemade Banana Liqueur, Peach Liqueur or Salted Caramel Vodka, too!
Cheers!
Also, don't forget to follow us on Instagram and tag #gastronomcocktails so we can see all the wonderful recipes YOU recreate from this site!
You can also subscribe to our newsletter so you never miss a delicious recipe again!
Like this recipe? Try these below, too!
Tropical Rum Punch
Holiday Honey Punch
Other Tiki Ingredients/Tiki Cocktails
Yield:

1
Homemade Allspice Dram Recipe
Total Time:
14 days
10 minutes
Allspice dram is a standard of tiki cocktails, and we made our own homemade version.
Ingredients
2/3 cup whole allspice berries
1 2/3 cups white rum
1 - 2 cinnamon sticks
2 cups water
1 cup brown sugar or demerara sugar
Instructions
Prepare yourself. This is a long process!
Grind allspice in a spice grinder. You want coarse, large pieces, not a fine grind. Or you can use a mortar and pestle for coarser pieces.
Place allspice in a glass jar like a Ball jar with a lid and pour the rum over, making sure to cover the allspice.
Seal and shake well.
Let this steep for 4 days, shake once a day.
On day 5, place the cinnamon stick(s) in. Shake.
After at least a week, still shaking daily, and 12-14 days total steeping, strain through a fine mesh sieve. Then strain again through cheesecloth or a coffee filter into another clean glass jar.
Heat water and sugar on stove over until boiling, stirring, about 5 minutes.
Let the syrup cool, then add it to the allspice mixture.
Shake and then let rest in the fridge for 2-4 days before using. This gives it time to let the solids settle as well, so you may have to strain again to get some more solids out. We store ours in the fridge.
Cheers!
Notes
This will keep for a good long while, especially in the fridge. Ours doesn't last that long, but it will keep for around a year, really well. Cheers!
Recommended Products
As an Amazon Associate and member of other affiliate programs, I earn from qualifying purchases.
Nutrition Information:
Yield:
20
Serving Size:
1
Amount Per Serving:
Calories:

47
Total Fat:

0.1g
Saturated Fat:

0g
Trans Fat:

0g
Unsaturated Fat:

0g
Cholesterol:

0mg
Sodium:

0mg
Carbohydrates:

5.6g
Fiber:

0.3g
Sugar:

4.7g
Protein:

0.1g
PIN THIS HOMEMADE ALLSPICE DRAM RECIPE FOR LATER!
Interested in stocking your own home bar? Make sure to see our favorites at our Amazon Store!
If you liked this recipe, don't forget to subscribe for new (and of course free) recipes by entering your email address on the side bar (and get all the recipes delivered to your inbox when we post). Don't miss out on a thing. You can find us on Facebook, Instagram, Pinterest and Twitter!
Gastronomblog is a participant in the Amazon Services LLC Associates Program, an affiliate advertising program designed to provide a means for sites to earn advertising fees by advertising and linking to amazon.com