Last Updated on April 11, 2023 by The Noms
This easy homemade caramel vodka is fairly quick to make, and will make for some great fall cocktails! Using fresh soft caramels and vodka, you can't beat a simple 2 ingredient homemade liqueur!
Did you know you can make your own flavored liquors by infusing your own flavors? It's super easy and making your own liqueur just requires time. We have been infusing alcohols for a long time, Banana Liqueur, Allspice Dram, Marshmallow infused Mezcal & Stroopwafle infused rum. We also have made liquor infused fruit with our bourbon cherries and brandied cherries – which are great as cocktail garnishes, or just for eating, as well as using the liquid in cocktails!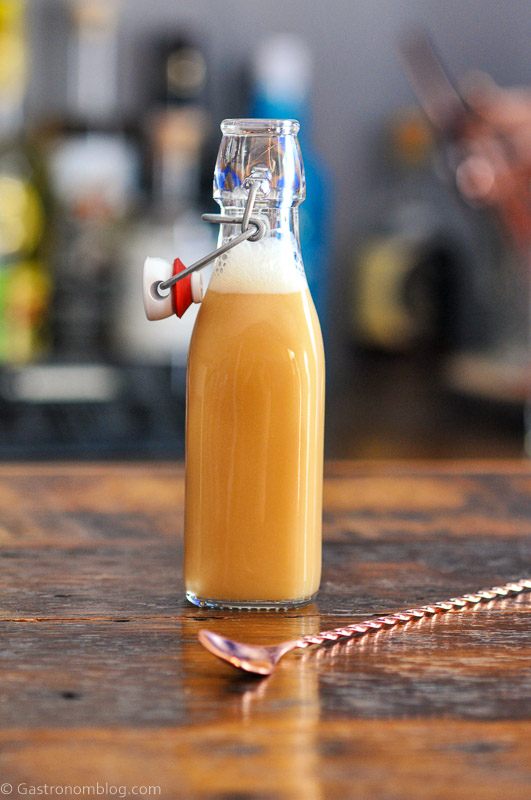 This post contains affiliate links for products that we think you as readers might find useful, and we make commission off of these! For more details about our affiliates, click our Disclosure and Contacts Page.
We have been wanting to make our own caramel vodka for a while now. You will be amazed at just how easy this recipe is. And so were we!
Make sure to note it will not look like the caramel vodka you can find in the store, which is usually a clear vodka, like Smirnoff Kissed Caramel Vodka. This homemade caramel vodka is a little creamier and heavier than the clear vodka. So unless you are wanting a certain look, with clear vodka, this recipe should work well!
Caramel Vodka Infusion Ingredients
This Caramel Vodka is a really easy infusion. For each recipe you are making, you will need:
16 soft (chewy) caramel candies, or baking caramels that are smaller, about 1/3 cup
2 cups of vodka
Make sure to unwrap the caramels, and cut at least in half. This also helps the caramel infuse faster in the vodka, because there's more surface area of the caramels to dissolve.
And then comes the shaking. Twist the lid on the jar securely to give it a really good shaking to get the infusion started. Then let sit in the jar for at least 2 days.
You could stop here, after the infusion, but weren't wild about the white frothy stuff at the top of the infusion. It's probably an additive from the caramel, but we didn't want the layer of that if we could avoid it.
To do this, strain the caramel infusion through a cheesecloth or coffee filter. Make sure these are placed in a fine mesh strainer to get even more stuff out of the infusion. This makes it a little smoother, too!
How Does Caramel Vodka Taste?
It's sweet, but not as much as we thought it would be. You can add salt, it cuts the sweetness and enhances flavor, but we have another post all about that, Salted Caramel Vodka!
There is a buttery caramelized sugar flavor that's strong but not heavy in this liqueur. It feels lighter than Bailey's, it just doesn't have the creamy texture.
Please keep in mind that you can make it less sweet by the number of caramels you use, or play with the ratios to make a whole bottle – but for a whole bottle use at least 25 caramels, we used a whole one pound bag to make a whole bottle of vodka.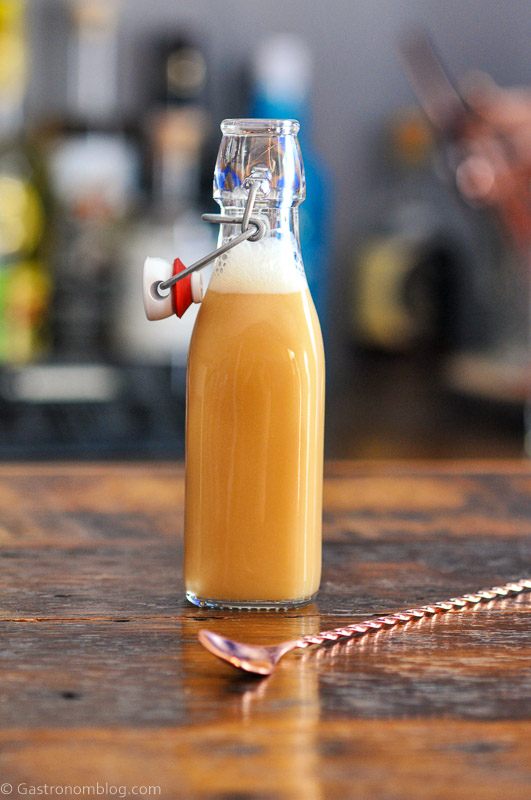 Caramel Vodka Recipe Instructions
This process does take a couple days, between 2-3, so plan that time for the infusion to happen. But, you just have to combine the ingredients, (vodka and caramels) do some shaking of the bottle, then filter, and you have some delicious DIY caramel vodka that will make a great caramel mule or caramel apple mimosa!
How to Store Caramel Vodka
Store in an airtight container. It doesn't need to be refrigerated, it can stay on your bar cart. But, if you make a large batch, make sure to use it within 6 months.
Tips & Tricks
This DIY Caramel Vodka is a great homemade gift for a hostess,or the holiday season. Make a big batch of this caramel flavored vodka, and make sure to save some for yourself before packaging this liqueur up! Put it in a pretty bottle with a bow, and maybe a recipe card with this recipe, or other tasty caramel vodka drinks.
This caramel vodka is a super fun add to desserts, frostings, hot chocolate or even as ice cream topping.
You can make it a salted version with a pinch of sea salt, or using our Salted Caramel Vodka recipe!
This is definitely going on our list of edible Christmas gifts that people will get from us! Versatile and so fun! Try the Salted Caramel Vodka version, too! There is also our Strawberry Infused Campari, too! Make some Vodka Gummy Bears!
Cheers!
Also, don't forget to follow us on Instagram and tag #gastronomcocktails so we can see all the wonderful recipes YOU recreate from this site!
You can also subscribe to our newsletter so you never miss a delicious recipe again!
Like this recipe? Try these below, too!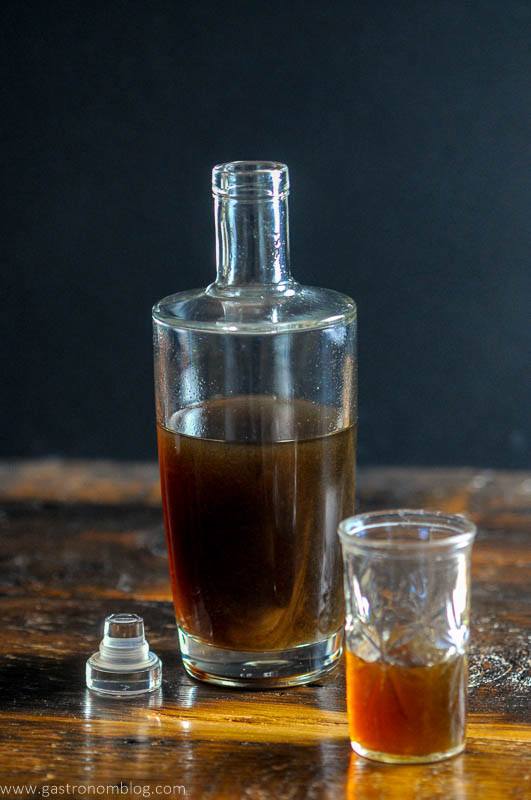 Homemade Banana Liqueur
Homemade Allspice Dram
Other Infused Alcohols
Yield:

2 cups
DIY Caramel Vodka
Total Time:
2 days
5 minutes
This DIY caramel vodka is a great liqueur to use in fall and winter cocktails! Easy to make!
Ingredients
2 cups vodka
16 caramels, unwrapped (or soft meltable caramels, about 1/3 cup)
Instructions
Combine vodka and caramels in a jar with a lid. Shake jar before letting sit.
Shake every 12 hours or so for a couple shakes.
Let sit for at least 2 days - we did this a few times, and it was anywhere between 2 days to 3 days for it all to break down.
Strain out caramel remnants and solids. You can use a mesh strainer and cheesecloth like we did. Or just a coffee filter.
Store in a jar with a lid.
Cheers!
Recommended Products
As an Amazon Associate and member of other affiliate programs, I earn from qualifying purchases.
Nutrition Information:
Yield:
16
Serving Size:
1 oz
Amount Per Serving:
Calories:

103
Total Fat:

.8g
Saturated Fat:

.3g
Cholesterol:

1mg
Sodium:

25mg
Carbohydrates:

7.8g
Sugar:

6.6g
Protein:

.5g
PIN THIS HOMEMADE CARAMEL VODKA RECIPE FOR LATER!
Interested in stocking your own home bar? Make sure to see our favorites at our Amazon Store!
If you liked this post, don't forget to subscribe for new (and of course free) recipes by entering your email address on the side bar (and get all the recipes delivered to your inbox when we post), so you don't miss out on a thing. You can find us on Facebook, Instagram, Pinterest and Twitter!
Gastronomblog is a participant in the Amazon Services LLC Associates Program, an affiliate advertising program designed to provide a means for sites to earn advertising fees by advertising and linking to amazon.com