Last Updated on April 12, 2023 by The Noms
So we made some homemade Banana Liqueur!
What would you do with 80 pounds of bananas? This was a situation that we found ourselves in, when we had a friend drop off two 40 pound cases of bananas! Well one can only make so many loaves of banana bread! With us being enterprising cocktail writers, we started to look for ways to use bananas in cocktails.
This is not as easy a task as you might think! In comes our Homemade Banana Liqueur! I mean, what else do home bartenders do with some fresh bananas? I mean, we do have some Nutella and Banana handpies, but you can only make so many!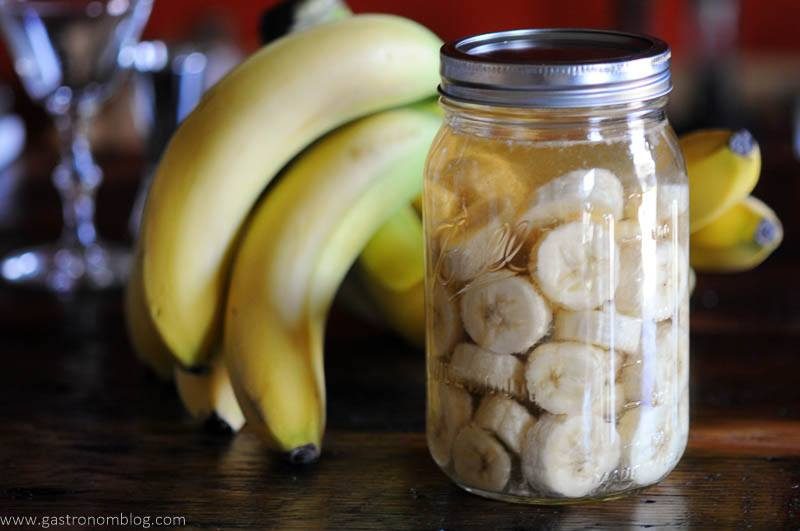 This post contains affiliate links for products that we think you as readers might find useful, and we make commission off of these! For more details about our affiliates, click our Disclosure and Contacts Page.
Banana Liqueur
Maybe it's because bananas don't easily translate into juice, and frankly a mushed banana really isn't the most appealing looking ingredient, but we wanted to start looking for a way to get that banana flavor with out a pulpy, mushy mess! One way to get a flavor is to make an infusion or a liqueur and let the alcohol pick up the flavor while skipping the mess you would get by adding the raw ingredients to your cocktail. You can use all kinds of ingredients to infuse spirits, from fresh fruit, herbs or even things like flowers!
We love making homemade liquors and liqueurs, some of our favorites are Salted Caramel Liqueur, Caramel Vodka, and Peach Liqueur! But, try out the banana liqueur in our Peanut Butter Drink (The Elvis).
Homemade Banana Liqueur
Whats the difference between and infusion and a liqueur? With an infusion, you simply let the spirits pick up the flavors from whatever ingredient you are infusing. To make a liqueur, you infuse a spirit (gin, vodka, whiskey, etc) with an ingredient, and then finish by mixing in some sweetener to create a sweeter flavored spirit.
The mixing in the sweetener reduces the alcohol content down to a lower amount than just the base spirit, making the liqueur smoother. Liqueurs are often used as dessert shots or to add intense bits of flavor to drinks. We made an Allspice Dram, which is an allspice liqueur!
We have been reading about a lot about people using bananas in cocktails, but it had never been an ingredient that we wanted to use. This was because all the banana flavored spirits we had tried tended to be that fake banana flavor that reminded us of horrible kid's medicine. You can use banana peels to make an interesting syrup or oleo saccarum.
When we came into our bounty of bananas, one of our ideas we had was to make a really great DIY banana liqueur. But where to start?
How do You Make a DIY Liqueur?
We did a little research and saw lots of recipes for infusing bananas in vodka, but we wanted something that would be more than just straight banana flavor. Knowing that bananas come from the tropics, why not pair up some bananas with the spirit of the tropics, rum!
Bananas and rum are a great combination. The caramel and vanilla flavors commonly found in rum works very well to pull out and enhance the banana flavor. Besides, the rum as a whole lot more flavor than vodka!
For our homemade banana liqueur, we started out with some beautiful ripe bananas. When we say ripe bananas, we mean those bananas that are still bright yellow, with just a few brown spots. You want a banana that still is firm, but has sweetened up to just before that peak banana flavor. Aka its not the bananas that you want to use for banana bread! Slice the bananas into pieces about 1/4th an inch thick and then put them into a mason jar or airtight container.
We prefer glass over plastic as glass doesn't tend to keep flavors from other foods or drinks that you stored in that container! Try out the banana liqueur in the Cargo Cult, or Peach Zombie cocktail!
Banana Liqueur made with Rum
After filling the jar with the sliced bananas, its time to infuse some rum! Because we are big fans of Tropical drinks, we wanted a banana liqueur that would have a little character. We decided to embrace one of the tenants of Tiki, layering rums! In a lot of Tropical recipes, they blend different kinds of rum together to bring the characteristics of different styles of rum to the drink.
Following in those footsteps, we decided to go with a blend of aged rum and plain white rum. A split rum base is common in classic cocktails using rum, so we kept the idea going for this liqueur. Some great tropical cocktails like the Shipwreck, Coconut Rum Painkiller, or Tropical Rum Punch!
What Ingredients are Needed for the Banana Liqueur?
Bananas (obviously!) – the riper the better. These bananas need to be soft and break down in the rum as it sits for the infusion time.
Aged Rum – aged rum gives the darker flavors to this homemade banana liqueur.
White Rum – gives a little bit of a bite to the banana infusion, and makes the liquid not as dark.
Sugar – this sugar is for the homemade simple syrup that is made over medium heat when the infusion has finished. Plus, simple syrup is always good to have on hand for simple cocktails, so make more than you need and keep some in the fridge!
Why go with this blend of two rums? White rums tend to be light and sweet with a real spicy spirit flavor and light hints of vanilla and brown sugar. The aged rum has a little more mellow flavor, with stronger hints of brown sugar, molasses and hints of winter spices.
When combined together, the two rums bring all these flavors to the banana liqueur. This makes for a richer tropical flavor that really enhances the banana flavor! The split rum base in this banana liqueur is a great addition of the tropical flavors needed. We have toured 2 distilleries with rum making operations – so make sure to check them out, too! KoHana in Hawaii, and Prohibition Spirits in Sonoma, California!
If You Are Looking for More Recipes with Liqueur, Try These!
After a few days of the banana's soaking in the rum, its time to make the liqueur! Most liqueurs tend to be sweeter and lower proof, and this banana liqueur is no exception! After soaking, the banana slices are starting to turn to mush, so we filtered out the banana slices. Once we have the spirits filtered, its time to mix in a little sugar syrup to dilute and sweeten the liqueur.
Once you combine syrup and spirits, its time to mix some banana cocktails! We loved the way that this homemade banana liqueur brought a fresh banana flavor while still bringing a hint of dark tropical sweetness. This flavor worked really well when blended into Tiki cocktails and will definitely transport you right to the tropics! Try our Pineapple Blueberry Mojito!
Tips & Tricks
Gifts – a bottle of banana liqueur would make for a great Christmas present, housewarming gift, or a fabulous birthday present! In pretty glass bottles or jars with a ribbon, add a tag with a delicious cocktail recipe, too!
Mixers – This homemade banana liqueur is perfect in a pina colada, dirty banana cocktail, bahama mama, rum runners, or a classic banana daiquiri! These cocktails are made of tropical flavors like pineapple juice, agave nectar, banana syrup, coconut water, orange juice, lemon juice or lime juice! But, they don't have to be specifically tropical, some other great mixers can be cranberry juice or lemon-lime soda!
Tropical Cocktails – this homemade banana infusion of course makes some great tropical flavors in drinks. But, it also mixes well with coffee liqueur, dark rum, light rum, vanilla vodka, orange liqueur, or even Irish Cream!
Flavor Combinations – if you want to make an interesting twist on this banana liqueur, maybe add some other flavors into it! Some suggestions could be a vanilla pod, brown sugar instead of white sugar, cinnamon stick or fresh sliced ginger, maybe a cinnamon syrup instead of the sugar?
To Serve – other ideas to serve this liqueur, other than your best banana liqueur cocktails could be on vanilla ice cream, chocolate ice cream or shaken up in a cocktail shaker with fresh tropical juice, Angostura bitters and poured into a rocks glass!
If you want another homemade liquor to make, try our Strawberry Vodka!
Cheers!
Also, don't forget to follow us on Instagram and tag #gastronomcocktails so we can see all the wonderful recipes YOU recreate from this site!
You can also subscribe to our newsletter so you never miss a delicious recipe again!
Like this recipe? Try these below, too!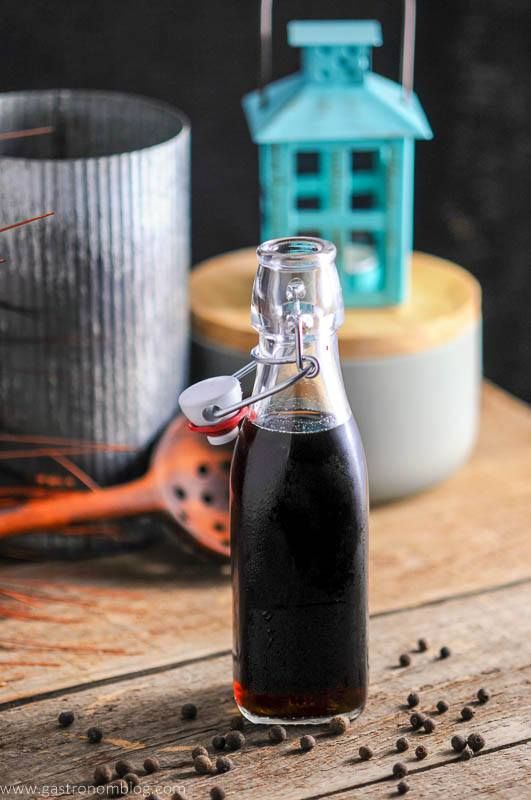 Allspice Dram
Fall in Paradise
Other Homemade Liqueur Recipes
Yield:

1 bottle
Homemade Banana Liqueur
Additional Time:
10 minutes
Total Time:
3 days
20 minutes
This homemade banana liqueur is perfect in tropical cocktails and tiki drinks!
Ingredients
5-6 ripe bananas
1 cup aged rum
3 cups white rum
1 cup sugar
1 cup water
Instructions
Cut bananas into slices. Place in glass jar.
Top with rums and shake.
Seal the lid and let sit for at least 3 days.
When the infusing time is finished, strain out the bananas and throw away.
You may need a fine mesh sieve to get all the particles out.
Heat the sugar and water on the stove, bring to a boil. Let sit to cool.
Pour the rum infusion and the simple syrup into a clean jar or empty liquor bottle.
Cheers!
Recommended Products
As an Amazon Associate and member of other affiliate programs, I earn from qualifying purchases.
Nutrition Information:
Yield:
32
Serving Size:
1
Amount Per Serving:
Calories:

61
PIN THIS HOMEMADE BANANA LIQUEUR RECIPE FOR LATER!
Interested in stocking your own home bar? Make sure to see our favorites at our Amazon Store!
If you liked this recipe, don't forget to subscribe for new (and of course free) recipes by entering your email address on the side bar (and get all the recipes delivered to your inbox when we post), so you don't miss out on a thing. You can find us on Facebook, Instagram, Pinterest and Twitter!
Gastronomblog is a participant in the Amazon Services LLC Associates Program, an affiliate advertising program designed to provide a means for sites to earn advertising fees by advertising and linking to amazon.com