Last Updated on September 17, 2023 by The Noms
Fresh picked summer strawberries are used to make this strawberry infused vodka. The flavor lasts up to 6 months in this fun pick liquor.
If you have ever wondered how to make strawberry infused vodka, it could not be simpler. It involves just a couple of ingredients and very little effort for a delicious flavored vodka with a fun pink color! We have a great Strawberry Simple Syrup too, for all the fresh fruit love!
This strawberry vodka recipe will make some great cocktail recipes like a strawberry vodka martini or a vodka strawberry lemonade.
This post contains affiliate links for products that we think you as readers might find useful, and we make commission off of these! For more details about our affiliates, click our Disclosure and Contacts Page.
The quality of vodka you use for an infused vodka is important. As when you cook with wine, in this recipe only use a vodka you enjoy drinking. Although vodka isn't usually our thing, we make sure it isn't an astringent vodka, and one that the flavor is pleasant. There are some store-bought strawberry-infused vodkas, but we think using simple ingredients to make your homemade strawberry vodka recipe is the way to go.
For the best results of this strawberry infused vodka, use a vodka with a proof of 80 or above. This is so the aromatics of the fruit are drawn out in the alcohol, so the higher the proof the more flavored the resulting vodka will be. The flavor of the vodka is as important as using fresh berries instead of having artificial flavors.
This isn't the time to use a low shelf, cheap vodka. We would advise to use Absolut, Stoli, Ketel One or even Tito's.
How Long Does it Take To Infuse Vodka?
Infuse for 3 to 5 days. Make sure to shake the container the infusion is in daily. The vodka will gradually take on the color of the fruit. Make sure to taste it after 3 days and feel free to keep infusing to your liking. Most fruit vodkas are ready to be used after 3 to 5 days, but you can continue infusing the vodka for longer, if you would like. Just make sure the flavor is what you want to make a perfectly refreshing cocktail.

Usually liqueurs that are sweetened and distilled spirits with added flavors like fruit, spices, or herbs — will last up to 6 months after opening. This goes for homemade liqueurs, too. Liquor that hasn't been sweetened can last longer (but will it last that long, ha!), and give the best flavor for vodka drinks.

How to Make Strawberry Infused Vodka
This Strawberry Infused Vodka makes for a great gift – such a pretty color in a mason jar with a ribbon would make a great housewarming gift or birthday present!
And, it's definitely not labor intensive! Vodka takes on a natural sweetness and lovely color when infused with fresh strawberries. It will take you minutes to put it together and just days for the infusion.
Very quickly the color of the strawberries begins to transfer to the vodka within a day. Just simply have at least a 1/2 cup of fresh cut strawberries in a jar and cover with vodka. After combining the strawberries and vodka, store in a cool, dark place. This could be like a cupboard or your pantry.
Shake the jar at least once a day, and then taste test after at least 2 days for flavor. That's it! And then, you will have your own homemade strawberry vodka perfect to make a delicious cocktail for cocktail hour!
What Alcohol is Best to Infuse in?

Like we said above use a good brand liquor vodka in this recipe. And obviously, we used vodka in this recipe, but strawberry infused gin is delicious, too. Just substitute the vodka for gin! Or whiskey, white rum, or whatever floats your boat.
Then, just use the strawberry vodka in place of regular vodka called for in the cocktail recipe for fresh flavor and color in your drink. Vodka cocktails are great on a hot summer day and this delicious infusion celebrates summer with the strawberry flavor.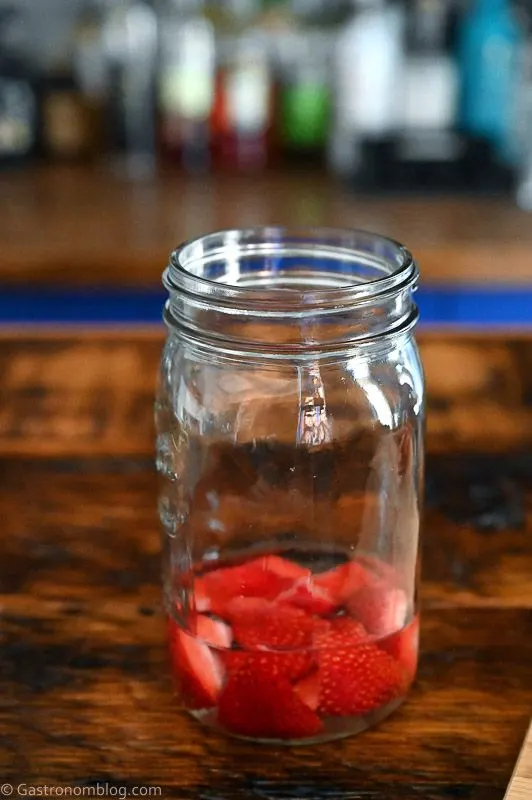 Tips and Tricks
Use fresh and ripe strawberries – the more ripe your berries are, the less time they will need to infuse. You can also use strawberry puree, but you will have to make sure it is extra filtered, either with a fine mesh sieve or coffee filter. The whole berries are easier to strain.
Store in Glass – store your infused vodka in a glass jar or liquor bottle. You can even use the original vodka bottle if you make that much. Plastic isn't advised.
Other flavors – feel free to add other flavorings to the infusion. Maybe a vanilla bean for strawberry vanilla vodka. Or add in different berries like blueberries or raspberries, or fruit like cherries or kiwi. Some other additions could be slices of lemon, lime or orange. Or if wanting some fresh herbs or spices use mint, rosemary, dill or ginger. You can also make other infused vodkas like cherry vodka, pineapple vodka, really anything you can think of!
Mixers – feel free to pair this Strawberry Vodka with fresh lemon juice, lime juice, fresh lemons, fresh citrus, rosè wine, strawberry syrup, cranberry juice, just use lemonade! The possibilities are endless, even feel free to place lemon slices or a sprig of mint in some ice cube trays and freeze some ice to go with this simple recipe. The more simple the ingredients, the more the natural flavors shine. Make a simple recipe in your cocktail recipe and make a great cocktail!
Serve the Strawberry Infused Vodka chilled over ice, or mixed with some club soda, lemon-lime soda or seltzer water. Or, use in our Tropical Vodka Spritzer, Chocolate Covered Strawberry or Hibiscus Salty Dog cocktails! This infusion will make a great Strawberry Vodka Cocktail, by subbing out some boring plain vodka for the tasty strawberry version. (It's also great on vanilla ice cream!)
Cheers! Try our Rhubarb Infused Vodka, too!
Also, don't forget to follow us on Instagram and tag #gastronomcocktails so we can see all the wonderful recipes YOU recreate from this site!
You can also subscribe to our newsletter so you never miss a delicious recipe again!
Like this recipe? Try these below, too!
Strawberry Mimosa
Strawberry Pie Cocktail
Other Infused Liquors
Yield:

8 ounces
Strawberry Infused Vodka
Total Time:
2 days
10 minutes
This strawberry infused vodka is full of summer flavor! Easy to make and and such a fun color!
Ingredients
1/2 cup of cut up strawberries
1 cup vodka
Instructions
Put cut up strawberries into a jar or container with lid. Top with vodka.
Let the infusion sit and shake daily. Test the flavor every day.
When ready, strain out strawberries, and store in a glass jar or bottle.
Cheers!
Recommended Products
As an Amazon Associate and member of other affiliate programs, I earn from qualifying purchases.
Nutrition Information:
Yield:
8
Serving Size:
1 ounce
Amount Per Serving:
Calories:

67
Carbohydrates:

.7g
Fiber:

.2g
Sugar:

.4g
Protein:

.1g
Interested in stocking your own home bar? Make sure to see our favorites at our Amazon Store!
If you liked this post, don't forget to subscribe for new (and of course free) recipes by entering your email address on the side bar (and get all the recipes delivered to your inbox when we post), so you don't miss out on a thing. You can find us on Facebook, Instagram, and Pinterest!
Gastronomblog is a participant in the Amazon Services LLC Associates Program, an affiliate advertising program designed to provide a means for sites to earn advertising fees by advertising and linking to amazon.com