Last Updated on September 17, 2023 by Leah Hall
This Strawberry Simple Syrup is made from scratch and is a homemade recipe. Made with fresh or frozen strawberries, this is a great addition to cocktails or other drinks all season long.
A fresh fruit simple syrup can take a cocktail or drink to the next level. You know our love of flavored simple syrups around here, especially ones made with fresh herbs out of our cocktail garden or with fresh fruit and vegetables!
This post contains affiliate links for products that we think you as readers might find useful, and we make commission off of these! For more details about our affiliates, click our Disclosure and Contacts Page.
Strawberries are one of our favorite fruits to make simple syrup with because this recipe can be made all year long! They are available fresh in season and the flavor goes with so many other flavors.
So, plan on making this strawberry simple syrup as soon as you can!
Homemade Strawberry Syrup
Obviously it would be hard to get strawberry simple syrup at the store, so it's just an ingredient you have to make yourself! But, good news is, it is it so easy to make!
Fresh strawberry season is short and this syrup is a great way to capture the flavor of summer and add it to all your favorite drinks! Try it in our Strawberry Lime Gin & Tonic or Strawberry Samurai!
There are so many reasons for you to make this strawberry simple syrup! We have a bunch of ideas for it below, but we use it most often use it as a cocktail ingredient. We know you are so surprised!
This syrup is also a great way to use up any strawberries that are close to going back, or need to be used quickly!
Can Simple Syrup be Made with Other Fruit?
Yes! Any berry is great, like cranberry, as well as peaches, lemons or rhubarb. You can also infuse it with herbs or spices. There are too many options to name!
How Long Does Fruit Infused Simple Syrup Last?
It depends. Usually a week to 2 weeks in the fridge with no issue, because the sugar is a preservative. But, it can get moldy if you keep it too long.
You should always store your simple syrups in the fridge in an airtight container, we use jars, but anything with a tight lid will do.
Strawberry Simple Syrup Ingredients
Fresh Strawberries – Simply cut off the tops and cut into chunks, and add it to your water and sugar mixture on the stove. Easy!
Sugar – This strawberry simple syrup uses regular granulated sugar.
Salt – we add in a dash of salt when making this recipe to take down the sweetness a bit, and it adds so much flavor!
Strawberry Simple Syrup Recipe Variations
We make this strawberry simple syrup as written usually, but there are also a few changes that you can make to the recipe just to make it more fun!
After making the simple syrup add in some basil or mint leaves in to infuse for about 15 minutes to add an herbal kick.
Add some spice with black pepper!
Sub some of the water for fresh lemon or lime juice and make a citrus strawberry simple syrup.
What Can Strawberry Syrup Be Used For?
Cocktails – obviously. Especially this Tropical Spritzer! Or, our Strawberry Paloma.
Mocktails: If you want an alcohol free drink, this strawberry simple syrup with soda water or in lemonade is an easy hit! Or in a lemon lime soda for a bubbly sip to make a spritzer.
Ice Cream Topping: This fresh strawberry syrup on top of vanilla ice cream is a dream.
Drink Sweetener: Add a little of this to tea (hot or iced) instead of sugar and it's the perfect fruity bit of sweetness.
Tips and Tricks
Simmer around 10 minutes – When making simple syrup, usually we encourage stopping the process once the recipe comes to boil. But, for this strawberry simple syrup, the strawberries need to cook a little longer to break down and get the flavors to infuse longer.
Sweetness Level – If your strawberries are sweeter, feel free to back off on the amount of sugar. But, if they are a little bitter, we encourage you to use the whole amount.
Berries: Strain out the whole berries after this mixture cooks. What we find works best is to use a mesh strainer and push down on the strawberries to get out all the syrup. Or, you can put everything in a blender and then strain after processing.
Frozen Strawberries – If you do use frozen strawberries, thaw them first to drain out excess water.
Large Batch This recipe makes around 2 cups, but can easily be doubled if you want. Simple Syrup is always great for gift giving!
Sugar Free – You can make this recipe healthier and use a low calorie option such as Stevia or Splenda instead of sugar.
Strawberry Vodka – If you are looking for more ways to use up strawberries, may we recommend our Strawberry Vodka!
Other Simple Syrup Flavors
Simple syrup flavor options are pretty endless! We have a lot already, linked above and below, with more to come like lilac!
Cheers!
If you are looking for other things to do with strawberries, may we recommend our Strawberry Infused Campari!
Also, don't forget to follow us on Instagram and tag #gastronomcocktails so we can see all the wonderful recipes YOU recreate from this site!
You can also subscribe to our newsletter so you never miss a delicious recipe again!
Like this recipe? Try these below, too!
Hibiscus Simple Syrup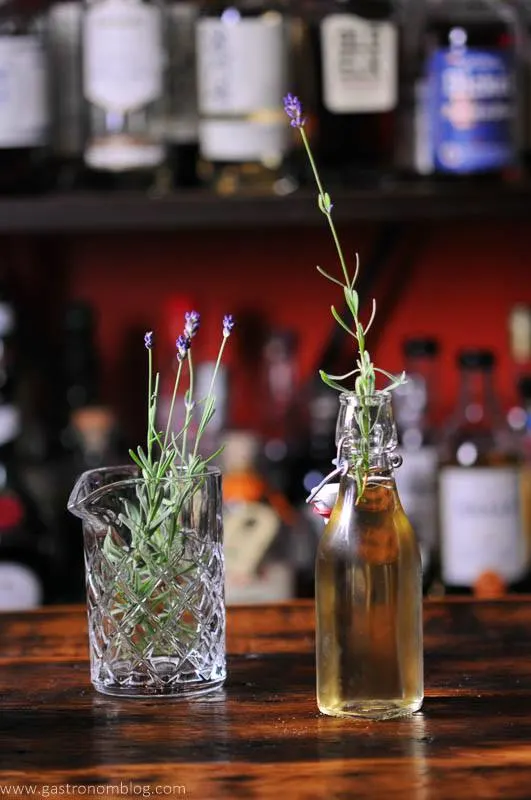 Lavender Simple Syrup
Other Simple Syrup Recipes
Yield:

2 cups
Strawberry Simple Syrup
Additional Time:
30 minutes
This homemade Strawberry Simple Syrup is a great way to use fresh or frozen strawberries, and a great way to preserve the flavors of summer!
Ingredients
1 cup sugar
1 cup water
1/2 cup strawberries, quartered (about 1/2 a cup)
dash of salt
Instructions
Combine all ingredients in a small saucepan over medium high heat. Bring to a boil and then turn down heat and simmer for at least 10 minutes.
Strain with a mess strainer into a jar, pressing down onto the berries to extract all syrup.
Let the syrup cool and then store in the refrigerator in an airtight container.
Cheers!
Recommended Products
As an Amazon Associate and member of other affiliate programs, I earn from qualifying purchases.
Nutrition Information:
Yield:
16
Serving Size:
1 ounce
Amount Per Serving:
Calories:

48
Carbohydrates:

12.9g
Fiber:

.1g
Sugar:

12.7g
Interested in stocking your own home bar? Make sure to see our favorites at our Amazon Store!
If you liked this post, don't forget to subscribe for new (and of course free) recipes by entering your email address on the side bar (and get all the recipes delivered to your inbox when we post), so you don't miss out on a thing. You can find us on Facebook, Instagram, and Pinterest!
Gastronomblog is a participant in the Amazon Services LLC Associates Program, an affiliate advertising program designed to provide a means for sites to earn advertising fees by advertising and linking to amazon.com