Last Updated on September 17, 2023 by The Noms
This grown up version of the classic mocktail, the Shirley Temple, has vodka added. 3 simple ingredients make this the "it" drink of this summer.
So, the Dirty Shirley cocktail. But, before we can talk the Dirty Shirley recipe, we have to talk about the classic Shirley Temple. Long before cocktail bars or even restaurants had a spirit free menu section, the Shirley Temple, named for the 1930s movie star, was the option for people not drinking and children alike. Along with the Arnold Palmer or Roy Rogers, the Shirley Temple was a fun thing to order!
This post contains affiliate links for products that we think you as readers might find useful, and we make commission off of these! For more details about our affiliates, click our Disclosure and Contacts Page.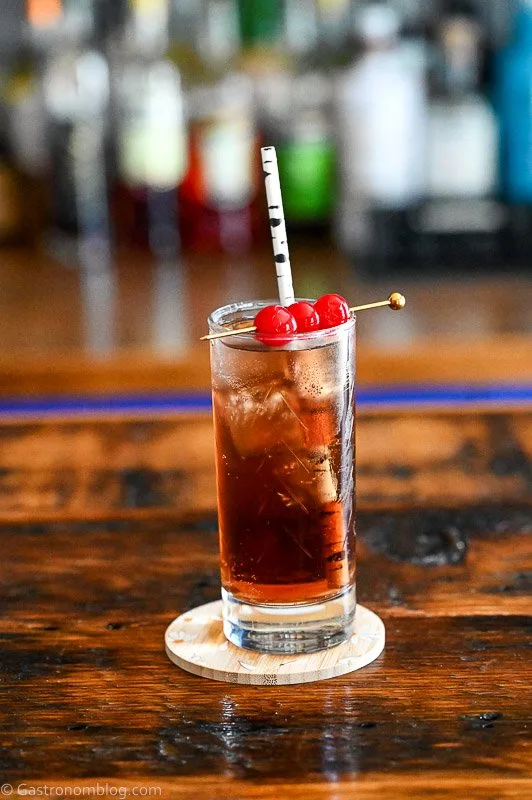 You may remember it as a bright red sweet mix of lemon lime soda and grenadine, garnished with a bright red maraschino cherry, while parents had booze, but you felt just as fancy!
I am sure that adults have been spiking their childhood favorite mocktail for years. But, The New York Times seems to have raised more than a few eyebrows when it published a piece asking if the Dirty Shirley was 2022's drink of the summer. So here we are. You be the judge.
Dirty Shirley Temple Cocktail
The drink seems to have come about in the 1930s or 1940s, when Shirley Temple was a star onscreen. Some top restaurants and hotels like the Brown Derby and Chasens in Los Angeles and The Royal Hawaiian Hotel in Waikiki have all laid claim to making it. Rumor is that it was invented because she was still a child and attended a lot of celebrity parties, but obviously couldn't drink. made of easy to find bar ingredients: grenadine, soda and maraschino cherries.
Apparently Temple wanted nothing to do with the beverage: "The Shirley Temple? Those saccharine, icky drinks?" she complained about them in a 1985 NPR interview. She even went to court twice to stop companies trying to sell a bottled version of the drink.
It is a sweet, slightly tart and delicious balanced drink easily made in minutes.
Dirty Shirley Ingredients
The list is made up of 3 simple ingredients.
Lemon Lime Soda– we have had some with ginger ale, but lemon lime soda is the classic ingredient.
Grenadine– Read the section below all about grenadine. No, grenadine isn't cherry flavored. I know everyone thinks it's cherry and bright red colored. This is not true. And, it actually completely changes the flavor of this cocktail. And even a classic Shirley Temple.
Vodka– it's the most essential ingredient to make this cocktail Dirty! Any vodka brand will do. The important part here is the grenadine and lemon lime soda in our opinion.
Garnishes– Extra cherries, because duh. Lemons or limes are also a great touch.
Grenadine
What is grenadine? Yes, there is bright red grenadine at the store, easy to buy, super sweet and basically just adds sickly sweet flavor to drinks. True grenadine isn't bright red, and (surprise) not made with cherries as most people believe.
Obviously, store bought versions are the easiest way to go, but full of corn syrup and food coloring. You can buy true pomegranate grenadine online, or make your own homemade version. Yes, grenadine is made with pomegranate, and not cherry.
It is a non-alcoholic syrup that is actually a dark red. It can still give a reddish or pink tint to drinks, but most of the homemade versions we have seen, it is darker. But, look for all natural grenadine and you can avoid the sickly sweet dyed grenadine. We suggest Liber & Co, Giffard, or Liquid Alchemist.
How to Make a Dirty Shirley
Honestly, it's so simple that we really shouldn't need to write out the steps.
Use a highball glass, and fill it with ice cubes. Pour in your vodka, grenadine, then top with lemon lime soda. You may have to stir it. If you leave it unstirred it will be layered, which can be pretty, but not very drinkable.
Garnish the cocktail with cherries or lime slices or both!
Dirty Shirley Recipe Tips & Tricks
Flavored Vodka – Replace the plain vodka with cherry vodka, vanilla vodka, or whipped vodka for added flavor and switch it up.
Ginger ale – Swap out the lemon lime soda (Sprite or 7Up) with some ginger ale. This can also be said of ginger beer if you want a big kick of ginger.
Orange Juice or Triple Sec – add this to the mix and it gives it a bit of a tropical kick.
Lime Juice – add in some fresh lime juice which can balance the drink even more. .25-.50 oz is perfect.
Garnishes – Mint or basil leaves give a great herbal touch, as well as fun to smell while drinking.
Big Batch Dirty Shirley Recipe
Making a large batch of a cocktail is a great way to keep things simple for your backyard barbecue or party. These easy cocktails can be made in large quantities and served out of a punch bowl.
A few tips –

Chill all your liquids first.
If you make the ice cubes out of lemon-lime soda, and not water, means no watered down punch! Or, if you want ice, then let people get their own, and don't add to the punch bowl.
Don't pour soda in until right before serving, as it will go flat.
Because this is simple, it can be the perfect drink to make ahead of time. Multiply the recipe by the number of guests (plan for more than 1 drink each!)
What Vodka to Use in a Dirty Shirley?

Any that you like. Vodka is pretty interchangeable, so use what you like!
The drink is fun, bubbly, and sweet. You can adjust the ratios and switch out the ingredients to make the fun nostalgic cocktail perfectly suit you. Just don't forget those bright red cherries!
Cheers!
Also, don't forget to follow us on Instagram and tag #gastronomcocktails so we can see all the wonderful recipes YOU recreate from this site!
You can also subscribe to our newsletter so you never miss a delicious recipe again!
Like this recipe? Try these below, too!
Superlative Juvenile Cocktail
Tart Cherry Cocktail
More Easy Cocktails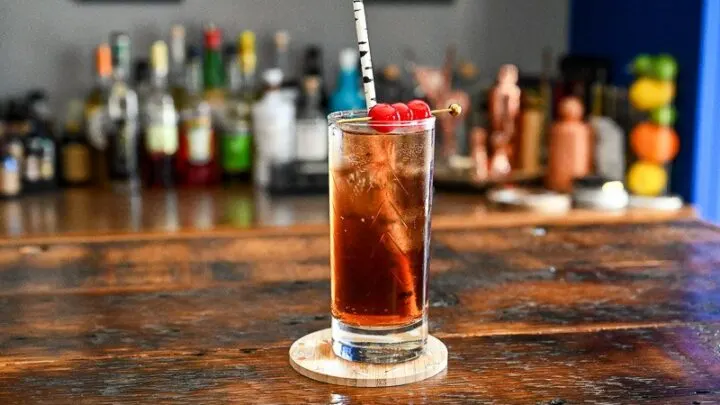 Yield:

1
Dirty Shirley Recipe
This Dirty Shirley Recipe is the "It" cocktail of 2022. Let's see what you think!
Ingredients
2 ounces vodka
1 ounce grenadine
4-5 ounces lemon lime soda
Instructions
Pour vodka and grenadine into tall, ice filled glass.
Top with lemon lime soda, stir if desired.
Garnish with maraschino cherries.
Cheers!
Recommended Products
As an Amazon Associate and member of other affiliate programs, I earn from qualifying purchases.
Nutrition Information:
Yield:
1
Serving Size:
8 ounces
Amount Per Serving:
Calories:

271
Sodium:

2237mg
Carbohydrates:

37.6g
Sugar:

37.6g
Interested in stocking your own home bar? Make sure to see our favorites at our Amazon Store!
If you liked this post, don't forget to subscribe for new (and of course free) recipes by entering your email address on the side bar (and get all the recipes delivered to your inbox when we post), so you don't miss out on a thing. You can find us on Facebook, Instagram, and Pinterest!
Gastronomblog is a participant in the Amazon Services LLC Associates Program, an affiliate advertising program designed to provide a means for sites to earn advertising fees by advertising and linking to amazon.com