Last Updated on September 17, 2023 by The Noms
We recently visited Hell's Backbone Grill and Farm in Boulder, Utah, while we visited 3 of the 5 national parks in Utah. They focus on sustainability, justice and their intention to be a benefit to their location in Utah with plant based cuisine in a beautiful and casual setting.
Boulder, Utah is a tiny town, but it is a picturesque desert mountain village. It seems to be the most remote little town in the lower 48 states, and is the gateway of Grand Staircase-Escalante National Monument, surrounded by canyons, rocks and desert. But, food-wise, Boulder has eating establishments that rival any big city! Between Hell's Backbone Grill and Sweetwater Kitchen at Boulder Mountain Guest Ranch, we ate very well in the 2 days we were there.
This post contains affiliate links for products that we think you as readers might find useful, and we make commission off of these! For more details about our affiliates, click our Disclosure and Contacts Page.
We got to enjoy a fantastic farm-to-table meal after a day of hiking in the surrounding rock formations under those wide open Utah skies. If you are in the area between Capitol Reef and Bryce Canyon, stop in for dinner to have our same experience!
Hell's Backbone Grill History
Over two decades ago, Jen Castle and Blake Spalding had a wild idea to open up an ethical and locally based destination restaurant in one of the most remote towns in America. Hell's Backbone Grill & Farm, is located in Boulder, Utah, population 400 (in 2020).

This woman owned restaurant operates using Buddhist principles: commitment to sustainability, environmental ethics, and community responsibility. They serve organic, locally produced, regional and seasonally appropriate ingredients, growing much of their produce on their own 6 acre farm. Produce includes veggies, fruits, herbs, flowers and greens. The fruit comes from Boulder's heirloom orchards, and meat from local ranchers.
They have chickens to provide eggs for meals, greenhouses for when the weather gets cooler, and they grow near to 20,000 pounds of produce in a year. They serve ingredients fresh, or they preserve them by freezing it, drying it or using it in another way to make sure each bit is used.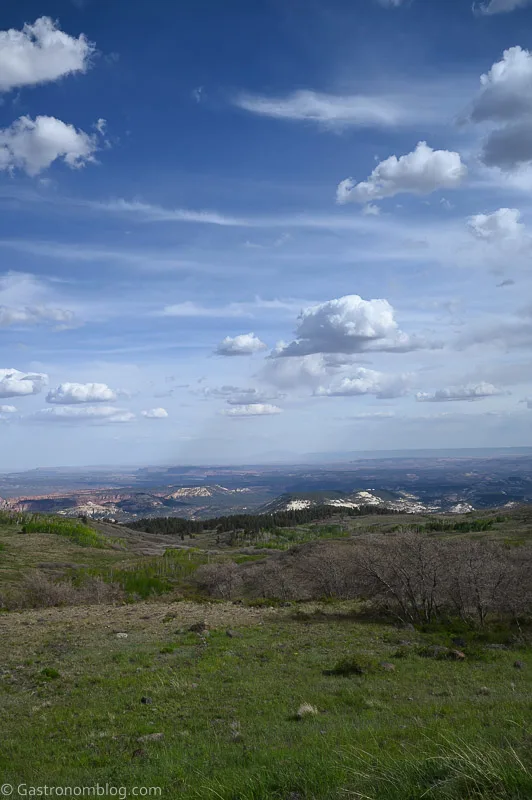 Hell's Backbone Grill
The restaurant is rustic chic, and the only dining is outside for right now. The patio is spacious, light and airy. Located right off of Highway 12, which is scenic (and amazing by the way), it's on the same highway that goes to both Capitol Reef and Bryce Canyon National Parks.
This is a great destination – there are just a few places to stay in or near town, but a great stopping point, and makes for a dinner you won't forget.
Hell's Backbone Grill has gotten a lot of accolades and awards such as high Zagat ratings, James Beard Award semifinalist in 2017, 18, 19, finalist in 2020 and and a semifinalist for "Outstanding Restaurant in 2022.
They have their own cookbooks so that you take cook up some of your favorite flavors at home. With a Measure of Grace and This Immeasurable Place are available on Amazon or on their website. They also offer items for sale to take home. We took home the Cinna-Graham pancake mix, the Dark Magic Gingerbread mix and the lavender grinding salt.
The restaurant serves a style of "Four Corners Cuisine". It is an updated combination of cowboy classics, Mormon recipes, and traditional Southwestern fare. But, American fare that is elevated like meatloaf, roast chicken and buttermilk biscuits, that are right next to Southwestern items like posole and a quesadilla. Pick from menu options including small plates, salads, chicken, beef, veggies, fish, and more. Dogs are welcome to join you at their pet-friendly community table while you enjoy your meal.
Their drink menu consists of Utah spirits and micro-brewed beers. The wine list is extensive, too.
2022 is their 23rd season, and they are open spring through fall only. Usually mid March through November.
Dinner Offerings
If you don't think dinner reservations are necessary in a tiny town of 400, think again. Hell's Backbone Grill has been packed since its opening in 1999. Because their menu changes frequently, the lines here can be long and you may have a wait. They don't take reservations for less than 10. We went on a Saturday evening, but early, and had no problem getting right in, but it got busier as the night went on.
The menu changes seasonally, from what is available on their farm. Favorite items seem to be the Backbone Salad, Jenchiladas or pan seared Trout followed by the Dark Magic Pear Gingerbread or seasonal fruit crisp. We think the best kept secret are the Blue Ribbon Black Powder Biscuits that are served with sage butter. According to the kids these were worth the drive alone.
The biscuits were easy to order, but considering everything on the menu looked good, we had a hard choice ahead of us. So, we started to order after receiving our mint leaf topped glasses of water and got down to business.
We ordered another appetizer, the She Deviled Farm Eggs, spiced up with habenero and lime juice!
What we Ate for Dinner
To drink Jay ordered the Barbacoa. It was a lovely combo of Wahaka Mezcal, chipotle puree, honey, simple syrup and lemon juice. It was spicy and rich. My first and Jay's second cocktail were the same: the Rye & Jam. It was a lovely combo of High West Double Rye, Calvados Claque-Pepin Vielle reserve, house-made crabapple jam and lemon. As you can tell, it was tasty, as we both ordered it!
My second cocktail was the Hellfire Margarita with Arette blanco tequila, cointreau, lime, Bitterman's Hellfire bitters and jalapeno, which was also spicy, but cooling at the same time.
Our food started arriving and the older boy had gotten the Moky Mac which he dived right into. It was baked Mac & Cheese with green chilies, roasted tomatoes and corn. The younger boy was far more adventurous and ordered a cup of the Jalapeno Avocado soup, a well as a bison and beef skewer. As well as hot sauce, their "She Devil" sauce! The skewer was topped with a cilantro gremolata, and was bright and tasty!
Jay and I wanted to try a lot of things, so we decided to share a few small plates! This included the Three Sisters Posole, Smoked Trout & Pecan Pate, Green Chile Meatballs and Farm Asparagus & Spring Peas salad.
The Three Sisters Posole was full of flavor with black beans, red posole corn, butternut squash and green chile. It is a great vegan option on the menu, and when we asked what the one thing we should order on the menu was – this was the answer!
The Smoked Trout & Pecan Pate was full of smoky flavor and served with fresh veggies. The Green Chile Meatballs were spicy and rich. But, by far our favorite was the Farm Asparagus & Spring Peas salad. It was on the dinner specials menu for the night, so not a regular attendee to their menu. But, the freshness of the sauteed asparagus, peas and shallots on top of polenta was absolutely amazing. With fresh shaved Parmesan and mint, this was the winner and Jay and I couldn't get enough!
We finished the meal with dessert. Although really we were too full, and we took some dessert to go, for later. But, the kids really wanted dessert, so we agreed to split some. We had the Strawberry & Lemon Poppyseed Bread Pudding with white chocolate creme anglaise, it was sweet and light because of the lemon, but the white chocolate made such a decadent touch that it was so tasty.
We then had the aforementioned Dark Magic Pear Gingerbread, which was oh, so decadent. It was warm with vanilla ice cream and a salted butterscotch sauce that almost made us lick the plate. There is a reason the mix came home with us!
We hope this had made you hungry and that you make sure to add Hell's Backbone Grill to your list of must visit restaurants. As well as visiting the lovely National Parks in Utah, they make a fabulous dinner that we will talk about for a long while!
Boulder, Utah
Boulder, Utah isn't a big town, there are 400 or so residents. Being that the population is so small, there aren't many places to stay. But, Hell's Backbone Grill is attached to Boulder Mountain Lodge. So, if you are interested in eating at Hell's Backbone Grill this is a great option. But, we also suggest Boulder Mountain Guest Ranch, where we stayed.
Plus, the whole area has things to do and see. It's a gorgeous part of the country, and can be enjoyed by all. Make sure to check out a whole Utah National Parks Road Trip Itinerary!
Boulder, Utah Lodging
Other Restaurants
There aren't many – but there are some other options in the area.
Things to do in the Area
Tips and Tricks

Hours and Location
20 North Highway 12, Boulder, Utah
4-9 pm daily, on the patio
Cheers!
Also, don't forget to follow us on Instagram and tag #gastronomcocktails so we can see all the wonderful recipes YOU recreate from this site!
You can also subscribe to our newsletter so you never miss a delicious recipe again!
Like this post? Check these out below, too!
Matheson Restaurant, Healdsburg, California
Corvino Supper Club, Kansas City, Missouri
Interested in stocking your own home bar? Make sure to see our favorites at our Amazon Store!
If you liked this post, don't forget to subscribe for new (and of course free) recipes by entering your email address on the side bar (and get all the recipes delivered to your inbox when we post), so you don't miss out on a thing. You can find us on Facebook, Instagram, and Pinterest!
Gastronomblog is a participant in the Amazon Services LLC Associates Program, an affiliate advertising program designed to provide a means for sites to earn advertising fees by advertising and linking to amazon.com