Last Updated on September 17, 2023 by The Noms
This "German Steamworks", Dampfwerk Distillery in located in the twin cities, specifically in St. Louis Park, Minnesota. They are a micro-distillery that produces European style fruit brandies, herbal liqueurs, gin, aquavit and whiskey.
Let me just start this post by saying how excited we were to finally go to Dampfwerk Distillery while we were in Minnesota. You will see why below!
This post contains affiliate links for products that we think you as readers might find useful, and we make commission off of these! For more details about our affiliates, click our Disclosure and Contacts Page.
Dampfwerk Distillery (the name comes from the German words "steam works") is a family distillery located in St. Louis Park, Minnesota. (Make sure to check out the Hewing Hotel if you are staying in Minneapolis, Minnesota.
They have created a cocktail lounge to capture the sociable drinking culture of Germany in this Minneapolis suburb.
Dampfwerk is a family run mirco-distillery that has built their reputation on fruit brandies. This is a definite change from the usual distillery trend of vodka. gin, or whiskey and then repeat/different iterations. Ralf Loeffelholz is German and his passion subtle and not subtle seasonal flavors and spirits is evident in their products. His upbringing in Germany comes with long forgotten recipes and memories of beloved spirits drank in different regions of the country.
What made us to excited about Dampfwerk Distillery is a proper brandy sipping culture in a distillery. In their dark and elegant taproom, their spirits program is focused on intensely flavored European style fruit brandies and liqueurs.
German-style spirits in Minnesota, that's what to expect when visiting!
Start of Dampfwerk Distillery
As a chemical engineer, Ralf Loeffelholz spent most of his professional career optimizing breweries and production facilities. When Ralf moved from Germany, he noticed that some German beers and sausages made it to the US, but never any of the niche offerings he grew up with. He wanted to change that. He wanted things that felt more like home, so, with his wife Mary, opened Dampfwerk Distillery in 2015.
Dampfwerk Distillery references their 200-year-old German recipe book. Using methods like a slowed down distillation for their gins and skin on fermentation for brandies, Dampfwerk calls their process the road less traveled. And it's a path we were glad to taste and enjoy!
Dampfwerk Distillery
Not only does Dampfwerk make European style fruit brandies, they make gins, aquavit and herbal liqueurs, all with an American twist. The spirits are designed to be enjoyed with family and friends. (ok, done!)
Their 3,000 square foot Instagram worthy cocktail room features a fireplace, large tables and other comfy seating. At the bar, the focus is on neat spirits, flights, and classic cocktails. There is a patio (we didn't see it) which features space heaters and gas fire pits for cooler days and nights.
Knowledgeable bartenders will walk you through tastings or their extensive cocktail menu. We can attest to the tastiness of the brandy flight as well as the liqueur tasting. They definitely showcased superior customer service, and talking about the history of their German style distillate.We talked especially with Graham, but everyone behind the bar was helpful and knowledgeable.
Dampfwerk Distillery is a high class destination that pays the utmost attention to detail. They offer bar snacks and charcuterie as well as the extensive cocktail list or tasting menu.
At their core is a commitment to simplicity and precision using old-school, German distilling traditions. They use custom, hand-hammered copper stills they imported from the Black Forest in Germany.
What Liquors do They Produce?
Their Barreled Apple Brandy is made with Minnesota apples. It is aged for a few months in stainless steel and then a portion further aged in French oak barrels and blended back. The French oak is there to give a mellower wood flavor.
They also make an immature grape brandy made from local Frontenac Gris and Blanc grapes blended with Sabrevois with a peachy and citrus aroma aged in oak less than 2 years. Pear brandy which is floral and fragrant with hand selected Bartlett pears. London Dry Gin, Barreled Gin with floral notes, floral Crane Gin with notes of rosemary, chamomile, lavender and clove with juniper.
Other Liqueurs are the Rabbit in the Rye, a bitter and spicy warming sip, the Pfeffersack, an herbal bitter liqueur with saffron and myrrh. The Pfefferminz³ is Northern German peppermint liqueur best served frozen.
They make a Aquavit in the Northern German way and has a bourbon infusion.
What Did we Drink at Dampfwerk Distillery?
We sat at the bar, which makes for the best bartender interaction. We started out with 2 drinks at the top of the menu: first, their Peachi-Oh! Negroni: peachie-o infused Crane gin with their Helgolander. The second, their Weekly cocktail with had rhubarb for the seasonal aspect and featured gin, apple brandy, and Helgolander.
We then got a charcuterie tray, as we wanted to try some flights, and tried the Brandy flight which featured their 4 brandies: apple, pear, barrel aged apple, and immature grape. Then we tried the herbal liqueur flight with Rabbit in the Rye, Helgolander, Pfefferminz³, and Pfeffersack. This was a lovely way to end, but then we decided to have 2 more cocktails!
We had the Pink Panther featuring aquavit and Helgolander, and the Smoke on the Water with American Single Malt and Pfeffersack. Do you see why we came home with the Helgolander?
They also have a selection of fish dishes, a cheese board, bon-bon selections, snacks and ice cream. Truly something for everyone, especially while doing flights.
Does the Dampfwerk Distillery Offer Drinks?
Yes! As we stated above, they have a great cocktail drink menu!
What Days is Dampfwerk Distillery Open?
Tuesday-Thursday 5-10, Friday and Saturday 5-12.
As people enjoy more and more ways to enjoy classic cocktails with modern twists, they can still be hesitant to try brandy on its own. In this case, we think it should be embraced, as these are made with care and so much flavor.
Cheers!
Tips & Tricks
Bar – sit at the bar if you can. The tables are great, but at the bar is an informative and fun experience.
Arrive Early – If you want that extra attention from the bartenders, try to get there at opening time. Well worth it!
Flights – order at least one flight – feel free to share with your party, or don't, but worth it to try all the specialty liquors and liqueurs.
6311 Cambridge St
St Louis Park, MN
Also, don't forget to follow us on Instagram and tag #gastronomcocktails so we can see all the wonderful recipes YOU recreate from this site!
You can also subscribe to our newsletter so you never miss a delicious recipe again!
Other Places to Visit
Like this post? Check these out below, too!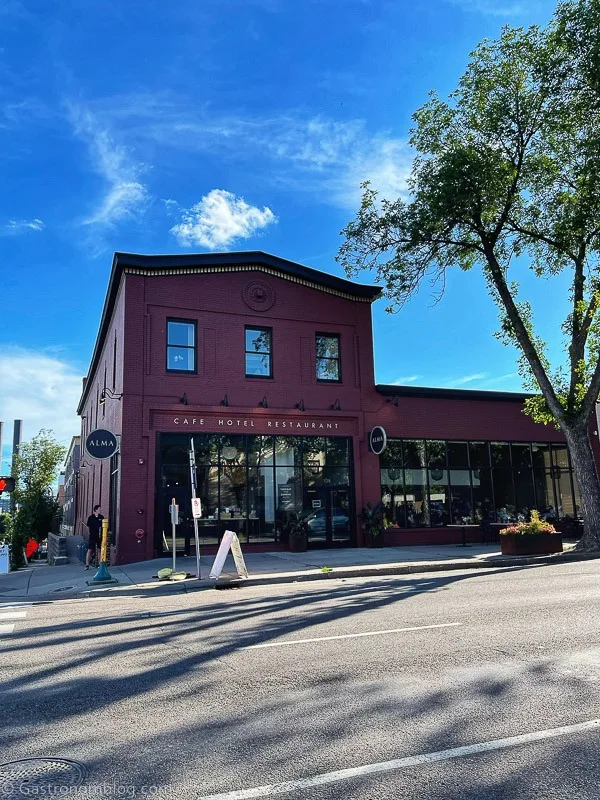 Hotel Alma – Minneapolis, Minnesota
Milk and Honey Ciders – St Joseph, Minnesota
Interested in stocking your own home bar? Make sure to see our favorites at our Amazon Store!
If you liked this post, don't forget to subscribe for new (and of course free) recipes by entering your email address on the side bar (and get all the recipes delivered to your inbox when we post), so you don't miss out on a thing. You can find us on Facebook, Instagram, and Pinterest!
Gastronomblog is a participant in the Amazon Services LLC Associates Program. It's an affiliate advertising program designed to provide a means for sites to earn advertising fees by advertising and linking to amazon.com