Last Updated on June 13, 2023 by The Noms
Milk and Honey Ciders is located in St. Joseph, Minnesota. They serve traditional ciders and Apfelwein in a lovely taproom and patio. This Minnesota hard cider company is a do not miss spot!
Hard Cider as well as regular apple cider has strong American roots. John Adams regularly drank the beverage everyday as president. George Washington even served up 144 gallons of hard cider during his first successful campaign bid to the Virginia House of Burgesses in 1758.
This post contains affiliate links for products that we think you as readers might find useful, and we make commission off of these! For more details about our affiliates, click our Disclosure and Contacts Page.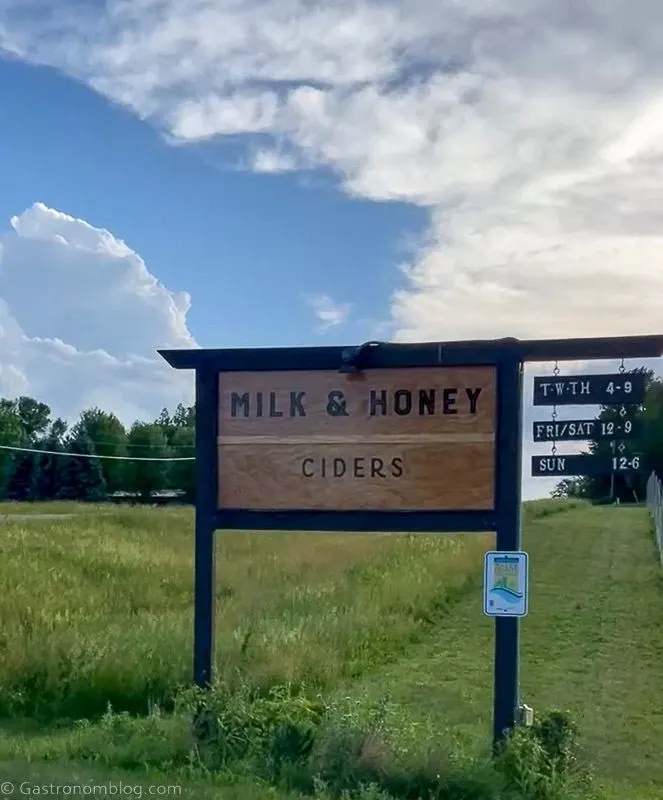 Even the Mayflower reportedly had materials for cider making. Apples were among some of the first crops grown in colonial America. Potted seedlings and bags of apple seeds were brought over because the Puritans were not teetotalers. Apple orchards in colonial America usually meant one thing: hard cider.
American geography is well suited to growing apples, which are native to areas of similar latitude in Europe. Perhaps more importantly, the climate of the colonies wasn't suited to growing a lot of other alcohol producing sugar sources like barley or grapes. Fermented beverages were a source of safe drinking water, and cider was integral in the colonial American diet. By the mid 1700s, most Americans had an average of 35 gallons of hard cider a year. Most people, even children would have it for breakfast!
But, as many new immigrants from Central and Eastern Europe arrived and preferred beer, and then Prohibition happened, cider manufacturing in the United States mostly stopped.
That is, until a few decades ago. Cideries all across the US are coming back, and are bringing exciting flavors and fresh sips all over the country – from the Northeast to Northwest and in between, Jay and I have gotten a taste of where these Cideries are headed!
Milk and Honey Ciders
Milk & Honey Ciders produce American cider from heirloom and traditional cider apples. The farmhouse cidery and orchard focuses on interesting, dry, tannic and highly aromatic ciders made in the hills of Stearns County, Minnesota.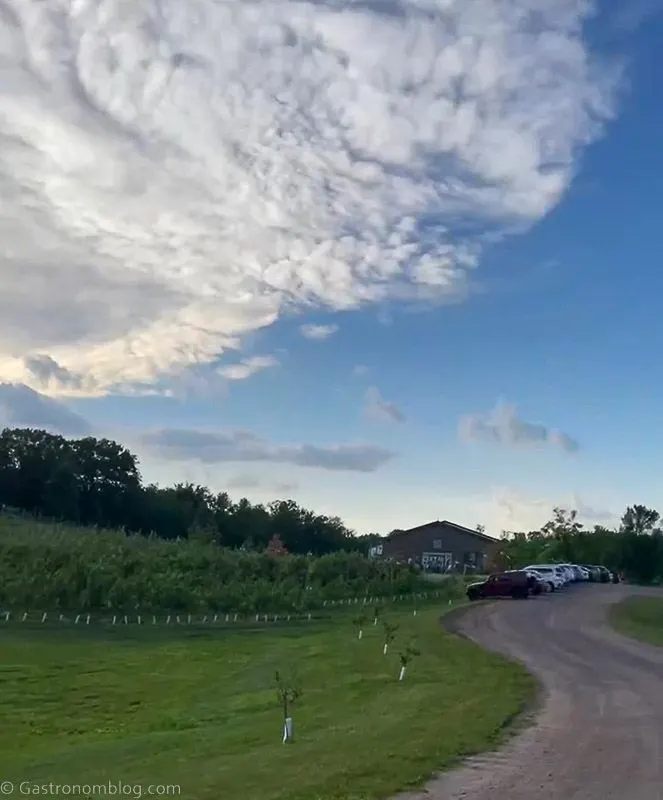 Their charming location is west of St Cloud. They are open all year, and you can bring your own food, order a cider flight, an settle in for a perfect date night on the patio or in the taproom.
We went in the heat of summer, and loved the cold cider on the hot day, but I would bet that each season brings its own fun! Fall is great outside on warm days, and cider just hits different in the autumn season! Winter is cozy, perfect for playing games inside while sipping cider. Spring warmth brings time outside on their two spacious patios while watching the orchard grow.
The tasting room has been a hit in the local community. They feature live music and food trucks in the summer, and visitors are encouraged to explore the 11 acres. This includes children and pets, too!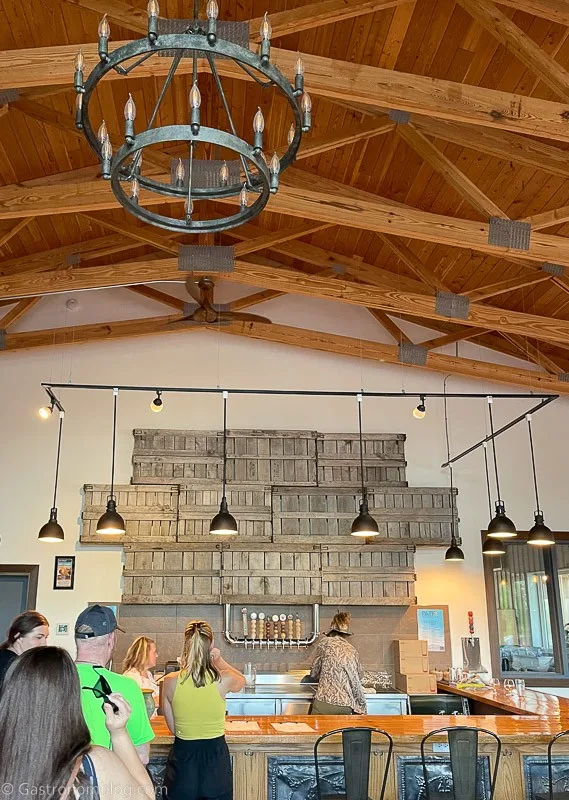 When we visited we tried a few of their seasonal cider offerings – and they were dry, full of flavor and so different from one another. We tried a few types of Milk and Honey ciders: Fauna, which was a clean apple flavor with an herbal nose, and Flora: bold, fruity and full of citrus.
The other 2 we tried were Heirloom: a semi-dry with citrus and spices; and Alchemy Ice Cider, which is a higher proof cider. Alchemy is made from Winesap and Northern Spy apples, aged 7 months in bourbon barrels. Sharp with a slight sweetness of caramel and vanilla.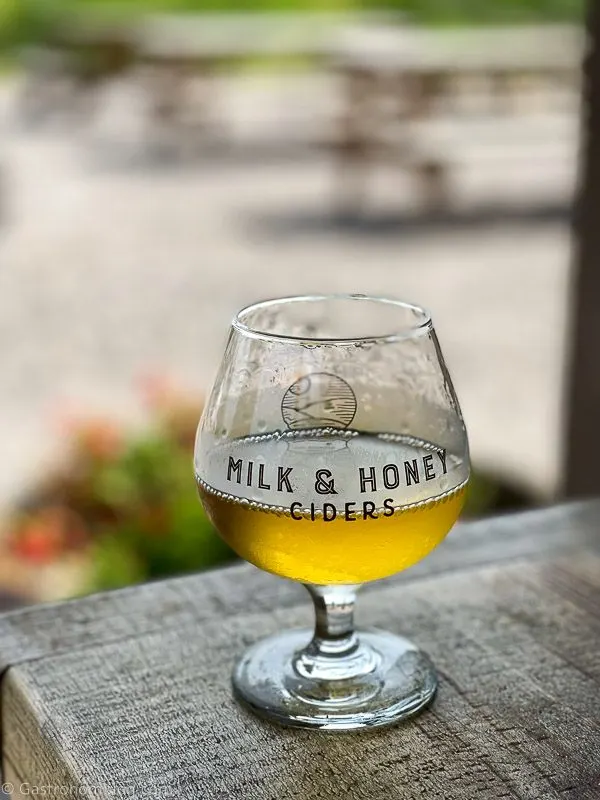 History of Milk and Honey Ciders
Peter Gillitzer, Adam Theis and Aaron Klocker, who have been friends since elementary school started Milk & Honey Ciders. The three believed cider was underrated and launched Milk & Honey Ciders to bring back the historically significant beverage.
The owners had corporate jobs in the Twin Cities before they started Milk & Honey, but none were total newcomers to beverage making. Gillitzer has a background in agriculture, Theis worked in beverage production. Klocker was in aviation engineering, was a cider enthusiast and had taken classes where he learned how to make cider and perry.
The name "Milk & Honey" was chosen because in mythology, apples, milk and honey symbolize the easy life because they require no human intervention. The 3 are instant food straight from the tree, cow or hive.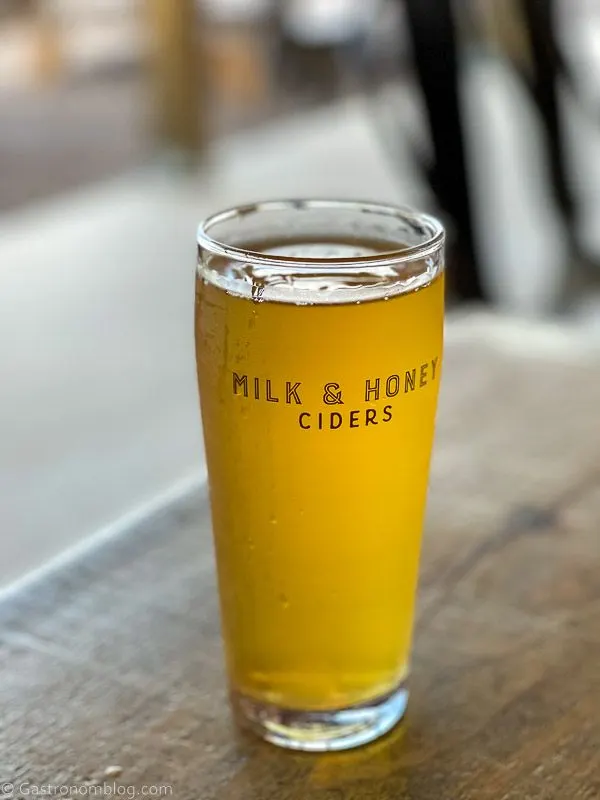 Cider Production
The St. Joseph orchard produces apples that are blended with other varieties from Minnesota, Michigan, New Hampshire and Washington. Cider is essentially fermented apple juice. In the fall, apples are picked, pressed, and yeast is added. The cider is ready by the following spring or early summer.
Milk and Honey presses apples with the same technology that's been around for centuries. They use a rack and cloth press to extract juice from its apples. This is a labor intensive method that involves multiple workers pumping over pomace, covering the material with cloth, and squeezing the fruit through the material to collect the juice.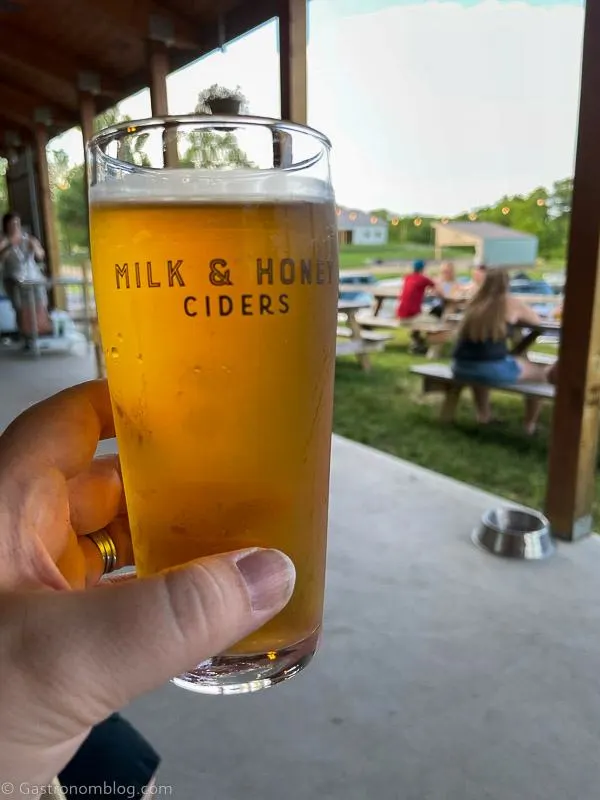 This method makes for high yields and high quality juice. But, most operations will use something more automated, like a squeeze box. But, the cidery's old fashioned way makes for more juice (up to a gallon or more extra per bushel) and gives more control over the finished product.
Cider is then aged in a dark room kept cool around 40 degrees. It can be stored in tanks, kegs, or oak barrels that were possibly used to age whiskey or bourbon. The fermentation process is helped with microorganisms that take place over 4 weeks or so. It is then followed by a 6 month cellaring process.
Milk and Honey uses favorite varieties such as Newtown Pippin, Winesap, Chestnut and Northern Spy. Their ciders are vegan, and no fining agents are used. And there is no honey in the ciders.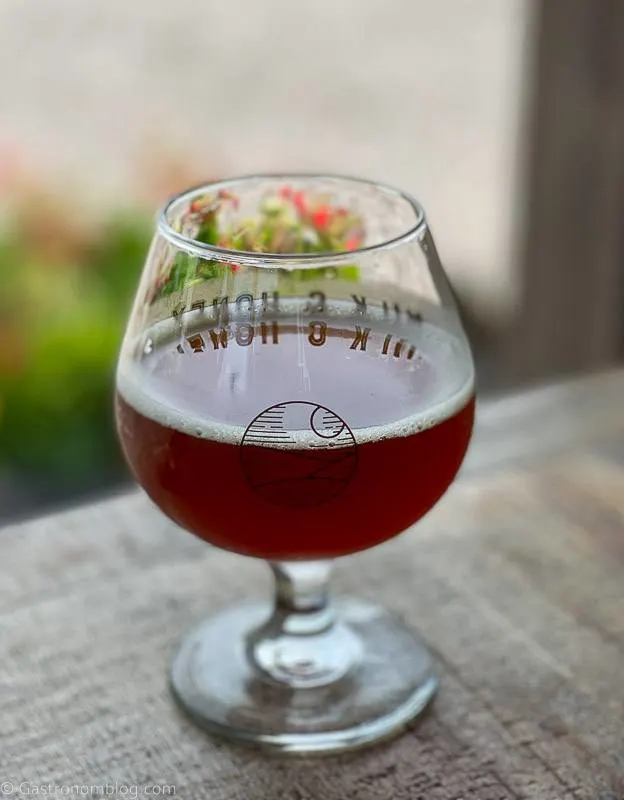 Other Milk and Honey Ciders Products
Milk and Honey Ciders also produces a Pommeau. Their Pommeau is a blend of apple brandy and fresh pressed juice and then aged. This Pommeau gives notes of caramel, oak spice, cherry, and dried fruit. Great served neat. Also great served with soft cheeses, foie gras and decadent desserts.
The Pommeau is crafted in the traditional French style, and the apples they use in the Pommeau are Newtown Pippins, Golden Russets, and Chestnut crab apples. The apple brandy was distilled in partnership with Tattersall Distilling and then bourbon barrel aged for 18 months. The liquid was then aged for another year, having a result of 22% abv.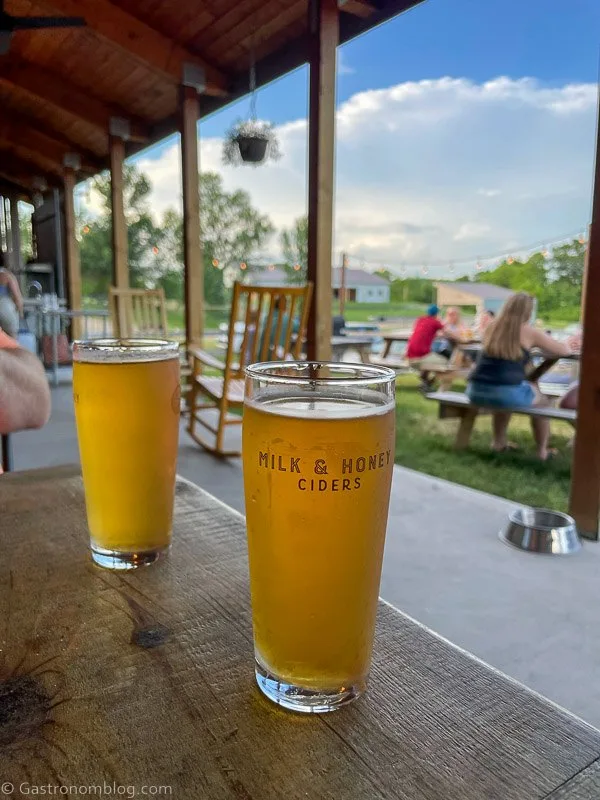 Accolades
In March 2021, USA Today announced that the winner of its Top10 Readers' Choice Poll for Best Cidery in the U.S. was none other than Milk & Honey Ciders. Selected as a nominee in the poll by a panel of experts and USA Today's editors, readers then voted Milk and Honey the top cidery in the U.S. ahead of Diskin Cider in Nashville (No. 2), and Waldschänke Ciders + Coffee in Denver (No. 3).
Whether it was their dedication to making traditional ciders with Old World methods or the cidery's lovely taproom and orchard, either way, the award bodes well for orchard based cideries.
Cider Future
As for the future of the 10 year old cidery, they would try to have all of the fruit the company uses grown locally in Minnesota. We think they will have an amazing future!
Tips & Tricks
Live Entertainment – make sure to check their calendar for live events: trivia, music and even yoga classes.
Guest Wifi – there isn't much reception in the hills of St. Joseph, at least we didn't have any, so this is great to have.
Kid-friendly – also a great plus, there are some games for the kids, as well as space for them to run around.
Event Rental – they have a number of locations on the property for event rentals – including the taproom itself.
Parking – the lot is big. We went during a trivia night and had no issues parking, even though almost every table was full.
Pet-friendly patio – also a plus to be able to bring your dog!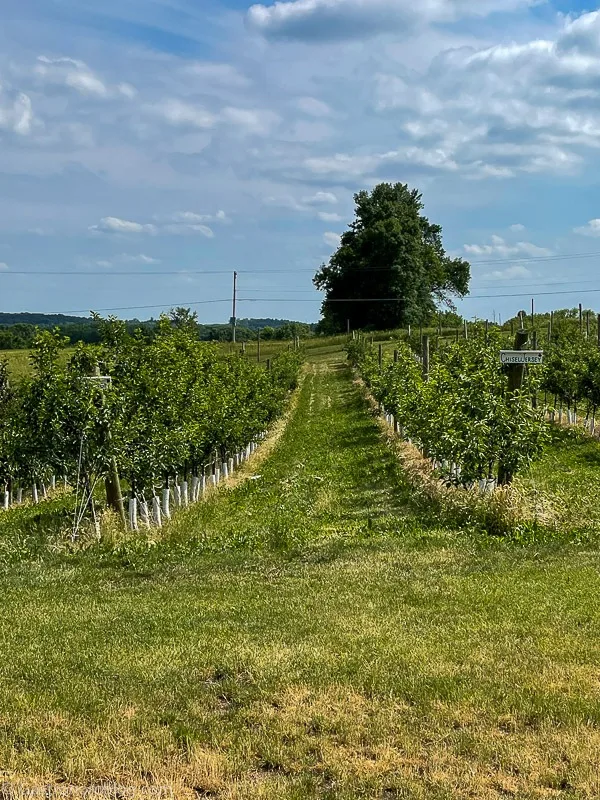 Milk and Honey Ciders
Tuesday-Thursday: 4-9, Friday/Saturday 12-9, Sunday 12-6
11738 County Road 51
St. Joseph, MN
Cheers!
Other Places to Visit
Also, don't forget to follow us on Instagram and tag #gastronomcocktails so we can see all the wonderful recipes YOU recreate from this site!
You can also subscribe to our newsletter so you never miss a delicious recipe again!
Like this post? Check these out below, too!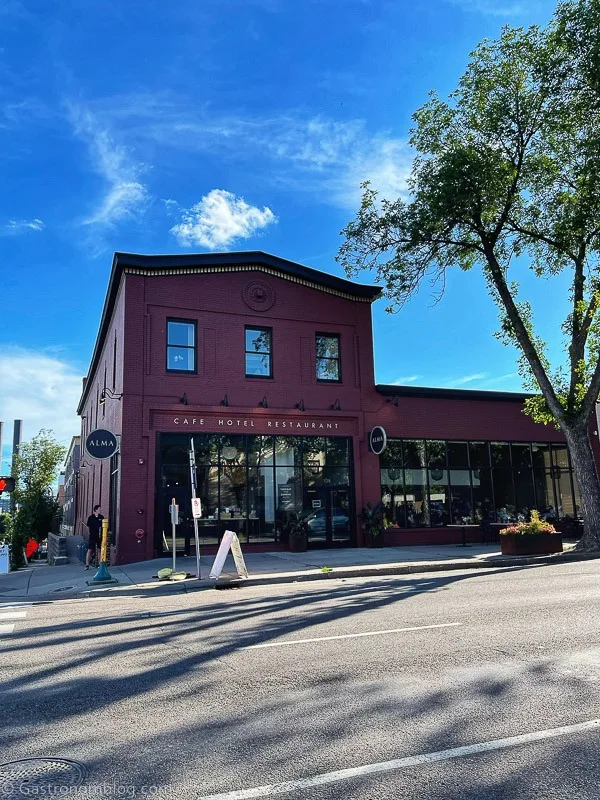 Hotel Alma – Minneapolis, Minnesota
Kansas City Spirited Travel Guide
Interested in stocking your own home bar? Make sure to see our favorites at our Amazon Store!
If you liked this post, don't forget to subscribe for new (and of course free) recipes by entering your email address on the side bar (and get all the recipes delivered to your inbox when we post), so you don't miss out on a thing. You can find us on Facebook, Instagram, and Pinterest!
Gastronomblog is a participant in the Amazon Services LLC Associates Program. It's an affiliate advertising program designed to provide a means for sites to earn advertising fees by advertising and linking to amazon.com