Last Updated on September 17, 2023 by The Noms
Hotel Alma in Minneapolis, Minnesota is genuine hospitality in an urban hotel, above the Alma Restaurant and Cafe. Featuring diverse American cooking and cozy surroundings, this urban retreat is a great stay!
On a recent trip to Minneapolis we stayed at the Hotel Alma. Which also has Cafe Alma and Restaurant Alma on site. It's a great stopping point for all things lodging and delicious food! Also make sure read about our stay at the Hewing Hotel. also in Minneapolis, Minnesota!
This post contains affiliate links for products that we think you as readers might find useful, and we make commission off of these! For more details about our affiliates, click our Disclosure and Contacts Page.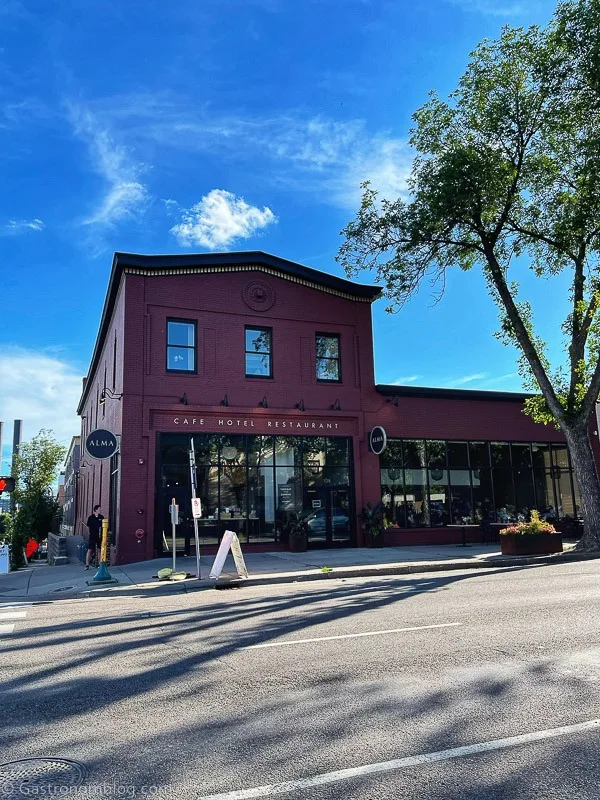 Chef Alex Robert's Restaurant Alma has been a great place to eat in the Marcy-Holmes neighborhood. And, with the conversion of the next door historical building into an additional café space and 7 bedroom boutique hotel it is elevated even more.
Hotel Alma Minneapolis is an urban hotel that is a 3 star accommodation, with hospitality to the max and a lovely place to stay (and eat)!
Where is Hotel Alma Located?
This boutique hotel is about 15 minute walk from the Minneapolis city center. Minneapolis-Saint Paul International airport is 13 miles away, and its a super easy drive. Located n the neighborhood of Marcy-Holmes, it was originally the town of St. Anthony Falls, now is the oldest neighborhood in Minneapolis. East of the Mississippi River, and south of East Hennepin Avenue is why it's often called "Southeast" Minneapolis.
Marcy-Holmes comprises famous landmarks, which includes the Pillsbury "A" Mill, once the largest flour mill in the world, Dinkytown: a vibrant university community that was home to a young Bob Dylan, and cultural organizations like The Soap Factory, which is housed in one of the few remaining Victorian warehouses on the riverfront.
There are so many fun places in Marcy-Holmes, from locally focused restaurants, to quirky shops and stores. There is something for everyone!
Restaurant Alma
Opened in 1999, Alma focuses on excellent dining, hospitality and employment. Owned by Alex and Margo Roberts, Alex won the Best Chef Midwest James Beard Award in 2010.
Restaurant Alma maintains close relationships with their suppliers and farmers to source local, regional and organic produce and meat raised without antibiotics or added growth hormones.
Their fish is sourced from certified sustainable fisheries and farms, and they feature 'clean' fats like butter, ghee, olive oil, rice bran oil and freshly rendered animal fats.
We didn't get the opportunity to dine at Alma while we stayed there (next time we will), but the smells alone were amazing while in our room! But, they focus on Prix-Fixe meals with optional wine pairings. They also offer take away meals for 2 to take home that are easy to reheat. They offer seasonal cocktails, beer and wine by the glass and bottle as well.
When we were there, a 7 course prix-fixe was the offering, as well as a 7 course vegetarian meal for $17 less. The take away for 2 people was 4 courses to take home! All seasonal servings, the menu sounds so tasty!
Alma also has a beautiful private dining space in between the cafe and restaurant that is perfect for a special event. During brunch, they open up the entire back dining space into the cafe but at night they close the back room off for intimate dinner gatherings and private parties.
Cafe at Alma
The Cafe at Alma is a casual place for eating and socializing with counter service, with online and digital table ordering. No reservations are needed, but they are encouraged at the restaurant.
Located directly under the hotel rooms, the cafe is a bustling place in the morning. Closed on Mondays, their hours are 8-5 all other days. House-made pastries, breakfast and egg sandwiches, plus fresh made coffee is available all day. Deli sandwiches, burgers and salads are available 11-5, plus beer, wine and cocktails are also available.
They also offer a happy hour from 2-5 with discounts on beer and wine as well as pastries.
They offer fresh baked cookies, danishes, croissants, and more, plus daily specials. If you can't make the meal at Restaurant Alma, make sure to head to cafe for a treat or snack.
Hotel Alma Minneapolis
Housed in a historic brick building, Alma is a lot of things. Like we said above, there's a fine dining restaurant on one side, and a more casual cafe on the other. And upstairs, you will find a boutique hotel. There's even a retail area selling hand crafted bath and body products, gourmet ingredients, and home goods. All of these things work well together, as was demonstrated during our recent stay.
The building that Alma calls home was built in 1905 by Minneapolis architecture firm Bertrand and Chamberlain, who also designed and built The Minneapolis Athletic Club. The building's original use was as a fire house for the Minneapolis Board of Insurance Underwriters Salvage Corps and Fire Patrol. Many of these remaining fire houses are now historic landmarks. From 1920–1956 the building was occupied by a division of Garwood Industries, a company known for wooden speedboats and the racing prowess of its founder Garfield Wood, the first person to travel over 100 miles per hour on water.
Full of that history, now Hotel Alma has seven rooms, each with a unique floor plan and decor. Most have queen beds, but room 1 has two full beds. Room 5 has a king bed and outdoor deck.
If you have mobility limitations, please note that 6 rooms are upstairs, and the stairs are steep. The exception is room 7, which is located on the main floor and is ADA accessible, with entry right off of the side door.
In our room was a bathroom with a spacious shower, and a sliding door to the room. There was desk with chair, another side chair and queen bed. There was also a bench at the end of the bed for extra seating, and a closet of sorts with a small mini bar of snacks and drinks on a shelf with a stool.
Small and beautiful touches were everywhere with robes provided in the bathroom, along with a list of spa treatments that can be set up in room. Wooden shutters to be shut over the tall window, and fresh, still tap water in a glass bottle on the desk.
Please Note: As is in many large cities, ambient urban noise can be a part of the hotel experience. But, if you are highly sensitive to noise, you may not want to stay, as outside noise is there most of the evening/into the night, and the bakery and restaurant workers are there late and early. There are complimentary ear plugs available in the room–just in case!
Our Room at Hotel Alma
We stayed in room 4. Our room was smaller than an average hotel room (we've stayed in smaller), but the high ceiling and light color walls and ceiling gave it an large feel. Along with the queen bed, there was a wicker armchair, writing desk with chair, and a closet of sorts with with hangers and a shelf for luggage. This shelf also had the above mentioned mini bar.
The decor is modern Scandinavia, including hardwood floors, oak furniture, and textiles with many colors and patterns. There was a complimentary bar of soap for us to take home, a vase of fresh flowers, and mints on the bedside table.
The bathrooms are beautifully appointed with brass fixtures and creamy white tile. It has a walk in rain shower and robes. Organic Apothecary items made by proprietor Margo Roberts as well!
Check in is at the restaurant's host stand, right inside the front door, with the stairs to the right if you are staying upstairs. If you happen to be checking in outside of restaurant hours, ask the cafe staff to assist you if necessary. We were asked before coming what time we were to be expected, and we were within our window, and the host at the stand helped us quickly!
We got our key to the room – yes, it was a real key – and made our way up to the room. That is where the culinary delights came to our door!
What are the Property Amenities at Hotel Alma Minneapolis?
Antipasti on Arrival – antipasti plate and wine (red, white or non-alcoholic) come directly to your door on a tray soon after your arrival. Or, at your designated time, but we arrived during the start of dinner. We got crackers and small bowls of marinated olives, Alma's signature spiced almonds, cheese and dark chocolates.
Continental Breakfast – included in the stay are coffees, espresso, juices, and pastries delivered to your room at your desired time. We had a special rate that included hot breakfast and even got mimosas for ourselves! Can also be enjoyed in the restaurant if desired – but we were definitely wanted a lazy morning!

Fill out the card on the desk, then simply attach it to the door hanger

leave it outside by 7am. They will

deliver breakfast to your room within 15 minutes

of your selected time.

Beautifully Appointed –

Each designed to make you feel like you're

staying at a friend's home.

Hardwood floors, hand woven vintage rugs from Aubry Angelo, custom local white oak furniture by Form Co, all natural cotton bedding and wool throws, down comforters and pillows, Eco-friendly pillow top Keetsa mattreses, fabrics from Milan's Arjumand's World, custom woven baskets from House of Talents.
Technology – AppleTV/Netflix and Hulu are available on the TV, and complimentary high speed internet is throughout the property.
Parking –

the south lot behind the

Alma building is available at no charge. There is street parking as well.

Spa Services – In room services are available
Other Food Options – "Take away" dinner packages for two are also available delivered to guest rooms during business hours. or, the Cafe takeout menu is also available to be delivered
to guest rooms during hours of operation.
Food at the Alma Hotel
After arriving in our room, 15 minutes later we got a tray of antipasti delivered on a tray to our door. The host who checked us in asked if we wanted red or white wine, and we had indicated either was fine, so he sent up 1 carafe of each – pretty great touch!
Accompanying the wine on the tray was a plate of crackers and small bowls of marinated olives, Alma's signature spiced almonds, cheese and dark chocolates. A lovely start to our evening, and after a distillery tasting, so it was a great snack! We saved some of the chocolates for dessert after our meal.
Our breakfast in the morning was lavish and over the top, but we had a special breakfast package that we had included with the room. Because of this, we both got a hot egg sandwich as well as pastries, coffee, and mimosas! It was a lovely brunch and the perfect way to end our stay!
Complimentary continental breakfast is delivered to your room including coffee or tea, bread and pastries to finish your stay. Just fill out your preferences on the card and they will bring your desired items in the morning.
We can't praise this place enough. If you're ever in Minneapolis and looking for somewhere to stay, Alma is your spot!
What Time is Check In at Hotel Alma?
Check in is anytime after 3 pm. Checkout is before 11 am.
Hidden Tips and Tricks
Parking – We parked in the parking lot behind the buildings with no problem, but street parking was easy to find as well
After Hours – If you are staying at Hotel Alma Minneapolis and are arriving after hours of the restaurant, they have different check in procedures. The side door is available to come into with your key if you are coming back from dinner or drinks later, too. A back staircase then goes up to the second floor. This landing is also where the ADA accessible room is, Number 7.
Noise – there is ambient noise at almost all times in this urban hotel. We heard people, sirens and cars most of the evening. If you are a light sleeper, keep this in mind. We also heard the restaurant workers late into the evening, as well as early in the morning. The hotel does provide some earplugs.
Location – a central location, it was a quick drive to our dinner at Hai Hai, and then in the morning to go to places for the day. Easy to get in and out of as well.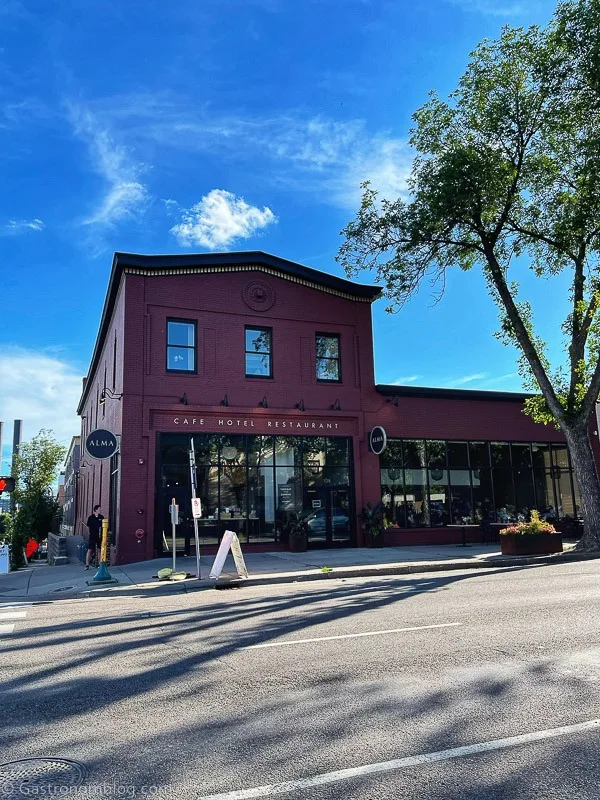 Other Restaurants near Hotel Alma Minneapolis
If you can't get reservations at Restaurant Alma, there are dozens of nearby restaurants for takeout and dining in.
Across the River
Things to do in the Area
Alma Hotel
528 University Avenue SE
Minneapolis, MN
612-379-4909
Make reservations at Alma Hotel asap!
almampls.com
Also, don't forget to follow us on Instagram and tag #gastronomcocktails so we can see all the wonderful recipes YOU recreate from this site!
You can also subscribe to our newsletter so you never miss a delicious recipe again!
Other Places to Visit
Like this recipe? Try these below, too!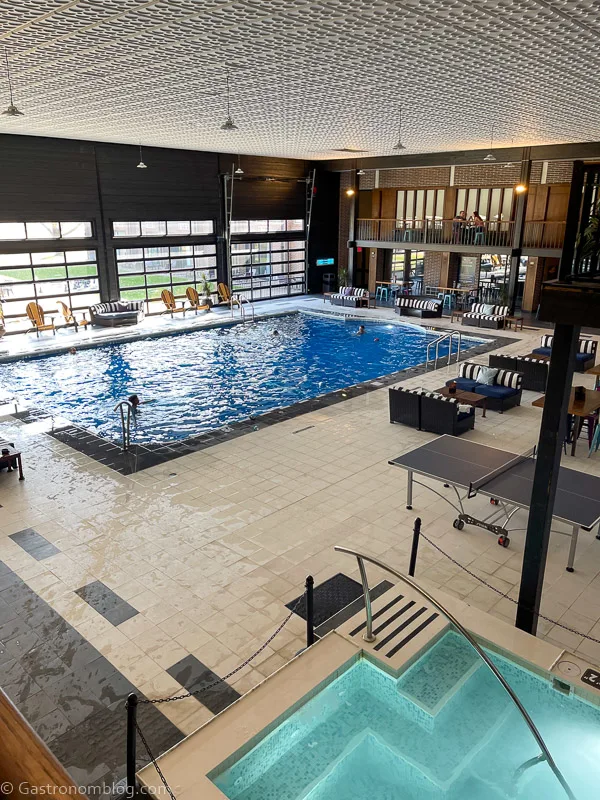 Highlander Hotel – Iowa City, Iowa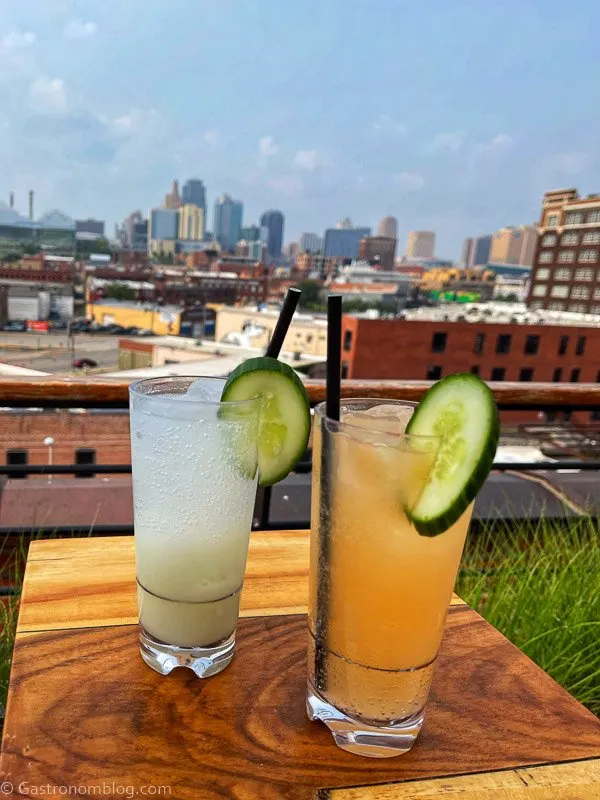 Kansas City Spirited Travel Guide
Interested in stocking your own home bar? Make sure to see our favorites at our Amazon Store!
If you liked this post, don't forget to subscribe for new (and of course free) recipes by entering your email address on the side bar (and get all the recipes delivered to your inbox when we post), so you don't miss out on a thing. You can find us on Facebook, Instagram, and Pinterest!
Gastronomblog is a participant in the Amazon Services LLC Associates Program, an affiliate advertising program designed to provide a means for sites to earn advertising fees by advertising and linking to amazon.com