Last Updated on June 8, 2023 by Leah Hall
National Bloody Mary Day is January 1! Make sure to celebrate with this spicy bloody Mary recipe!
So with January 1st being the start of a new year, people are making lots of new resolutions to make the next year better! One resolution we think we will be making (and actually keeping!) will be to have more Bloody Marys! We like this resolution because we have found ourselves a spicy Bloody Mary recipe that is really tasty! Plus, knowing that January 1 of course is New Years Day, but also National Bloody Mary Day!
National Bloody Mary Day
In all honesty, we didn't know that January 1 was National Bloody Mary Day until the fine folks at Mamont Vodka sent this a bottle of their delicious Siberian Vodka. But really if you think about it, is there a better day for drinking a spicy Bloody Mary recipe than New Years Day? You stay up late on New Years Eve celebrating and then have to get up! Because you have to get ready to watch football games, eat leftover party foods and recuperate! What better way to recuperate than with a nice spicy Bloody Mary recipe? You just keep your celebration going onto National Bloody Mary day!
This post contains sponsored content brought to you by Mamont Vodka. We received compensation to create this post. But, all opinions and views presented here are 100% our own. This post contains affiliate links for products that we think you as readers might find useful, and we make commission off of these! For more details about our affiliates, click our Disclosure and Contacts Page.
Of course we wanted to celebrate National Bloody Mary Day, after all, we are cocktail bloggers! We have another favorite spicy Bloody Mary recipe (check out our Tomato Water Bloody Mary recipe) that we use when it is summer and we have lots of fresh tomatoes. However, with National Bloody Mary day happening on January 1st in the dead of winter, we definitely didn't have a bunch of fresh tomatoes! So, we needed a recipe that we could use tomato juice instead of fresh!
Mamont Vodka
Any good Bloody Mary Recipe starts with the vodka so we turned to our bottle of Mamont Vodka. Mamont Vodka hails from Siberia,which is commonly known for its icy weather and history of being the land of the mammoth! Siberia, however is much more, a vast land home to stands of silver birch trees, unspoiled glacier fed streams and fields of winter wheat, all of which are key to making great vodka. Distilled at the Itkul Distillery, which is the oldest distillery in Siberia (in operation since 1868!) Mamont Vodka is made from 100% Siberian winter wheat.
Using 100% winter wheat to make Mamont Vodka yields a spirit that is delicate and flavorful. Vodka made with wheat tend to be very light and crisp with a nice hint of grainy sweetness, and Mamont definitely fits that bill. Mamont Vodka is also extremely smooth by being filtered through charcoal made from local Siberian silver birch. It's cut with water from artesian springs that are fed from the winter snows. Mamont Vodka has a delightfully crisp flavor that is slightly sweet with a nice dry finish that shows off its high quality.
Mamont was inspired by the discovery of the Yukagir Mammoth, which was found in the heart of Siberia. The founders decided to honor their Siberian heritage by using the Mammoth in their logo and their name (Mamont is Russian for Mammoth!) as well as a tusk shaped bottle (that is absolutely gorgeous!) We were pretty excited to get this bottle on our shelves, as it is stunning!
Spicy Bloody Mary Recipe
With a good starting point in the vodka figured out, we turned our attention to the flavor profile of the Bloody Mary. Since we were using Mamont as our vodka, we wanted to make something Mammoth! Get it? Ooooh…maybe another New Year's resolution should be puns!
We wanted something that would have a bit of a spicy kick to help wake up the taste buds and get the blood flowing! We started out with tomato juice and added in some horseradish to bring a little earthy heat. Next, we turned to one of our favorite hot sauces that has a nice spicy bite and a hint of smoke to really bring that rich chipotle and jalapeño spice. Finally, we added a healthy dash of fresh cracked black pepper to bring a little dark woodsy character!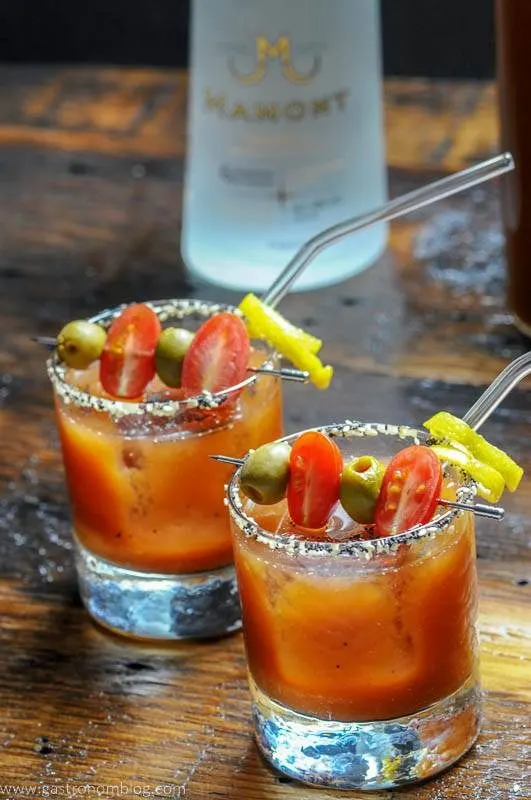 Once we had the spicy component nailed down, we had to add in some other layers of flavor to make our mix really shine. One problem we notice with lots of Bloody Mary recipes is they really only concentrate on one flavor characteristic, be it spice, tartness or a novelty flavor. We love having our cocktails be balanced and have layers of flavor to keep each sip interesting. This means adding in flavors that will help balance the spice and brighten up flavors so that the mix would be awesome!
Spicy Flavors
How did we make it awesome you ask? Well, we added in a little Worcestershire sauce to bring a little umami flavor. The Worcestershire adds just the right amount of salty funk to the mix. It brightens up the flavors of the tomato while enhancing the spicy bits of the hot sauce. Next we brought in a little sweet and sour, adding in some pickle juice from sweet gerkins and a bit of caper juice to add in a bit of vinegar and salt that rounded out the flavors A splash of fresh squeezed lemon juice added just the right amount of bright tartness to make the whole perfectly mouth watering!
If You are Looking for More Vodka Cocktails, Try These!
Of course a spicy Bloody Mary recipe needs to be garnished correctly, right?! We served our Bloody Mary's with sesame and poppy seeds on the rim for a bit of a crunch and flavor. On top, we added on some grape tomatoes and olives, cause you have to have a snack with a bloody, that's in the rules!
What Ingredients are Needed for the Spicy Bloody Mary?
Bloody Mary Mix

Tomato Juice
Lemon Juice
Pickle Brine
Caper Juice
Horseradish
Worcestershire Sauce
Pepper
Hot Sauce
Celery Salt
Bitters

Blood Mary Cocktail

Mamont Vodka
Bloody Mary Mix
Poppy Seeds and Sesame Seeds
We allowed our mix to sit a couple of hours in the fridge to really let the flavors meld. This process makes this recipe a real winner for parties or brunches with friends! You can prep it all ahead of time and then just add in the Mamont Vodka when you are ready to serve! We know we are excited to have some friends over for brunch on National Bloody Mary Day to sip the Mammoth spicy Bloody Mary recipe! We hope you will join us in enjoying your National Bloody Mary Day too!
Cheers!
Also, don't forget to follow us on Instagram and tag #gastronomcocktails so we can see all the wonderful recipes YOU recreate from this site!
You can also subscribe to our newsletter so you never miss a delicious recipe again!
Like this recipe? Try these below, too!
Carrot Ginger Mimosa
Green Tomato Jam
Other Bloody Mary Recipes
Yield:

8
National Bloody Mary Day with Mamont Vodka
Additional Time:
5 minutes
Celebrate National Bloody Mary Day with Mamont Vodka and this spicy Bloody Mary mix.
Ingredients
Bloody Mary Mix
46 ounces tomato juice
3 ounces freshly squeezed lemon juice
1/2 cup sweet pickle brine
1 Tablespoon caper juice
1 Tablespoon horseradish
2 teaspoon Worcestershire sauce
1 Tablespoon fresh cracked black pepper
1 Tablespoon hot sauce
1/4 teaspoon celery salt
25 dashes aromatic bitters
Bloody Mary Cocktail
1.50 ounces Mamont Vodka
4-5 ounces Bloody Mary Mix
poppy seeds and sesame seeds
Instructions
For the Bloody Mary Mix: mix all ingredients in a large bowl. Whisk until well blended.
Dip the rim of the glasses in some extra lemon juice, and then rim glasses with sesame seeds and poppy seeds for color and crunch.
Add into the glass, some ice, the Mamont vodka, Bloody Mary mix and garnish.
Cheers!
Notes
We used V8 with added pepper
Recommended Products
As an Amazon Associate and member of other affiliate programs, I earn from qualifying purchases.
Nutrition Information:
Yield:
8
Serving Size:
1
Amount Per Serving:
Calories:

163
Total Fat:

3g
Saturated Fat:

0g
Trans Fat:

0g
Unsaturated Fat:

2g
Cholesterol:

0mg
Sodium:

705mg
Carbohydrates:

18g
Fiber:

2g
Sugar:

13g
Protein:

3g
Interested in stocking your own home bar? Make sure to see our favorites at our Amazon Store!
If you liked this post, don't forget to subscribe for new (and of course free) recipes by entering your email address on the side bar (and get all the recipes delivered to your inbox when we post), so you don't miss out on a thing. You can find us on Facebook, Instagram, and Pinterest!
Gastronomblog is a participant in the Amazon Services LLC Associates Program, an affiliate advertising program designed to provide a means for sites to earn advertising fees by advertising and linking to amazon.com