Last Updated on June 8, 2023 by Leah Hall
A Coffee and Banana Tiki Cocktail that's a great combo of tropical flavors!
This summer has been crazy season, with lots of overtime at work and not nearly enough cocktail blogging! All that extra work means a whole bunch of time dreaming about vacations to far away destinations like someplace with a beach and far away from lots of work! Thinking of beach vacations puts us in a mood for a good tropical cocktail, so why not turn back to the world of Tiki with our Cargo Cult Cocktail?
Coffee and Banana Tiki Cocktail
We decided to name the Cargo Cult after the phenomenon where a bunch of Pacific island tribes started to worship idols based off of cargo ships and airplanes that kept bringing cargo to the islands. Many of these tribes had their first experience with manufactured goods, exotic new flavors and technology from the outside world as a result of World War II. Soon these tribes were coming up with elaborate rituals to summon planes and ships to deliver exotic crates full of cargo!
This post contains affiliate links for products that we think you as readers might find useful, and we make commission off of these! For more details about our affiliates, click our Disclosure and Contacts Page.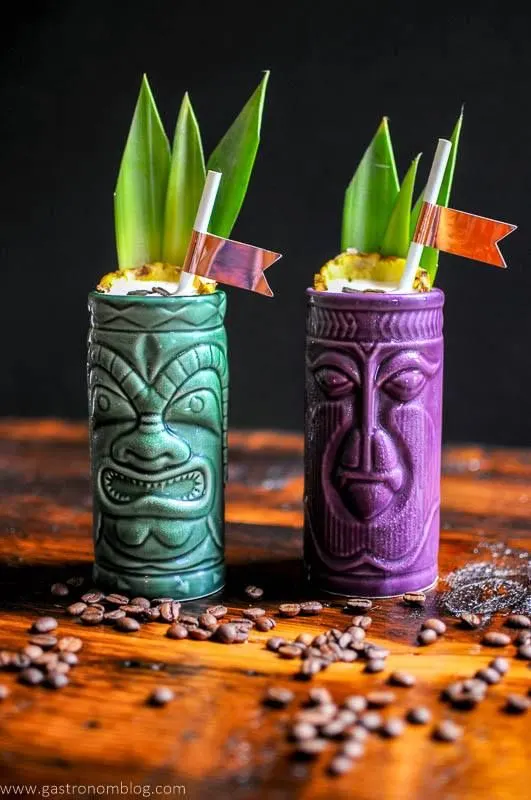 Speaking of cargo, our Cargo Cult Cocktail is full of things that are associated with lots of exotic tropical cargo. It may arrive on ships and in crates, coconut, pineapple, coffee and bananas! In the cocktail world, banana is one of those flavors that is seriously underutilized despite being one of the most familiar tropical flavors and fruits.
Bananas Are in Tiki Cocktails?
Maybe its is because banana's don't easily translate into juice, and frankly a mushed banana really isn't the most appealing (did you see what I did there, so punny!) We know it isn't the best looking ingredient in a cocktail! Plus, so many of the banana flavored spirits are that artificial banana flavor which a bunch of folks (including us) are not fans of! However, if you have a good banana flavored liqueur, it can make a Tiki cocktail really shine!
If You are Looking for More Coffee Recipes, Try These!
Lucky for us, we just happened to have a batch of homemade banana liqueur on hand! We had experienced a great Tiki cocktail that featured banana as the star of the drink. That banana flavor was so good it got us thinking about how we could recreate that experience at home. We have been big fans of Tiki cocktails this summer and have been drinking lots of rum. Since our banana liqueur already featured rum, we wanted to make something with a different base spirit.
Knowing that we were going to be putting lots of big bold tropical flavors in the Cargo Cult, we wanted a spirit that would stand up and enhance those tropical flavors. We ended up choosing to use mezcal for this coffee and banana tiki cocktail. Mezcal is a spicy, smoky flavor, and not only is bold, but it partners up to flavors like pineapple and coffee really well!
If You Are Looking for More Recipes with Liqueur, Try These!
What Flavors did We want in this Tiki Cocktail?
Once we figured out the base spirit, we mixed in our banana liqueur, a little Nola Coffee Liqueur we got from our trip to St. George Distillery, and pineapple juice and knew we were on the right path. We still needed something to add that little spark to the cocktail to make it shine. That little spark was some chocolate bitters because what goes better than chocolate with a coffee and banana tiki cocktail?
With that little spark added, we needed something to top it off and pull the whole drink together. A float of whipped coconut cream added just the right amount of creamy richness. It also added tropical sweetness to make the Cargo Cult really fantastic! That creamy coconut was really a delight, smoothing out the bitter notes of the coffee. It also took the spicy edge of the mezcal out while enhancing the tropical feel. Plus, it looked cool and gave us someplace to garnish the cocktail with some coffee beans!
What Ingredients are Needed for the Cargo Cult Cocktail?
Mezcal
Coffee Liqueur
Banana Liqueur
Pineapple Juice
Lemon Juice
Chocolate Coffee BItters
Whipped Coconut Cream
If you are looking for something to keep your summer vacation alive, or a cocktail to help celebrate that feeling of vacation, definitely give the Cargo Cult a try! Full of tropical flavors, a tiki mug and a topical garnish all combined to get us in the tropical mindset and make us feel like we were on vacation!
Cheers!
Also, don't forget to follow us on Instagram and tag #gastronomcocktails so we can see all the wonderful recipes YOU recreate from this site!
You can also subscribe to our newsletter so you never miss a delicious recipe again!
Like this recipe? Try these below, too!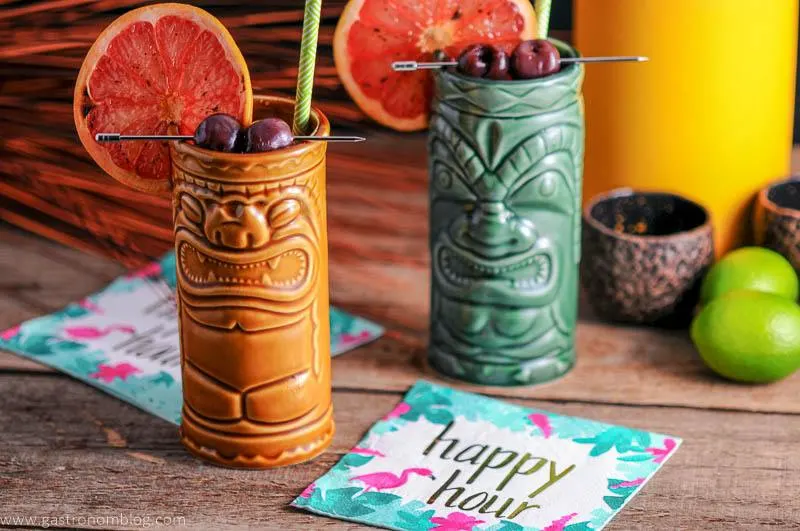 Rambler's Ruby Tiki Cocktail
Other Tiki Cocktails
Other Banana Cocktails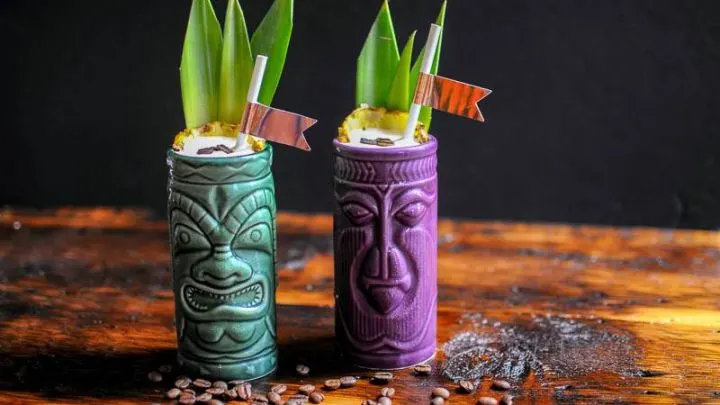 Yield:

1
The Cargo Cult - A Banana Coffee and Mezcal Cocktail
Smokey Mezcal, Coffee Liqueur, Banana Liqueur and fresh pineapple combine to make the Cargo Cult Cocktail, a tiki cocktail sure to transport you right to the tropical islands!
Ingredients
Cargo Cult Cocktail
1 ounce mezcal
.50 ounce Coffee Liqueur
1 ounce Pineapple juice
.50 ounce lemon juice
4 dashes Chocolate Coffee Bitters
1 tablespoon whipped coconut cream
coffee bean for garnish
pineapple slice for garnish
Instructions
Fill a shaker with ice.
Add mezcal, coffee liqueur, banana liqueur, pineapple juice, lemon juice and bitters to the shaker.
Shake until chilled.
Fill a tiki mug with crushed ice.
Add a pineapple slice for a garnish,
Spoon the whipped coconut cream onto the top of the drink.
Float 3 coffee beans on the coconut cream float
Cheers!
Recommended Products
As an Amazon Associate and member of other affiliate programs, I earn from qualifying purchases.
Nutrition Information:
Yield:
1
Serving Size:
1 Cocktail
Amount Per Serving:
Calories:

190
Total Fat:

0.2g
Saturated Fat:

0.2g
Cholesterol:

0mg
Carbohydrates:

10.8g
Fiber:

0.1g
Sugar:

9.9g
Protein:

0.1g
Interested in stocking your own home bar? Make sure to see our favorites at our Amazon Store!
If you liked this post, don't forget to subscribe for new (and of course free) recipes by entering your email address on the side bar (and get all the recipes delivered to your inbox when we post), so you don't miss out on a thing. You can find us on Facebook, Instagram, and Pinterest!
Gastronomblog is a participant in the Amazon Services LLC Associates Program, an affiliate advertising program designed to provide a means for sites to earn advertising fees by advertising and linking to amazon.com