Last Updated on July 21, 2023 by Leah Hall
We used Koskenkorva Vodka for this great sustainable cocktail to celebrate Earth Day! Earth Day is April 22, and we can't think of a better way to celebrate than with an eco-friendly drink!
This sustainable cocktail is full of flavor, and uses things we hope you have already in your home, if not, you may have to make some brandied cherries (oh no!) so you have the delicious brandied cherry juice for the lovely flavors in this cocktail. We are wanting you to try this eco friendly cocktail, as well as learn a little bit about sustainable and eco friendly cocktails, as well! Try our Cherry Mojito, too!
Koskenkorva Vodka
Koskenkorva Vodka is made in the village of Koskenkorva, Finland since 1953. They use barley which is sourced within a 200 km radius of the village from local farmers, and pure spring water from Rajamäki, and there is environmental protection in the area they get the water from.
This post contains sponsored content brought to you by Marussia Beverages. We received compensation to create this post. But, all opinions and views presented here are 100% our own. This post contains affiliate links for products that we think you as readers might find useful, and we make commission off of these! For more details about our affiliates, click our Disclosure and Contacts Page.
The barley used is from some of the northernmost barley in the world. In the arctic climate, they use custom barley varieties, Saana and Elmeri, that have been developed for the short growing season. Barley also makes for a clean fermentation and distillation process which requires less washing and less water.
Koskenkorva is produced by continuous distillation, using altogether 9 columns. In continuous distillation, barley mash is ceaselessly fed into the process of distillation. The process uses 100% of the barley, and production runs continuously for 350 days of the year. There are several advantages in continuous distillation as opposed to batch distilling, being that its efficient. There also isn't any need for unnecessary washing. This decreases water consumption, chemical and energy use, and ensures quality. It also means a 100% unfiltered pure spirit after distillation.
Koskenkorva Flavor Profile
The flavor profile of Koskenkorva vodka is an interesting one, it is slightly sweet with some astringency, but some flavor of banana and coconut, which the tropical flavors are truly surprising. The nose is a little fruity and sweet again with the banana and coconut and maybe slight marshmallow. We really enjoyed the flavor and scent of the vodka, which inspired us for this cocktail.
Koskenkorva also offers Blueberry Juniper, Sauna Barrel Aged, Lemon Lime Yarrow, and Raspberry Pine.
But first, we will be going over how to make cocktails sustainable and eco friendly, and how you can do that at home or in a large capacity like a bar.
Sustainable Cocktails
Sustainable cocktails are drinks that seek to be better for the planet by minimizing use of natural resources, conserving energy, and having less pollution. They can often reuse or recycle ingredients that may other wise be discarded. This can include citrus juice or rind, seeds or skins of fruits or vegetables.
The idea of of sustainable cocktails includes many things: being made at home. being organic and locally produced products; and aiming for a zero amount of any effect on the surrounding environment.
Ingredients of a sustainable cocktail can include pulp, skins, seeds, pits, leaves, roots that are all parts of ingredients that usually are thrown out, but instead could end up in your cocktail. Asking yourself, "can this be used in something?" is important.
Ingredient Ideas for Sustainable Cocktails
Aquafaba. This is actually the liquid found in cans of chickpeas. When shaken, aquafaba is an excellent egg white replacement, which also makes it popular with vegans for egg white cocktails.
Citrus Rind – Peels or zest can be used to make Oleo Saccharum. We used grapefruit Oleo Saccharum in this aquavit cocktail! Oleo Saccharum means sugared oil. Basically letting citrus and other oil rich fruits sit in sugar and macerate. This will pull the oils from the fruit creating an oil syrup perfect for cocktails. Apparently this can be done with banana peels too, so adding that to my list of to-dos! Read more about Oleo Saccharum here! The rind after juicing citrus can also be used to make syrups or garnishes!
Keep It Local – try to use seasonal, local produce if you can. I have to say, this is hard in Nebraska, as we have an abundance in the summer and fall, and not so much in the winter. Which makes it more difficult, but we try to preserve a lot of what we grow in our cocktail garden to use during the fall and winter when it gets too cold to grow. Other locations have the advantage of being warmer all year long, so this is easier for them. But, we try to use local alcohols a lot too, plus, they are tasty, so look at what is located close to you! See what's at the local Farmer's Market!
Ice – or rather the lack of it. It takes a lot of water to make ice, especially in a bar. This is a natural resource, and if you can minimize the use of of it, it's a good thing. Maybe prebatch a cocktail, which can be stored in the fridge to keep cold. In this case we used ice to shake, but didn't serve over ice.
Dehydrated fruit – great for garnishes, and if you have some perishable fruits that you won't use, or reduce the amount of, consider dehydrating, and you can use those all year long! Citrus, apples and bananas are especially perfect for this!
Straws – we all know plastic straws are not ideal. There are alternatives, such as paper or stainless steel and glass. These are definitely a better alternative. There are even bars using lemongrass, edible chocolate straws, bamboo and even hollowed out vanilla beans!
Infusions – to get the most out of the ingredients you have, an infusion, shrub or syrup is the way to go. It lets you use it longer, and lets you get the most out of the produce that isn't pretty enough for that Instagram photo. Perfect way to use those imperfect fruits. RIP ugly strawberries! For example with a lemon, you squeeze out the fresh juice, and instead of throwing away the lemon shell, either take the zest or rind of the lemon and make Oleo Saccharum (above) or a lemon syrup, or even cut up and throw that lemon shell into some vodka, and a week later you have Lemon Vodka!
Wine – if you have wine that oxidizes, (I mean, it doesn't happen around here), but if it would I would do this trick instead of just dumping it. Take that oxidized wine and use it in a reduced syrup for cocktails. White wine syrup works great for gin or vodka cocktails, and red wine syrup for rum or whiskey.
Citrus Fruit – If you don't have access to fresh citrus juices, consider using other ingredients that will give that acidic flavor without using the fresh juice. Some suggestions are vinegar, an acidic and tannin full wine, or citric acid like we did in the cocktail below! Using these will give the sour flavor you are after without that fresh juice.
Growing Your Own Ingredients – like we have talked about, we have what we call our "cocktail garden" where we grow all of our herbs for syrups and cocktail garnishes, and we try to keep them as long as possible into the fall and winter by using them in ideas from up above here. We also have white flesh peaches in our backyard that we love to use in our cocktails, too!
Sustainable Brands – Like Koskenkorva in this cocktail, there are other alcohol brands that are sustainable. Even Rums made with rainforest water and vermouths made with discarded coffee beans.
But, it's important that we remember that sometimes, waste is unavoidable. It's about finding the right balance that works for you! In most bars, where they are making a WHOLE lot more cocktails than we do at home, this would be scaled up for sure, but at home, do what you can, if you can.
So, don't go overboard, make sure that the cocktails you make are tasty, but if this is something you are concerned with or want to focus on, do so, but start in easy ways that you are comfortable exploring.
Tart Cherry Cocktail
Now, on to the sustainable cocktail we made with the Koskenkorva vodka. We looked at the ingredients we had at home and wanted to use what we had and not buy anything extra to go into this drink.
In addition to the vodka, we added in some of our brandied cherry juice, which we always have on hand, and then some local honey we made into simple syrup. So, to that we felt we needed some acid, but didn't have any citrus in the house. We then turned to our cupboard, where we had citric acid. So we used that instead of lime juice, but if you are lucky enough to have limes, do that!
To all of this we added some rhubarb bitters, which gave so much flavor with the cherry juice and lovely vodka.
We hope you try this one, as it's a lovely sip and a lovely color!
Cheers, and Happy Earth Day!
Also, don't forget to follow us on Instagram and tag #gastronomcocktails so we can see all the wonderful recipes YOU recreate from this site!
You can also subscribe to our newsletter so you never miss a delicious recipe again!
Like this recipe? Try these below, too!
Chocolate Covered Cherry Cocktail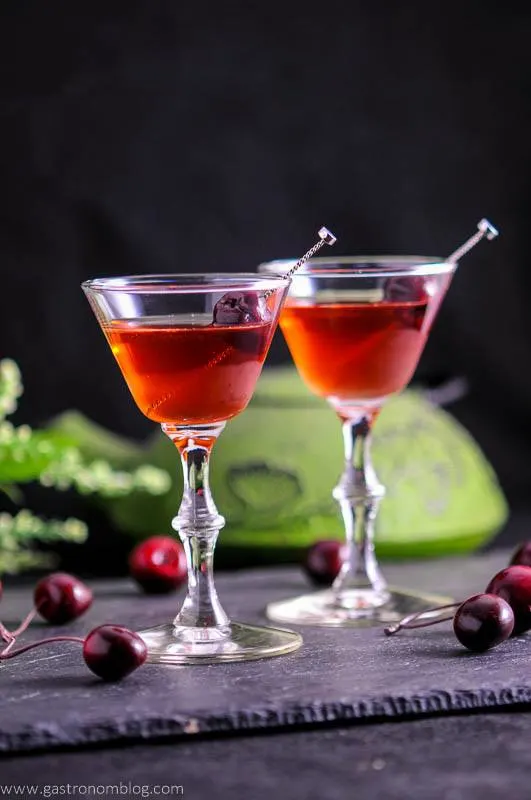 Cherry Blossom
Honey Simple Syrup
4 oz honey
4 oz water
Bring to a boil over medium high heat, and then take off of heat and let cool. Store in a jar in the fridge for up to two weeks.
Other Eco-Friendly Cocktails
Yield:

1
Tart Cherry Cocktail
This Tart Cherry cocktail is full of flavor and eco friendly ingredients. A great susutainable cocktail all made with ingredients at home.
Ingredients
1.50 ounces Koskenkorva Vodka
1 teaspoon citric acid powder or .5 oz lime juice
.25 ounce honey syrup
4 dashes rhubarb bitters
Instructions
Combine all ingredients in a shaker with ice.
Shake to combine and strain into glass.
Garnish with brandied cherry if desired.
Cheers!
Notes
If you don't have homemade brandied cherries, Luxardo cherries are a good substitute for this cocktail.
Recommended Products
As an Amazon Associate and member of other affiliate programs, I earn from qualifying purchases.
Nutrition Information:
Yield:
1
Serving Size:
1
Amount Per Serving:
Calories:

138
Sodium:

3mg
Carbohydrates:

10.4g
Fiber:

.1g
Sugar:

5.9g
Protein:

.1g
Interested in stocking your own home bar? Make sure to see our favorites at our Amazon Store!
If you liked this post, don't forget to subscribe for new (and of course free) recipes by entering your email address on the side bar (and get all the recipes delivered to your inbox when we post), so you don't miss out on a thing. You can find us on Facebook, Instagram, and Pinterest!
Gastronomblog is a participant in the Amazon Services LLC Associates Program, an affiliate advertising program designed to provide a means for sites to earn advertising fees by advertising and linking to amazon.com