Last Updated on November 16, 2023 by Leah Hall
We adore these Brandied Cherries, and love to put them in cocktails, desserts, and really any other recipe we can! This homemade boozy cherry recipe is perfect as gifts, too!

These Brandied Cherries are easy to make, and make a great snack or garnish for cocktails! A tasty edible garnish for any cocktail, try our Sparkly Edible Glitter Cherries, too!
When you have a bumper crop in the height of the cherry season of cherries in the grocery store in early summer, it's a great time to make these cocktail cherries.
This post contains affiliate links for products that we think you as readers might find useful, and we make commission off of these! For more details about our affiliates, click our Disclosure and Contacts Page.
We are constantly researching new ways to improve our drinks, and one of the most obvious ways is to improve what I put into the cocktails. This includes even garnishes.
How to Make Brandied Cherries
Getting rid of the artificially neon red cherries that show up in the Old Fashioned or Manhattan and replacing them with homemade brandied cherries would make a great addition to these drinks. Most bars now use Luxardo cherries (Marasca cherries) instead of the super sugary sweet marsachino cherries, but they are expensive. We wanted the homemade version, because we like making our own ingredients, but also because we wanted to see if we could do it!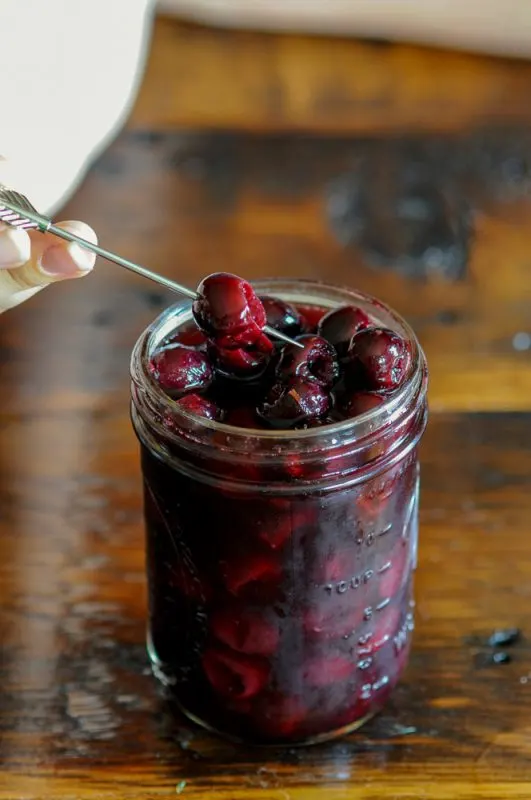 These brandied cherries are a fairly easy recipe, so we want you to try these out! The whole process is fairly easy. We used firm, dark sweet cherries, but we use what we can get our hands on when it is in season, as it is for cocktail cherry purposes.
You start out by washing and pitting the pound of cherries if you are using fresh fruit. Then, make a sugar syrup over medium high heat in a medium saucepan with some fresh lemon juice and spices added. The basic recipe is 1/2 cup water to 1/2 cup sugar as the base. When this has boiled, add the cherries to cook at a low simmer to get the natural cherry flavor.
After removing from heat, add the brandy and let the cherries cool. Transfer the brandied cherry recipe into clean jars (sterilized jars if you would like) using a slotted spoon. Then pour syrup over and refrigerate until cold. Cover and place this first batch back in the fridge.Then make more if you have them! You can pack cherries in the jars, just make sure they are covered in the cherry juice.
What Ingredients do I need for the Brandied Cherries?
Vanilla Extract – vanilla adds some great flavor to the cherries, along with the spices below. You can also add a vanilla bean to the mixture while cooking instead of the vanilla extract, if you would like.
Sugar – granulated sugar is what we used. But if you want a richer flavor, feel free to use brown sugar.
Orange Zest – the orange peel of the orange, not the white pith. Use a zester to get the best part of the bright part of the orange.
Brandy – any type of brandy will do. You can use regular brandy, cognac, apple brandy, cherry brandy, etc. Or, even a mixture of these if you would like. Just a cup brandy to a pound of cherries, just make sure it's a good brandy, the cheap stuff isn't what you want here. Use mid-shelf stuff. Try a brandy drink with our Chicago cocktail!
Nutmeg and Allspice, Cinnamon Stick – these spices give a great warming flavor to these cherries and really make them a treat to snack on. These baking spices pair well with the other ingredients and are a great addition to the recipe.
Lemon Juice – as always, fresh squeezed is best!
Cherries – any kind of cherry will do. You can use sweet, fresh sour cherries, Mount Rainier, Bing, maraschino cherries, they will all work. Just know that different size cherries will make for different size amounts of cherries and liquid in the end result, so make sure you have enough cherries. A lot of bigger cherries can make more juice, but sometimes small ones do, it ends up being a guessing game, so just plan for that. You can use fresh cherries or even frozen, but know that frozen will make more liquid.
What to Do With Brandied Cherries?
We love them on ice cream, desserts and of course, cocktails! Here are some great cocktails to put these brandied cherries on!
Do Brandied Cherries Need to be Refrigerated?
This is a great way to preserve cherries and you should try our Bourbon cherries, too! Drunken cherries add a nice boozy depth and spice, which can be used in cocktails or as a topper on ice cream. We have easily kept these cherries 4-6 months in the fridge (if they last that long), and they keep well and ready to use!
How do you Pit a Cherry?
With a cherry pitter! But seriously, if you don't have one, another option is a toothpick. Insert the toothpick into the stem-end of the cherry. It should hit the cherry pits. Then twist the toothpick around the pit and it should pop out.
What Kind of Cherries to Use for this Recipe?
You can use any kind of cherry for this recipe. Any kind of cherry works – sweet, fresh sour cherries, Mount Rainier, Bing, maraschino. These stone fruit pitted cherries absorb the brandy and spices and make them tasty!
How Much Does this Brandied Cherries Recipes Make?
The prepared cherries do fill more than (1) 16 oz jar, or a (2) 8 oz pint mason jars. Just realize with the simple syrup it creates more volume. But, feel free to use the thicker syrup in cocktails and other things, too!
Tips & Tricks
Gifts – plan ahead a make some jars of these as Christmas gifts! Trust us, people will love you for it!
Storage – we keep ours in the fridge, but we prefer them cold when eating them and using them for cocktail garnishes. But, because they are boozy, you can keep them in a dark, cool place not in the fridge with no issue with a shelf life of 2-3 months.
Spices – like we said, we use allspice, nutmeg and cinnamon sticks in this recipe to give these boozy cherries a unique flavor. But, feel free to add any spices that you may like: star anise, ginger, mace, cloves.
Other Uses – we love these boozy cherries on our Old Fashioned Panna Cotta, Vanilla Ice Cream, or just to snack on. And of course, in your favorite cocktail as a perfect garnish!
Cocktail Picks – there are some great options for these cherries in a cocktail. Use some bamboo cocktail picks, stainless steel picks or even gold!
Cheers!
Also, don't forget to follow us on Instagram and tag #gastronomcocktails so we can see all the wonderful recipes YOU recreate from this site!
You can also subscribe to our newsletter so you never miss a delicious recipe again!
Like this recipe? Try these below, too!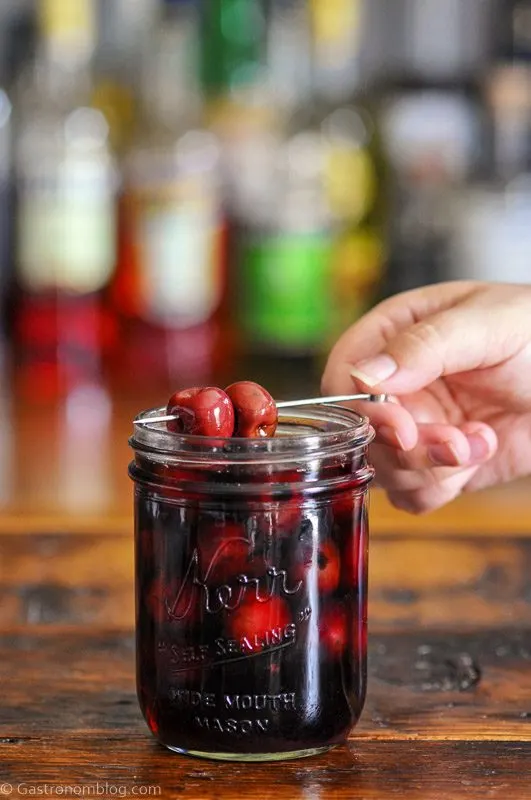 Bourbon Cherries
Sustainable Cherry Cocktail
Related Boozy Fruit Recipes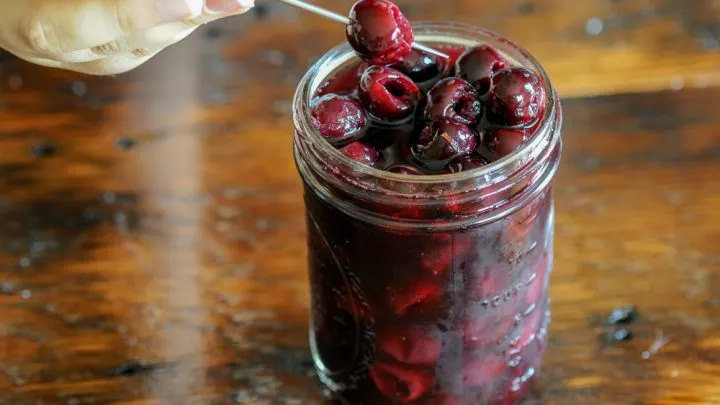 Yield:

1
Brandied Cherries
Brandied Cherries for cocktails, desserts, or just for snacking.
Ingredients
Brandied Cherries
1/2 cup water
1/2 cup sugar
2 teaspoons freshly squeezed lemon juice
1 teaspoon vanilla extract
1/8 teaspoon orange zest
1 cinnamon stick
pinch of nutmeg
pinch of allspice
1 pound cherries, pitted
1 cup brandy
Instructions
Wash and pit the cherries.
In a saucepan, combine all ingredients except the cherries and brandy. Bring to a roiling boil.
When it begins to boil, reduce heat to medium. Add cherries and simmer for 5-7 minutes.
Remove from heat, add brandy and let cool.
Transfer the cherries into clean jars and refrigerate, uncovered, until cherries are cool to the touch.
Cover tightly and refrigerate.
Recommended Products
As an Amazon Associate and member of other affiliate programs, I earn from qualifying purchases.
Nutrition Information:
Yield:
32
Serving Size:
1
Amount Per Serving:
Calories:

36
Total Fat:

0.1g
Saturated Fat:

0g
Trans Fat:

0g
Unsaturated Fat:

0g
Cholesterol:

0mg
Sodium:

0mg
Carbohydrates:

5.5g
Fiber:

0.3g
Sugar:

4.8g
Protein:

0.2g
Interested in stocking your own home bar? Make sure to see our favorites at our Amazon Store!
If you liked this post, don't forget to subscribe for new (and of course free) recipes by entering your email address on the side bar (and get all the recipes delivered to your inbox when we post), so you don't miss out on a thing. You can find us on Facebook, Instagram, and Pinterest!
Gastronomblog is a participant in the Amazon Services LLC Associates Program, an affiliate advertising program designed to provide a means for sites to earn advertising fees by advertising and linking to amazon.com