Last Updated on September 17, 2023 by The Noms
Pitch Pizzeria in Omaha, located in the Dundee Neighborhood. There is now a second location in west Omaha.

Taking advantage of an unseasonably warm winter evening, we headed down to the Dundee section of Omaha, a quaint historic neighborhood that is a hotbed of arts and culinary spots, where we decided to eat at Pitch Pizza Omaha. Pitch is an upscale neighborhood pizzeria focusing on artisanal coal fired pizzas and dishes made with fresh local ingredients.
This post contains affiliate links for products that we think you as readers might find useful, and we make commission off of these! For more details about our affiliates, click our Disclosure and Contacts Page.
Pitch Pizza Omaha
We were immediately seated, but five minutes after we were seated they went on a wait that lasted the whole time we were dining, showing even on a Tuesday evening, Dundee is a hot spot for eating out. Once inside, brick walls and exposed wooden beams give the impression of an older industrial space but retained a warmth thanks to the dim lighting and candles on the tables.
The atmosphere was very lively, especially near the bar where we were seated, especially as the evening went on and more folks filled in the bar. Adding to the din, the music piped in over the speakers was quite loud, causing us to have to nearly yell to be clearly heard.
Once seated, we were given four different menus, the main dinner menu, a daily specials menu, a wine specials menu, and a wine list. A bit confusing for a first time visitor, as the host did not explain the menus, and our server was busy with another table. The wine and beer menu is quite extensive, with more than 30 wines and 40 beers, giving lots of choices for folks to pair with their pizza.
Pitch Pizza Dundee Cocktails
Despite the extensive wine lists, we both decided to try a selection off of the craft cocktail menu. Leah ordered a Titos Bubbly and I couldn't resist trying a Shirley Templeton. The Tito's Bubbly featured Tito's Vodka, Aperol and house made pomegranate grenadine with sparkling white wine providing the bubbles.
Similar to a popular Italian cocktail, the Aperol spritz, the bitter citrus bit of the Aperol cut the sweetness of the white wine and grenadine, making a nuanced refreshing cocktail. My Shirley Templeton was a cross between an Old Fashioned and a Shirley Temple. Templeton Rye and muddled orange peels and house made brandied cherries provided the classic flavor, while cherry lambic beer gave a sweet fruity fizz to the drink.
Appetizer
To start out the evening, we ordered the charcuterie plate for an appetizer. Served on a wooden slab platter, the charcuterie plate features four house cured meats, local artisan cheeses from ShadowBrook Farms Dutch Girl Creamery, olives, a roasted onions and red pepper dish, and preserved fruits.
The meats were cut paper thin, salty and satisfyingly rich with just enough fat to stay moist. The real star of the plate was the amazing ricotta cheese, tangy with a hint of sweet citrus, it was rich and creamy and was perfect for smearing on the crostini.
Pitch Pizzas
For our main course, we ordered two of the coal fired pizzas, the Marsala and the Shrooms. Coal fired pizza is a return to the traditional style pizzas cooked in wood or coal fired ovens that were common in Italy and on the East Coast before the advent of modern gas and electric ovens.
One of the distinguishing features of the coal fired pizza is a thin crispy slightly charred outer layer while still being tender and chewy in the middle. The pizza oven is super hot, usually between 900-1000 degrees, cooking a pizza in around 3 minutes.
The pizzas arrived just as we were finishing the charcuterie plate, the fresh baked pizza filling the air with a wonderful perfume. We dug into the Marsala first, the hot truffle oil aromatic and earthy, while the fig spread and pears were sweet and savory, while creamy melted goat cheese, mozzarella and crisp arugula topped the pie.
The crust was thin and golden, a slight smokey flavor from the coal fire permeating the airy outer ring. The fig spread along with the cheese and truffle oil was a unique flavor that both Mrs. Nom and I enjoyed. The balance of flavors combined with the contrasts of hot and cold made the Marsala a great pizza.

The Shrooms was one of the pizzas we had our eye on when we first looked at the menu, and when our server said it was one of her favorites, the decision was clinched. The Shrooms was a completely different taste from the Marsala, the roasted mushrooms firm and meaty, providing a satisfying savoriness that complimented the thyme cream, truffle oil and melted mozzarella.
Oven dried tomatoes had a sweetness from the roasting, but still retained a acid bite that cut the richness of the cheese and cream sauce. Grated strings of grana (like Parmesan Reggiano) cheese were dusted over the top and gave a nutty note to each bite. Big and bold flavors made a great pizza that should be on your list to try.
We encourage you to go try out Pitch Pizzeria! Make sure to check out J. Coco, and Anna's Place, too!
Pitch Omaha
Pitch has 2 locations in Omaha. One in Dundee and one in West Omaha. There is also one in Scottsdale, Arizona.
Tips and Tricks
Pitch Dundee is located at 5021 Underwood Avenue and hours are: Monday/Tuesday 11-9, Wednesday/Thursday 11-10, Friday 11-11, Saturday 10-11 and Sunday 10-9. Brunch is Saturday and Sunday 10-2. Small patio available. Happy Hour Monday-Friday 2-6.
Pitch West Omaha is at 17808 Burke Street and hours are: Monday/Tuesday 11-9, Wednesday/Thursday 11-10, Friday 11-11, Saturday 10-11 and Sunday 10-9. Brunch is Saturday and Sunday 10-2. Has a rooftop patio and large patio. Happy Hour Monday-Friday 2-6.
They have party rooms available for rental if you have a big group.
Also, don't forget to follow us on Instagram and tag #gastronomcocktails so we can see all the wonderful recipes YOU recreate from this site!
You can also subscribe to our newsletter so you never miss a delicious recipe again!
Other Omaha Restaurants to Try
Like this post? Try out these posts below, too!
Railcar Modern American Kitchen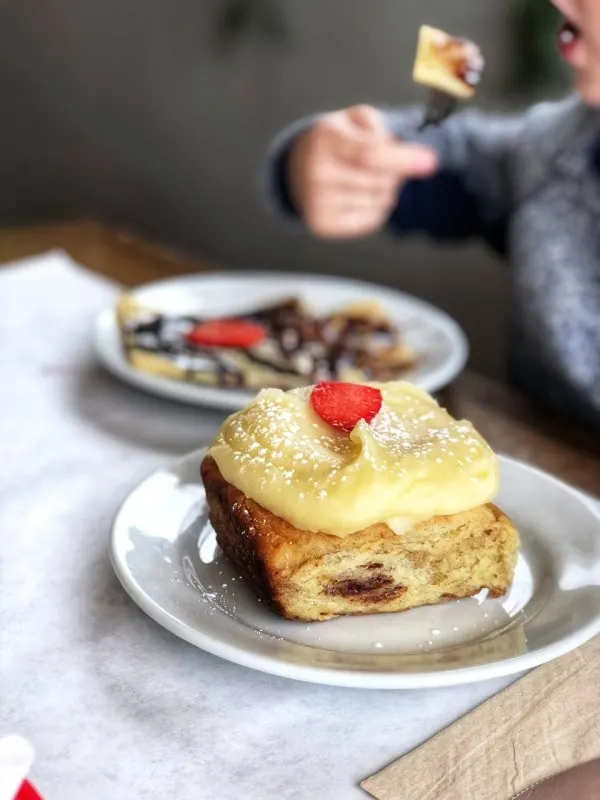 Overeasy
Interested in stocking your own home bar? Make sure to see our favorites at our Amazon Store!
If you liked this post, don't forget to subscribe for new (and of course free) recipes by entering your email address on the side bar (and get all the recipes delivered to your inbox when we post), so you don't miss out on a thing. You can find us on Facebook, Instagram, and Pinterest!
Gastronomblog is a participant in the Amazon Services LLC Associates Program, an affiliate advertising program designed to provide a means for sites to earn advertising fees by advertising and linking to amazon.com